Valentine Coffee Filter Wreath
Coffee filter wreaths have been around craft world for a while now and I just love them! If you follow me on Instagram, you may have laughed at my failed attempt to make one with fellow bloggers, Tausha and Lori last month.  I didn't even bring the beast home as it was a hot mess!  I was determined to make one though so I went straight to the pro and made my first pretty Valentine Coffee Filter Wreath!  Andrea from Queen B and Me is a good friend of mine and also a blogger, (we met at SNAP conference last year.) I met up with her when I was in Utah for our family vacation for the holidays where she gave me pointers as to why my first attempt stunk!
What do you think about my 2nd attempt?? I love am loving the tan and white version; so vintage looking. My fav!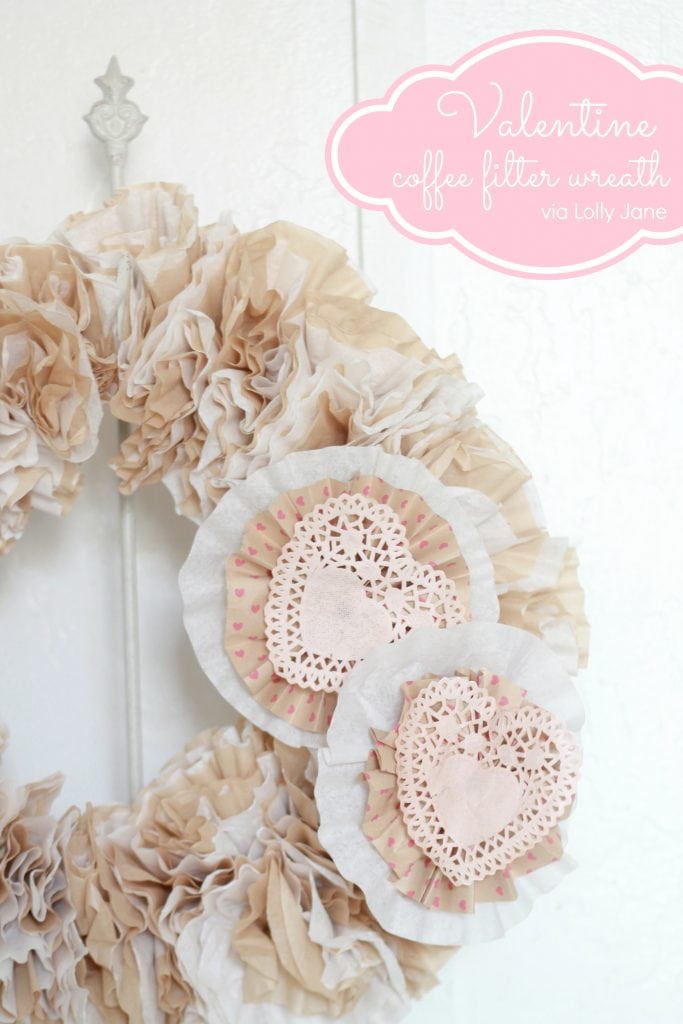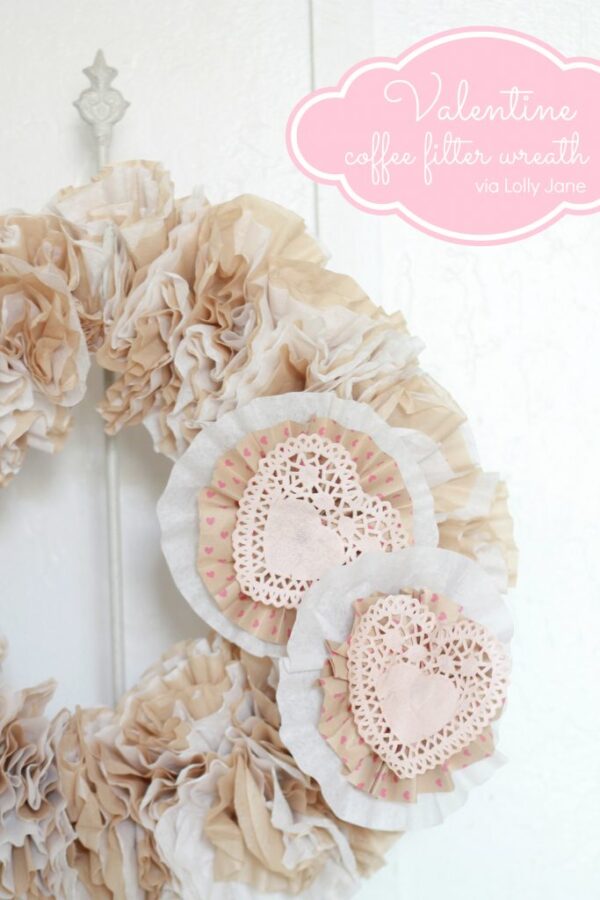 And big shock: this wasn't hard to make.  I'm talking a level 1 crafter can pull this off!  I was going about it all wrong on my own, which is why it looked so bizarre, until Andrea showed me the proper technique.  Don't worry folks,  I'll show you below in details so you don't make my first attempt mistake! (;
Supplies:
white coffee filters

tan coffee filters
stapler
glue gun
wreath form
Directions:
layer 1 white + 1 tan filter

fold twice over
staple at base
hot glue to wreath
That's it! They end up looking like little fans in the end.  So make a ton to start with, THEN hot glue.  I was glue happy my first time=chaos!  I probably made 80 total.  I went through half of a pack of each color, so you can gauge it.  Andrea gave a great tip too: get your tan filters from the grocery store, the organic ones are tan.  Mine were $2/each pack and I got my wreath at the dollar store, score!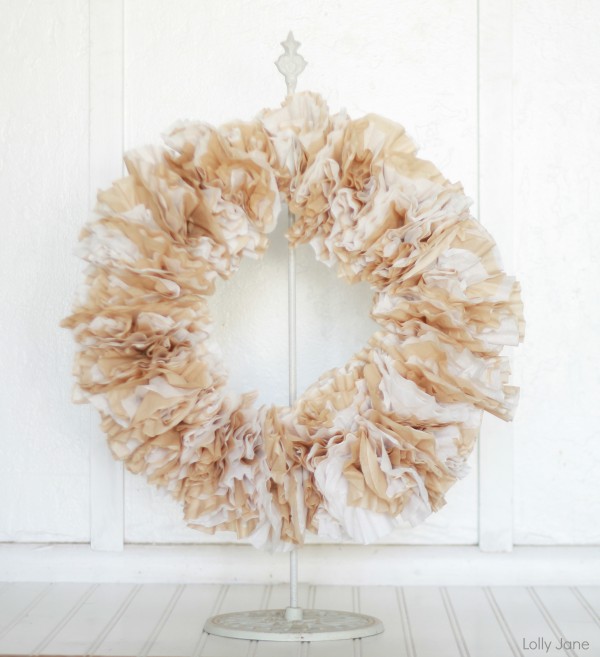 I ended up loving this so much that I didn't want to do add any permanent holiday decor to it yet still want to use it for the holidays.  Solution?  Adding temporary decor to the sides to make it festive but interchangeable.  I started off with dollar wrapping paper (from Target), heart doilies left over from this banner and a couple of white coffee filters as the base.  First step was spraying the doilies with to make them a shabby pink with a slight glimmer to them.  For this, I used Tattered Angels Glimmer Mist in vanilla breeze, adore it!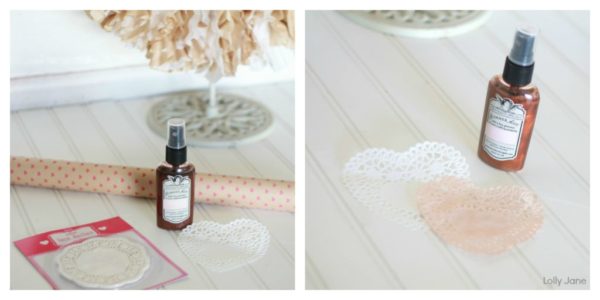 Then I made some paper accordions out of the wrapping paper for the middle.  Follow the directions as seen below, all you need are scissors and a glue stick!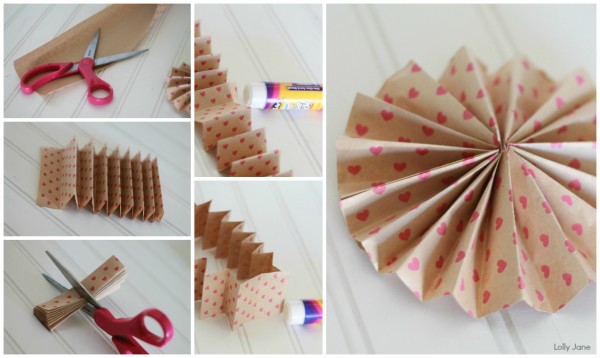 Then you hot glue the 3 elements together to assemble.  Seriously, easy peasy!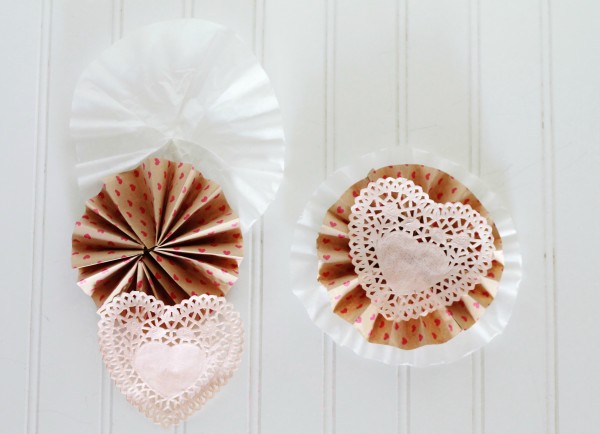 I hot glued some clothespins to the back of the coffee filter wreath to make it interchangeable, I want to get the most crafty bang for my buck and use this cute wreath with all of my holiday/year round decor!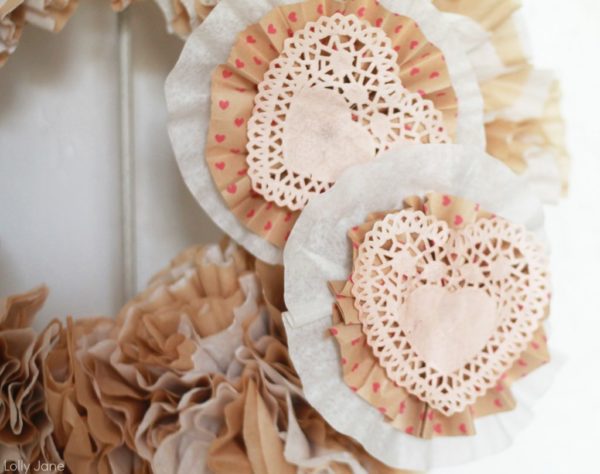 Ahh…love the glimmer on these cute hearts!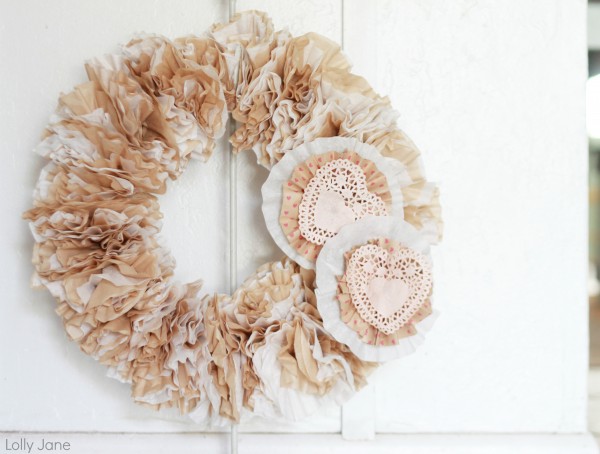 I have a feeling this wreath will be popping up in more of our posts in the future.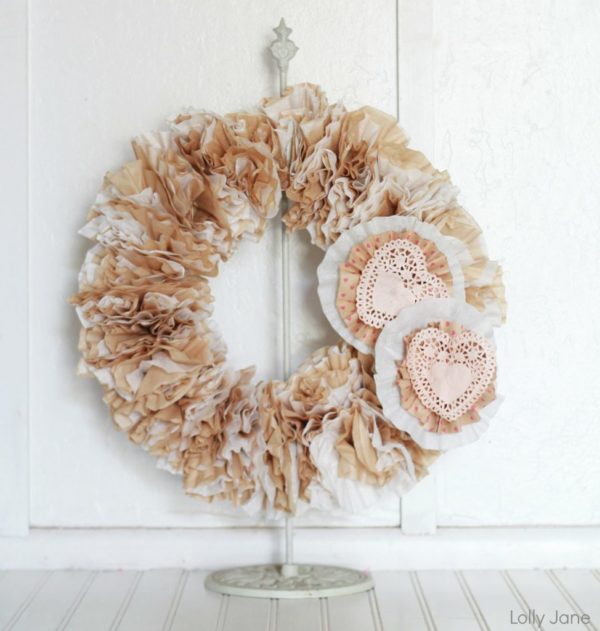 And here it is paired with our rustic LOVE letters. Romantic, eh (;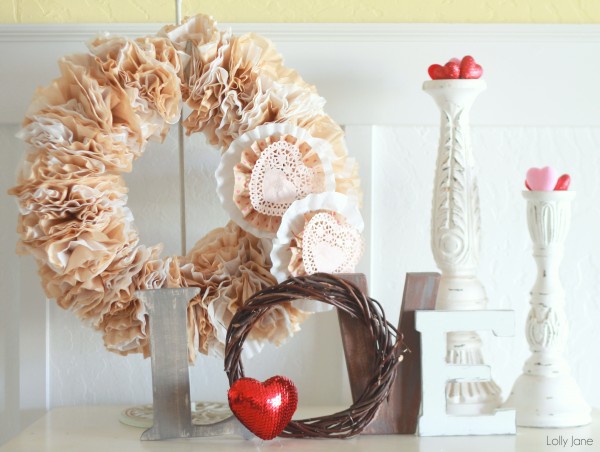 Be sure to check out tons of our Valentine's Day projects, our many tutorials and don't forget you have until Jan 29th to enter our $3k room makeover giveaway!
xoxox