How to Make a Christmas Lantern Planter
Learn how to make a Christmas lantern planter with just three items! Such an easy way to add holiday cheer to your outdoor space all season long!
I love to dress up my front porch year round. Whether it's lit up for Christmas, decked out with pumpkins for fall or filled with colorful pillows and fresh flowers in the summer, our front porch is the first thing people see when they come over so we always make sure it's at its best.
Even though the front porch is always dressed to the nines, we actually spend most of our time as a family together in the backyard, on the back porch so we thought we'd give the front a little competition this year!
ps: We're excited to be featured on Suncast's site today, sharing this easy Christmas decor! If you're visiting from there, welcome! Read on for more details of this space!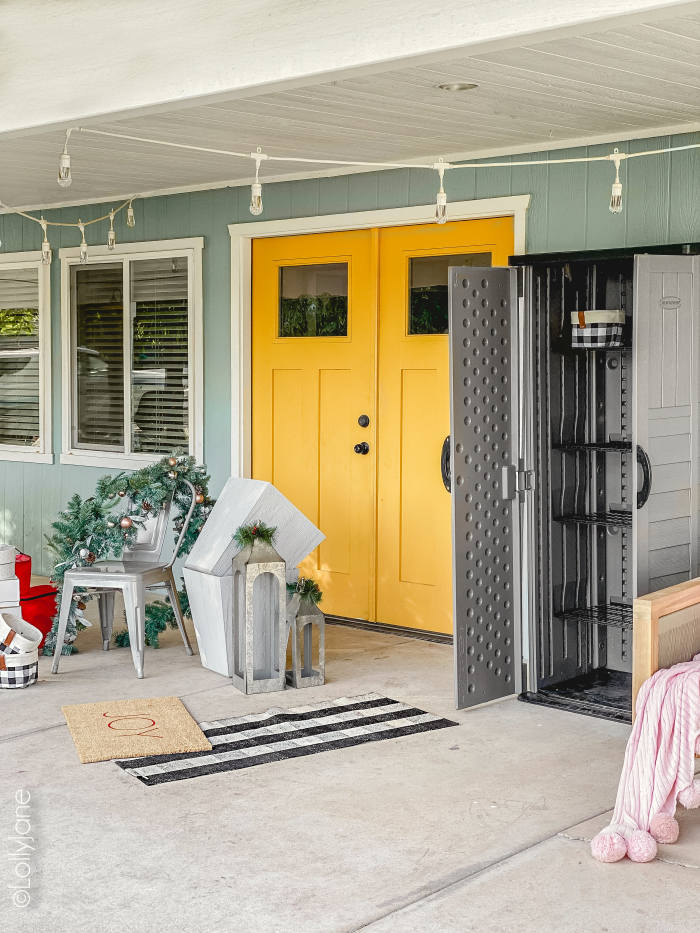 We're constantly on the trampoline, riding the golf cart, playing lacrosse ball or gathering with our extended family for Sunday dinner, we adore our large back porch.
This is our 4th year hosting my husband's annual K9 Unit Christmas party. Our guests breeze past the front porch in about 30 seconds but mingle for 3-4 hours on the back porch, going in and out of the house for food and refills so I decided to spread some cheer throughout the back porch this year.
Here's a peek at what I've gathered…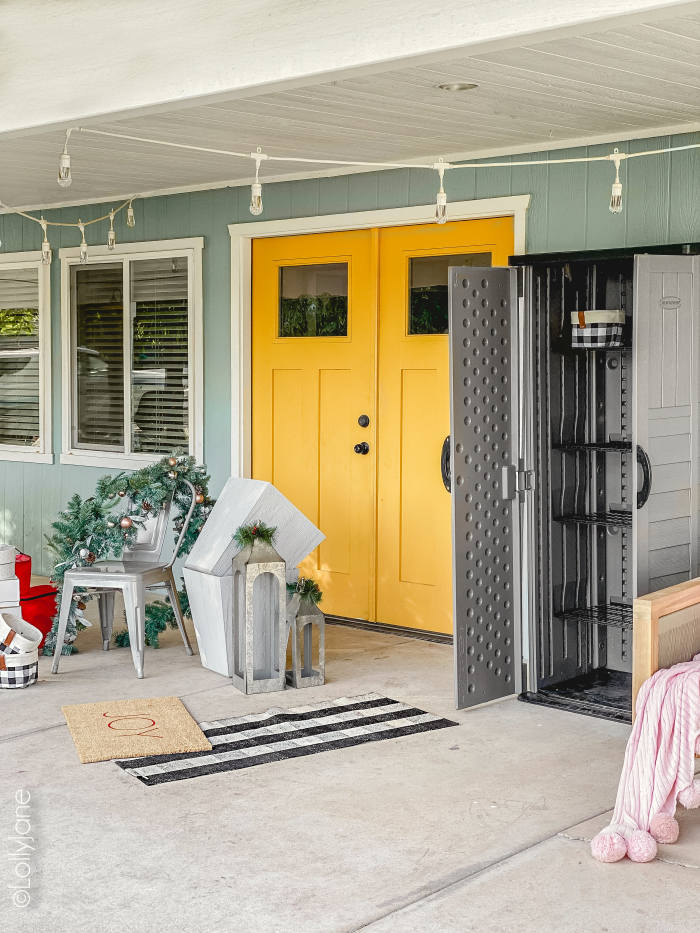 …planters, garland, and lanterns, oh my! Also new to my back porch is a much needed Suncast Vertical Storage Shed to help keep me organized no matter what time of year it is.
This shed is perfect for keeping items in one spot whether it's tools, gardening gear, ladders, etc. and works on a patio of any size, porch, or balcony. For this season, my Vertical Storage Shed doubles as a wrapping station (my kids love to peek so I'm also hiding gifts in here, haha) and will store our Christmas gear like extra lights, seasonal throw pillows, marshmallow roasters for the fire pit, and more!
I added some shelves to keep it all organized but come summertime, I can remove the shelves for long items like lacrosse sticks that are otherwise strewn about. My vertical shed is sturdy as it's made from a resin construction and is durable + super easy to clean.
HOW TO MAKE OUTDOOR CHRISTMAS LANTERN PLANTERS
To showcase my cheery yellow doors, I decided to frame them with these gorgeous rein planters have a real wood-like finish in the dreamiest Dove Gray hue.
While we enjoy lovely mild winters here in the desert, our summer heat is brutal to outdoor decor.
Like my Vertical Shed, the Farmington Decorative Planters by Suncast are made of weather-resistant, durable resin so they're able to withstand the elements throughout each season.
And psst! They look heavy but are actually lightweight so you can easily move them around your spaces.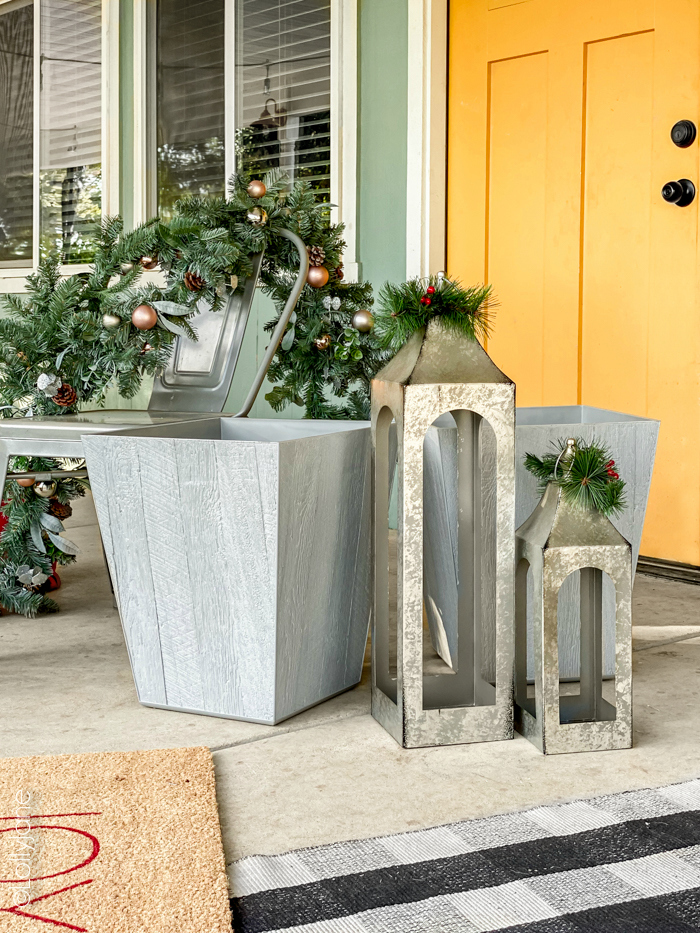 Let's get to decorating!
Since it's nearing Christmas, I filled the planters with festive decor, (garland, lanterns, and battery operated candles), that took me just minutes but looks like a million bucks! (You can watch the full IGTV episode here.)
You could also add battery operated twinkle lights to make it a little more magical or get a lantern with glass sides then fill it with ornaments + twinkle lights.
There are lots of options but whichever you choose, you won't find an easier way to cheer up your porch for the holidays!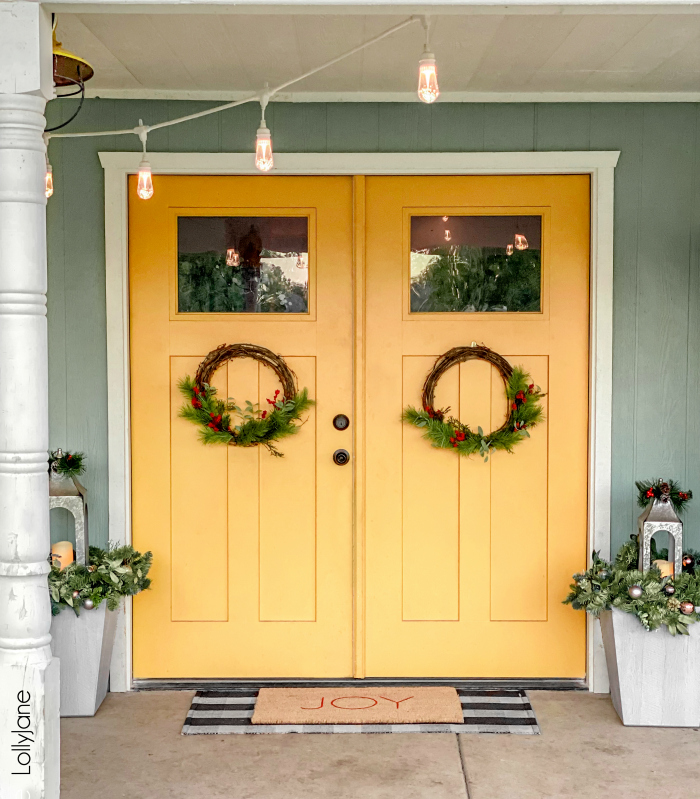 Supplies to Make an Outdoor Christmas Lantern Planter
We made two planters to dress up both sides of the doors so grab a set of two of everything if you want to double the fun!
Supplies:
How to make a christmas lantern planter
Directions:
LANTERNS: You can use floral foam to beef up the lanterns but that'll get expensive. We used recycled goods (think: leftover boxes) to create height so your lanterns are sticking up from the planter. We raised ours high enough so the bottom of the lantern is flush with the top of the planter. Set the lantern on top of the boxes.
GARLAND: Wrap the garland around the lantern. Secure with floral wire if it's not stable on its own. Fluff the branches.
CANDLES: Place candle in the lantern and turn on.
Optional: fill with ornaments, lights, snowflakes, etc.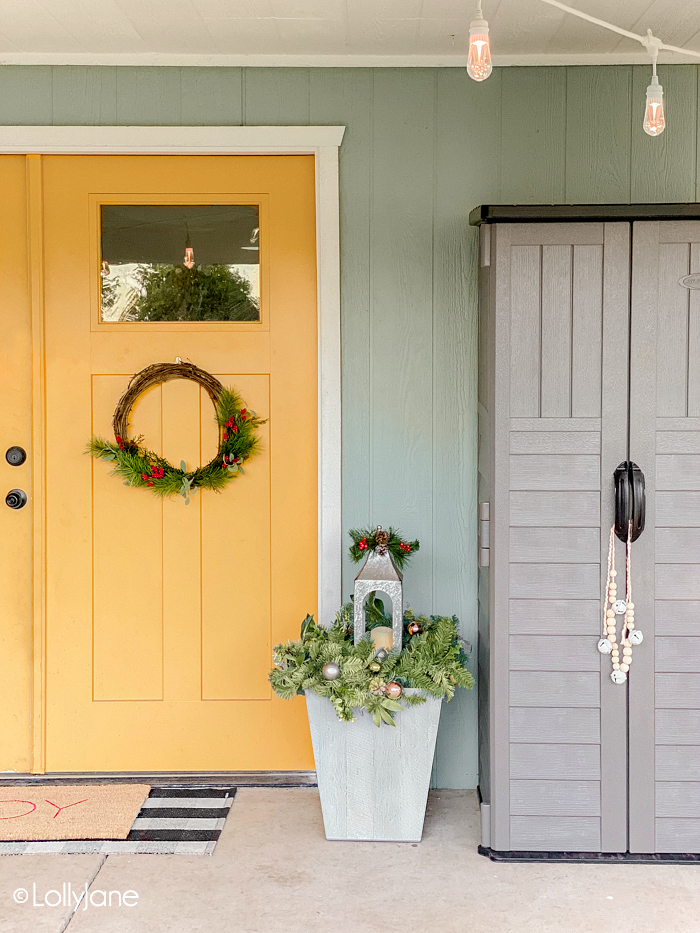 You can't get any easier than this and doesn't it look so beautiful? We absolutely love it!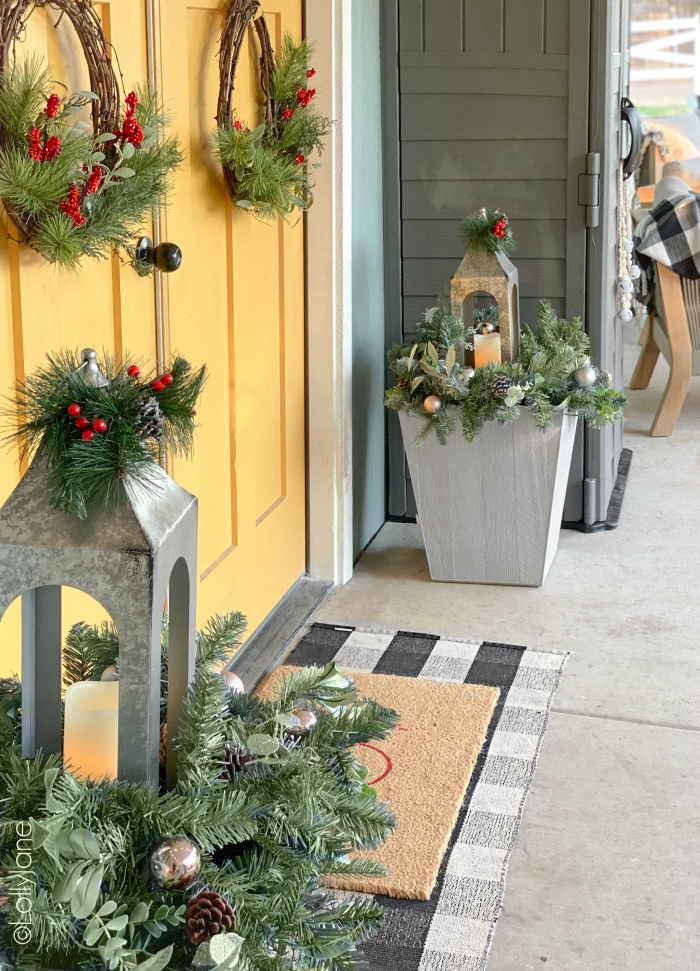 OUTDOOR DECOR
STORAGE DECOR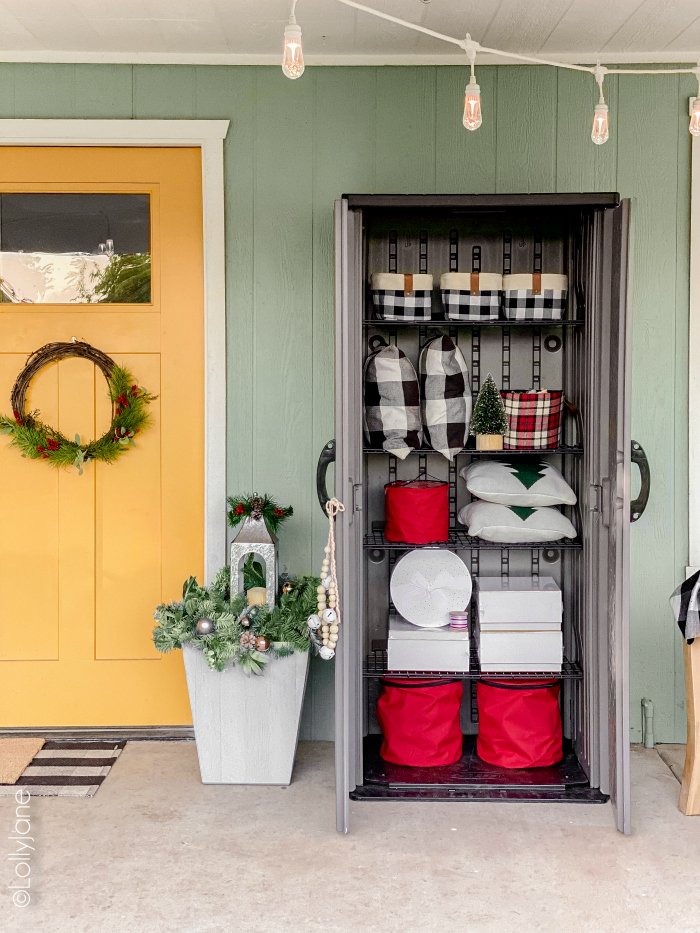 We hope we've inspired your Christmas decor this year!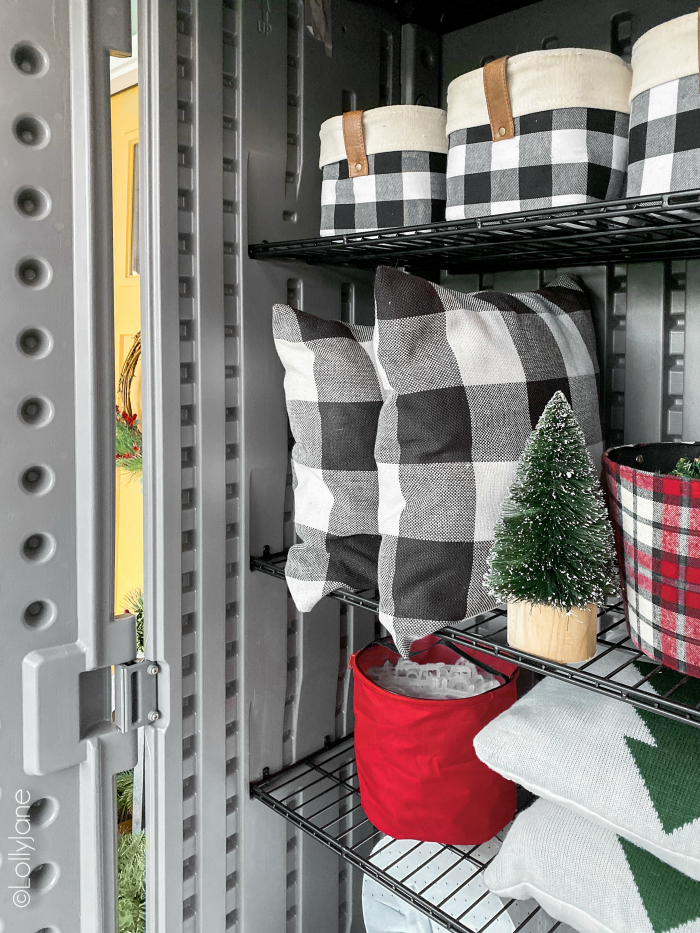 Keep Suncast in mind for your seasonal needs as there's nothing better than an organized holiday season!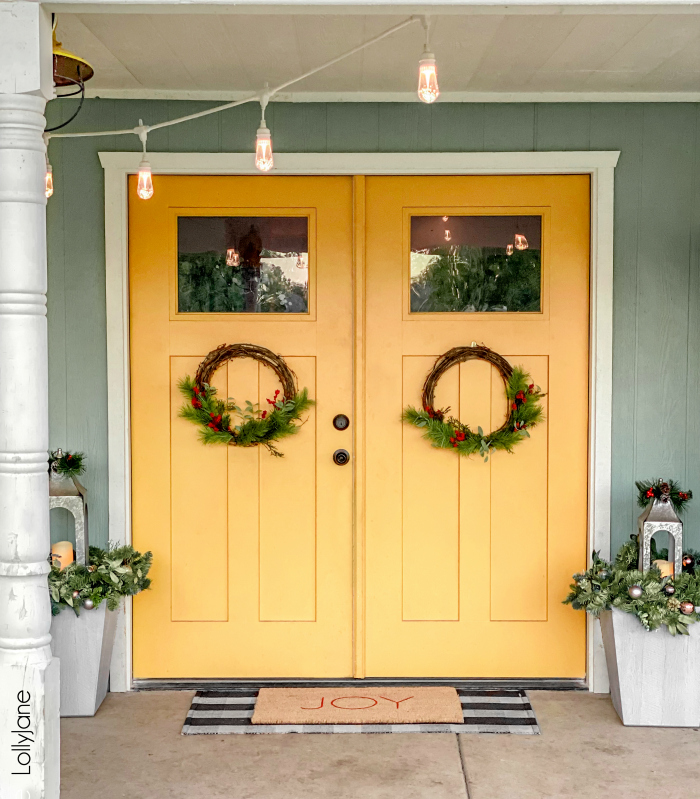 A big thanks to Suncast for sponsoring today's tutorial. All opinions belong to us.