Easy holiday party table setting tips
Please welcome back Time with Tiffany! We are excited she's here, just in time (see what we did there? lol) for the upcoming holidays to share some tips on party table setting. Her cranberry rings are the CUTEST! Read on, friends! 🙂
Hello again! It's Tiffany here from – I guest posted with Lolly Jane last month about chalkboard art and they have kindly let me contribute again this month! Many of you know, this month is one of the most important months of all for crafting: Christmas time! So many things to do, so many parties, and of course, so little time. With so much on the go, holiday party planning can take a bit of a backseat. While creating our Holiday Party Table Settings, I decided to keep it quite simple. I am going to share with you today some easy-peasy table setting ideas that will make the impact you are in search of this holiday season!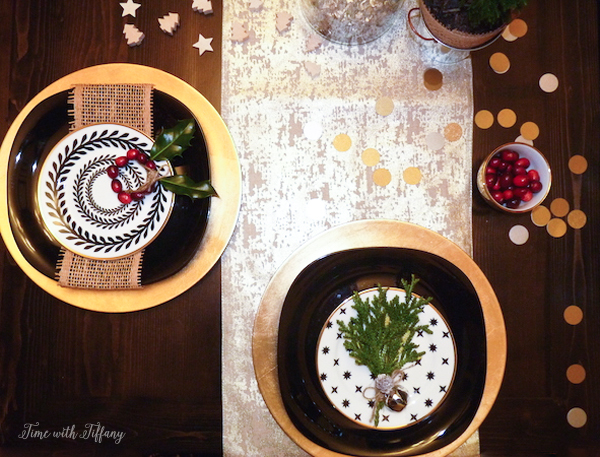 Supplies You Might Need:
Charger Plates – these are excellent for adding color as well as depth and layers to your table. You can pick them up at Michaels Craft Store and they are inexpensive with a ton of color selection. I incorporate these into all holidays!
Plates & Silverware – Be as eclectic or as matching as you like here.

Treatments such as ribbon – I have used a ribbon that resembles jute but is a bit more pliable. This is a great way to add texture as well as color to your place settings.

Texturizer – Options are endless here but adding these to clear vases really bring the wow factor! I have used tiny charcoal coloured rocks bought from IKEA as well as Epsom Salts to resemble snow. I have used both options in clear vases with candles. Subtle yet festive.

Twine – I use twine in just about everything. Buy yourself a big roll and then you can always add a rustic touch.

Greenery – Real or faux will work perfectly, it's up to you.

Cranberries – a MUST HAVE this time of year for many reasons.

Florist Wire – I used it for making napkin holders but again, a great craft item that can be used in multiple ways.

Any other festive decor item you want to throw in here could work. I used jingle bells, gold and silver paper circle cut outs, and tiny wooden Christmas Trees.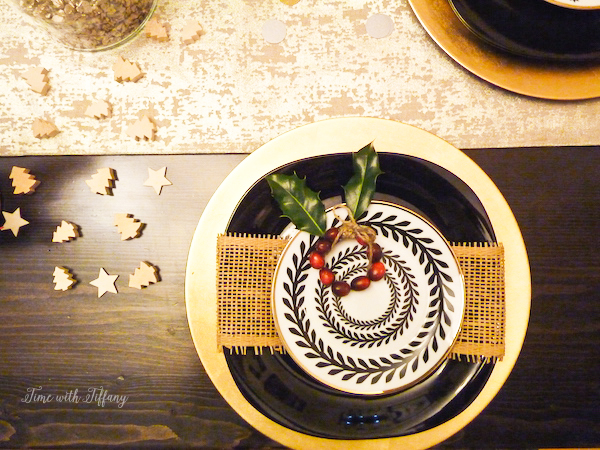 So first I will tell you about the place settings themselves… I fell head over heels for gold and black this year. Not sure why but maybe the Nate Berkus collection at Target had something to do with it. 😉
Here I have used his dessert side plates and paired them with some IKEA black plates. I love the black because it brings a bold, masculinity to the table while the gold keeps it festive and fun. I wanted to show you two different options, not intending to have them together at the same dinner party although, the electric variety is sort of fun. Your guests may like sitting down to different place settings as well.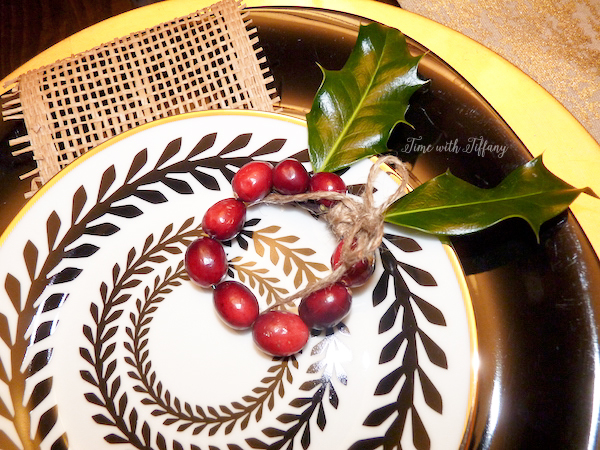 For one setting, I used my jute-like ribbon and wrapped it horizontally across my bottom plate. This will give you texture as well as layers to your setting and if you chose a ribbon like this one, add a rustic vibe. I then used florist wire to make a tiny wreath and strung cranberries onto it. I then attached a couple holly leaves tying it all together using twine. You could use this as a napkin ring or simply on the plate itself like I have done here.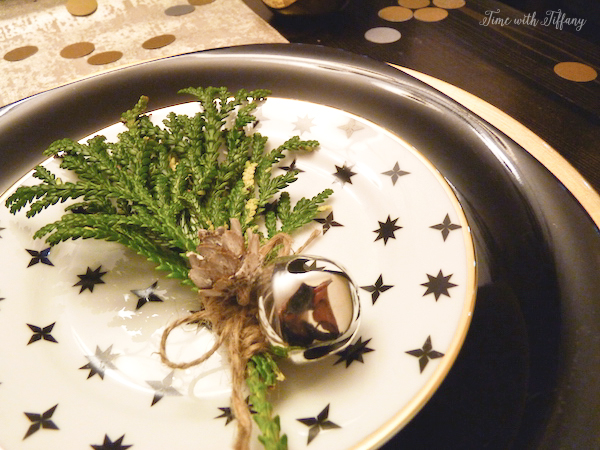 The other option is to have some fun with greenery. I have used a real branch out of my garden and tied it together with twine and a jingle bell. Very simple with a big festive impact.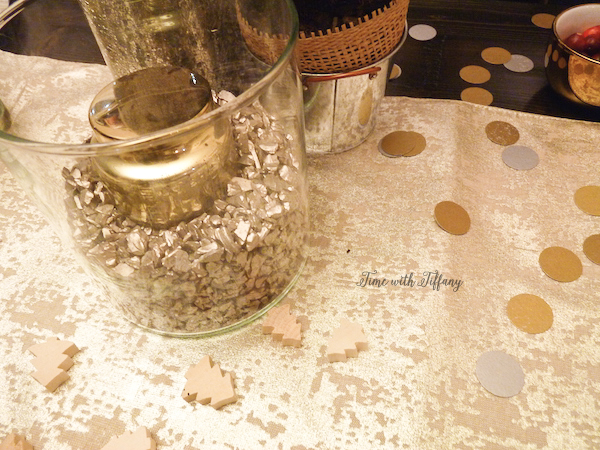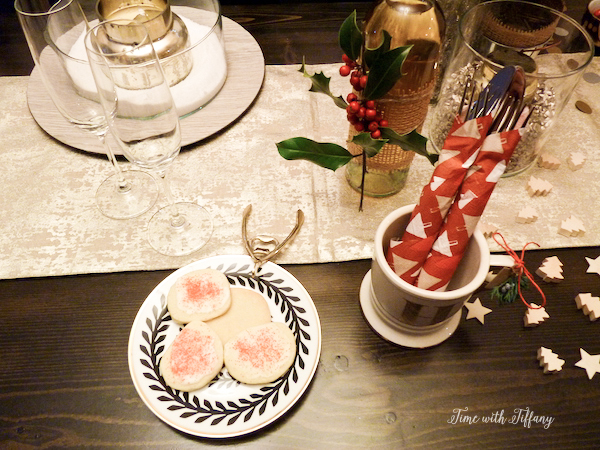 In the above mentioned supply list, I had included some texturized ideas. In these images you can see how I used the ones I chose. In one vase I have used tiny charcoal rocks from IKEA and filled half of the clear vase. A tiny gold candle from Anthropologie and we are done there! For my other candle, I have selected Epsom Salts as it looks like snow. Again, simple with a big impact.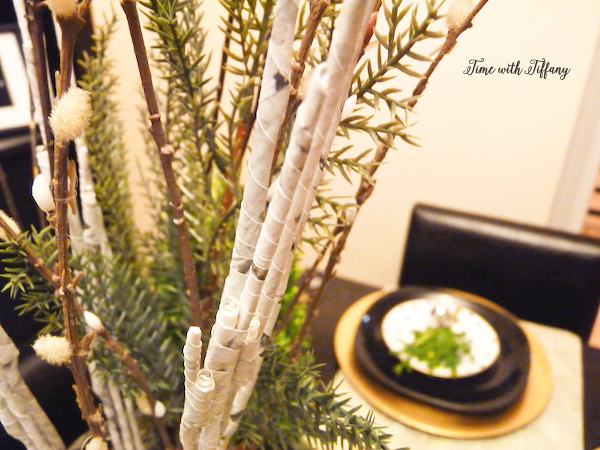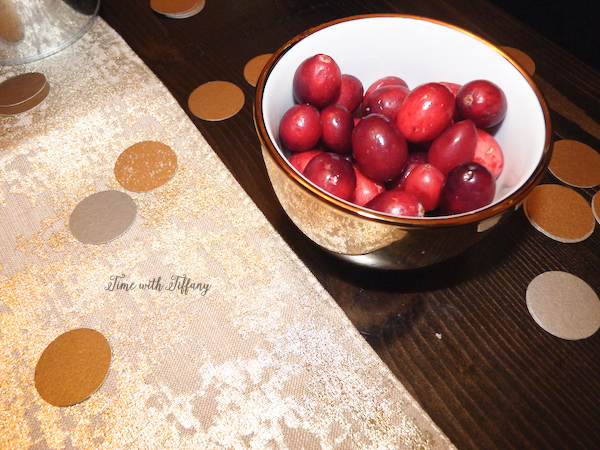 Lastly, here are some fun ways you can play around with your table. I have used a hole punch to create large confetti and sprinkled it across the table. Tiny wooden Christmas Trees were selected to keep the rustic aesthetic going, again just sprinkled here and there. Different options of greenery and branches were used in a tall vase at the centre of the table.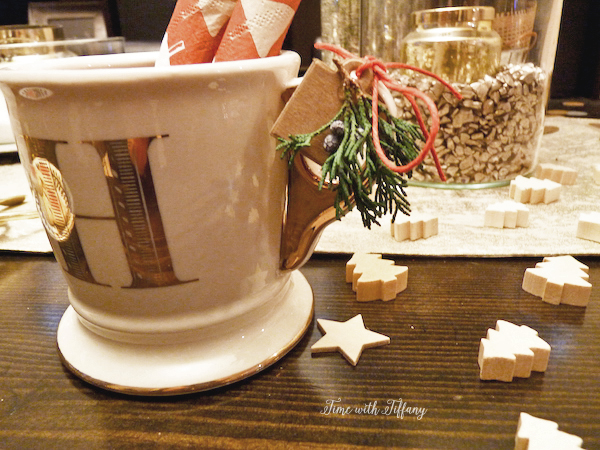 There is no rhyme or reason to the ones I chose, just a fresh winter themed bouquet. In the end, I had a lot of fun creating these table settings and it shows through your results when you have fun with it. Oh and your guests will love it! Happy Holidays everyone and thank you for having me on Lolly Jane! A big thanks to cute Tiffany for being here today! Keep up with her on: Blog, Instagram, Twitter
Visit all of our Christmas ideas like 7 Christmas Traditions to Start this Year, Christmas Porch Decoration ideas,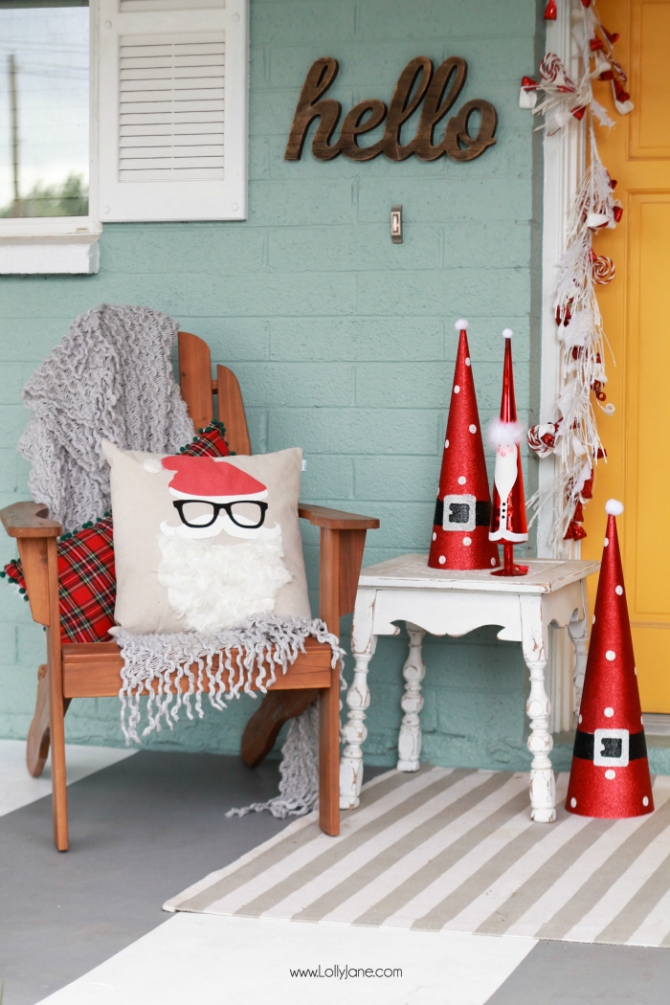 and this cute Reindeer Antler Art!