Remember our cheeps, (chocolate covered PEEPS?) When we were asked to create a PEEPS® holiday recipe we knew we wanted give dipping our fav marshmallow chicks a try, Thanksgiving style!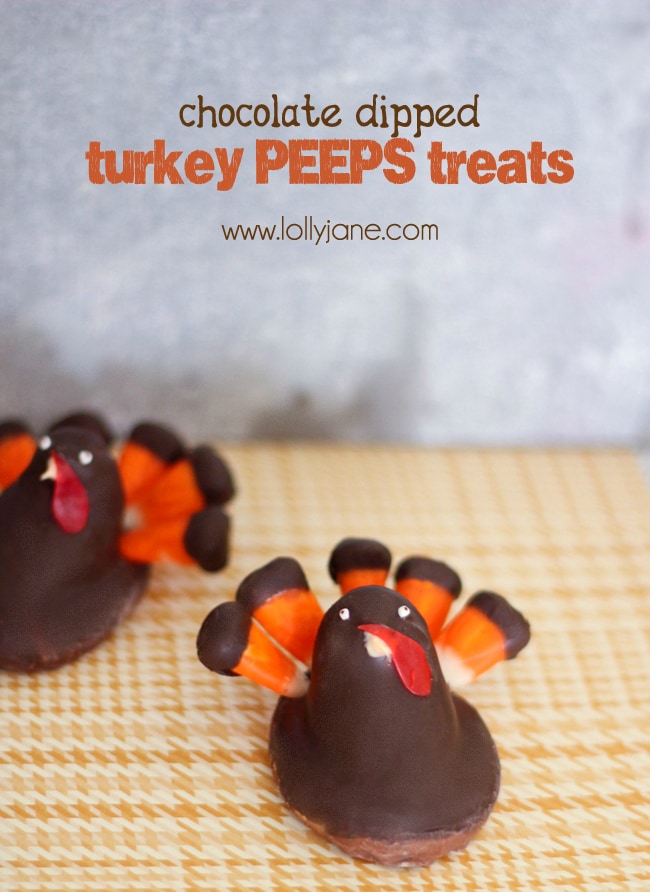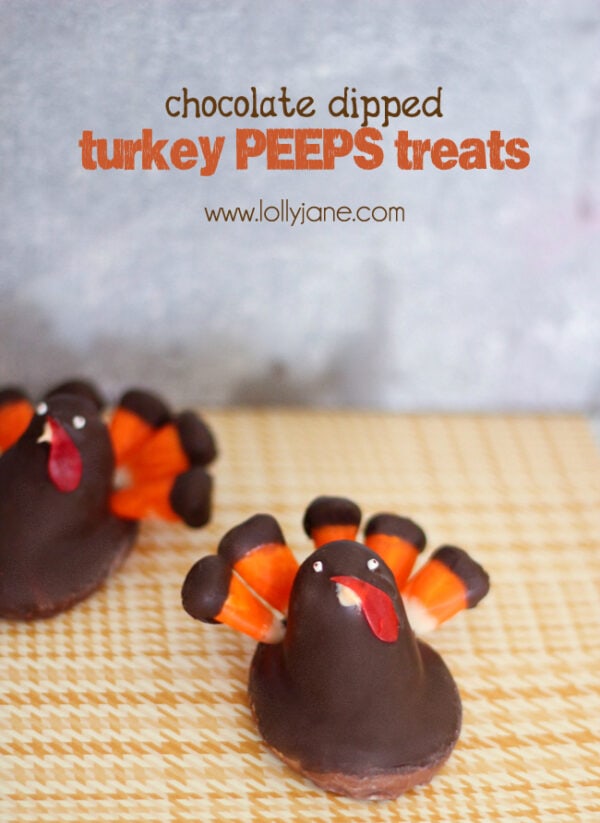 They turned out pretty stinkin' cute! I think I am going to make a few more and put them on the kids dinner table with a name place card for their little Thanksgiving feast. 🙂
We are loving the yummy seasonal flavors PEEPS® has out right now. We were lucky to sample the chocolate mint trees, gingerbread men, candy cane chicks and these delicious sugar cookie chicks, which were just perfect for dipping! Making these little turkey chicks were a snap.
Using a microwave-safe bowl, melt 1 C. of semi-sweet chocolate chips for 1 minute. Stir.
Stir. Cook for anther 30 seconds. Stir until creamy.
Dip the tips of candy corn and lay on wax paper to harden.
Hold the PEEPS®.  chicks upside down and dip into the melted chocolate.
Hold the PEEPS®.  above the bowl for a few seconds until excess chocolate has dripped off.
Set the chocolate covered PEEPS®.  on wax paper and let harden for about 10 minutes before handling.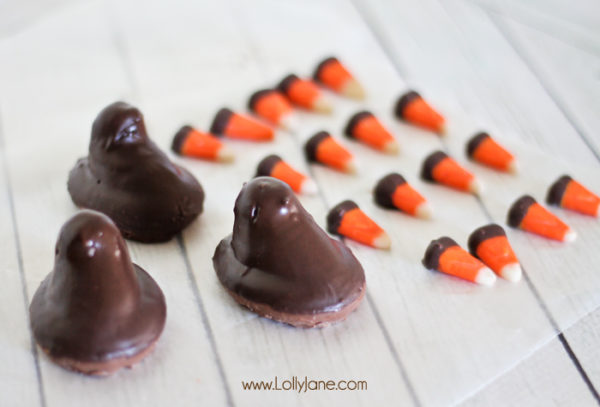 I'm not a fancy candy maker or decorator, which is great for this little project as you don't need any culinary skills to put them together.
Add a dab of orange frosting over the chicks beak.
Cut a long raindrop shape from a red fruit leather.
Simply drape the fruit leather over the beak. Because it's sticky, it holds tight without any support.
Push a toothpick into the bottom of each candy corn, leaving 1/2″ poking out.
Press (5) candy corns into the PEEPS®, forming little "feathers" for the turkey.
Using a dab of frosting, press white candy sprinkles on each side of the turkey beak.
Add a little dot of edible marker onto the white sprinkle for the eyes. I wish my grocery store in my little town carried edible eyes- that would be so cute and even easier. 😉
That's it! Admire your little turkey PEEPS®!
These would also make a cute neighbor gift; just tie them with twine and add a tag. You can also put them on a stick and have them  in a painted garden pot as a centerpiece for your Thanksgiving table. They will definitely get GOBBLED up! 😉
PS: Here's a little peek at our Easter cheeps to see how you can display your turkeys: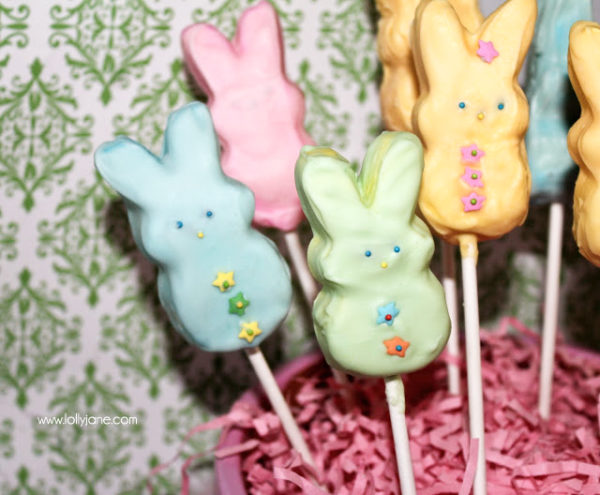 A big thank you to PEEPS® for inviting us to be part of this challenge. For more PEEPS® recipes, crafts & other holiday ideas, visit theme here. xoxo