Your Kitchen Needs this Built-In Wall Water Dispenser
A big thank you to Elkay for sponsoring today's post. All opinions belong to us.
Struggle to drink water? We've solved that problem with Elkay's ezH2O Liv built-in filtered water dispenser. Keep yourself, your kids, pets and plants hydrated with this chic, hands-free accessory which includes an automatic timed shut off to prevent spills. Easy to install, easy to consume, easy to live.
We just welcomed a new addition to our kitchen and couldn't be more excited! I can't even tell you how many times my husband has thanked me for such easy access to water. We've all been more hydrated because it's so easy with our new built-in l filtered water dispenser. ?
You see, we bought my childhood home nearly a decade ago, but our town took our well water away about 20 years ago meaning my kids were never able to experience it. The water here now is fine safety-wise, but the taste is lacking. Our neighborhood has been drinking bottled water or using water coolers to make up for the good stuff.
We've personally had a water cooler for several years in addition to storing dozens of water bottles. My husband and I always dreaded whose turn it was to refill the heavy bottles and hated the room water bottles took up in our new pantry makeover.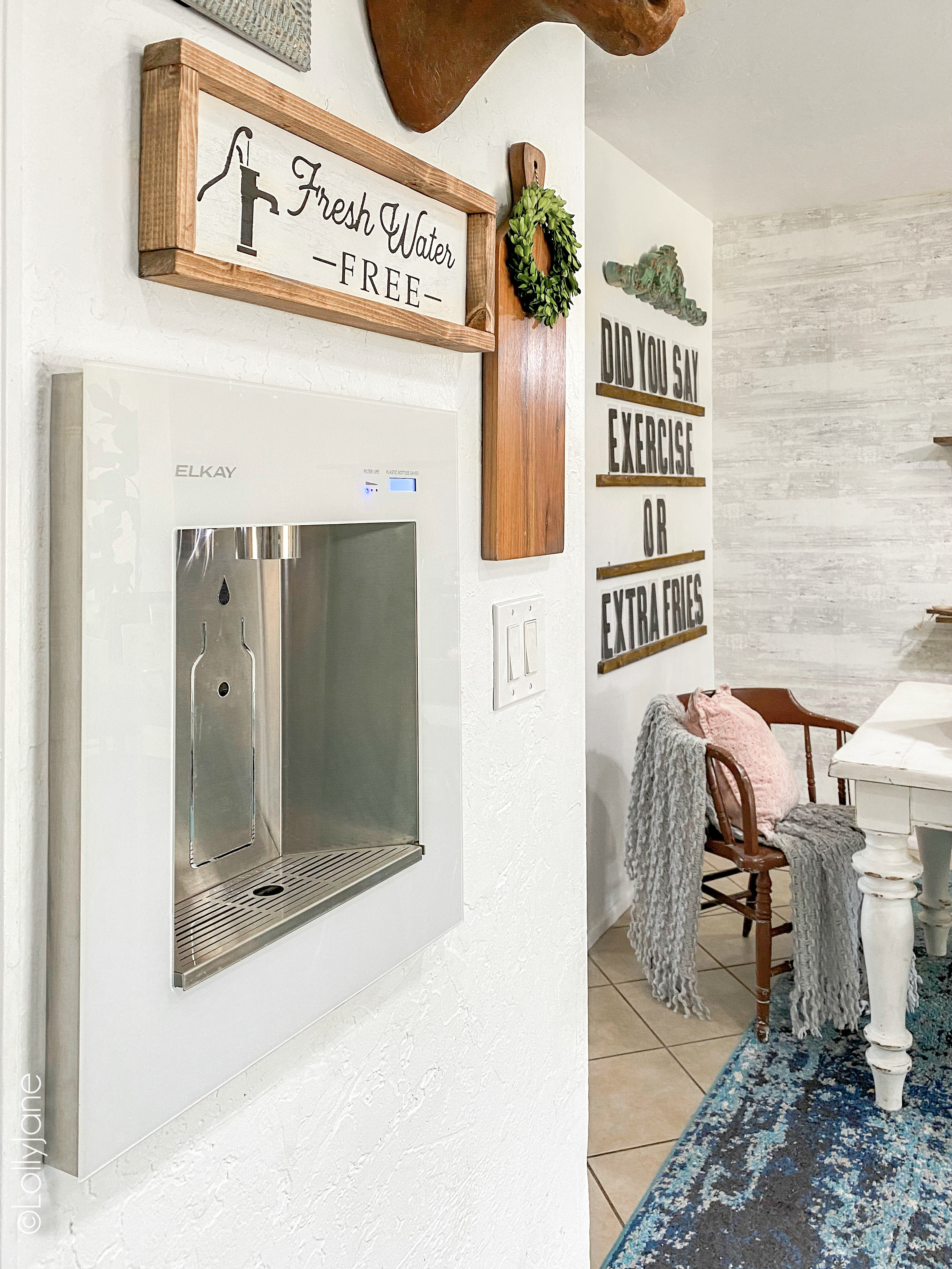 Additionally, our neighborhood doesn't offer recycling so we had been collecting water bottles and taking them to the recycling center once a month. Although my sons were happy to collect the few bucks they get, they don't miss the work of bagging, storing and hauling the water bottle bags. Since we've installed this gorgeous built-in filtered water dispenser, our lives have been so much easier.
Easy To Install
Not only is the wall-mounted ezH2O Liv convenient, it doesn't take up precious space. No more clunky water cooler! It easily fits within two wall studs near water and electric, so install was a breeze. It also includes a drip tray with an optional drain connection. This chic, bottle-less water dispenser is perfect if you're in a fixer-upper like we are or if you're building a new home. Every home needs one.
Filtered Water
The filter is NSF-certified filter reduces lead and other harmful contaminants, for added assurance of healthier and great-tasting water. The filter makes our water taste good again, finally! And it's nice and cold with the remote chiller, mmm!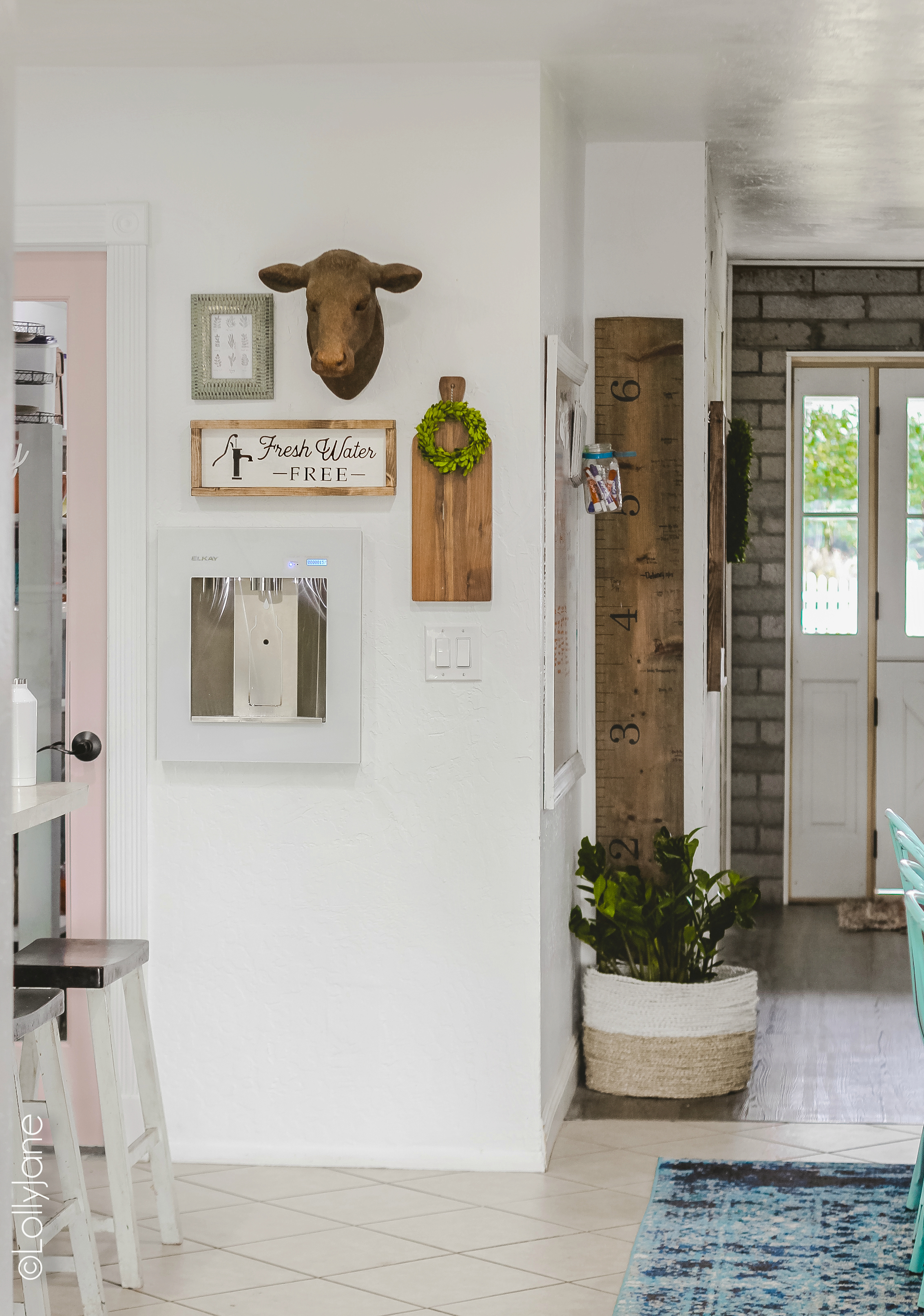 There are also colorful lights that indicate when the filter needs to be changed.
Additional Features
We love the hands-free filling with the automatic timed shut off to prevent accidental spills. With 30 nieces and nephews constantly trickling in from my mom's house next door, we love this feature! There's also an optional setting that prevents unsupervised use since said nieces and nephews love water and are fascinated by the automatic feature.
Benefits of Drinking Water
Since the new year, I'm proud to report I've been keeping my resolution of drinking half my body weight in ounces a day. I start my day off with 32oz of water and hydration provides me extra energy to make a quick breakfast and get the kiddos off to school.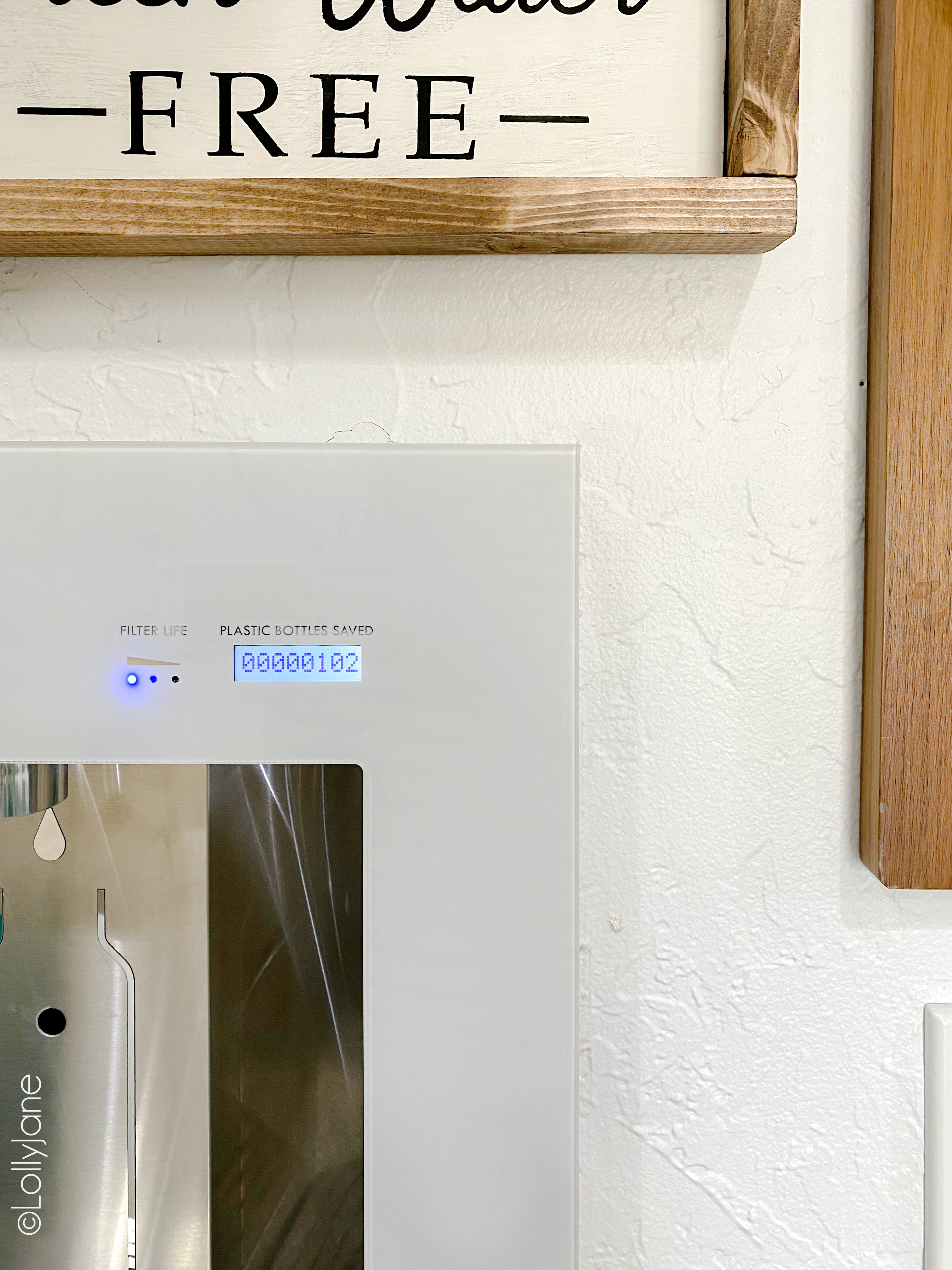 You know water is good for you, but did you know it provides the following bonuses as well?
Balances the fluids in your body.

Helps cleanse your kidneys.

Lubricates joints.

Energizes muscles.

Relieves fatigue.
But if you're like me, I still love my diet soda which is why I struggle to meet my goal. Here are some quick tips that help get me through my day to drink more water:
Add flavors.

By adding essential oils, fruit or even a few drops of sweetener, it'll flavor your water for a little pick me up.
Buy a Reusable Water Bottle
Carry around a cute water bottle or a stay-cool cup. We have SO many reusable water bottles. It seems like they're the go-to gift for birthday presents, group gifts, team gifts, etc. Now we can put them all to use and truly be done with water bottles!
Don't Leave Your Glass Empty
With said cute cup, fill it up all day long! You'll definitely use the bathroom more but you'll feel hydrated and actually crave water.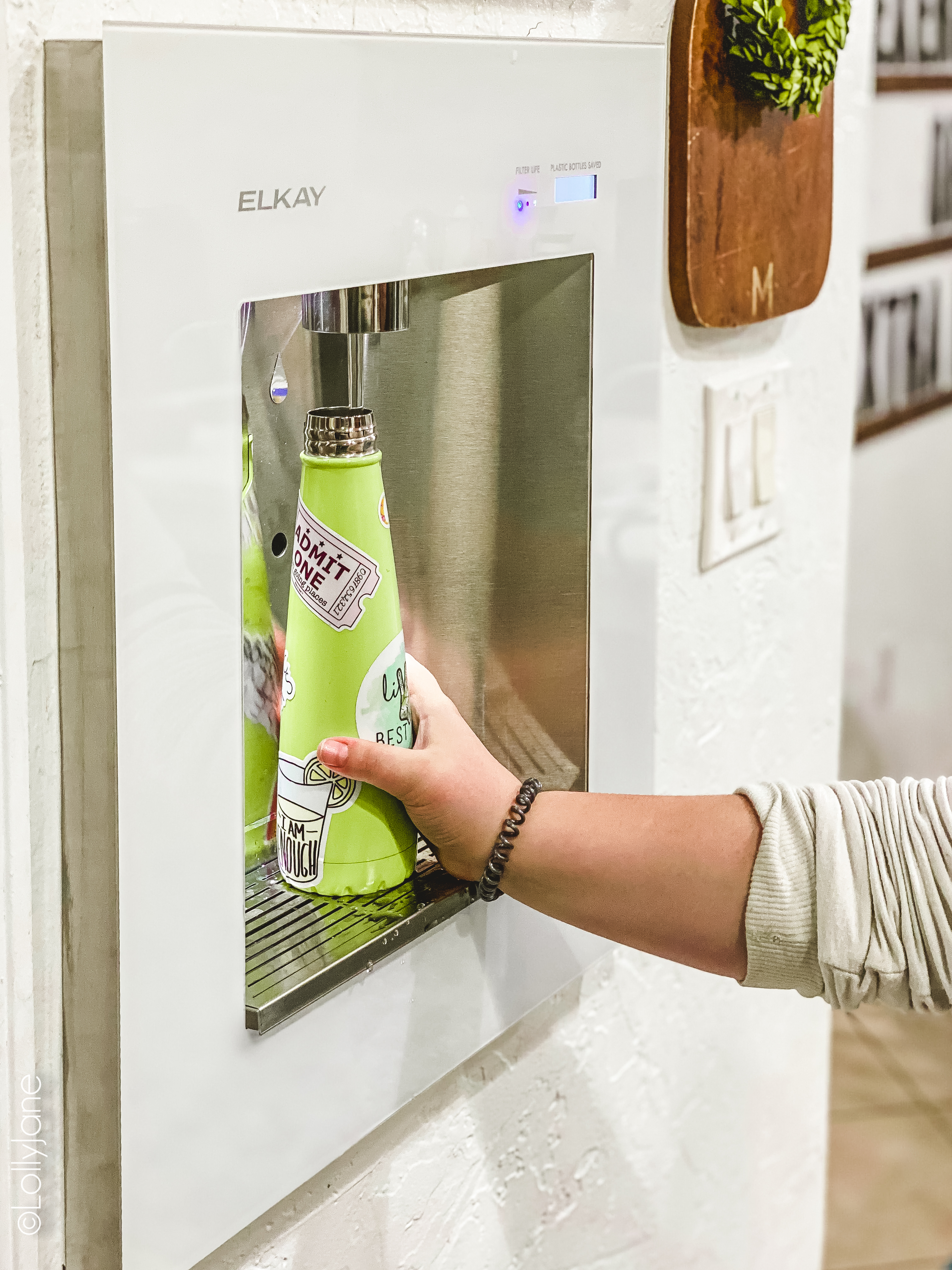 Drink Water All Day Long
Here are the best times to drink water throughout the day:
Right after you wake up to help to activate internal organs.

30 minutes before a meal to help with digestion.

Before going to bed to prevent strokes and heart attacks.
By using Elkay's ezH2O Liv built-in filtered water dispenser, you're staying hydrated AND helping the environment at the same time! We've had ours installed for only a few weeks but multiply that by 6 people and 2 dogs, we've already saved over 200 water bottles! ?
We'd love to hear from you! What do you love most about this amazing dispenser? Leave your comments below!
PIN to save and read later: