I promised I would share my Choose to Shine book page wreath tut during yesterday's post. They were actually easy to make once I nailed down the details…which was nice since I made THIRTEEN of them in one sitting!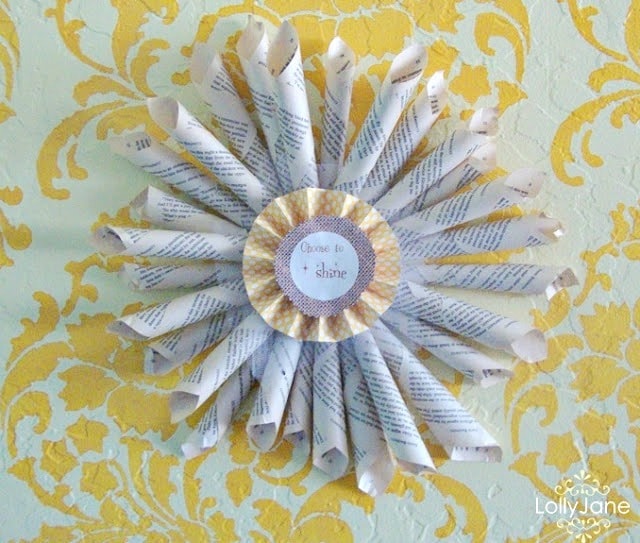 To be honest, I've seen these cute wreaths around blogland forever but couldn't find a good, clear tutorial out there! And since I was in charge of decor for our shin-dig, I didn't want to screw up! Sooo…I took a million pics for YOUR benefit. You're welcome (:
How to Make a Book Page Wreath:
Step 1:
Rip out pages [I used old Relief Society manuals since they're now online]
Step 2:
Starting in lower right hand corner, tuck end inward then roll, keeping a cone shape.
Step 3:
Glue corner into place with a glue stick.
Step 4:
Again, note the CONE shape in the end…if it didn't turn out, just re-roll. Now repeat 19 more times for 1 wreath.
Next up, hot glue them in place: I cut out a 3″ circle from yellow card stock as my base.
Hot glue the first four cones at 12 o'clock, 3 o'clock, 6 o'clock and 9 o'clock. From there, just fill in as many as you can glue between the first 4 cones, [about 8-10] then create a second row so you end up with a fuller wreath.
Right picture: that was only HALF of my wreaths…long day, good thing hubby was home to tend kiddos and I had a marathon of CSI: Vegas to keep me company (:
I thought a pop of yellow to coordinate our Sunshine theme would be fun so I made paper lollys to go in the center of each wreath. [We've explained the tut before so if these pics aren't doin it for ya, click here!]
For the center of each lolly: Print "Choose to Shine" (in Word) onto regular copy paper, cut out into 2″ circles, glue circles onto faux burlap scrapbook paper and cut into a 3″ circle with edging scissors.
Total cost for 13 wreaths?
Just $7 for scrapbook paper [from HobLob] which comes out to less than $2/wreath.
Now that, my friends, makes our budget SMILE (: