We're big believers in family time. Before mine somehow grew into teenagers and would let us, we had a family curfew from neighborhood play by 5pm to allow quality time together under our own roof.  Sometimes they get annoyed that they have to leave their friends but most of the time, they loved chattering around the dinner table together or simply hanging out with a board game or laughing at a funny movie. You don't have to spend money to invest in quality family time! Here are 100 Family Time Ideas for your own crew… many are cheap or free!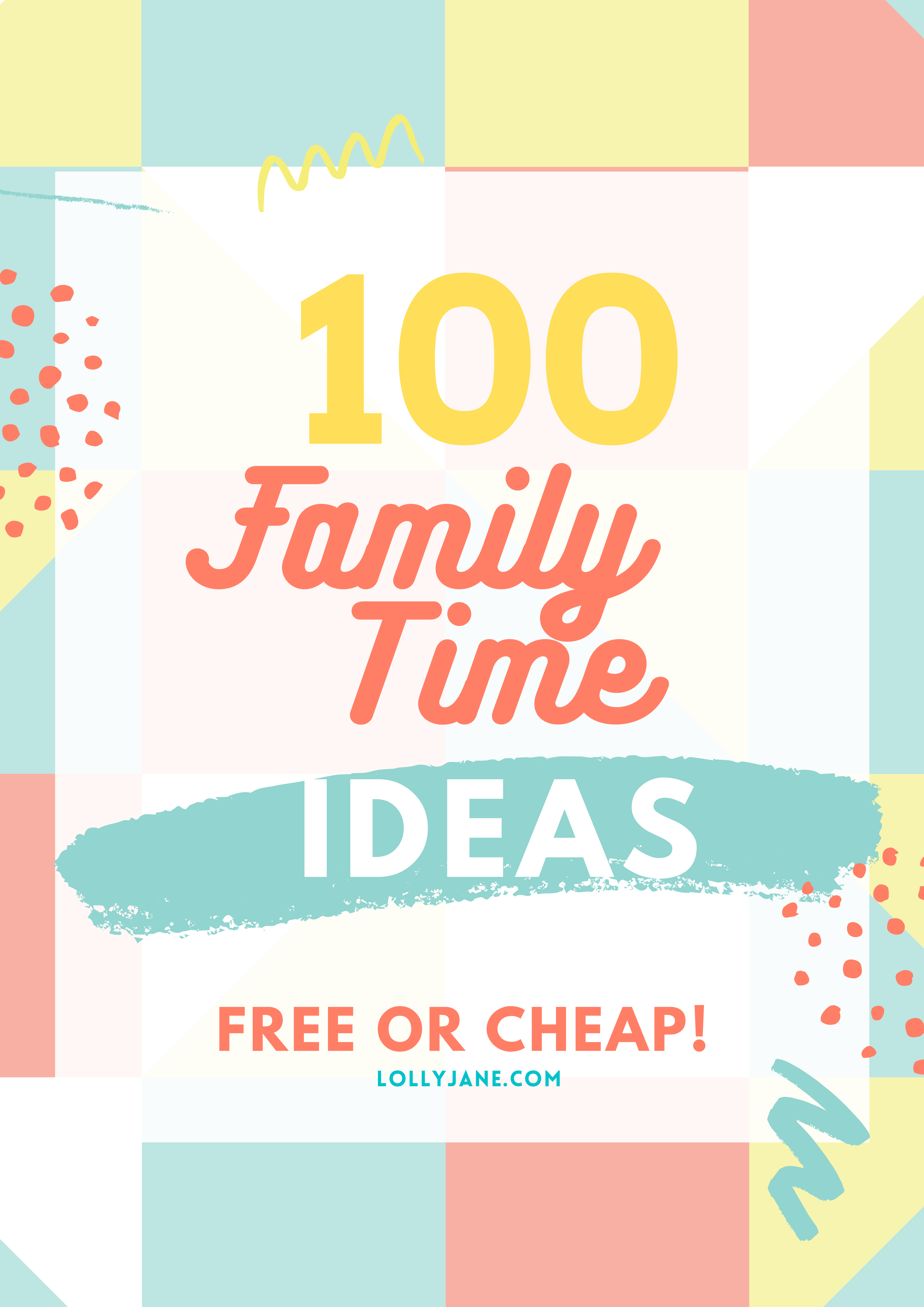 Go on a walk.
Wash the family car.
Go to the zoo.
Have a family slumber party.
Camp in the backyard.
Go through baby photos.
Try a new cookie recipe.
Visit the library.
Play kick ball.
Plant a garden.
Organize bedrooms together.
Set a timer and clean the house.
Record yourselves acting out a play.
Visit a new museum.
Play Heads Up 7 Up.
Write letters to far away family members.
Make a collage from old magazines.
Buy and fly a kite.
Play Hide and Seek in the dark.
Go for a hike.
Have a race.
Cook S'mores over a fire.
Play 007 in the dark on your street.
Visit a family member's grave and bring flowers.
Learn to make paper airplanes then race them.
Walk to the store and buy ice cream bars.
Tell scary stories in the dark.
Family bike ride.
Draw funny faces of each other together.
Go bowling.
Make a rope swing and hang it from a tree.
Go to a thrift store and find toy to donate.
Visit a soup kitchen.
Visit a homeless shelter.
Make homemade play dough.
Make edible play dough.
Make homemade gak.
Learn an instrument together.
Go to a local outdoor concert.
Call and sing "Happy Weekday to You" to a far away family member.
Learn how to use a compass.
Plant a tree.
Visit an animal shelter.
Sing in the car.
Go ice blocking.
Play tug of war.
Go swimming.
Go bird watching.
Go to the lake.
Go to the pool.
Drive with no instructions and see where you end up.
Drive to your downtown city and read historical signs.
Bake a pie.
Make banana bread.
Make monkey bread.
Take treats to a neighbor.
Play flag football.
Stay at a local hotel overnight.
Go fishing.
Visit a local bookstore.
Make a family flag and display it.
Make a new culture dinner.
Play in the sprinklers.
Keep the tv off for a night.
Say why you're grateful for each other.
Assign Secret Santas to each other for a week, when it's not Christmas. Do kind acts for each other.
Leave a kind note for the mailman.
Make a card for the bus driver.
Have an etiquette night, manners are important.
Watch a clean You Tube video and re-enact it.
Have a lemonade stand.
Have a bake sale.
Have a garage sale.
Donate money to a shelter.
Walk a dog.
Babysit a neighbor's kids for free so the parents can go out.
Have a formal dinner with your nicest clothes on.
Make homemade candles.
Make homemade scrubs.
Crochet beanies for the local hospital.
Visit a senior center.
Go to a drive through and pay for the car behind you.
Mix soda flavors at your local convenience store, taste test them afterward and guess the flavors.
Go to a new restaurant.
Have ice cream for breakfast.
Have breakfast for dinner.
Create animals from hand prints.
Make a bird feeder.
Clean up litter on the street.
Bring in a neighbor's trash can secretly.
Create an obstacle course outdoors and have a race.
Bike ride to your favorite lunch spot.
Have a picnic.
Go the the dollar movies.
Buy groceries and hand it out to homeless people on the street.
Buy candy and hand it out to pedestrians and smile.
Go to the airport and watch the planes take off.
Go to the mall and people watch.
Start a family blog. Take turns updating it for different perspectives.
Say I love you everyday. Go the extra mile and cut out paper hearts with WHAT you love about each person in your family and leave them under their pillow.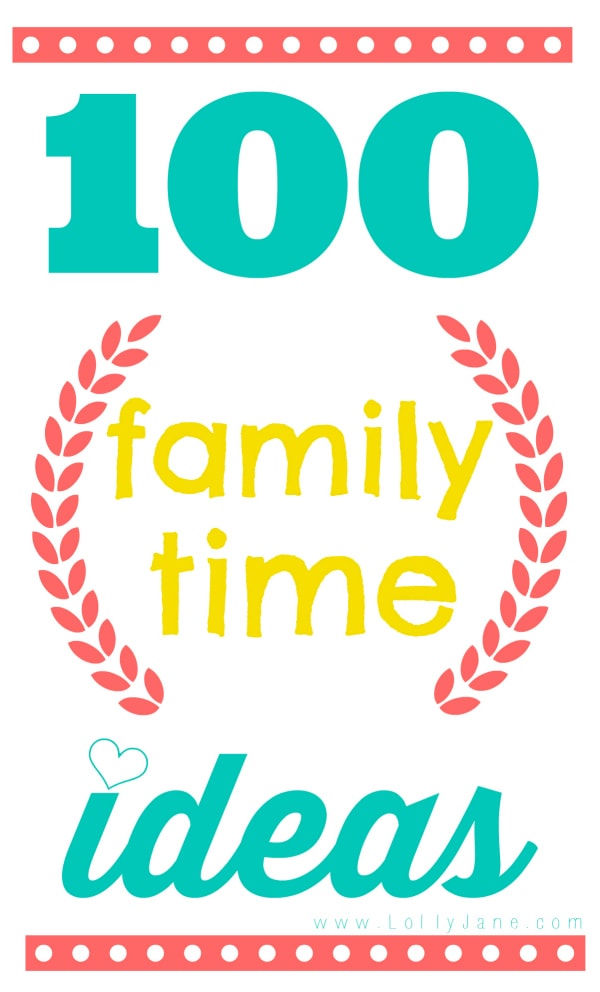 Need more ideas??  Visit our 21 fun summer boredom busters and our 50+ easy kids crafts!

Now go enjoy that family of yours (: