Easy Sweet Chili Fish Wraps recipe
Thanks to Gortons for sponsoring today's delighful dinner! All opinions belong to us. – Sweet Chili Fish Wraps
Nom nom nom! We shared some EASY PEASY Honey Mustard Fish Sliders with y'all and you loved them!! With back to school in full swing and football and lacrosse season upon us, we're always on the lookout for shortcut meals. You know the kind…fresh ingredients mixed with a cheater staple food item 😉 These Sweet Chili Fish Wraps are full of flavor but short on time, our favorite kind of dinner!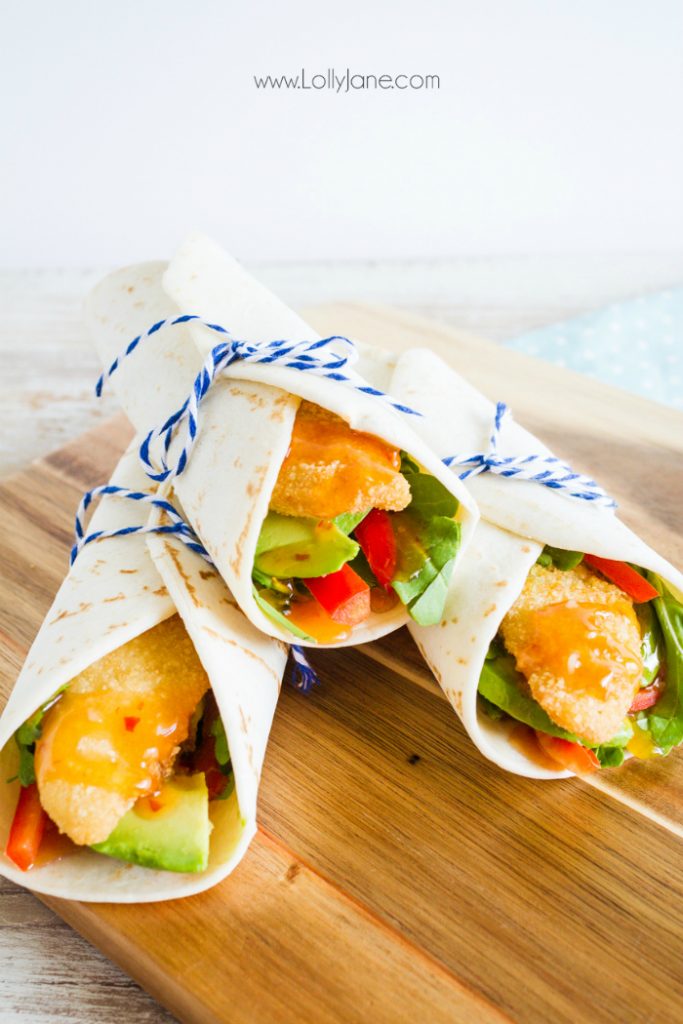 We're always looking for kid friendly recipes and these fish wraps are just that! Our kids love that they can customize their wraps with their favorite veggies, add some sauce and wrap in a tortilla. No utensils required!
Sweet Chili Fish Wraps Recipe
Fast and easy dinner idea! Your family will love these fun wraps, filling them with their favorite veggies mixed with these sweet chili fish tenders, yum!
Ingredients
Gorton's Go Saucy Sweet Chili Tenders

2

large red peppers

sliced

2

avocados

sliced

3

C

arugula

3

floured tortillas

Go Saucy Sweet Chili Sauce Packet
Instructions
Cook the tenders on your stove top oven until tender. (NOTE: Follow cooking directions on box.) Slice the red pepper and avocado.

Place the cooked tenders, red pepper slices, arugula and avocado slices in the tortilla.

Drizzle with sauce and roll the tortilla up into a wrap.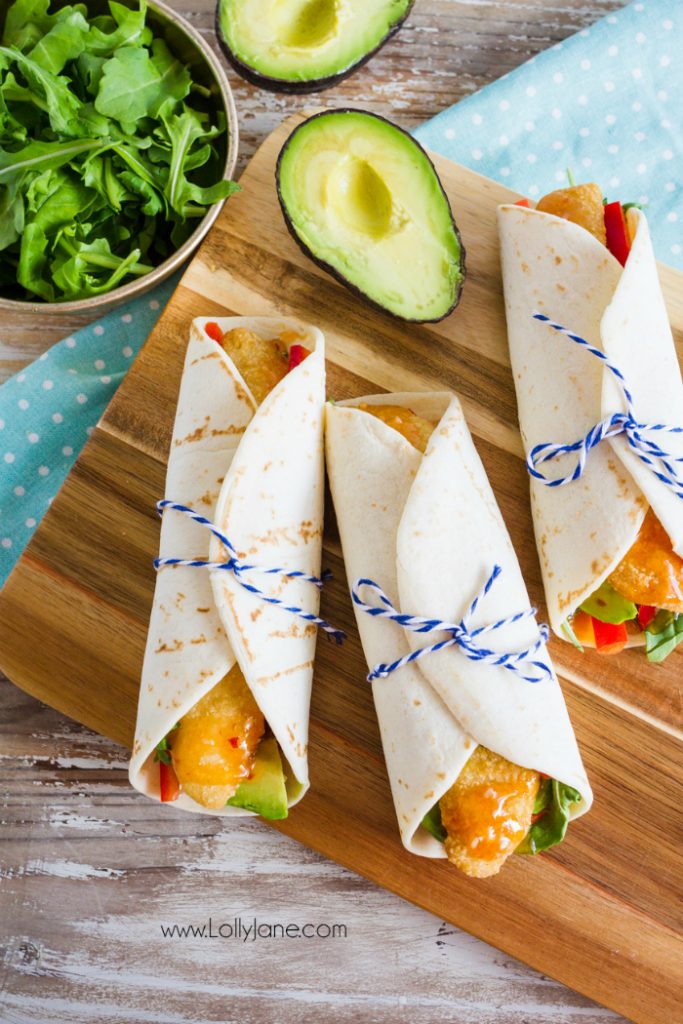 Sweet Chili Fish Wraps
What are some of your favorite weeknight recipes? If I don't get a crockpot going by noon, I feel like I'm in a mad rush by dinner time to make something healthy and free of mom guilt. Our go-to's are easy recipes like taco soup but sometimes I don't have the chips on hand and the kids love to dip their soup. These Fish Wraps are really an easy dinner idea with their quick warm up time and premade sweet chili sauce. The fresh veggies keep it light and healthy which is a major mom win in my book!
We love Laura Lynn Fannin's quote: Simplify everything. This is just a short span of life where they need you right there. Sometimes we tend to overanalyze ourselves and try to do everything all at once. We attended a mommy daughter event through our church group last week where we had a craft class making back and forth journals, a fun class answering questions about each other then a class just for the moms about how to strenghten relationships with each child individually. Three adult daughters, each in different stages of life, spoke about how their mom was a constant support to them growing up. One way she scored one on one time with each of her six kids was having them make dinner one night a week. That way, she was teaching them life skills and bonding with them as she helped with their dinner. Isn't that brilliant? A simple meal like this wrap and premade fish is the perfect dinner for my eight year old to help put together. Instead of worrying that each item isn't home grown, I'm going to be grateful that someone else like Gorton's can do the heavy cooking and give me the gift of time with my kids.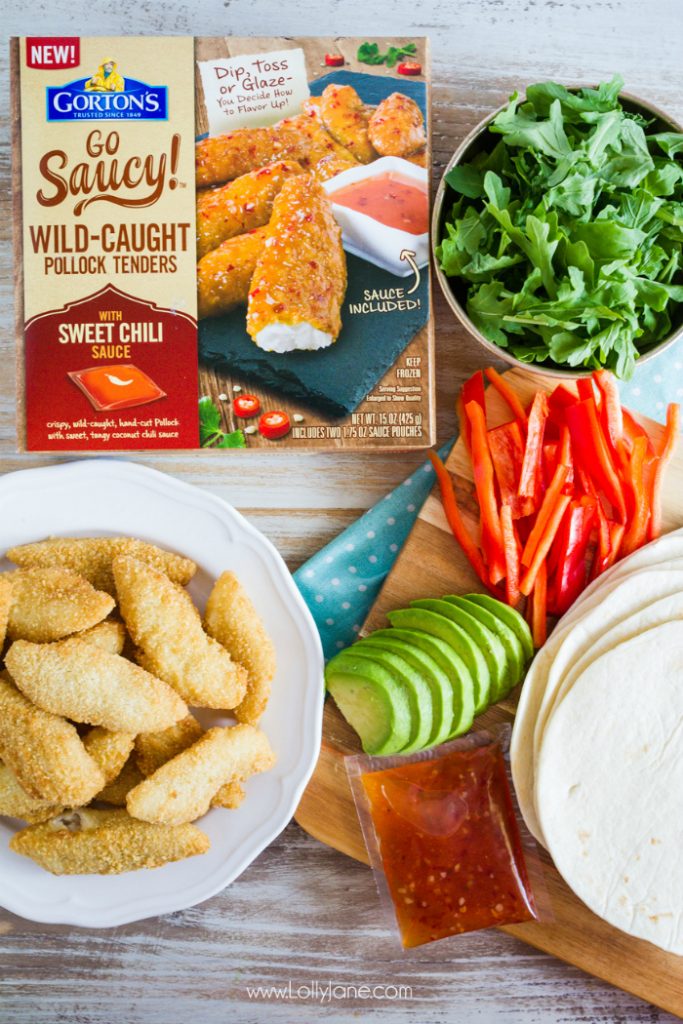 Sweet Chili Fish Wraps
These yummy wraps would also work filled with our
Honey Mustard Tenders recipe
, you can swap the wrap for a bun and top with tomatoes and chese. Or visit Gorton's for more of their easy to make dinner ideas too!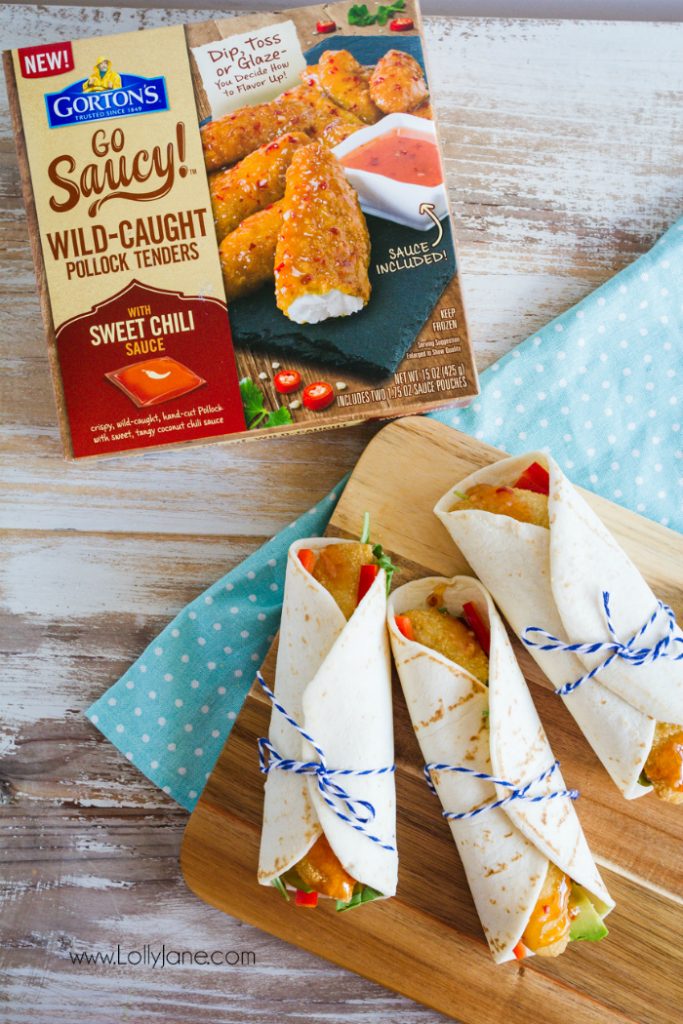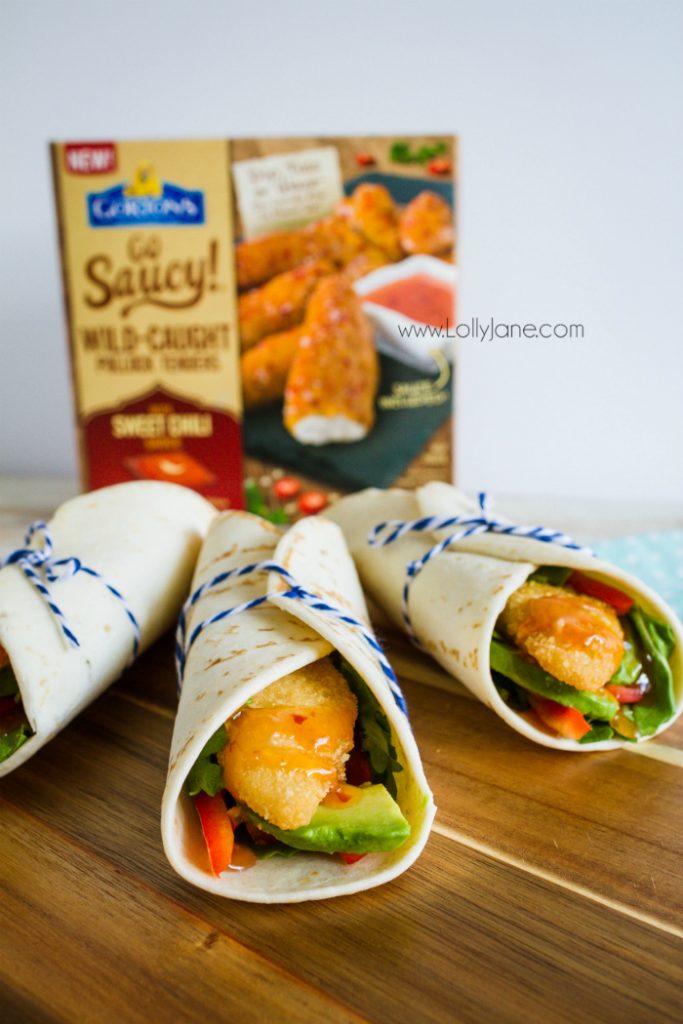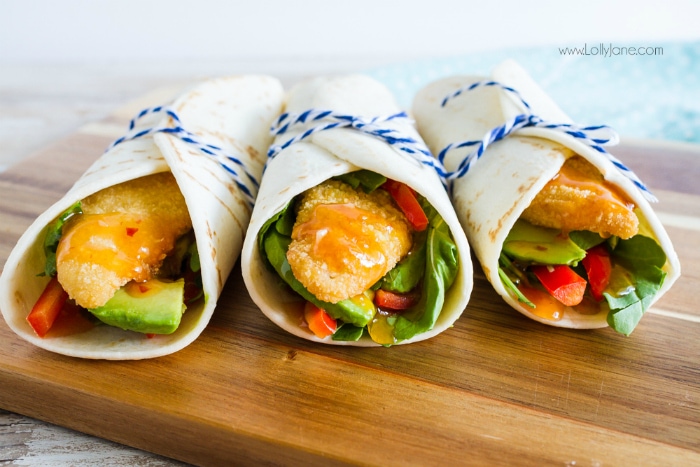 Please pin and share the love so your friends can whip up this easy dinner too!