Cutest Pink Little Free Library + plans!
ht Little libraries are popping up in towns and subdivisions all over the country. Check out our pink little free library plus plans! Bonus: easy to use tools to put it all together!
Since it's warming up here in the desert, we wanted to a share a spring outdoor project to break in our new Hart tools. Spring break is right around the corner and we encourage our littles to stay off of electronics as much as possible so building this free Little Library now is perfect timing!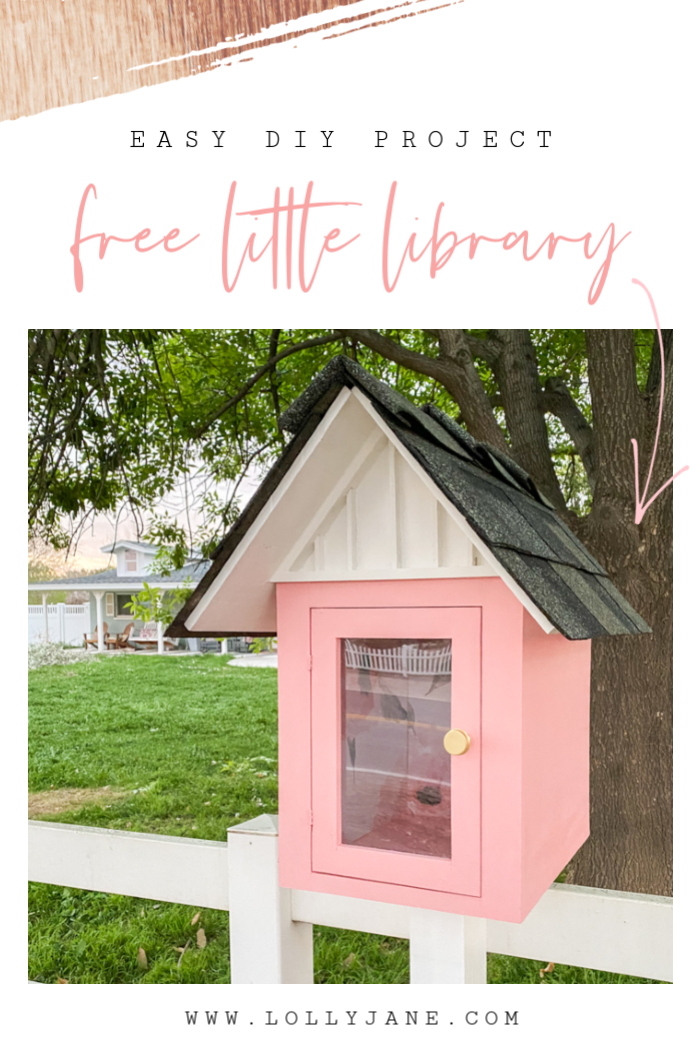 Little Free Library
We are hoping to have the little free library multi-functional and exchange puzzles as well since that's a favorite weekend activity as a family but the sky is the limit… it could be made smaller into a bird house, modified to be a mailbox, or even as a little dollhouse for your favorite tot!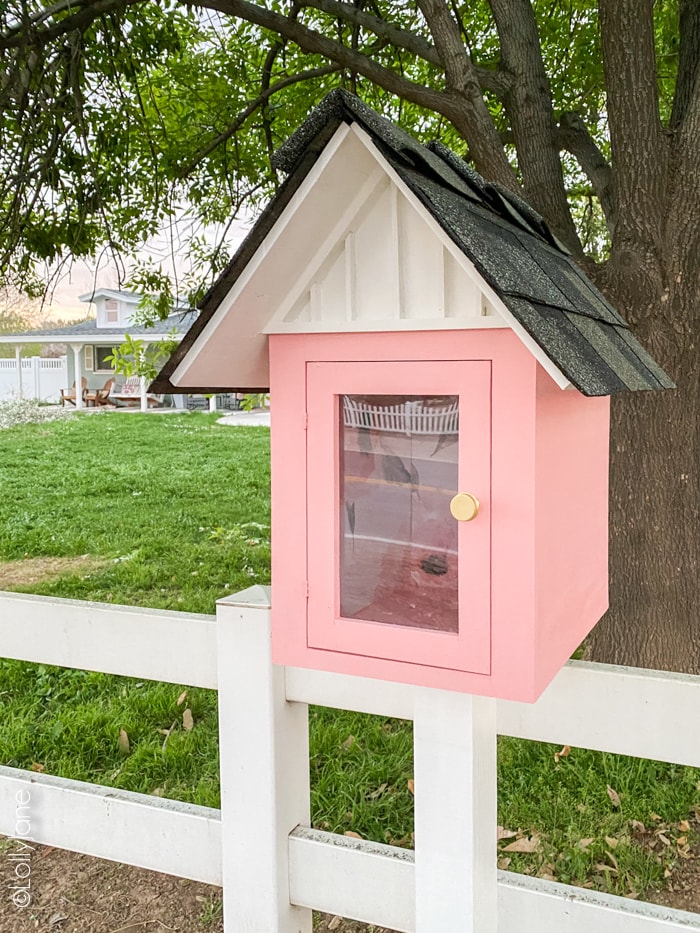 Our friend Brooke from Nesting with Grace made the cutest pink little free library and since her front door is also pink, we knew it would look great in our own yard. Armed with the right tools that did a lot of the work for us, we had a blast building this library and had even more fun accessorizing it! We loosely used Brooke's plans but altered it to make our door flush with the front of the library, added board and batten to our gable so it matches our new gables on our house, and used leftover shingles from our roof renovation we did over the summer.
+++Update 2022: We've had some requests for official build plans and although we don't have them, we found some by Lazy Guy DIY via Kreg. Their free little library is very similar to ours and you can easily customize it to your own liking. Happy building!
Little Free Library plans and supplies
To build this project, you'll need some wood and some light power tools.   Walmart carries most of what you need for this project, from the saw to the paint, to the wood glue, and door hinges. You'll need some larger pieces of lumber as well, your local home improvement store can cut those down for you. We used our Compound Miter Saw plus a 1/2 Drill/Driver to tackle the rest of it.
Other supplies needed:
1/2″ plywood (sides, bottom and roof)
birch wood (front piece + door)
saw
drill
hammer + 1/2″ roof nails
shingles
paint (pink: Fashion Pink via Benjamin Moore, Ultra Pure White via Behr)
gold knob
plexiglass
door hinges
magnet door close
wood glue
4×4 post, cut to 5′ length
scrap wood (underneath the library to attach to post)
scrap wood (door stop + magnet holder: see pics)
how to build a little free library
Building this is fairly easy but there are a lot of small steps!
Cut pieces of wood to size.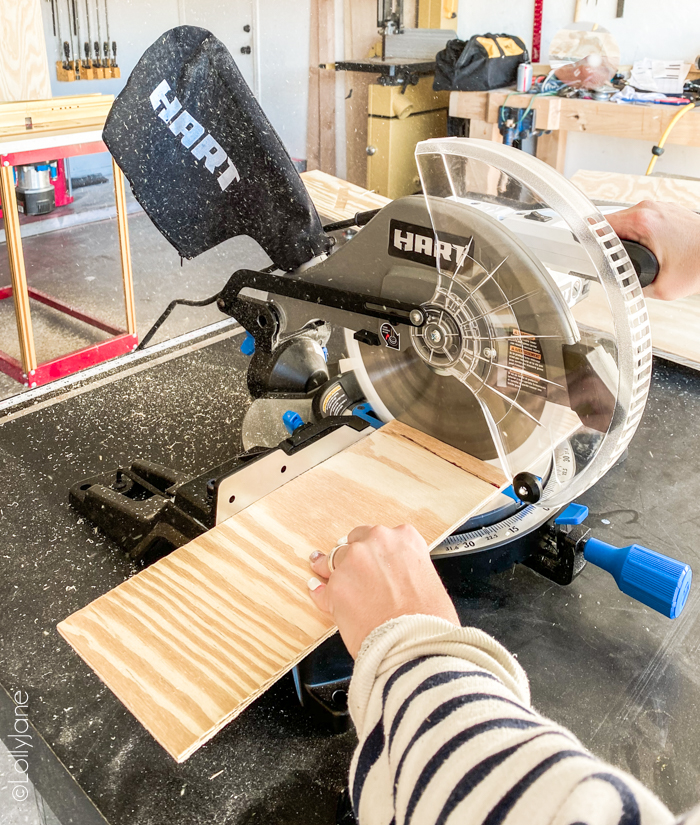 Note: We used our table saw for the largest pieces (or your local home improvement store can cut for you) then used our 10″ Miter Saw for the remaining cuts.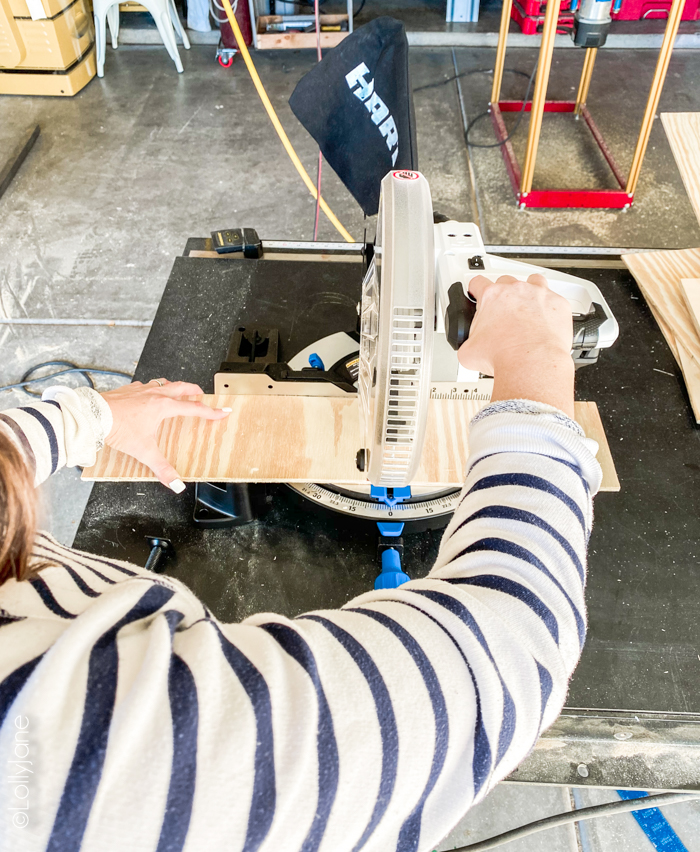 Wood glue the four sides to the bottom piece to start; allow proper dry time.
Wood glue roof in place; allow proper dry time.
Wood glue door together; allow proper dry time.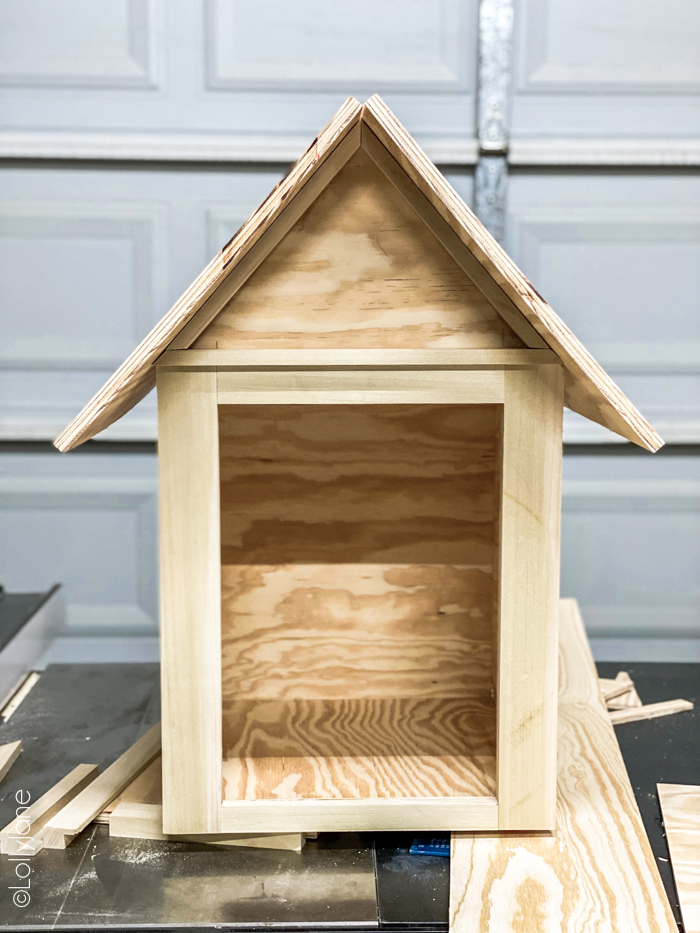 Glue trim pieces + board and batten to gable.
Router out edges for Plexiglass.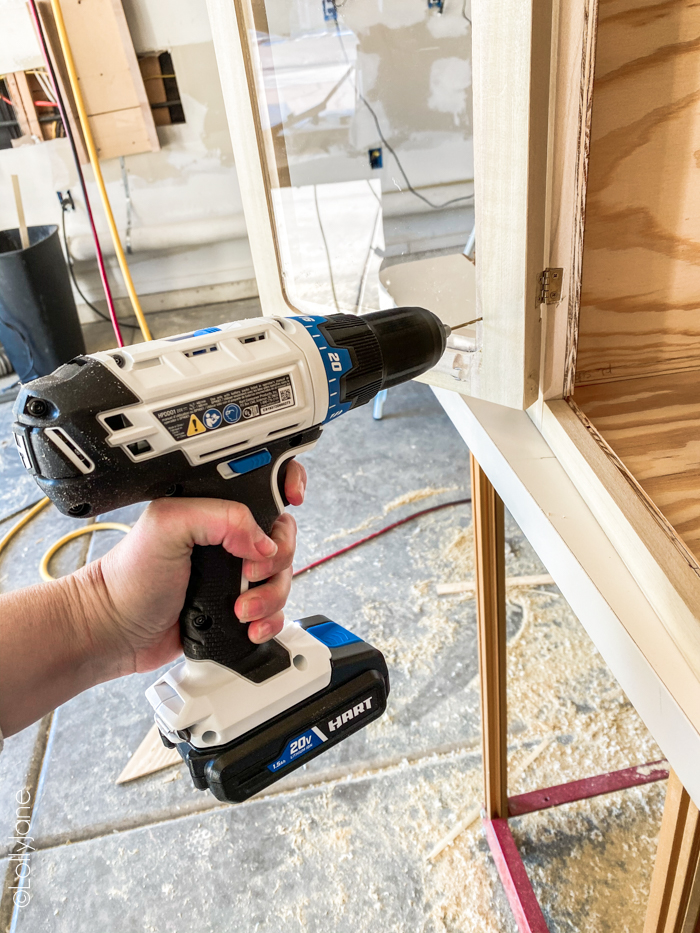 Attach door with hinges, (we used the bit on our 1/2″ Drill/Driver to pre-drill the hole then switched to the Phillips head to secure screws.)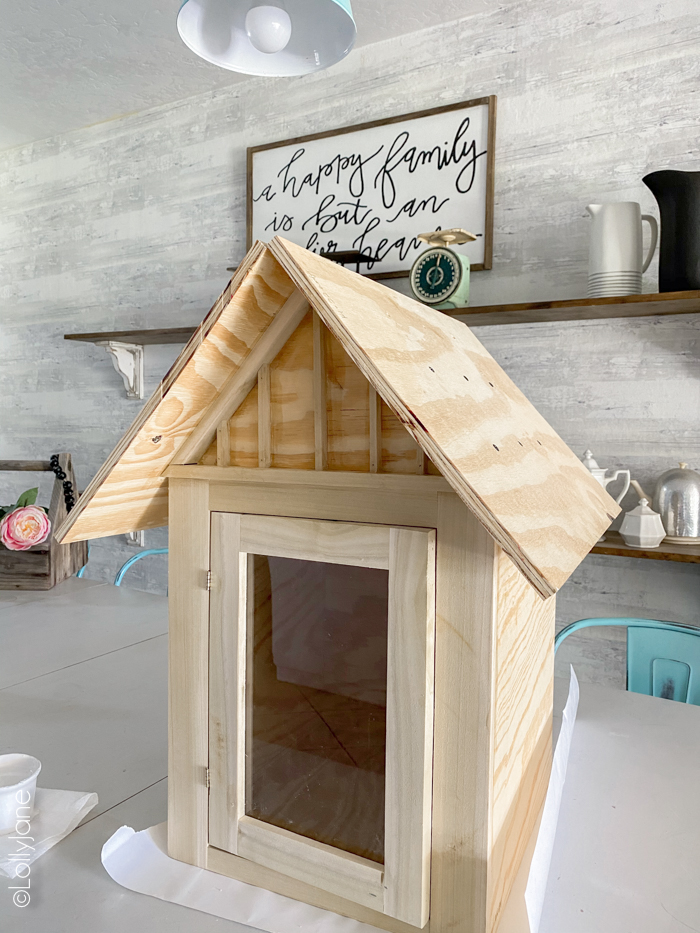 Secure seams with outdoor caulk so the inside stays dry during wet weather, let dry completely.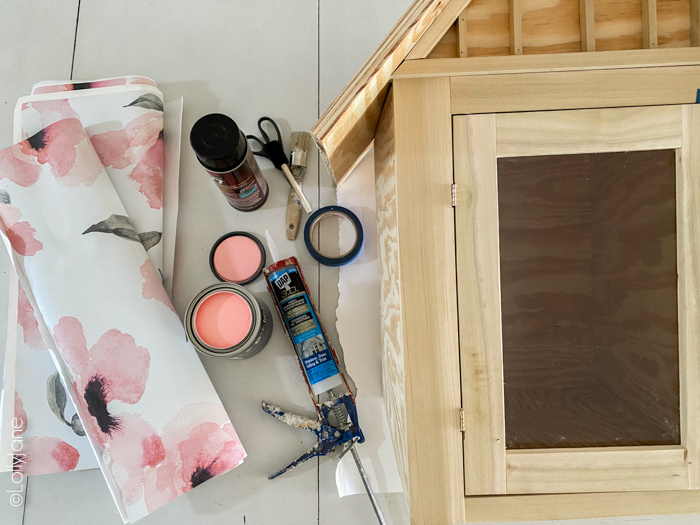 Paint the library + post. Don't forget to paint inside!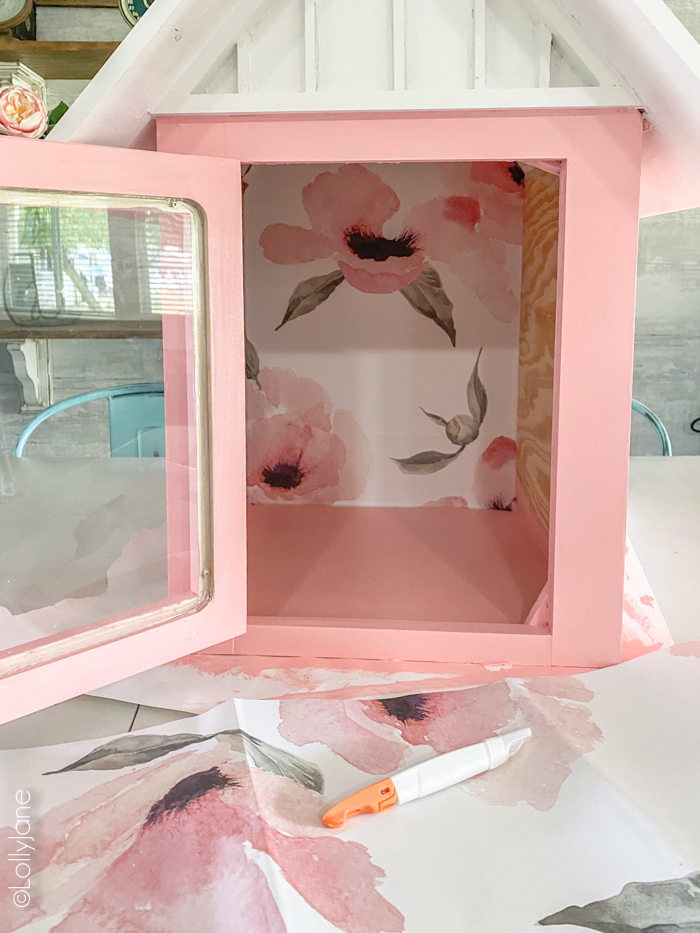 Attach wallpaper inside library. *optional
Pre-drill a hole for the knob.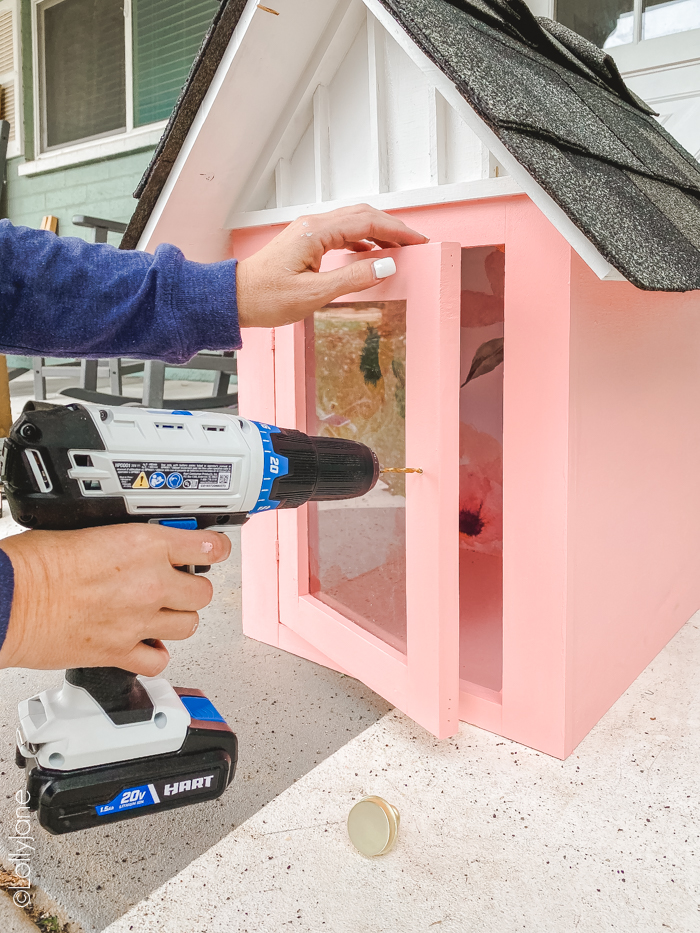 Screw knob into the door.
Screw magnet holders into door.
Wood glue scrap wood to the bottom of the door opening (on the inside wall) to create a door stop.
Wood glue scrap wood to the top of the door opening, screw in one end of the magnet door stop.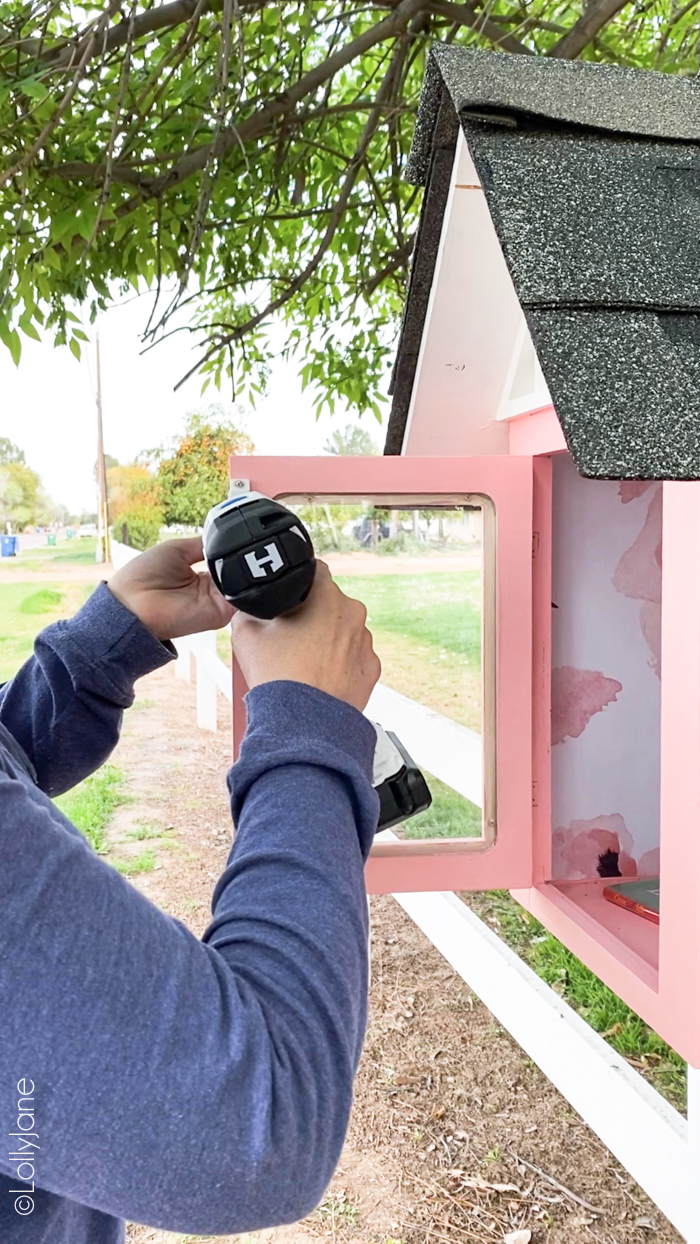 Screw in the magnet opposite the door stop.
Ta-da! Look how cute!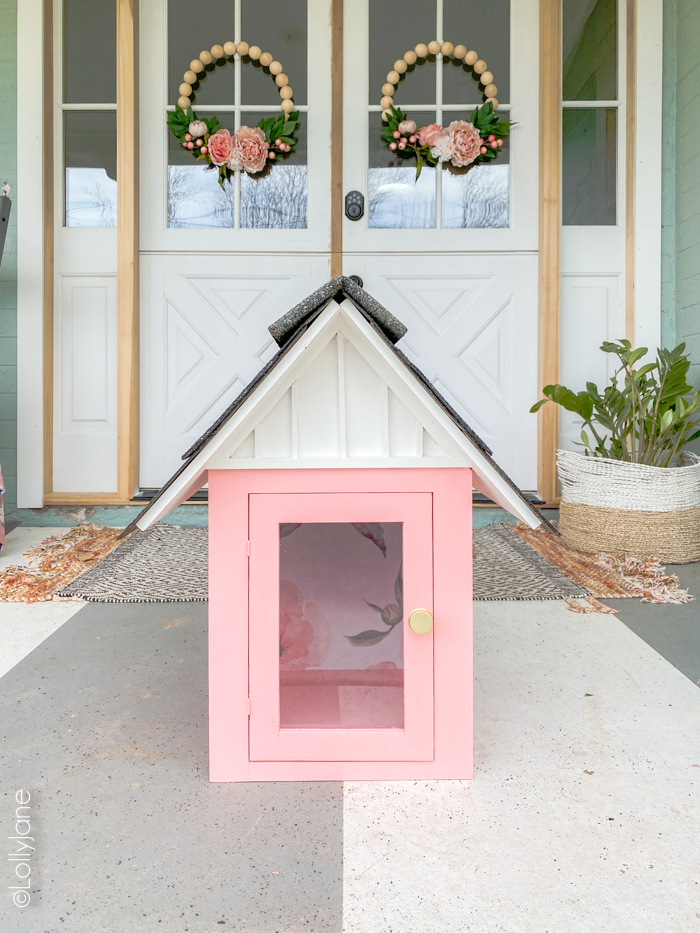 How to plant little library
Pre-drill then attach scrap wood to post with 4 screws, making a square.
Pre-drill then attach library to post with 4 screws, making a larger square.
Wood putty any blemishes, touch up paint, if needed.
Ta-da! Here she is ready for all the kiddos on spring break to grab a fresh book every day and sit outside and read!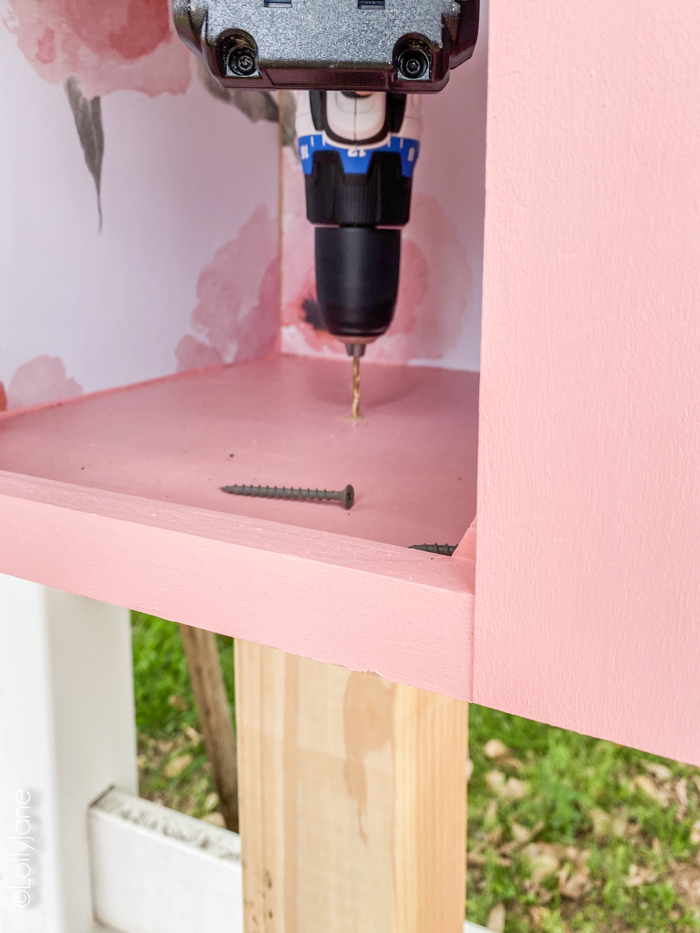 Little Free Library map
Click to learn more about what a little free library is if you're not sure. Basically, it's a free "take a book, return a book" exchange. Owners of the libraries do it just for fun and commonly build a box to house the books and place it in their yard. Anyone can take or gift a book!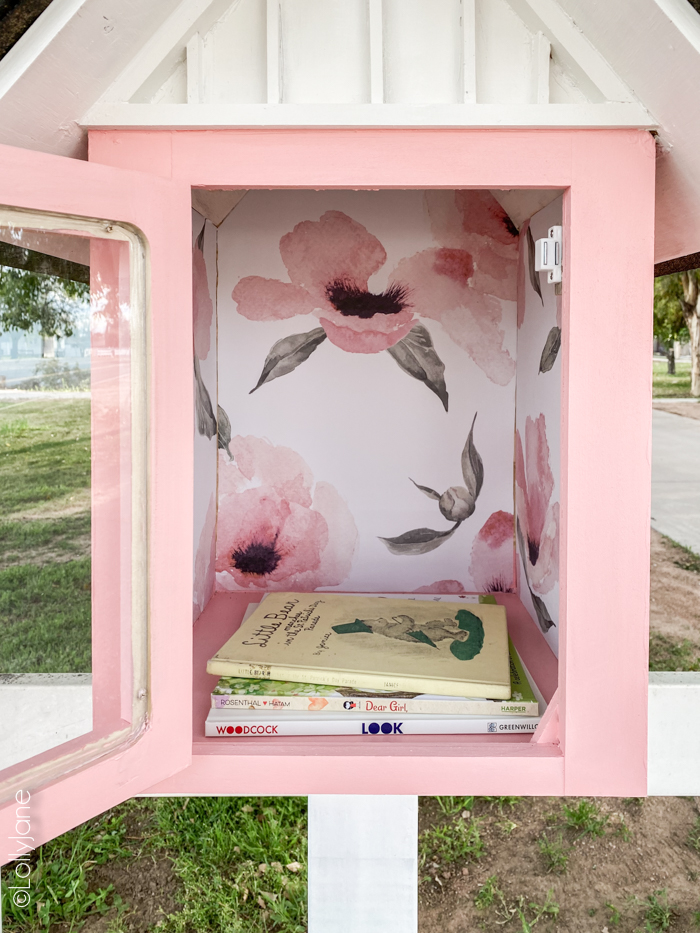 You can become a steward and register your library so others can find your books but we're still undecided if we'll actually register and gain the fancy title as we live in a large community with an active email group; just from being outside installing it, we had a dozen neighbors pop in and ask what was going on.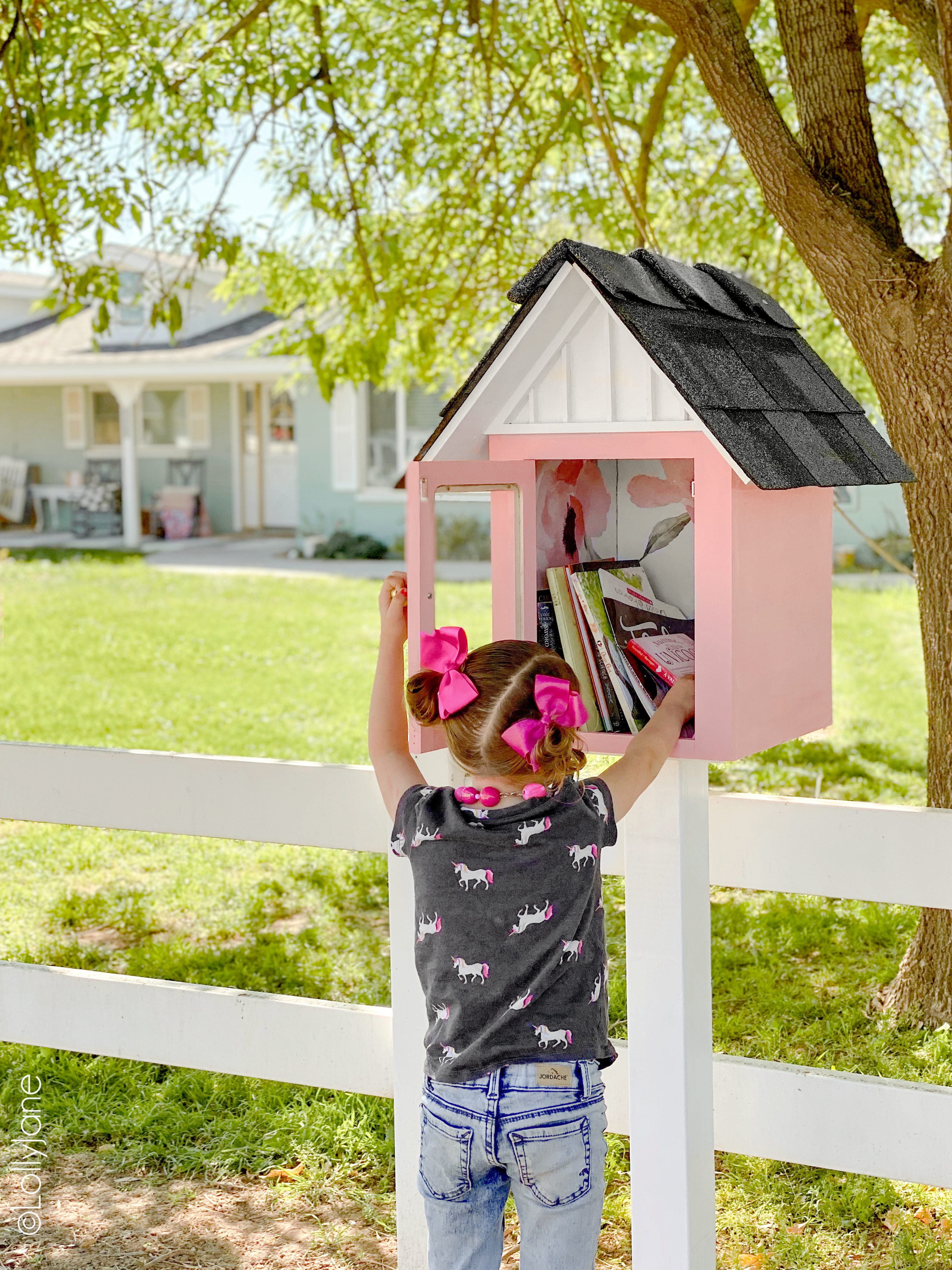 Then at church today, one of the teenagers handed me 6 books to add to it!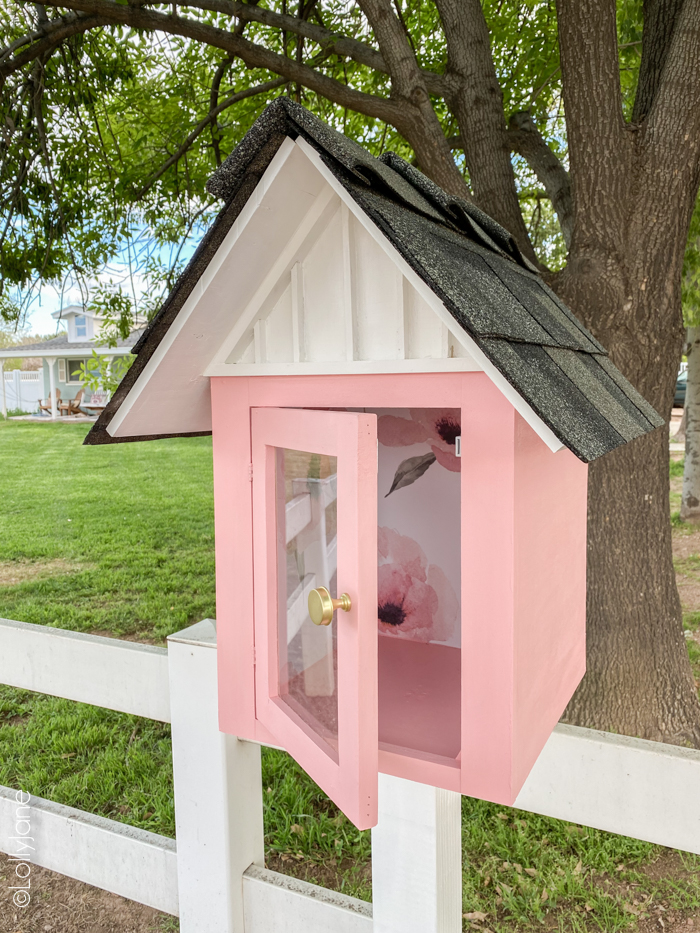 How fun is that? I think it will stay plenty busy with word of mouth, for now ?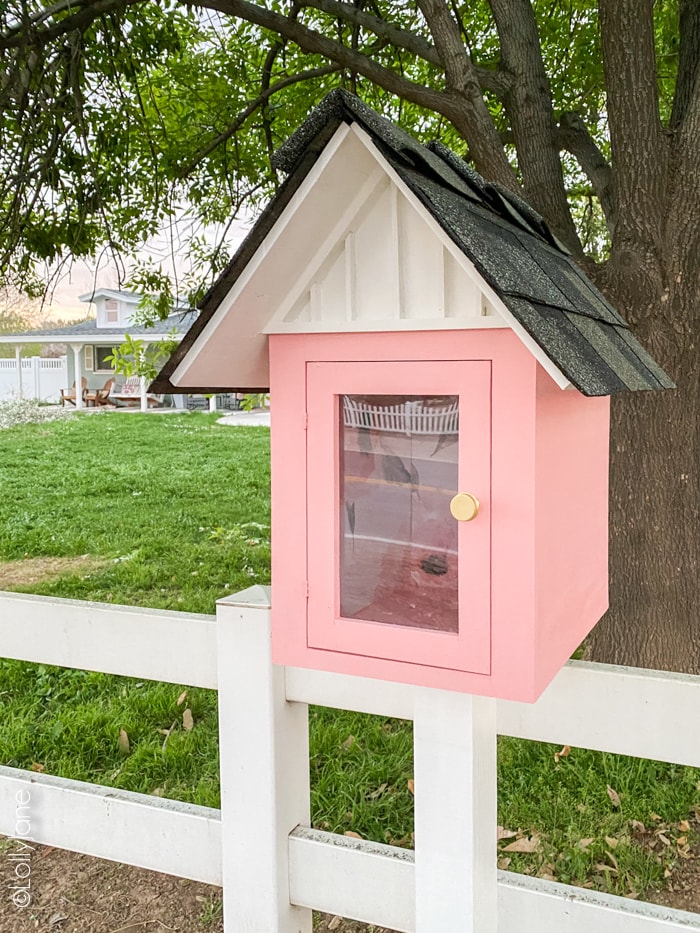 Here's a little free library map to find one in your own location if you'd like to visit one during this gorgeous spring season coming up.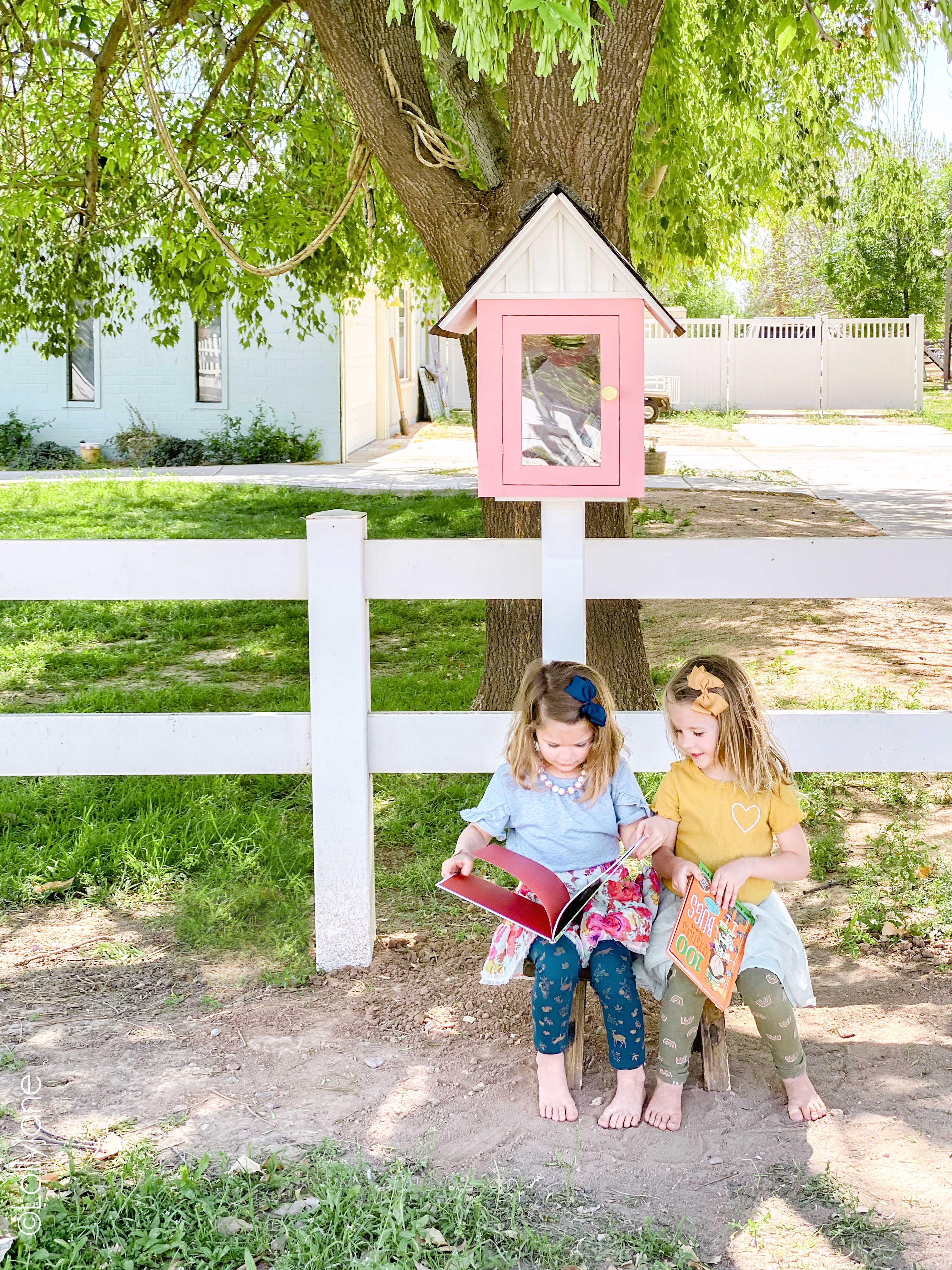 PLEASE PIN
We'd love for you to pin this for later so your friends can make a free library too!