Easy Pantry Organization Solutions
Pantry out of control? Check out these EASY pantry organization solutions that will get your food storage area tidied up in no time!
With the new year comes the bug to clean, purge and organize! For instance, you may be looking around your house asking WHAT can you organize. For me, I decided to first tackle the pantry because we spend much of our time in the kitchen. As a result, it can get pretty messy disorganized pretty quick! Enter our easy pantry organization solutions!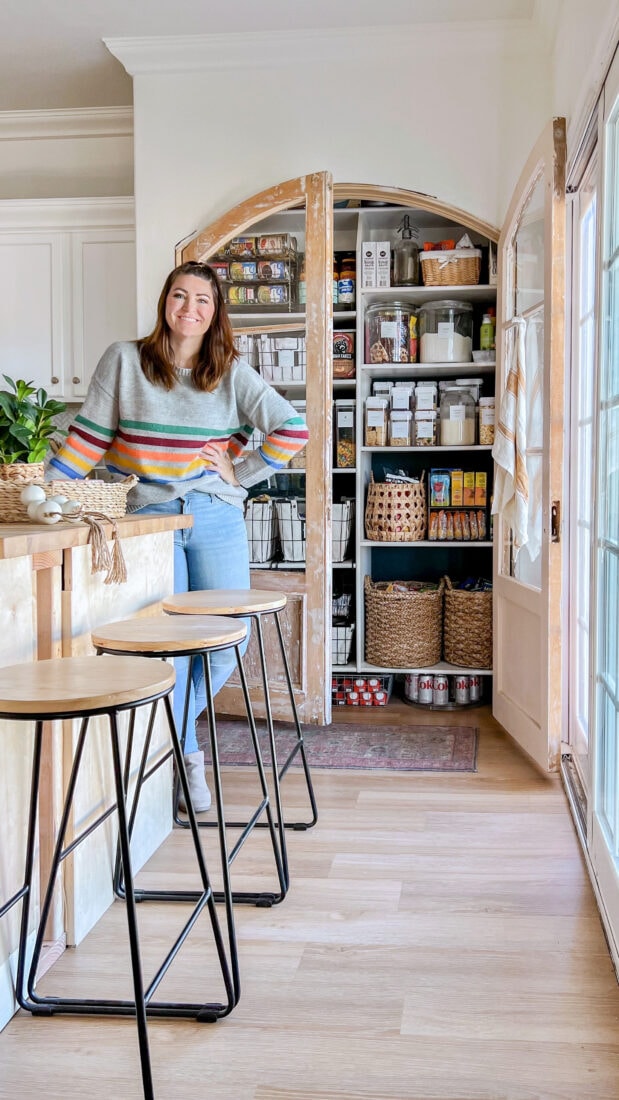 Pantry STORAGE IDEAS
Last January I made some big changes to my kitchen pantry with refinished arched doors, a freshly painted back wall and a quick Walmart run for some simple pantry storage solutions.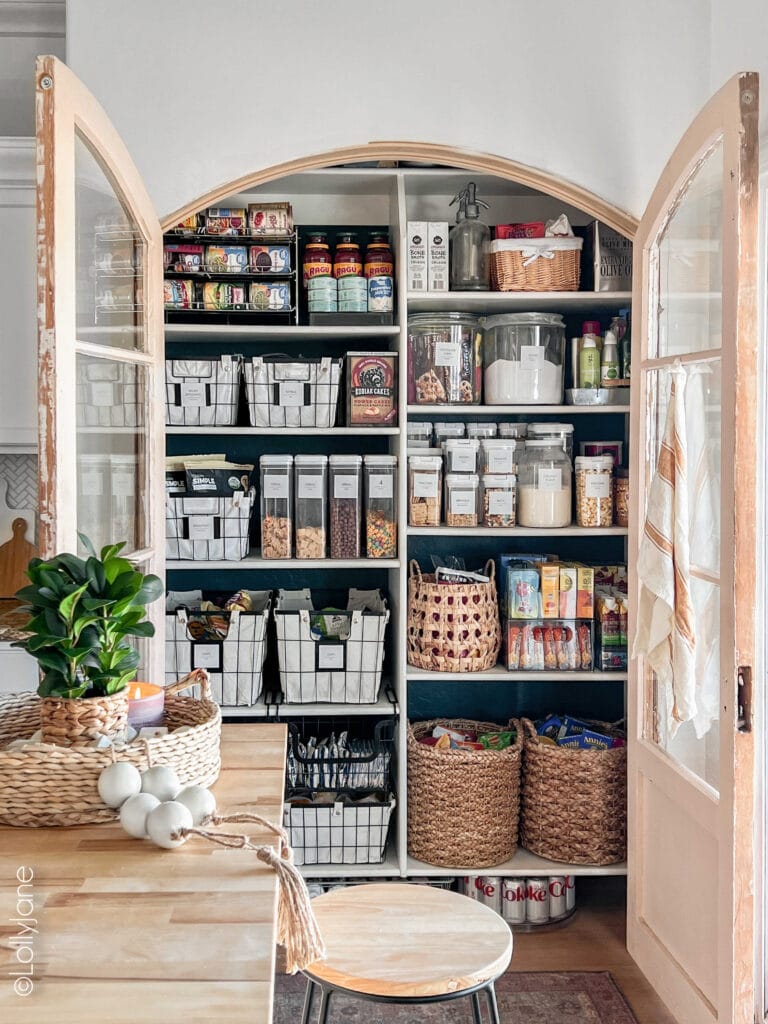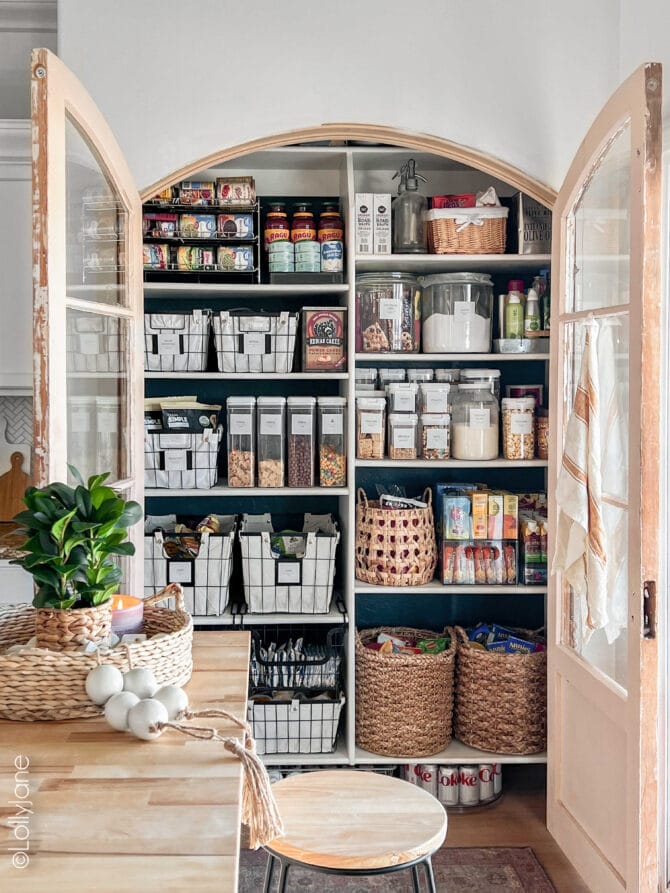 Clear Storage Containers
I have 3 kids under 11 and, as a result of their constant digging, my pantry needed some permanent easy-access containers in place. Moreover, I wanted to ensure they could SEE what was what to avoid said plowing while also keeping my pantry somewhat tidy after the consistent grabbing/replacing of snacks. (Tall order, right. HA!) Since I don't have the luxury of an oversized pantry like Kelli's darling farmhouse pantry, I have to instead make every inch count!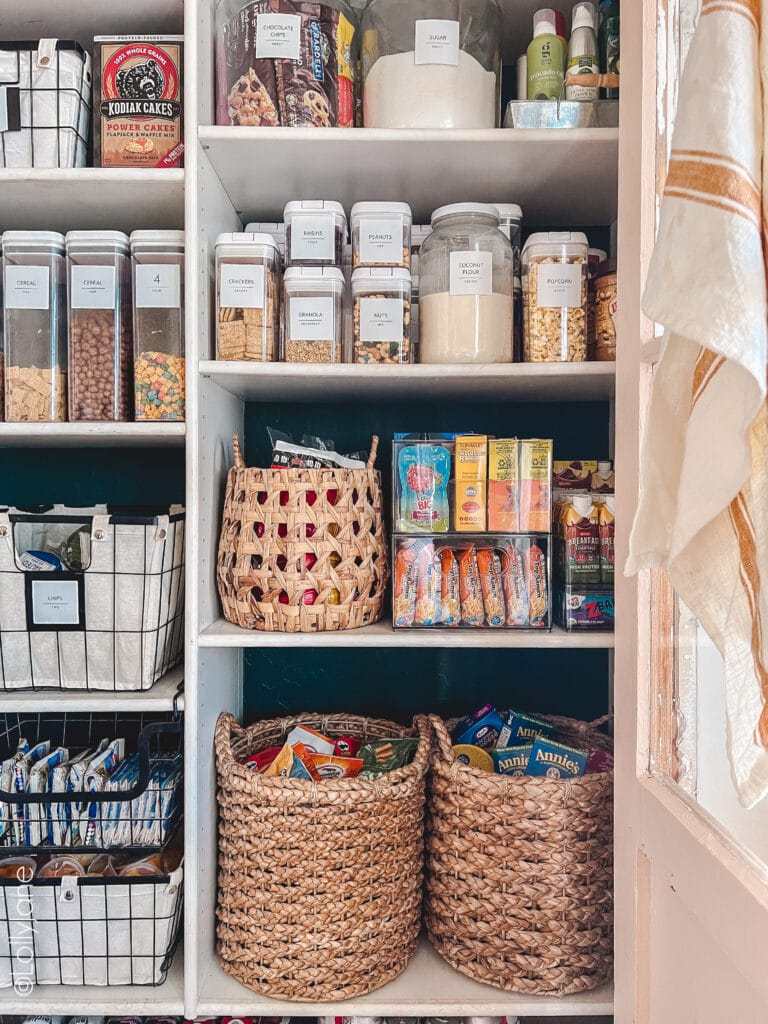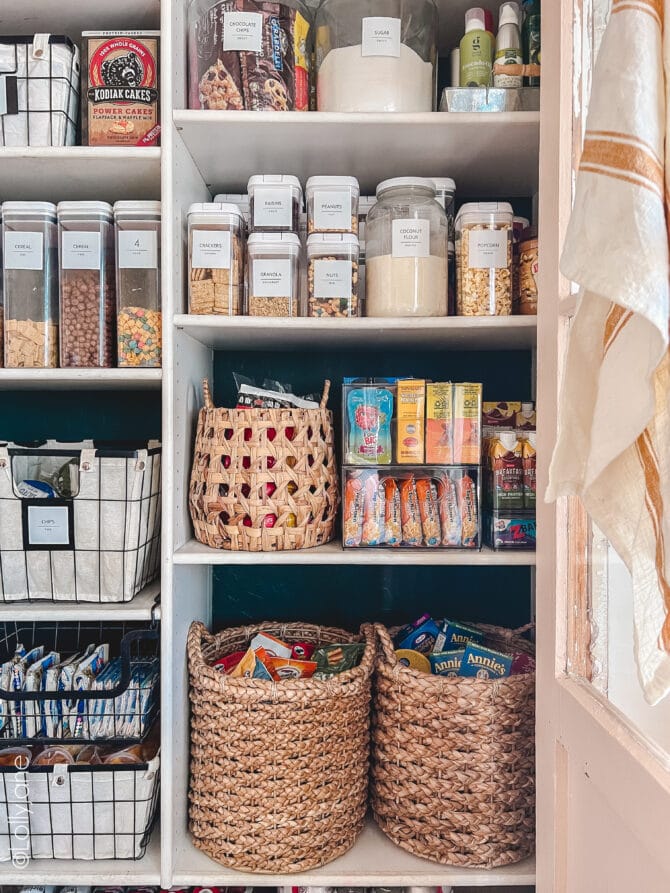 Enter the new Home Edit line at Walmart! I was able to ditch a larger "problem" bin that was making things worse and instead, break it up into small compartments that serve a purpose. I opted for the 5-piece pantry edit that included 2 clear stackable bins (filled with snacks they take to school everyday) and noodles that I only use 1-2x/week.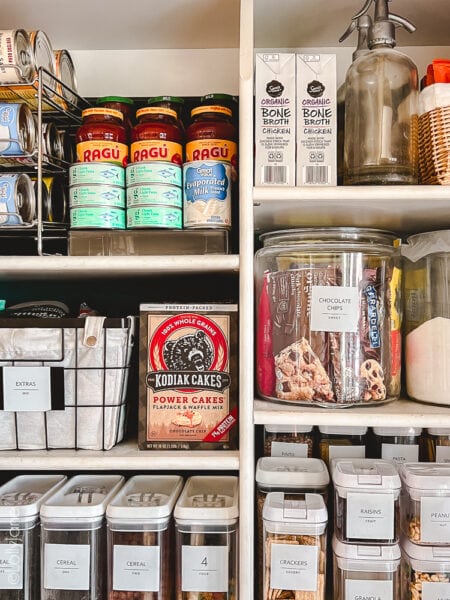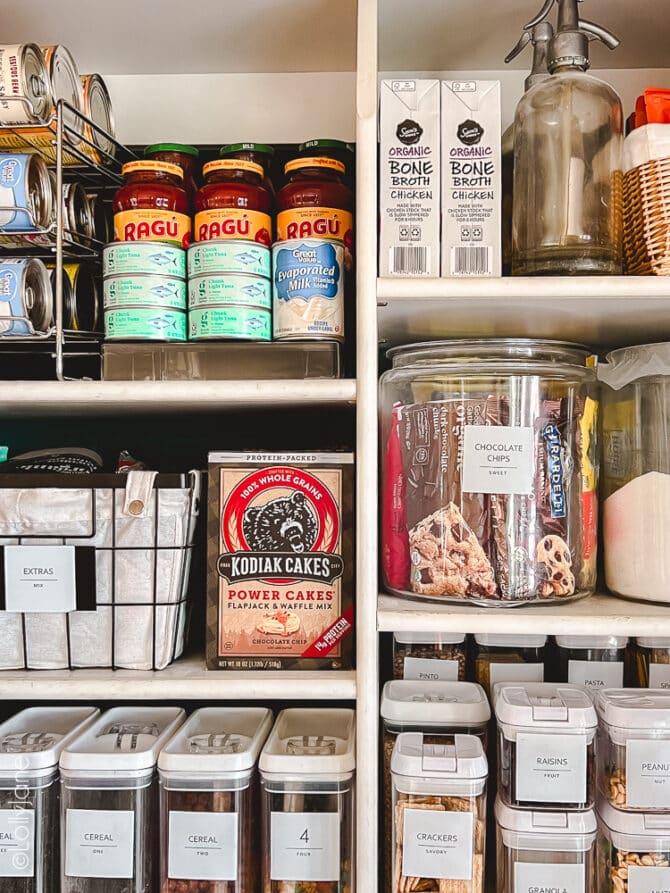 Add Large Storage Containers
Adding large storage containers can definitely be a good thing; I just had one too many. Larger bins or basket not only fills the space but allows you to add a LOT in one area. For instance, my 2 bottoms baskets hold a variety of everyday snacks and the other is just macaroni & cheese containers. Boxes and cups fit nicely inside and I don't need to sort or find separate containers for both.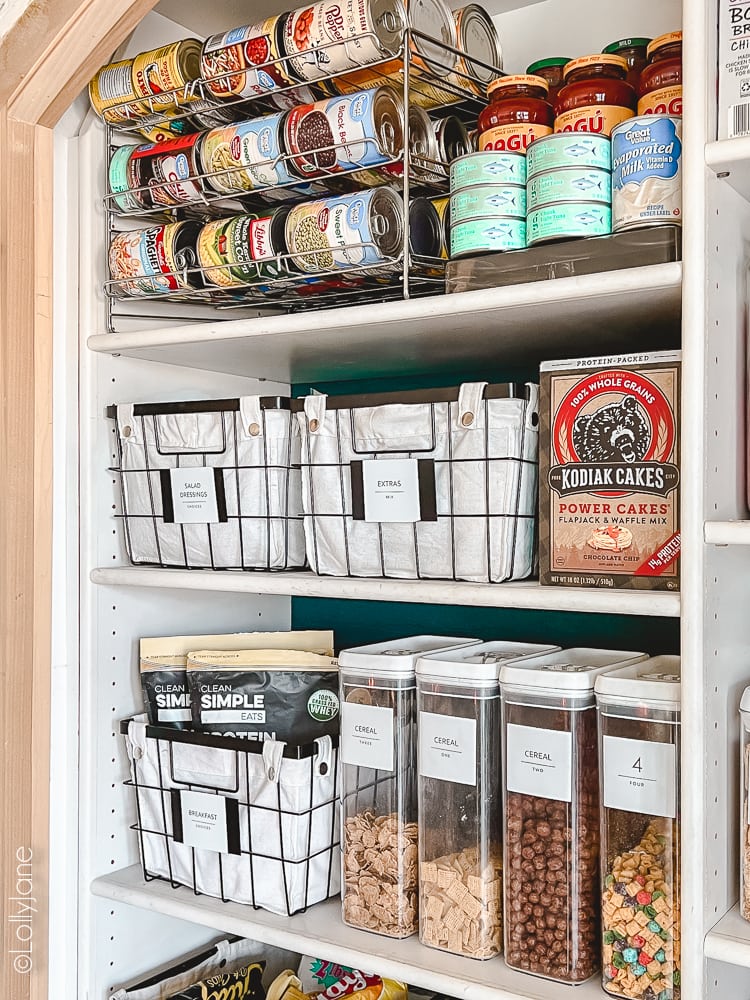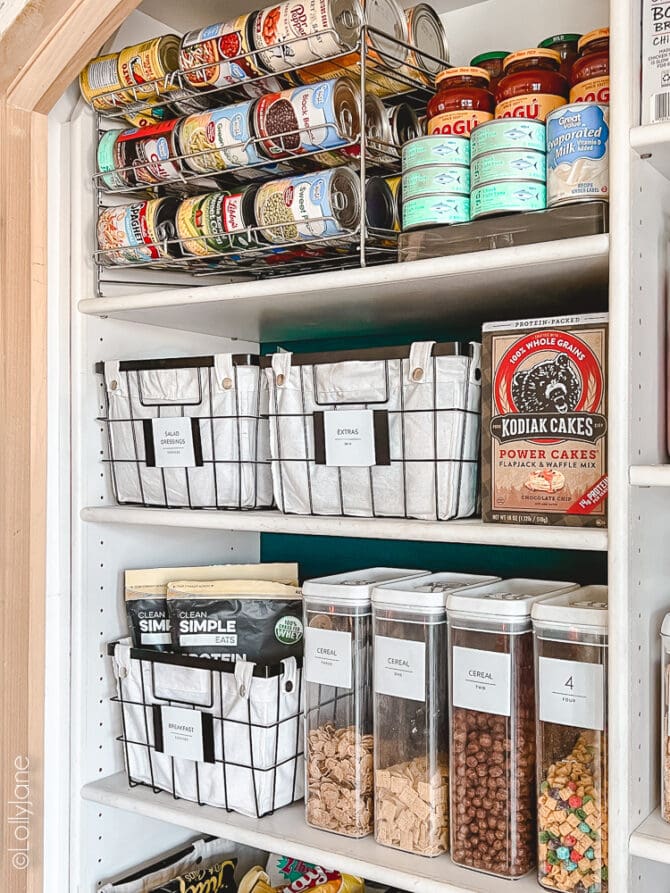 From there I just added in a can rack, clear can riser, cereal containers, and sets of food storage containers. It takes a few attempts to fit everything in but in the end I was able to recycle the boxes and bags food comes in and keep it in plastic close-tight lids that keep food fresher longer. Pro Tip: Use a dry erase marker and write the expiration dates on the back or bottom of the plastic/glass containers. When you switch out food just wipe it off and write it again with the updated date!

EASY PANTRY ORGANIZATION SOLUTIONS
Turntables are also great way to store items as well, especially in hard-to-reach spots. I have one for my spices (love these glass containers + cute labels that make it all look so uniform!) and it's so much easier to spin it to find spices than dig through them. Yes I am channeling my inner Home Edit girls here with rainbow-itizing my water enhancer boxes in the clear bin. LOL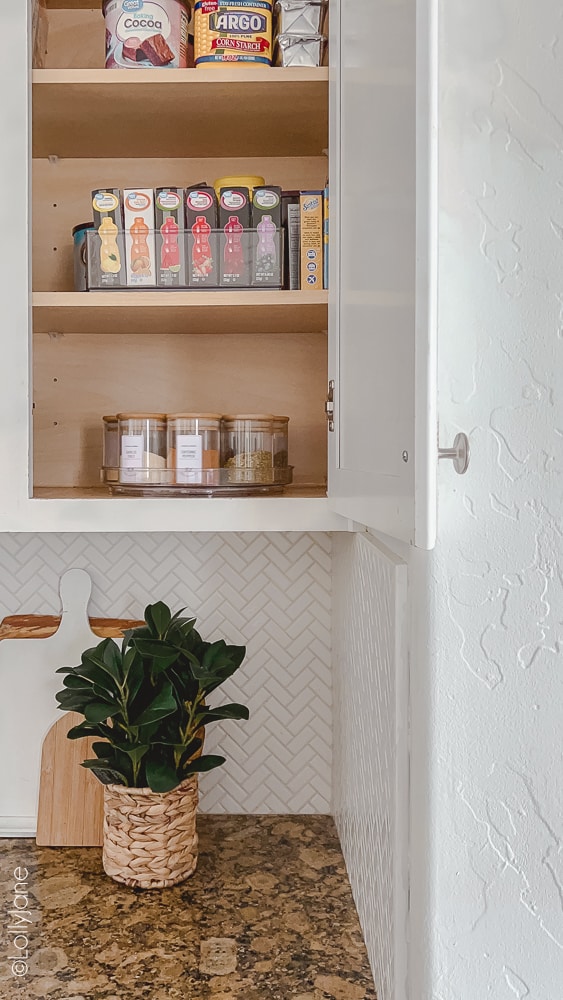 That's all for today! Hope we've inspired you to get your own pantry or food storage area tidied up! Remember that mine has taken a few years to get this look as containers add up quick, but it's MUCH more affordable at Walmart than a fancy container store. The best part is you don't need to compromise style to get this modern, chic look!

Shop the look for my pantry below or directly here in the LTK app!
We hope you enjoyed this post! We would love for you to PIN IT so others can enjoy it, too!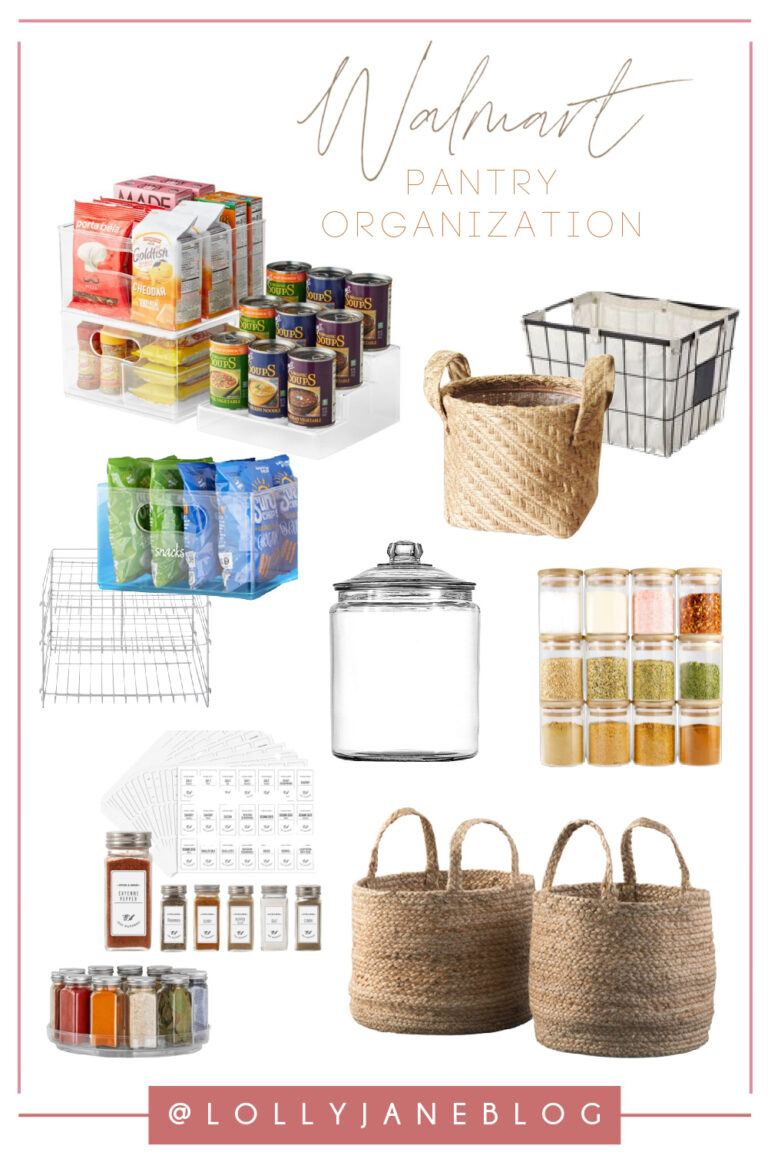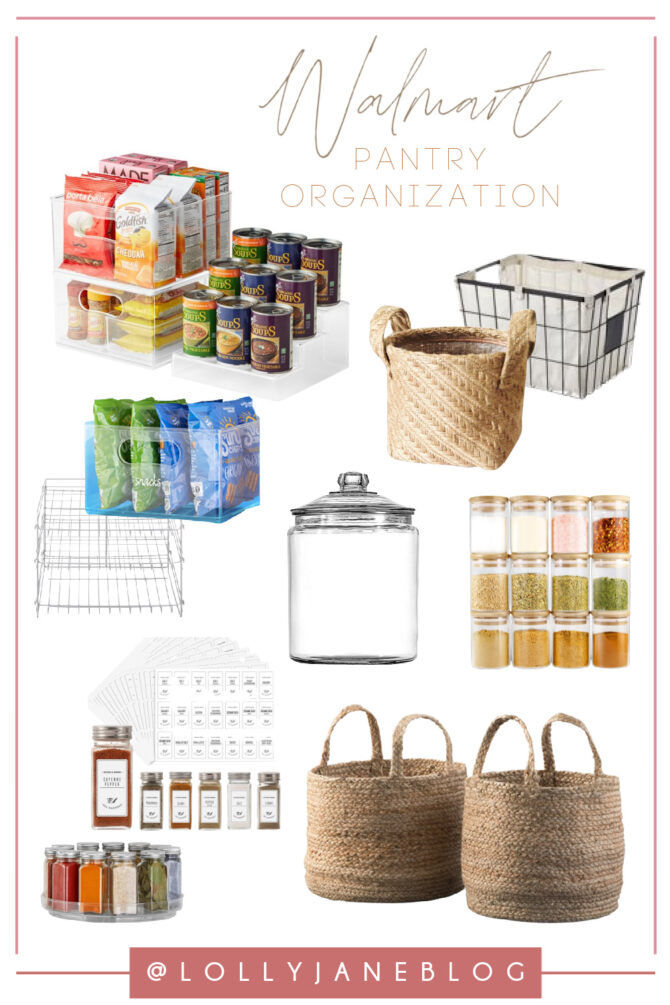 A BIG THANKS to Walmart.com + RewardStyle for sponsoring today's post. As always, all opinions are our own. See our full disclosure.