Simple Mother's Day clay keychains
This post is sponsored by Sculpey Premo Clay.
This project is for all you dads and kids out there, (mothers, avert your eyes… unless you're making this for your own mom! lol) We thought it would be fun to share two styles of the same gift, one the child can help with and one the dad/husband can make. Without further adieu, here is a simple Mother's Day clay keychain that is a breeze to whip up but has a ton of meaning to it!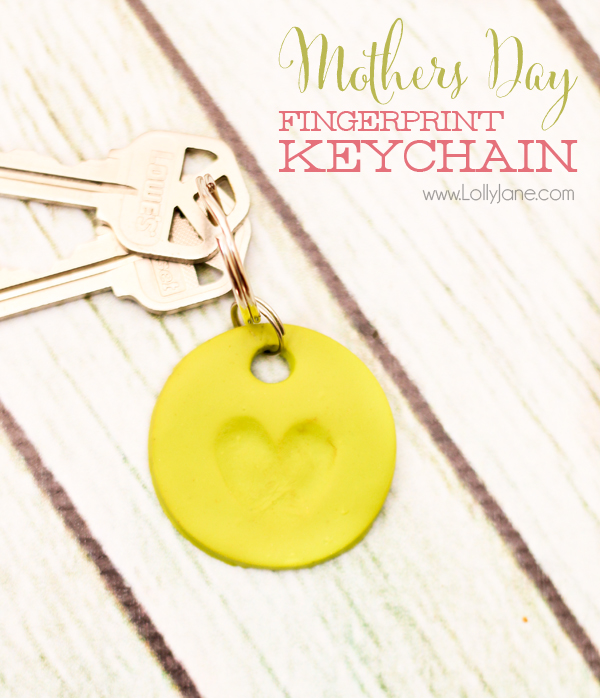 Inspired by TheRooPouch keychains, we used Scupley Premo Clay as an alternative to her cute leather. After kneading for just a minute, was really pliable and easy to manipulate.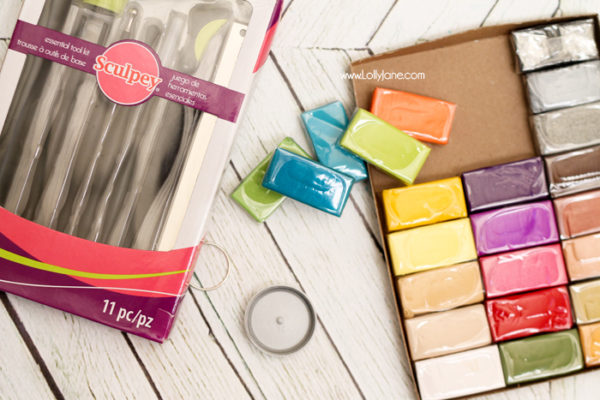 Paired with a cap from a vitamin bottle (I am really fancy, I know! lol) I used the bright green and shimmery pink clay blocks, 2 key rings, a paper straw (to act as a hole punch) and a few jewelry pieces snagged from old necklaces. Love the variety of colors of clay- I chose green for the fingerprint keychain because I have boys but you can use any color of the rainbow that Sculpey clay offers! 😉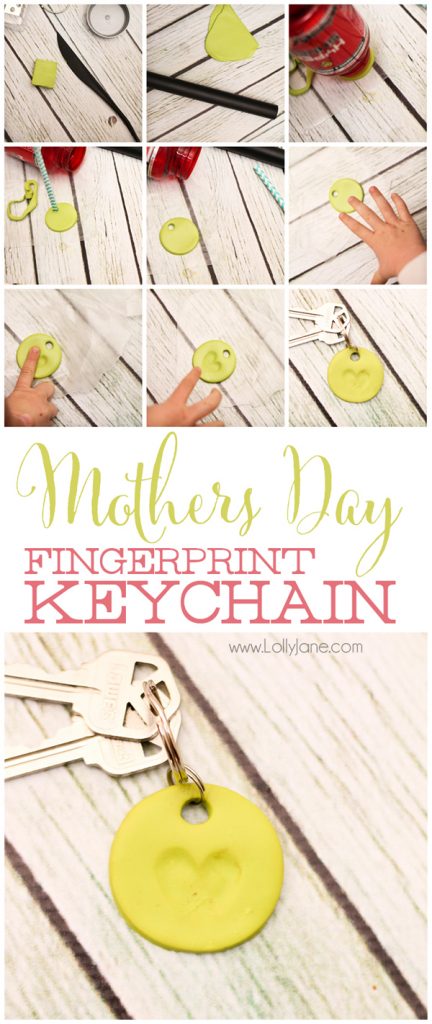 I made these in about an hour, including the 30 minute bake time! Want to make your own?
Cut the clay in half to make a smaller keychain (I used the knife in the Scupley kit.)
Knead the clay until it becomes soft and pliable with the roller, (included in the kit.)
Tip: Work with the clay on a piece of wax paper so it didn't stick to your surface.
Roll the clay out until it's smooth; I folded mine over as I rolled it too thin at first, oopsie!
Using a cookie cutter (or vitamin jar/lid, ha!) punch a circle hole into the clay.
Use a paper straw to punch a hole into the clay, (where you will hang the key ring later.)
I used my 2-year olds skinny pointer finger to press into the clay.
Repeat at an angle to create heart shaped fingerprints. Awww!
Bake at 275* for 30 minutes.
Once cooled, attach key ring and wrap up for your mom on Mother's Day.
I also created a stamped clay keychain that turned out so cute and I now have hanging on my keyring:

I cut the clay with a heart shaped cookie cutter and gathered some old stamps I have (you can find letter stamps at any craft store.) I then pressed my sons initials into the clay and baked. I used the razor that came in my Sculpey clay tool set and cut off the excess clay around the edges to clean up the heart a bit. I looped a ring through the hole then added some bling from an old necklace and clipped it on to my keys. So easy and I love that it's so personal to me. 🙂
It's probably the extra bling that adds so much cuteness to this simple keychain but I love it and I know your mom will, too!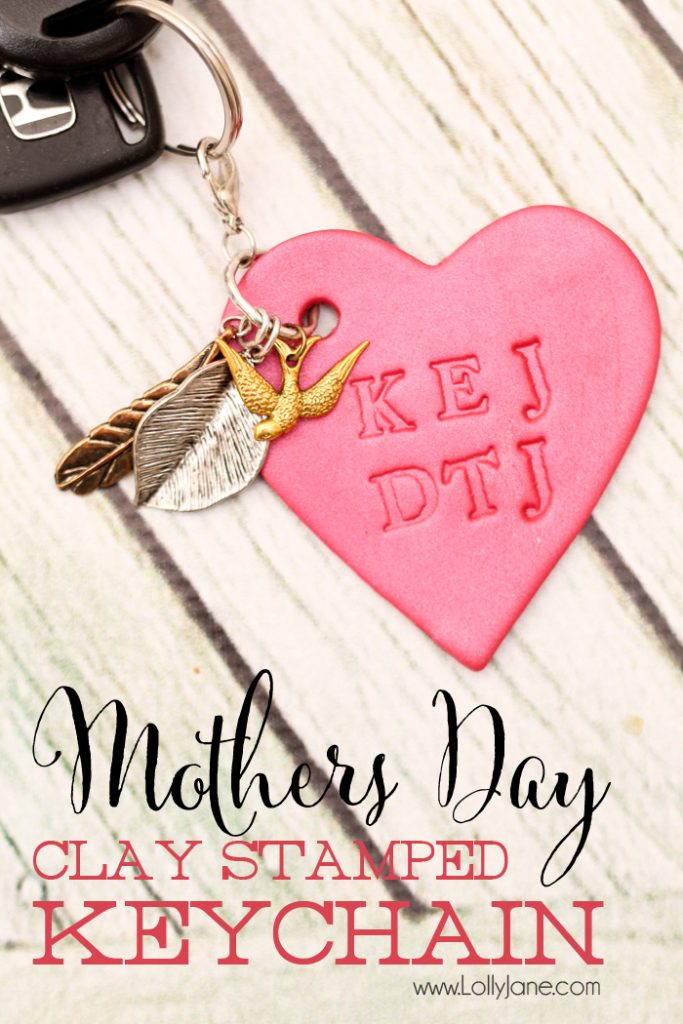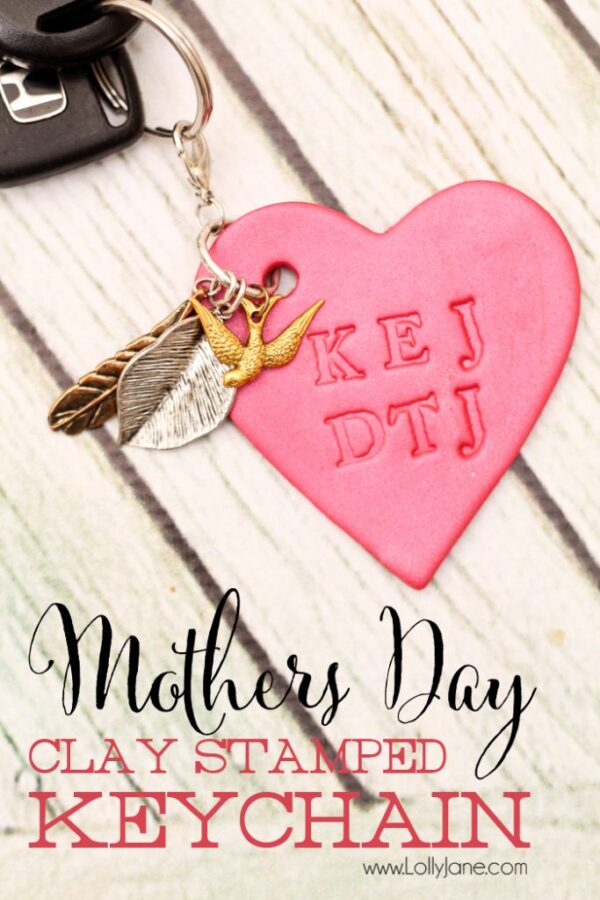 Check out the wealth of info Sculpey Clay offers and keep up with them for other cute and easy clay projects!
Facebook | Twitter | Pinterest | Blog
In the meantime see what other clay creativity is happening by some other bloggers you may know: