painted concrete patio tutorial
This post was sponsored by KILZ®; as always, all thoughts and opinions are my very own. – Painted Concrete Patio Tutorial
Confession: my back patio rug that isn't just for looks… if you pull it back you'll see the words, "I love Cole" scribbled by a 9-year old more than a handful of times in different permanent markers… that wouldn't budge with any cleaning solution I tried. So naturally, I put a rug over it. 😉 For a year. Until this weekend, that is!
I came across KILZ® Porch & Patio Floor Paint and since I've used KILZ® primer for years and years with success on each project, I was immediately inspired to paint my patio as I knew the product would work. KILZ® makes a full range of surface finish products that are widely distributed and available at over 30,000 retailers, big and small, both online and off, across the US & Canada; I was able to order this particular product online.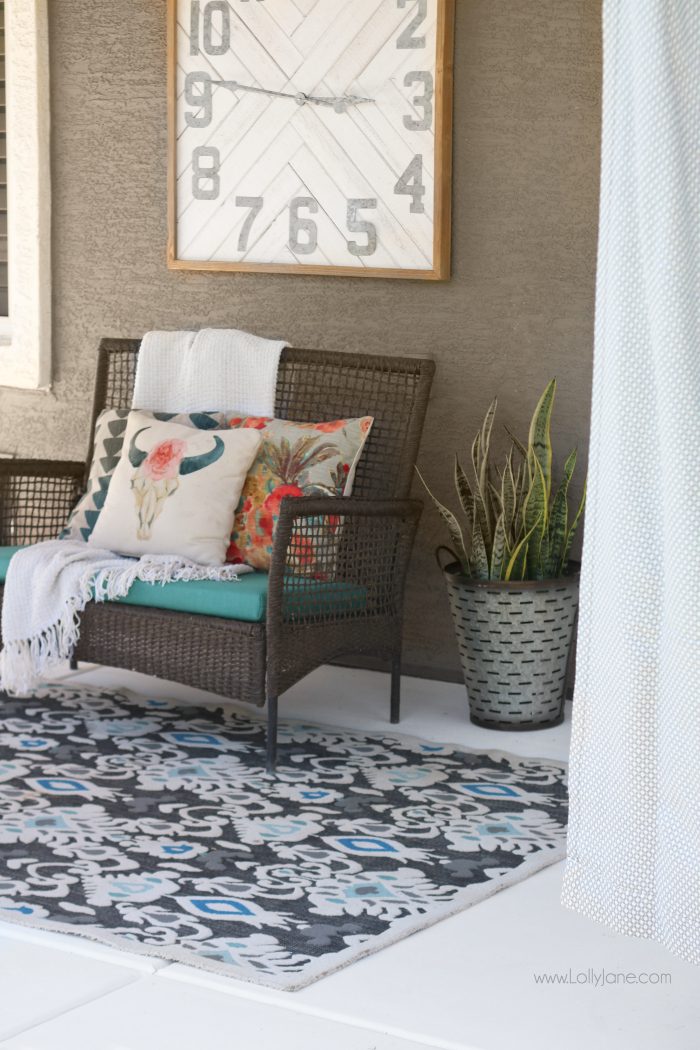 painted concrete patio tutorial
Here's a peek at my porch before the transformation, you can see the gray concrete blended into the similar color of our home and made for a dull pallet for decorating.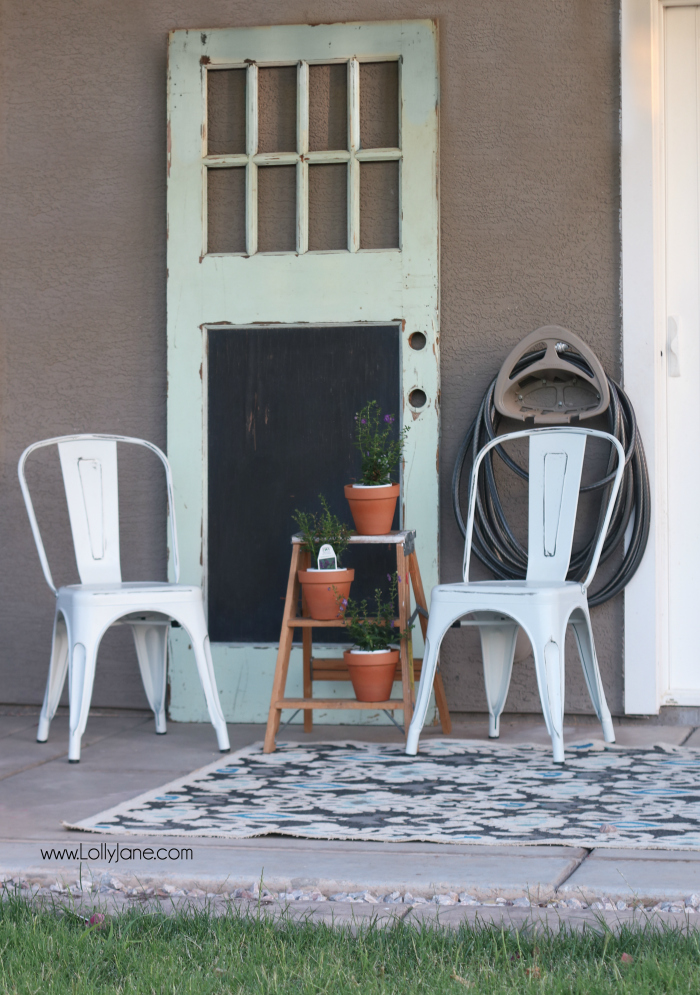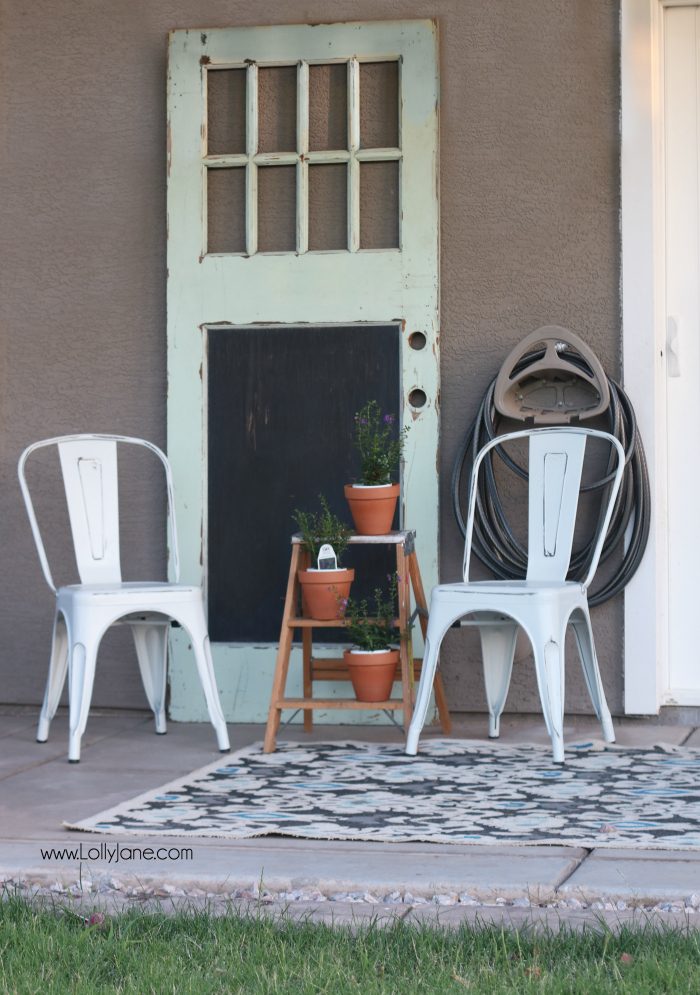 In fact, I had not decorated much until this point aside from the outdoor rug, a few metal chairs and my small ladder with plants. I knew sprucing up the patio floor would motivate me to bring out outdoor living to life so I got to work.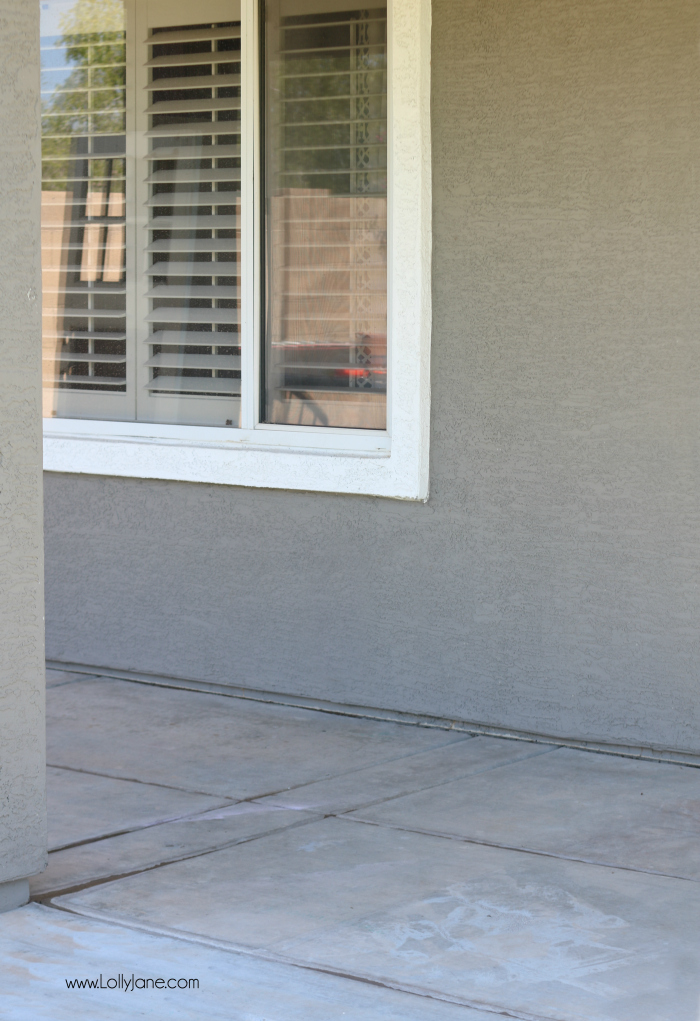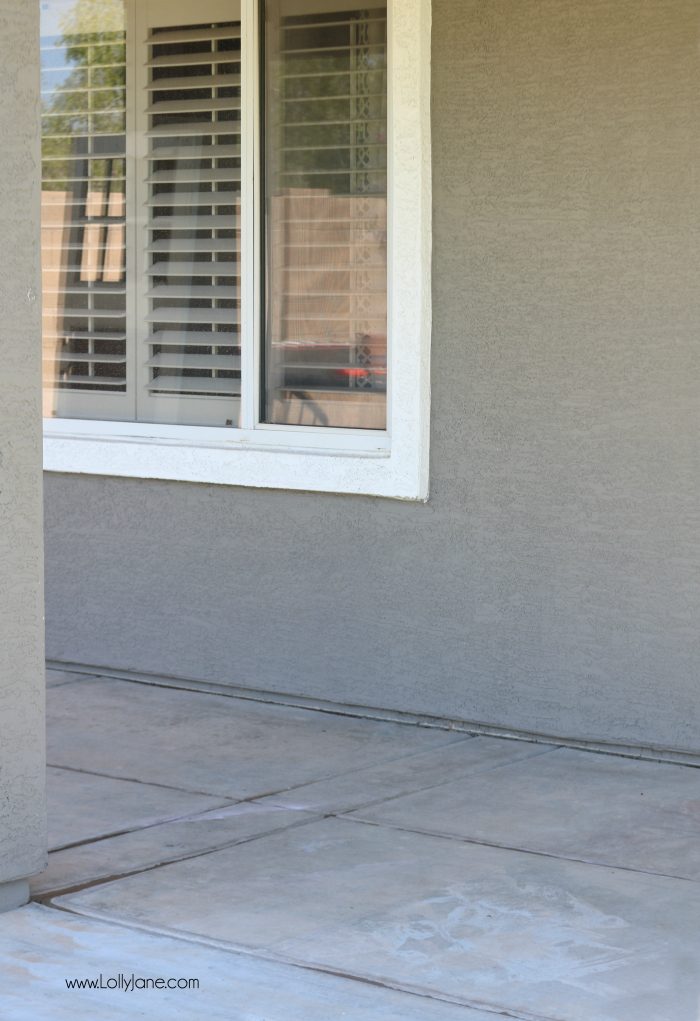 painted concrete patio tutorial – KILZ is amazing
While KILZ® offers a variety of tinting options for their Porch and Patio Floor Paint, I wanted to incorporate color in the decor so I chose a white base color named 'Cloud' to tone down the colors that would be in this particular space.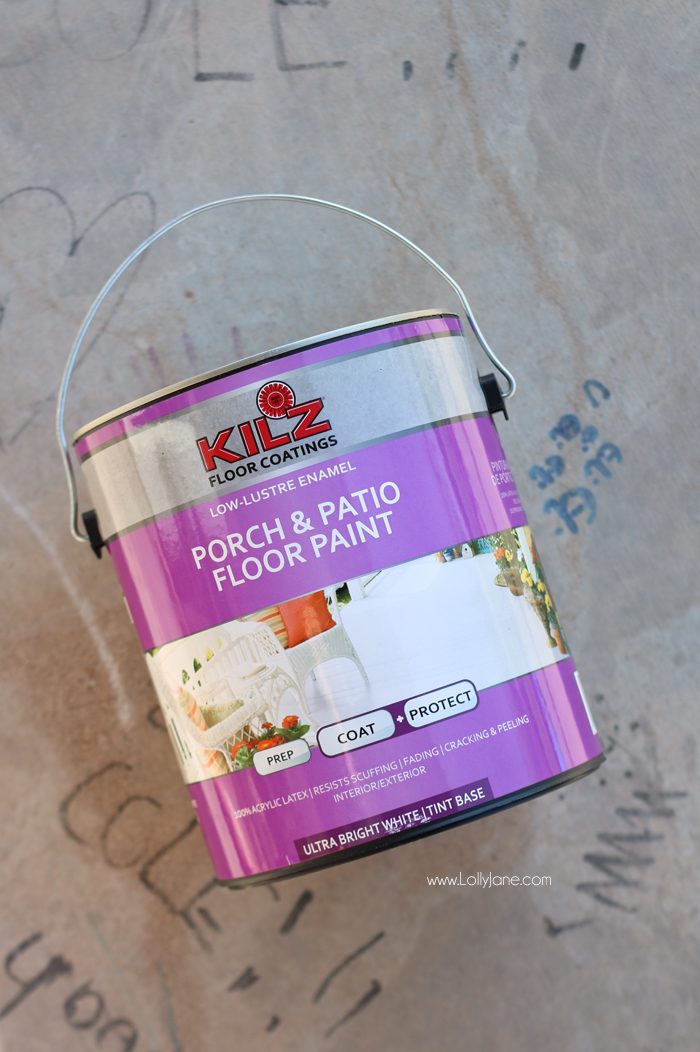 Besides KILZ® Porch and Patio Floor Paint, you'll need:
Paint Tray
Paint Nap Roller, (3/8″-1/2″ in size works best)
Masking Paper
Painters Tape
2″ Nylon/Polyester Paint Brush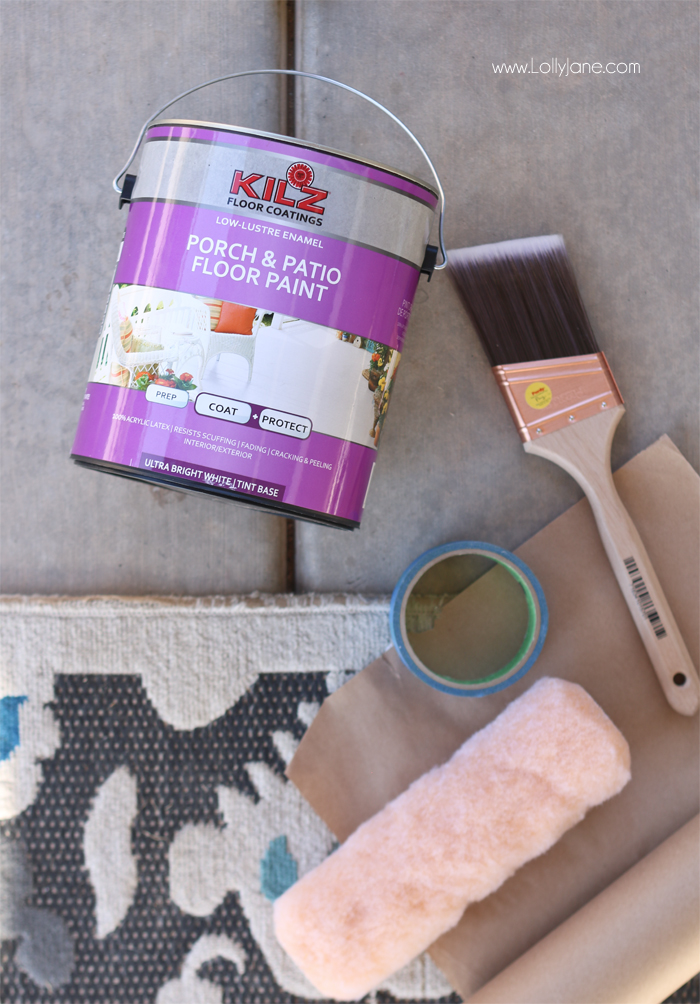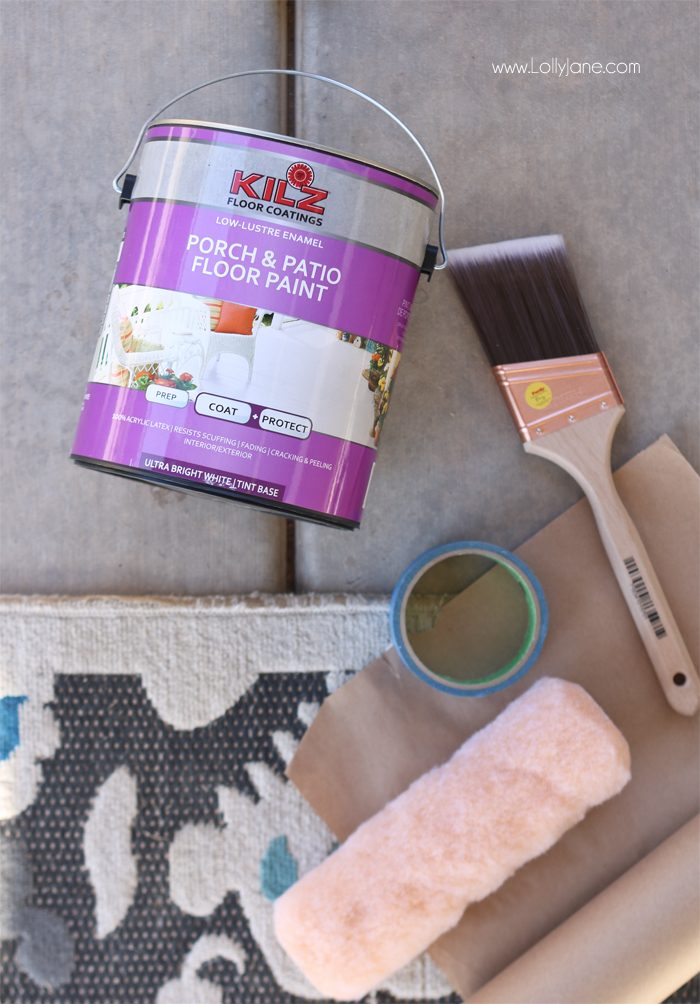 To get the process started, I first borrowed my dads power washer and removed all of the sticky leftover gum and popsicle goo from my kids, bird poop, and other messes on my patio. The graffiti lightened somewhat but was still present. The concrete looked much cleaner, however, and was now free of residue and dirt…. and ready to be painted. (For more serious stains, you can use KILZ® Concrete & Masonry Cleaner & Degreaser.)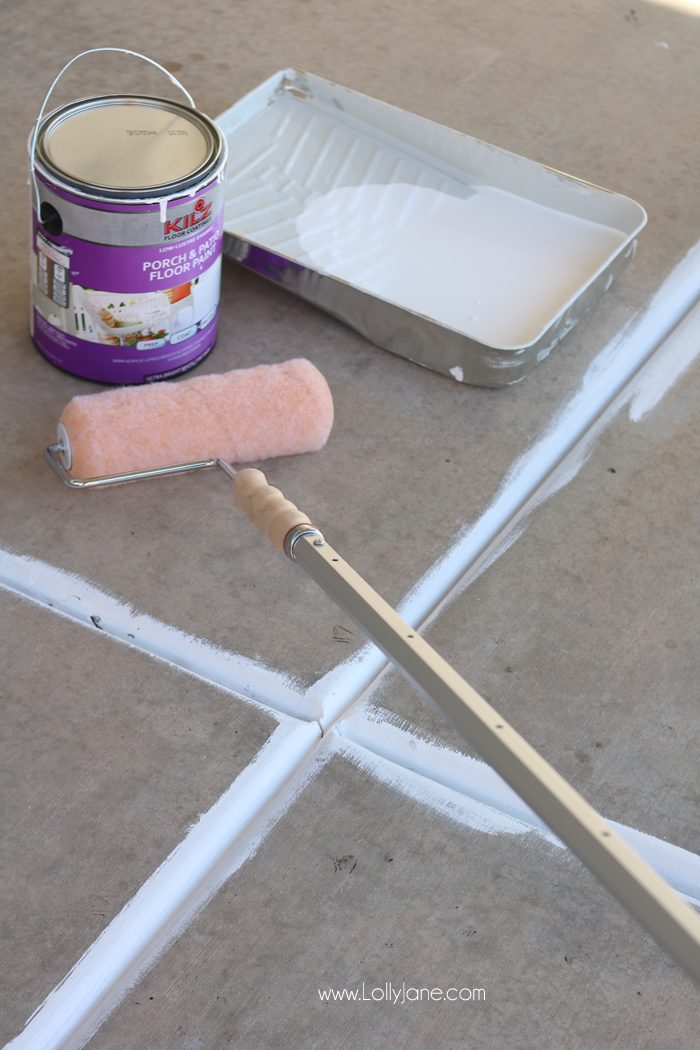 After allowing the water to be fully absorbed and allowing my concrete to be 100% dry, (which only took about an hour in our 110 degree Phoenix sun,) I was able to use my paintbrush and fill in the cracks of the concrete.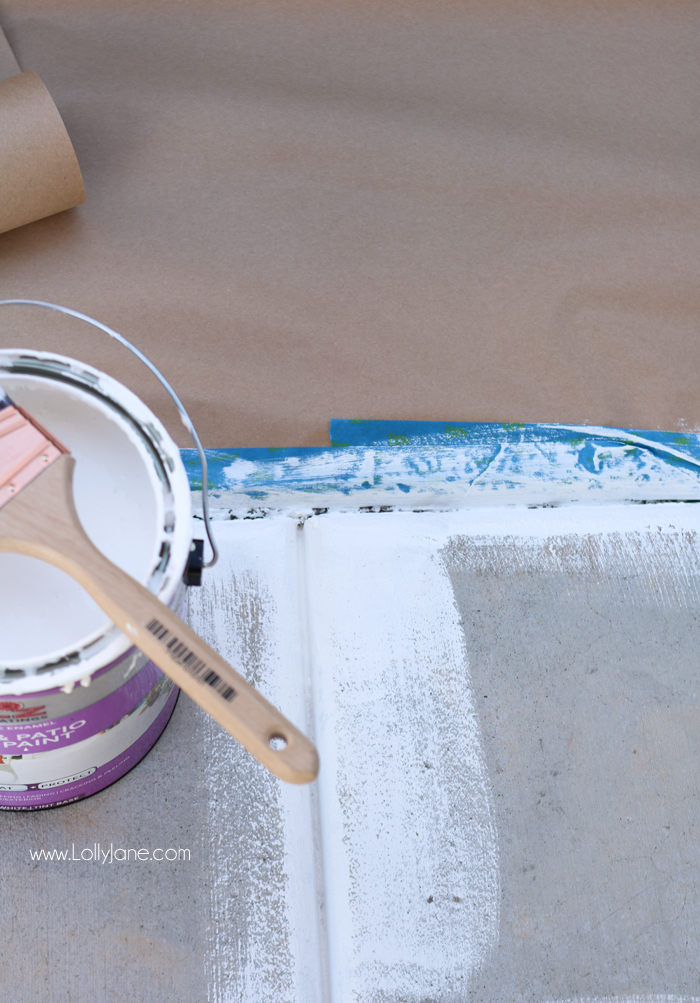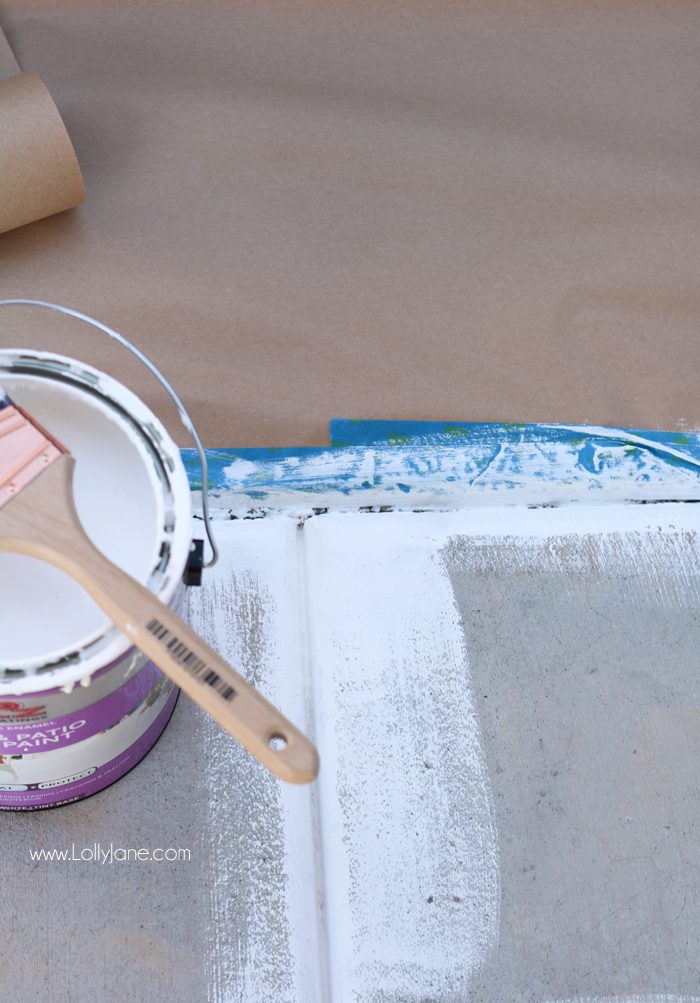 I used the masking paper with painters tape for the edging; the prep can be time consuming but worth the effort for drips. From there I just rolled the paint over the cracks. I began to see the transformation take place, what I was visualizing was coming to life and I was really pleased with the progress, especially since the products I was using were making such a difference in a short amount of time. The KILZ® Porch and Patio Floor Paint looked good immediately on my patio that I was movitated to keep going.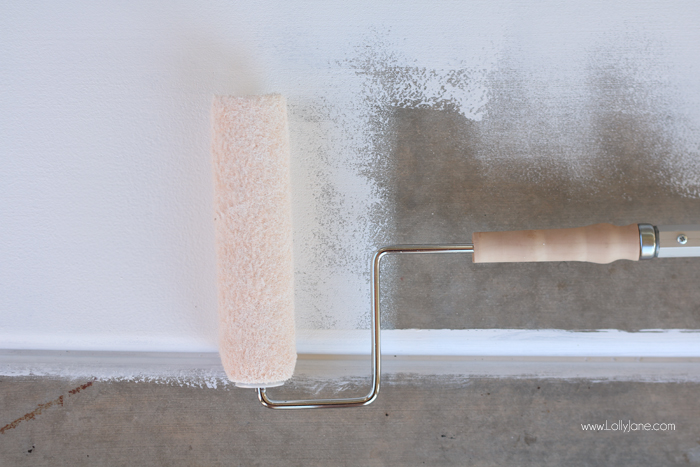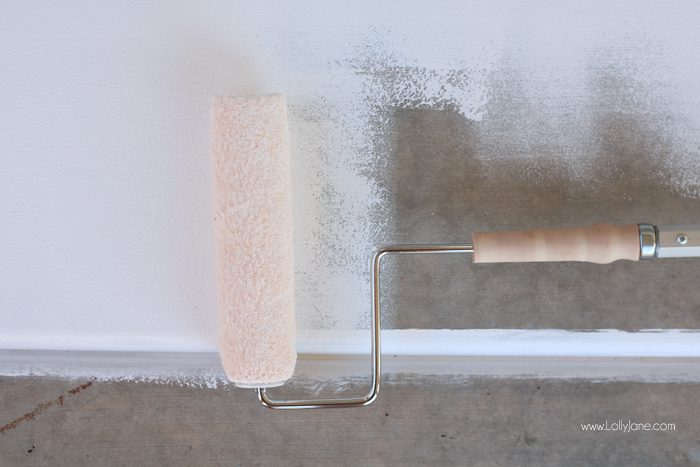 In just a few hours, and after 2 coats, I was done and my patio looked so cheery… my husband commented a few times how much brighter and larger the spaced immediately looked, as well.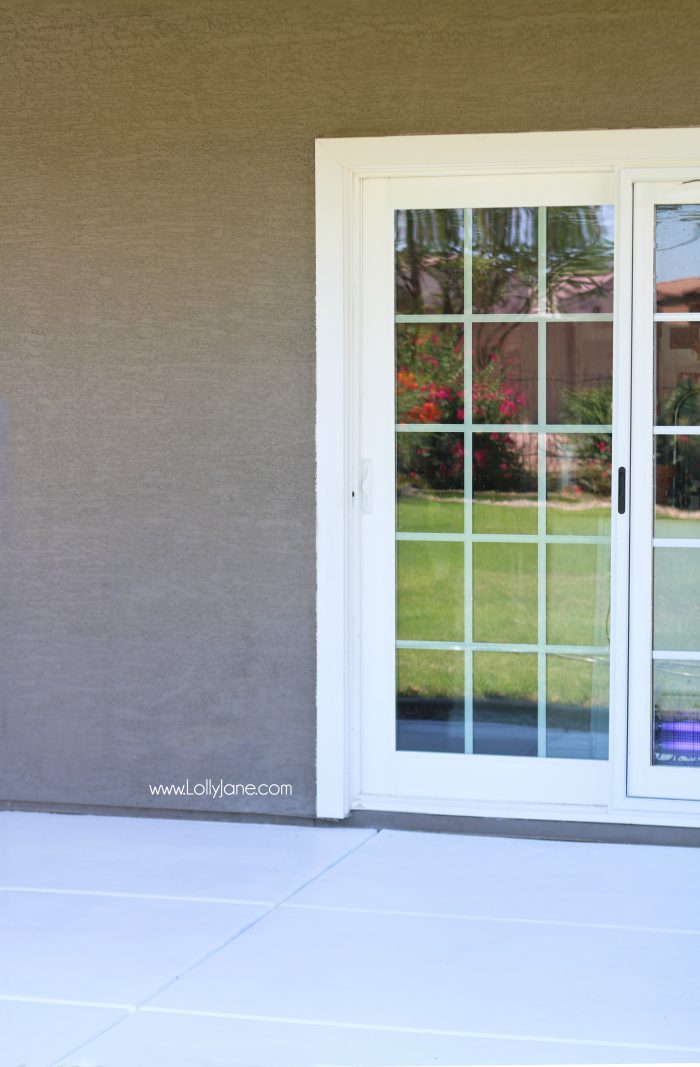 The white paint really made the surrounding colors pop!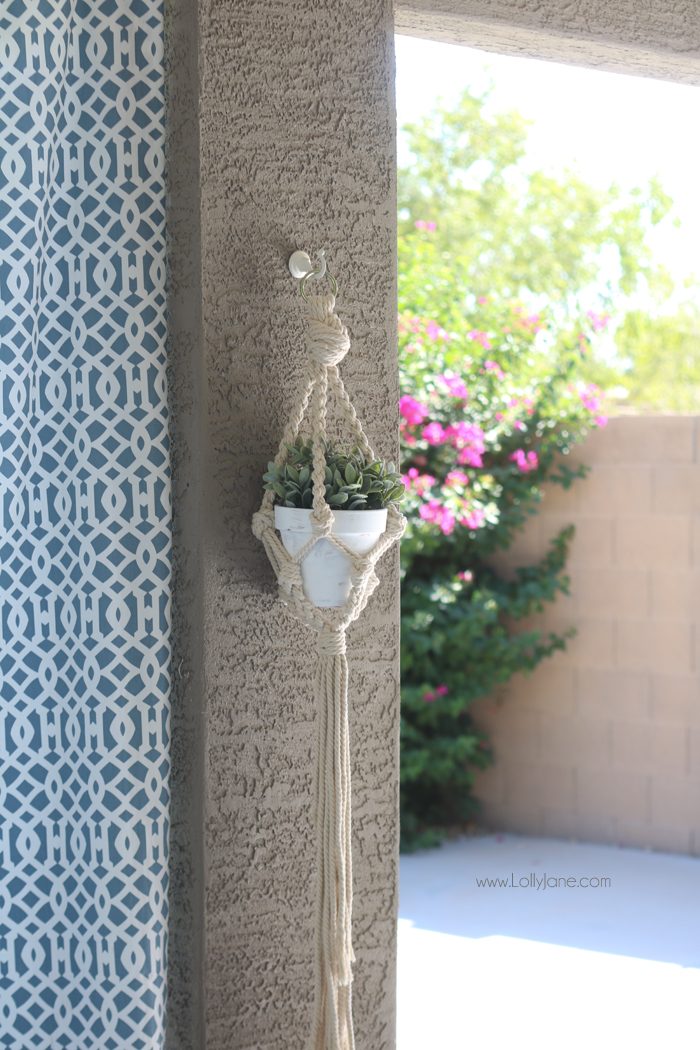 I put my ourdoor setee on top of the rug, which sits atop the newly white patio, and added some brighter colored throw pillows as well as a house plant and a throw. It immediately cozied up the space and I can now welcome my messy kids to sit with us for game nights, outdoor dinners, or s'mores over the fire pit on our painted patio as spills and scuffs now easily wipe right up!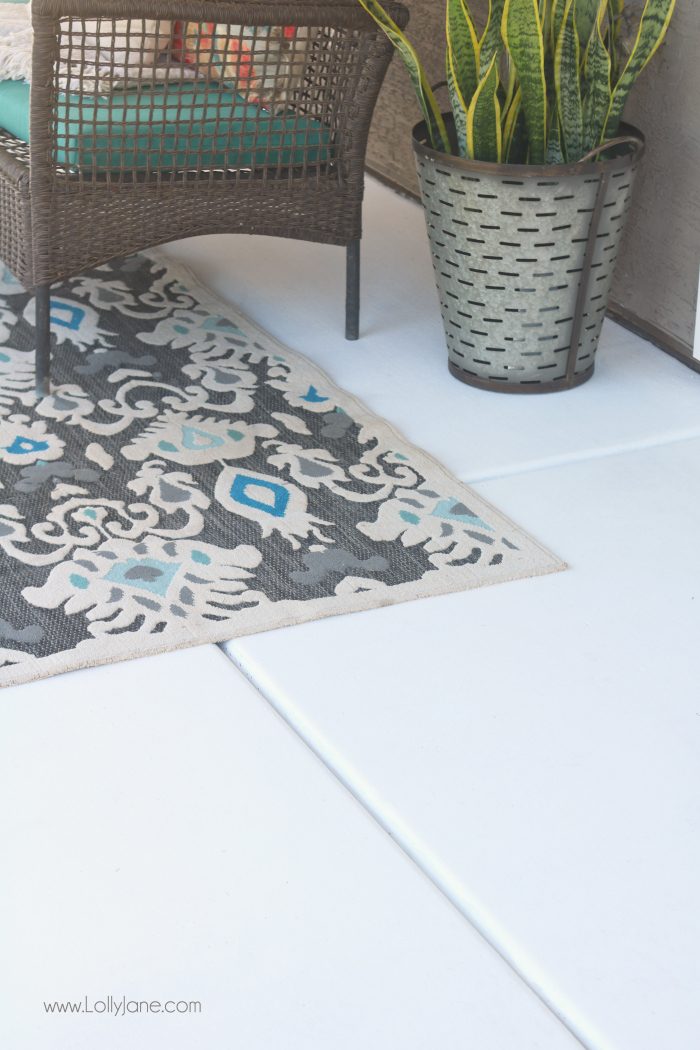 Keep up with KILZ® for the latest paint tips and tricks to make your own projects easier:
KILZ® site | IG | FB | Twitter | Pinterest
Having trouble deciding what color you want to paint an area or object in your home? Be sure to follow along with Lolly Jane Instagram this week as we'll be hosting a giveaway for one lucky winner who will receive a $100 visa card to use towards KILZ® products.
painted concrete patio tutorial
Trust us, your walls, floors, or furniture will thank you!
Here's a sneak peek at the freshly stained table with KILZ® Solid Color Woodstain that now sits in front of my outdoor setee; the navy blue pairs perfectly with my newly white patio flooring, doesn't it?