How to Decorate a Thanksgiving Table
Decorating a table top for thanksgiving (or any holiday) doesn't need to be overwhelming… use our tips to get the perfect Table Scape EVERY time!
We are gearing up for Thanksgiving and our table is decked in blush pinks, creams, and pops of orange against the natural wood tones in preparation for it! Curious how to decorate a table top for your own Thanksgiving gathering, or ANY holiday? Read on for our simple tips to get the perfect table scape EVERY time and be sure to see the end of the post for 19 other beautiful Thanksgiving centerpiece ideas!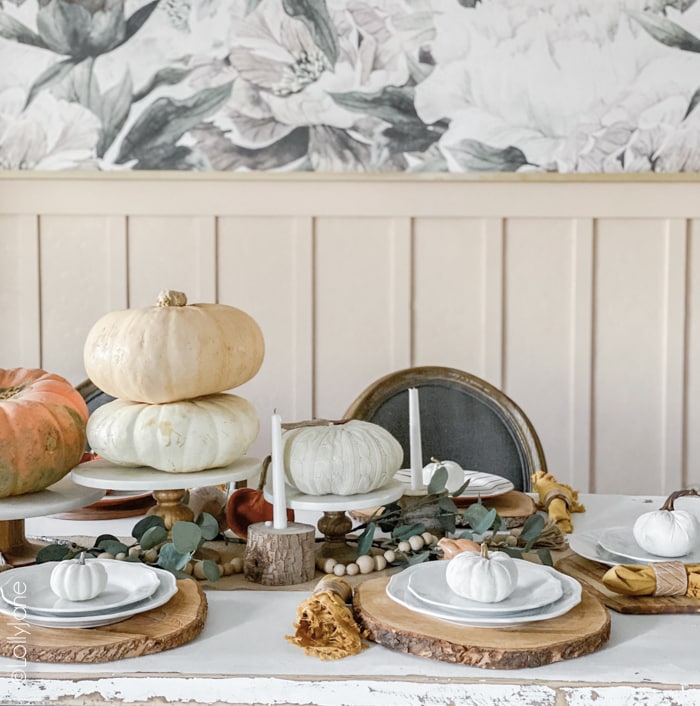 How to Decorate a Thanksgiving Table
We love to mix 'n match decor for the holidays but have a few simply steps to keep things EASY when decorating a table, (in this case, my Thanksgiving table.)
Step 1: add a tablecloth or table runner
First things first: the base. I rarely use a tablecloth because #kids but I do love a good runner. I have a handful in simple linen, cotton, and burlap; they are all are fairly neutral (light grays, browns, whites) but once on the table, immediately add instant texture.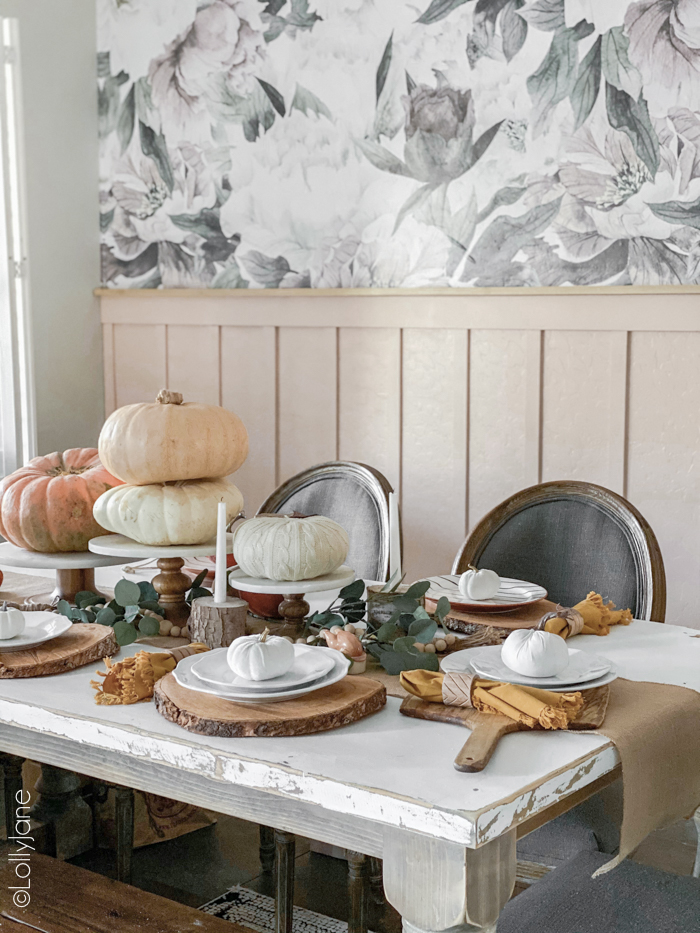 STEP 2: add your largest items first then top with seasonal decor
Add your largest items on top of the table runner (or tablecloth) first then top with seasonal decor. For this holiday, I've added a trio of cake stands for 2 reasons: they add height but also are flat on top so I could plop and stack my pumpkins on them. For Christmas, I can stack ornaments or bottle brush trees. Now it's Easter? Let's add faux eggs and greenery. 4th of July? Hello American flags in a mason jar. (You get it by now I'm sure! LOL) Besides cake stands, you can start with a tray, dough bowl, crocks, lanterns planters, or anything else you think will flow with your own holiday decor.
Step 3: fill in the spaces
After you've got your largest item(s) on, fill in between the spaces to make it look full. This is where fun colorful pieces add a pop of color without being TOO much. For this table scape, I tucked a few faux eucalyptus stems between the cake stands, added some wooden candle sticks, then topped with a beaded garland. I still had a few gaps so I tucked in some smaller pumpkins and BAM: Thanksgiving centerpiece DONE.
Step 4: set the table
Lastly, set your table. Use chargers or don't, then white plates, and/or white bowls and paper or cotton napkins then silverware. I always use white because it goes with ANY holiday and I don't want to store 14 sets of plates for every occasion… white is my biggest tip because you can always add festive napkins to it OR top it with something fun; mine are topped with a faux pumpkin to really pull the whole look together. You could top your own with name tags, or simply leave it.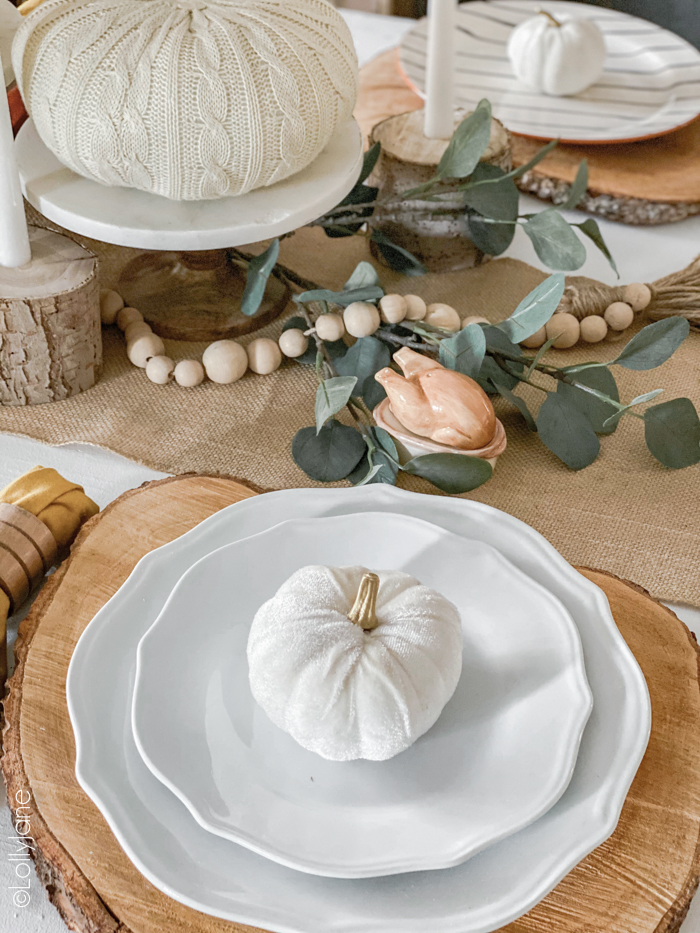 20 Beautiful thanksgiving centerpiece ideas
However you decorate your table, make sure it's YOU. Still not sure what you want? Check out NINETEEN other gorgeous Thanksgiving centerpiece ideas to be sure to help you narrow it down. 🙂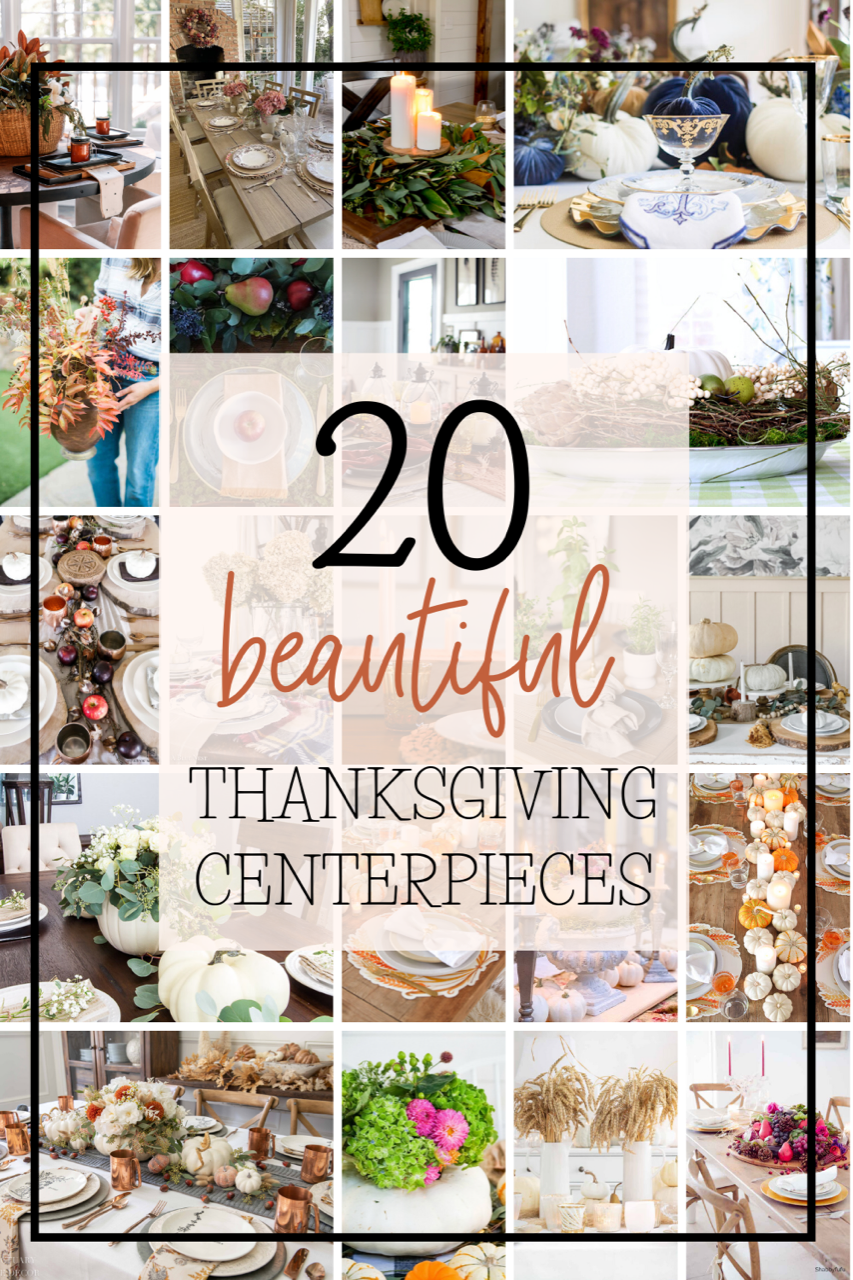 Thanksgiving Table Setting // Easy Thanksgiving Centerpiece // How To Decorate a Thanksgiving Table // A Foraged Centerpiece // Thanksgiving Table, Warm Fall Colors 

Natural Thanksgiving Centerpiece // Dried Hydrangeas Fall Centerpiece // Fall Centerpiece // Live Pumpkin Floral Centerpiece // Fall Centerpiece

Thanksgiving Centerpiece // Friendsgiving Ideas // Thanksgiving Dinner Outdoors // Cozy and Intimate Thanksgiving Table // Thanksgiving Centerpiece Ideas 

Thanksgiving Centerpiece with Fresh Fruit // 5 Step Easy Thanksgiving Centerpiece // Thanksgiving Centerpiece Ideas // Thanksgiving Table Settings // DIY Floral Centerpiece