Earlier this week, we shared our garage organization plan.  I'm so super excited to have it done!  We partnered with Rubbermaid FastTrack and now my dingy garage looks like a fresh, new space!  My farmer dad has a huge barn on his property and he came over to visit and complimented my garage.  He admitted it was unusual to see such a decorated garage (ha!) but he immediately loved the fact you can so easily move the attachments around.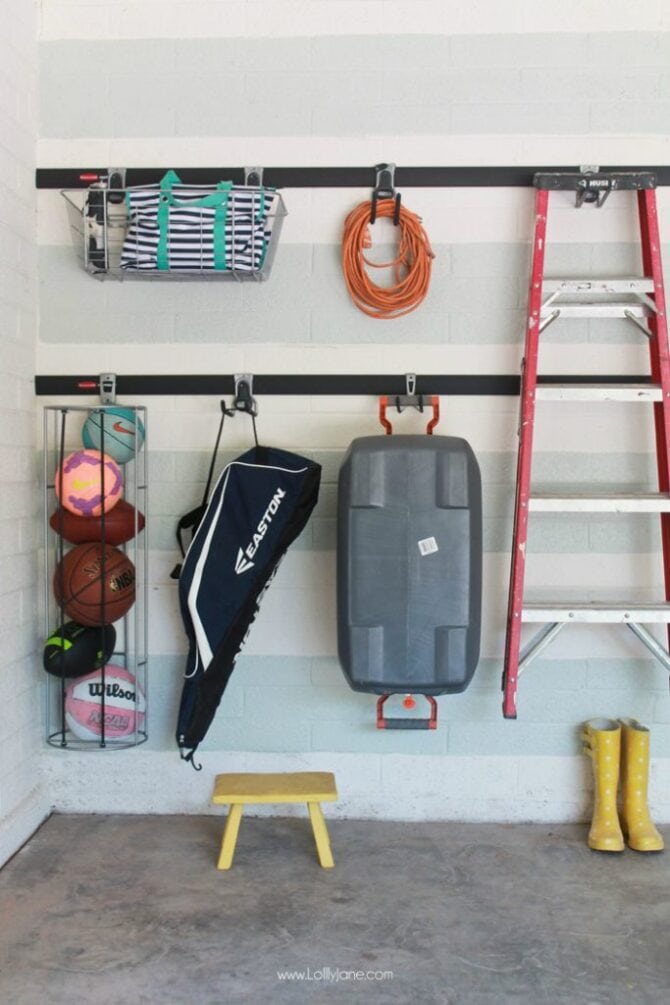 Take a look at this embarrassing before picture.   This garage was dingy and wasn't being used to its full capacity.  Our only wall storage was an old 1×4 pine board with 8 nails in it for hanging storage.  Wow!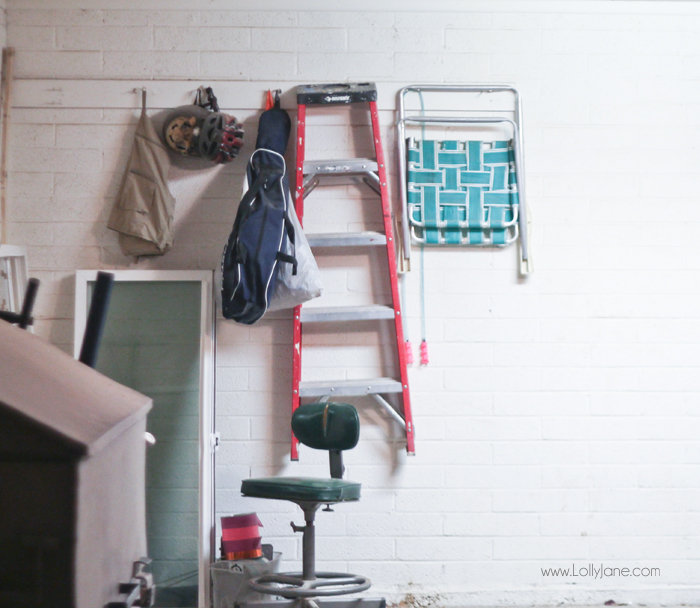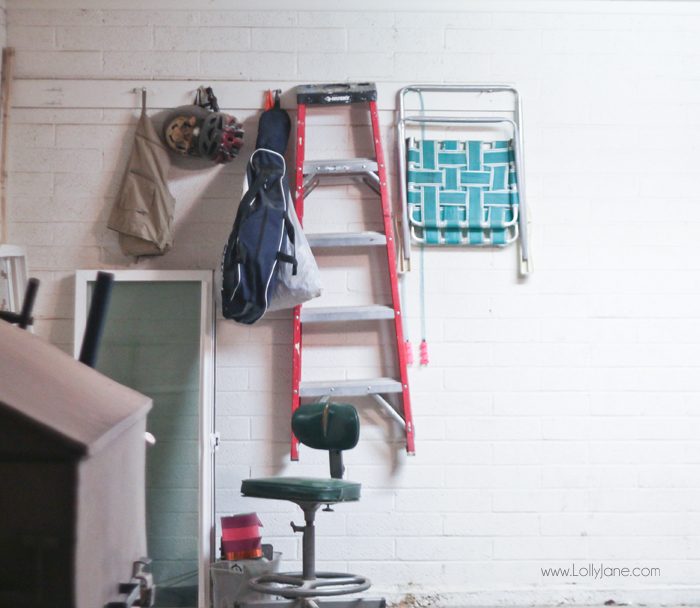 We started by power washing 30 years of grime off the walls.  I began painting while hubby installed the FastTrack.  He finished WAY before me!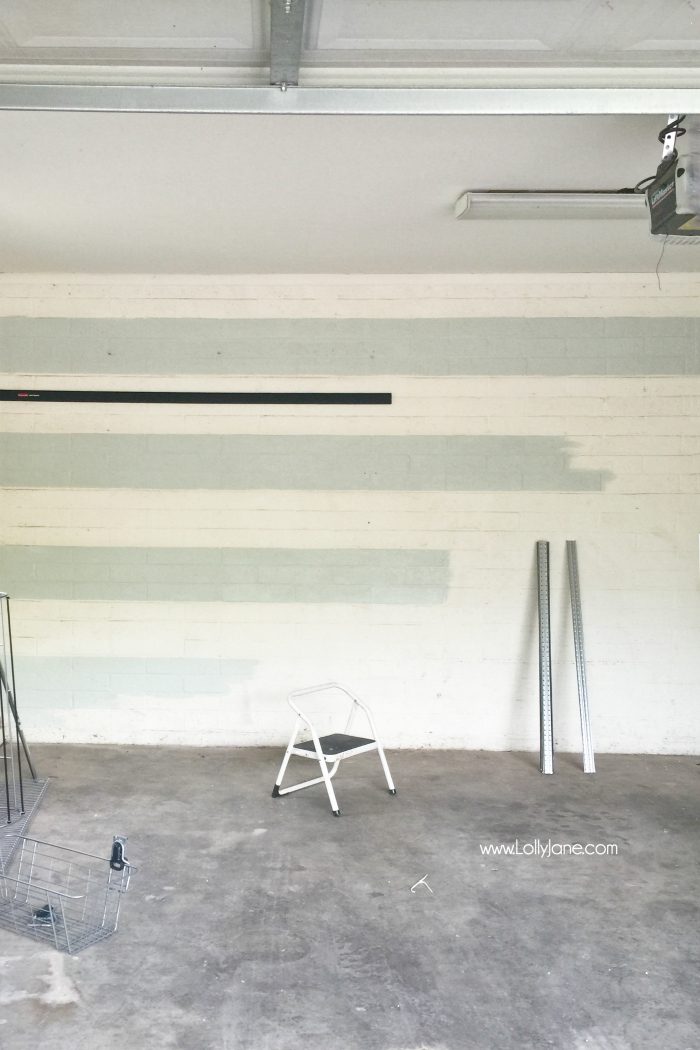 I'm no longer going to speed into the garage while unloading groceries, I'm excited to show off my pretty garage to all the neighbors!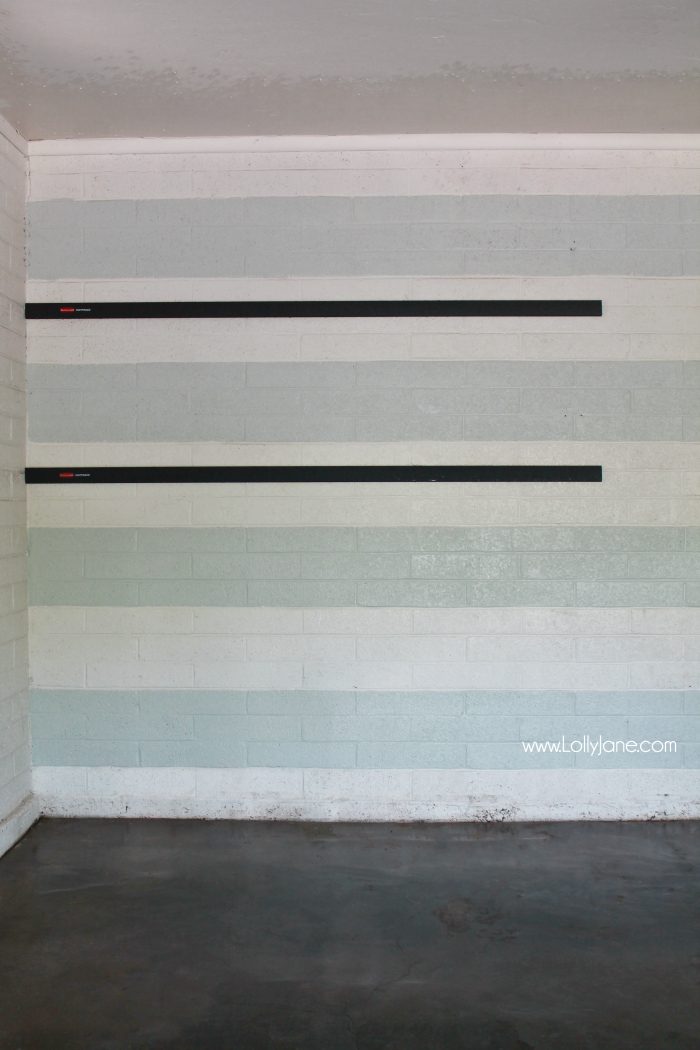 Here's a handful of what we used for our space, the full details are on my preview post.  We ended up using two 84″ rails because my shelves arrived without brackets which threw off my original idea.  I'm excited to order more and do a row of 4 shelves.  Note the ball rack, metal baskets + shelves are only available online.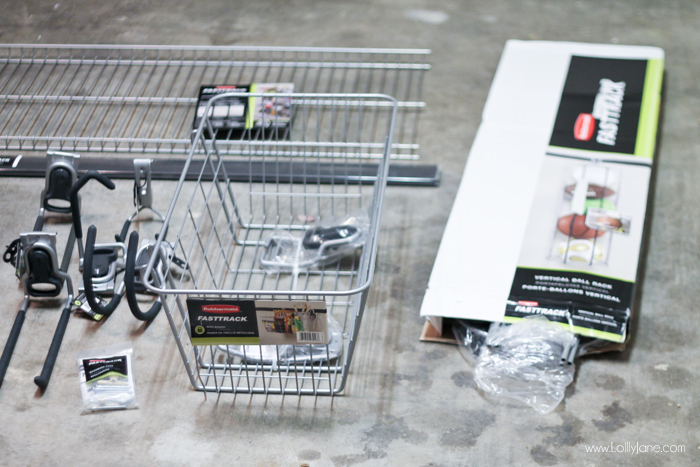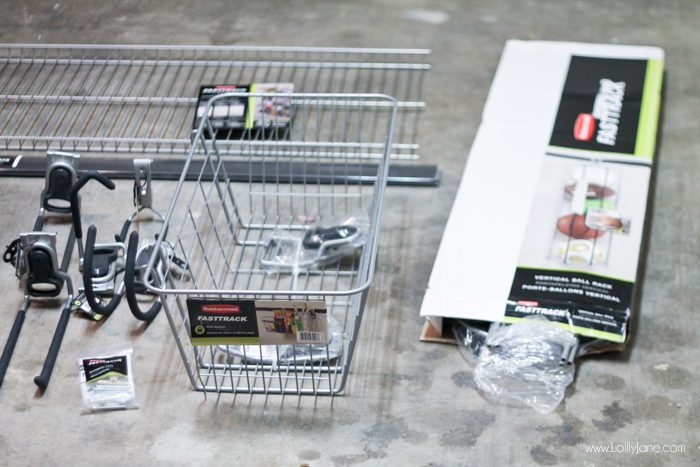 The process is simple: SCREW – ATTACH – LOCK!
SCREW: The brilliant part about this system is you don't have multiple holes in your walls.  You screw the metal base into place once (in studs if you have drywall, we have slump block/cement so ours didn't need studs).  Be sure to use concrete screws when drilling if drilling into block.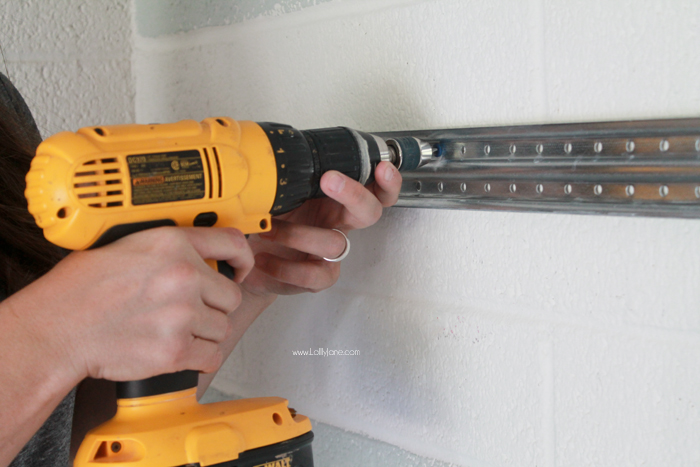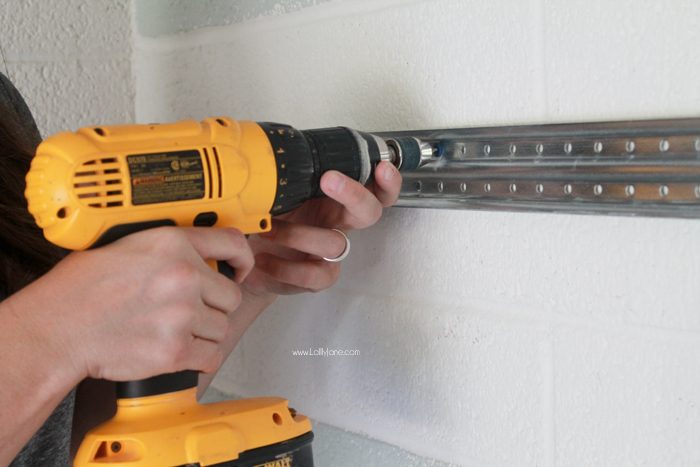 ATTACH: Just slide the black cover over the metal base.  Although the metal base isn't ugly, the black sleek hard plastic cover matches any decor and is pleasing to the eye.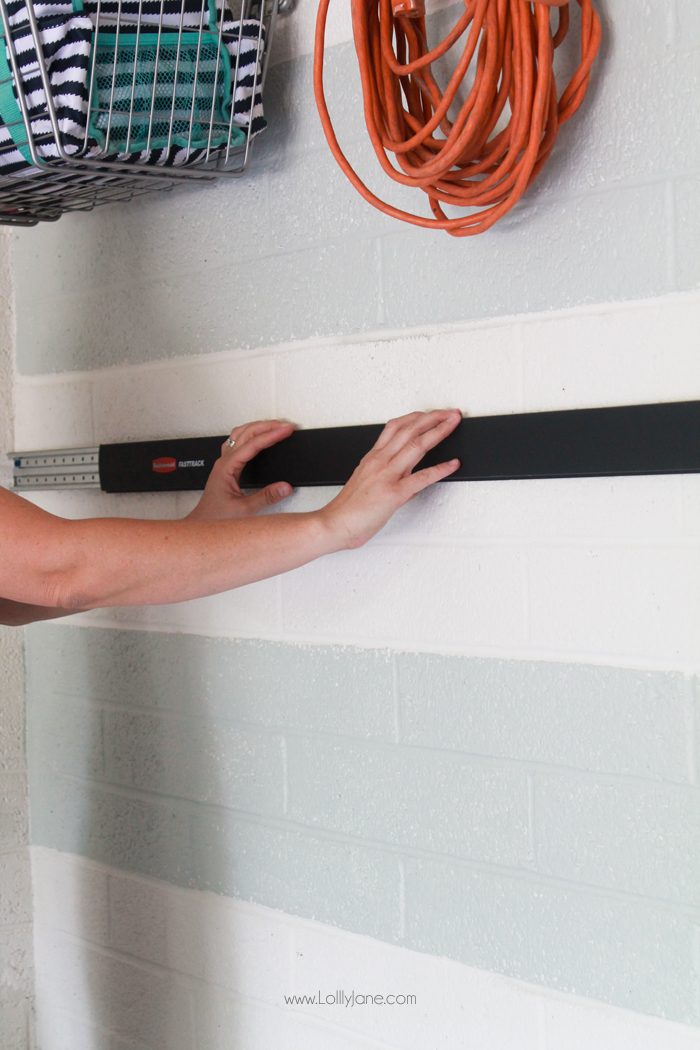 LOCK: Using just one hand, lock your attachments into place.  It's sturdy enough to hold your everyday garage items and if you need to adjust your space, simply unlock your attachment and move it.  No permanent holes, love it.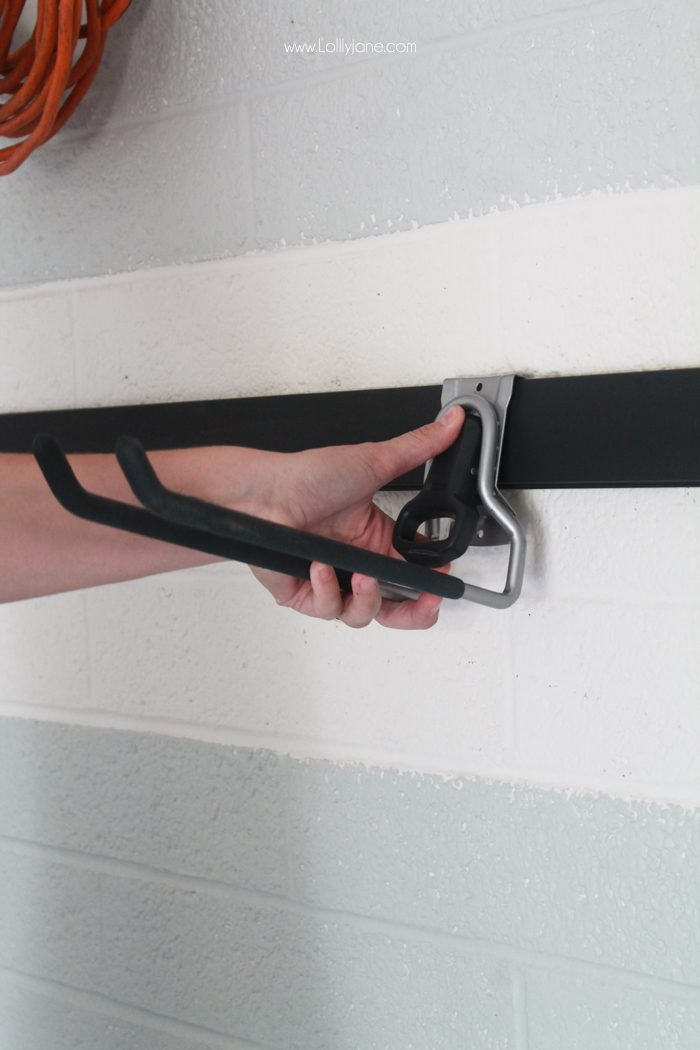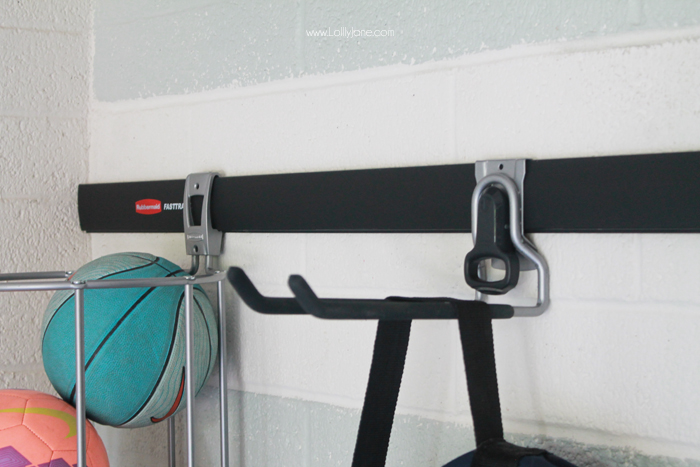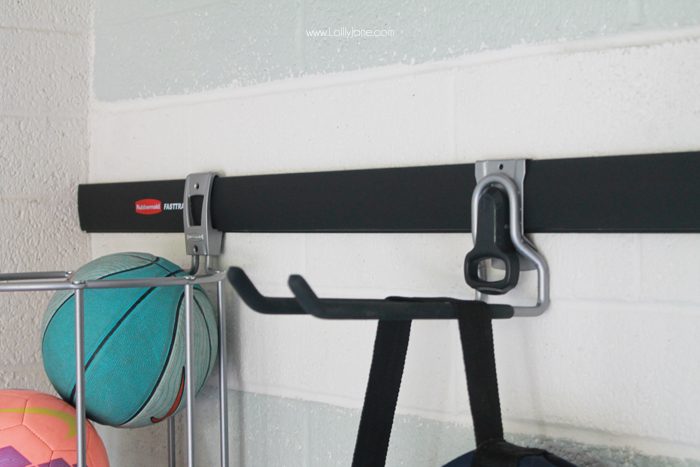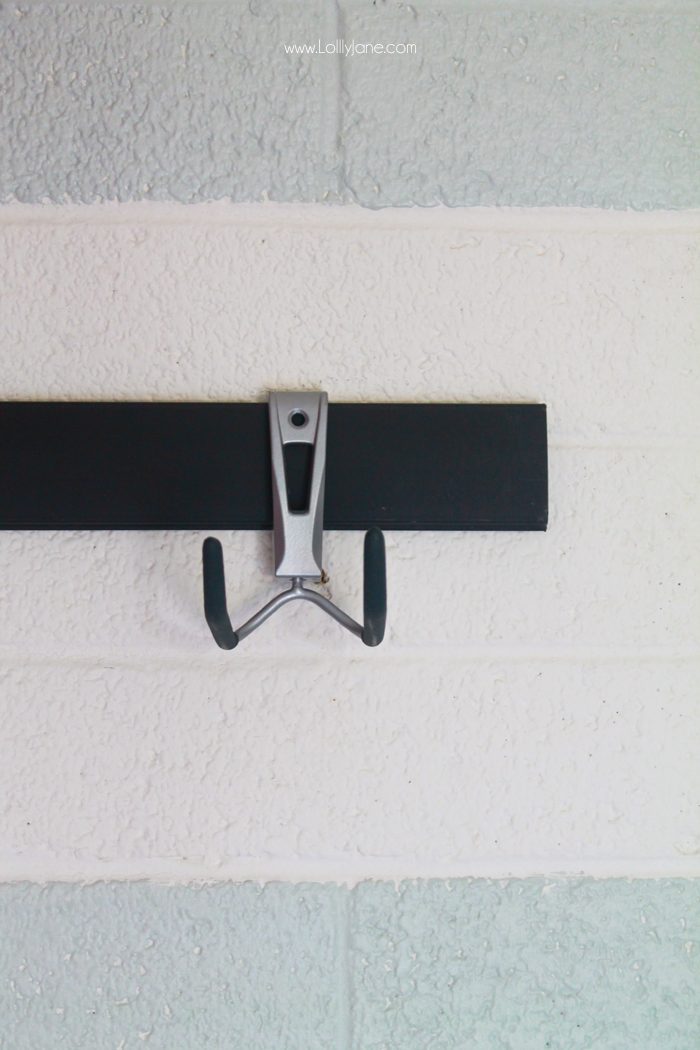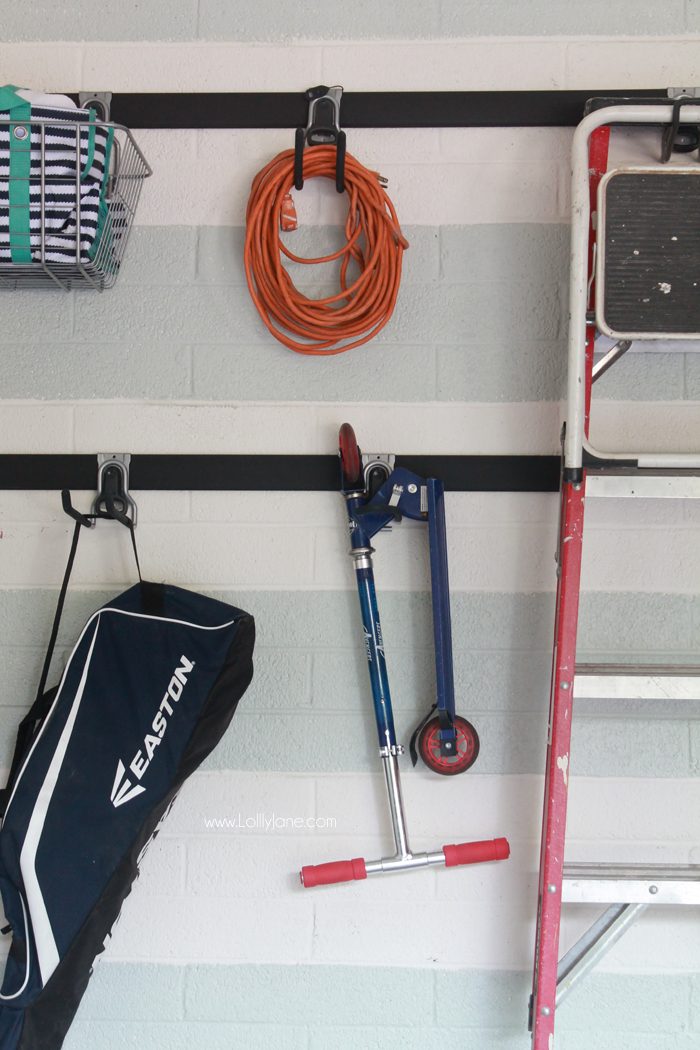 The best part is this took me just 3 hours start to finish.  2 1/2 hours was power washing the walls and painting.  The whole FastTrack System took less than half an hour to install and the bulk of it was deciding on my placement.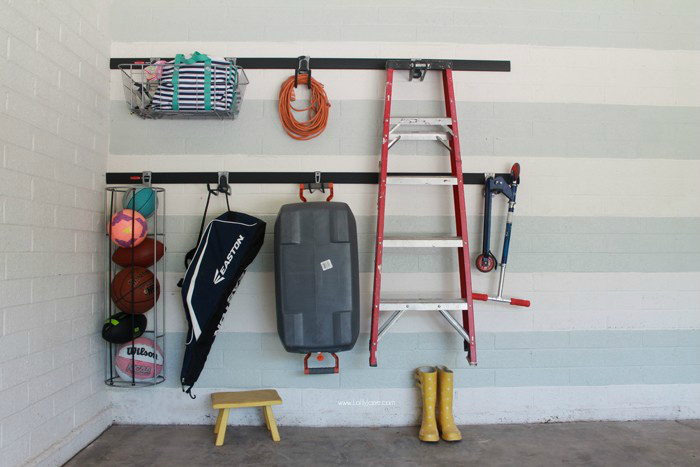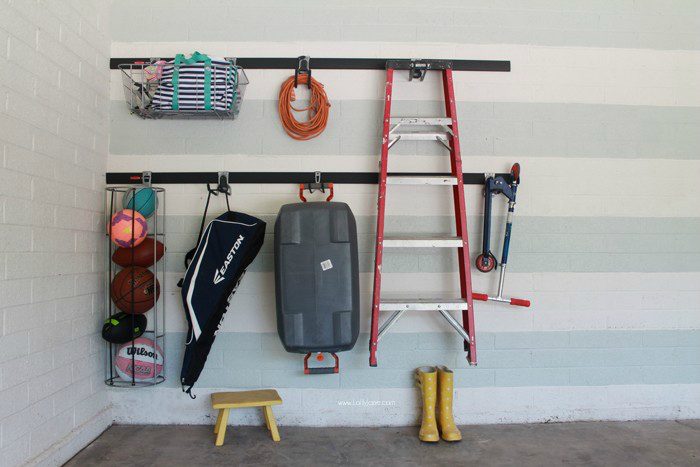 More hook options:
I wish I had the shelves installed to share, they fit perfectly in the corner and will be super handy storage for my tools like my miter saw and air compressor.  That's next on the list!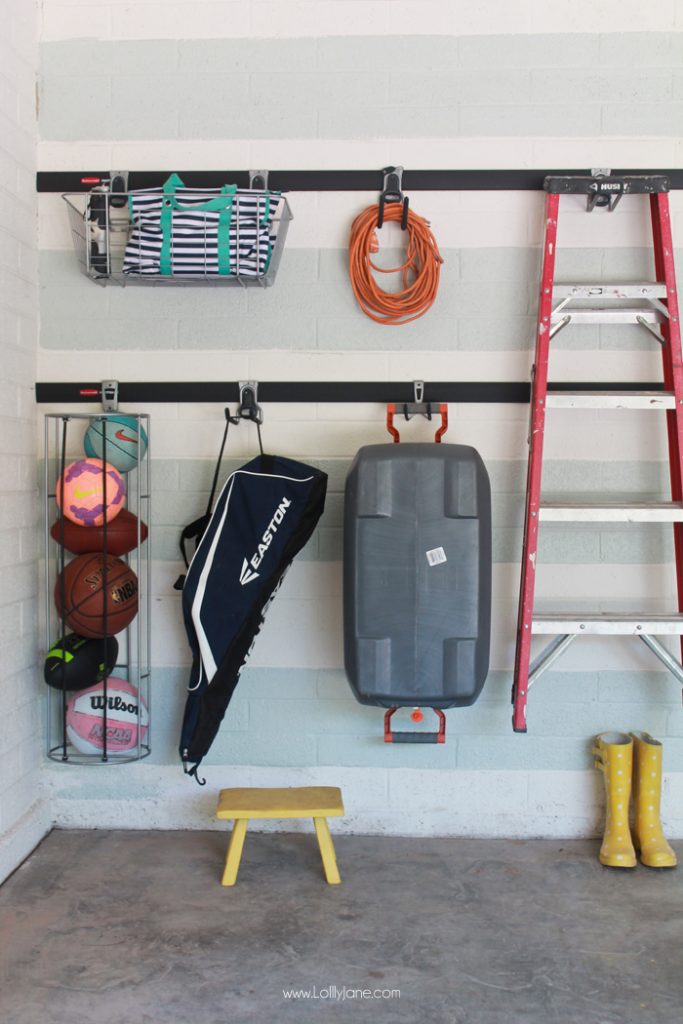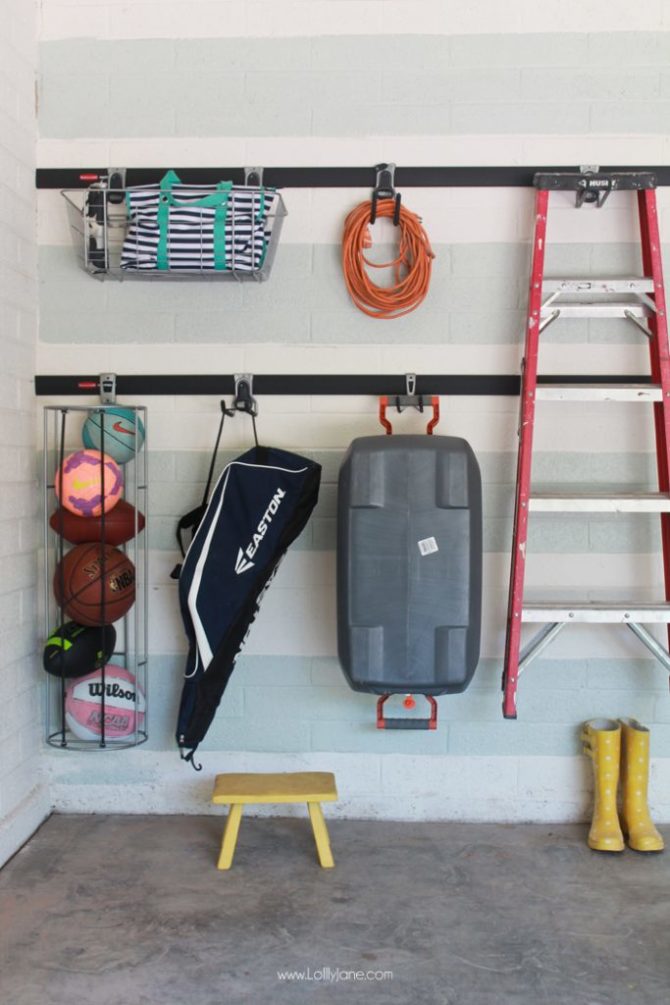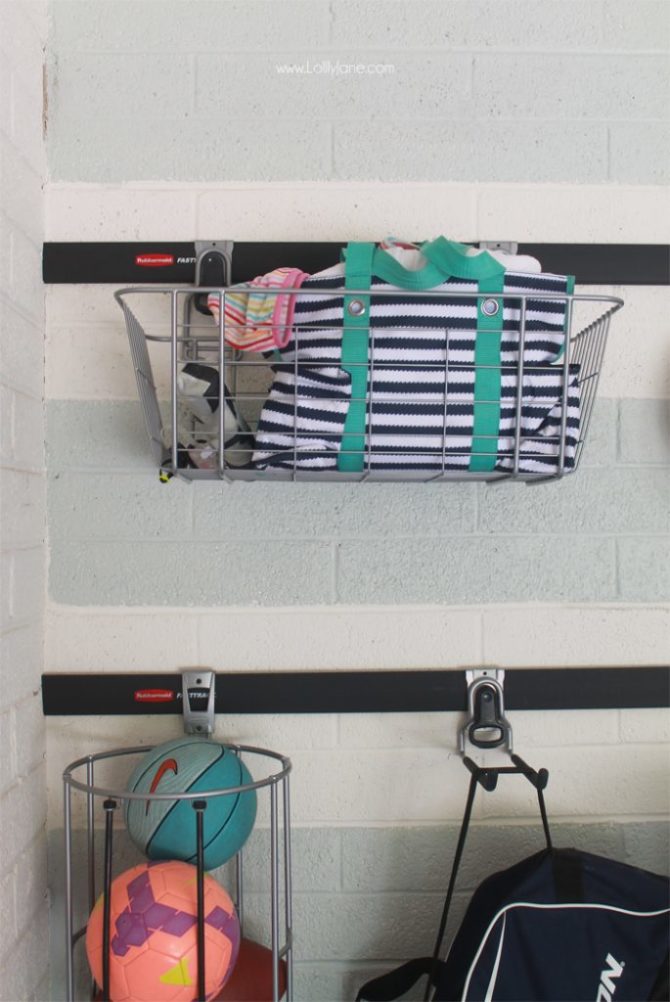 We'll be stocking up on more baskets as well.  My favorite part is that you can slide it off the attachment and take it with you!  So my kids swim items will stay dry in the garage and be ready for our next swim party, no more missing goggles!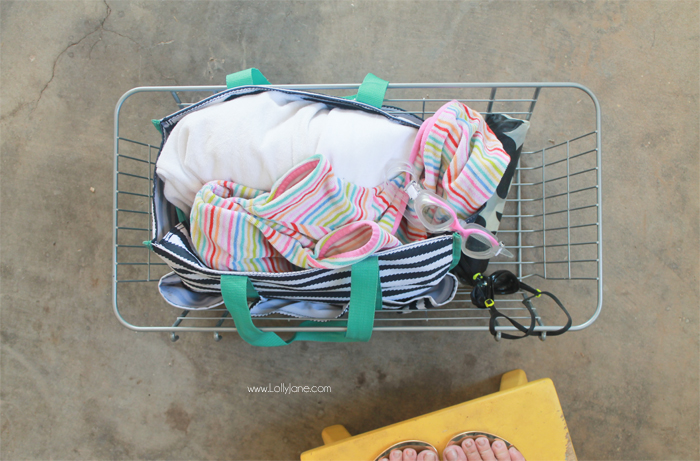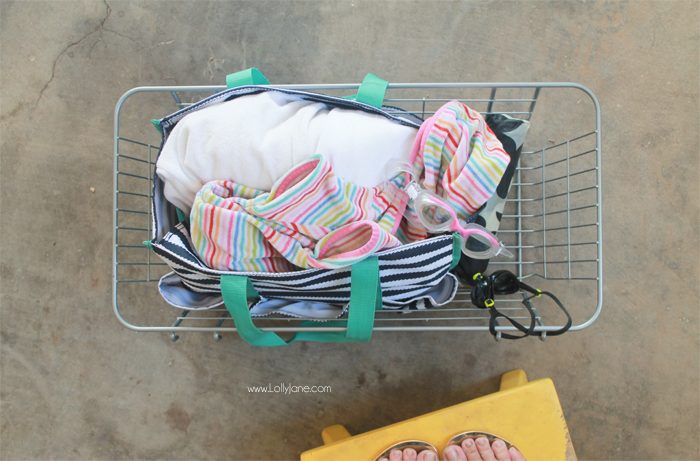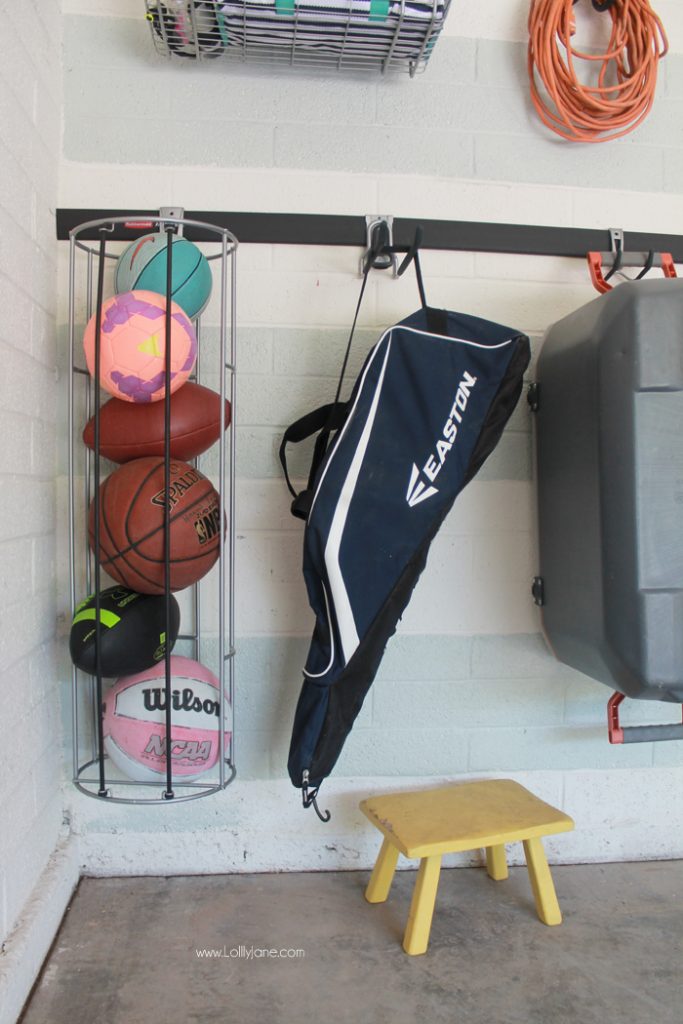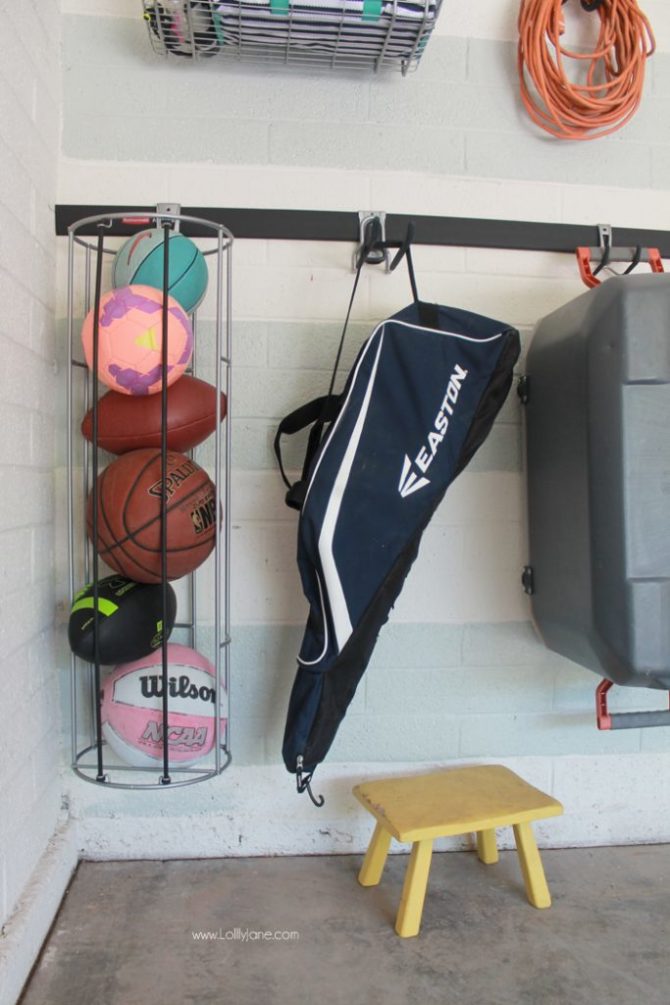 My kid's favorite item is the ball rack.  The black elastic stretches so the younger kids can easily separate it and pull out their needed ball.  Smart!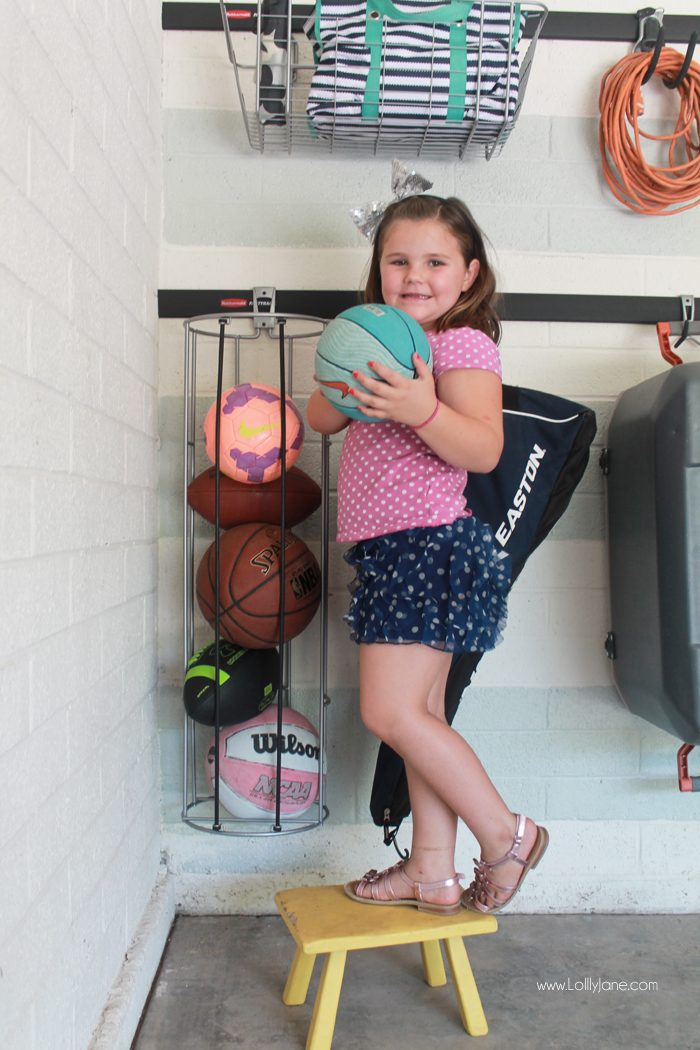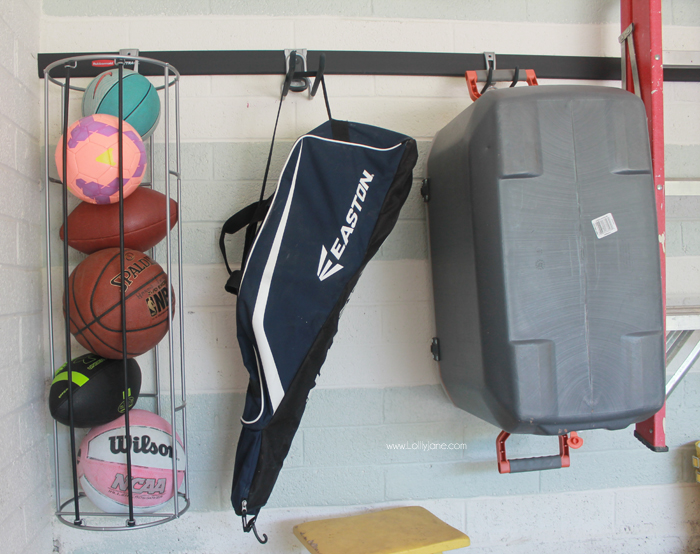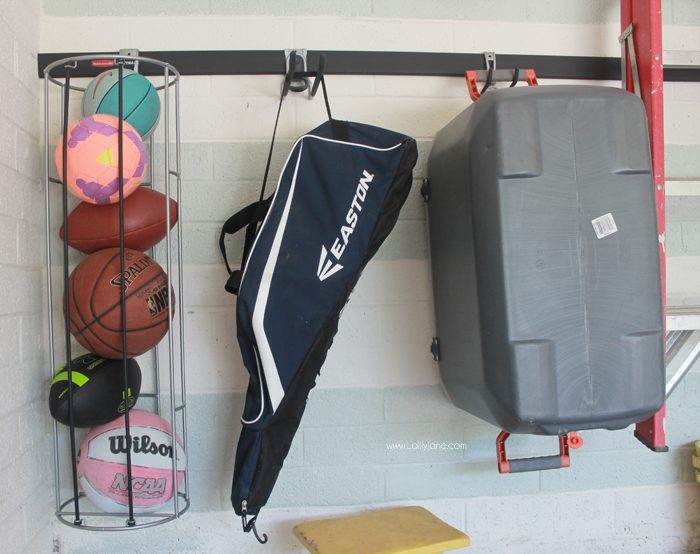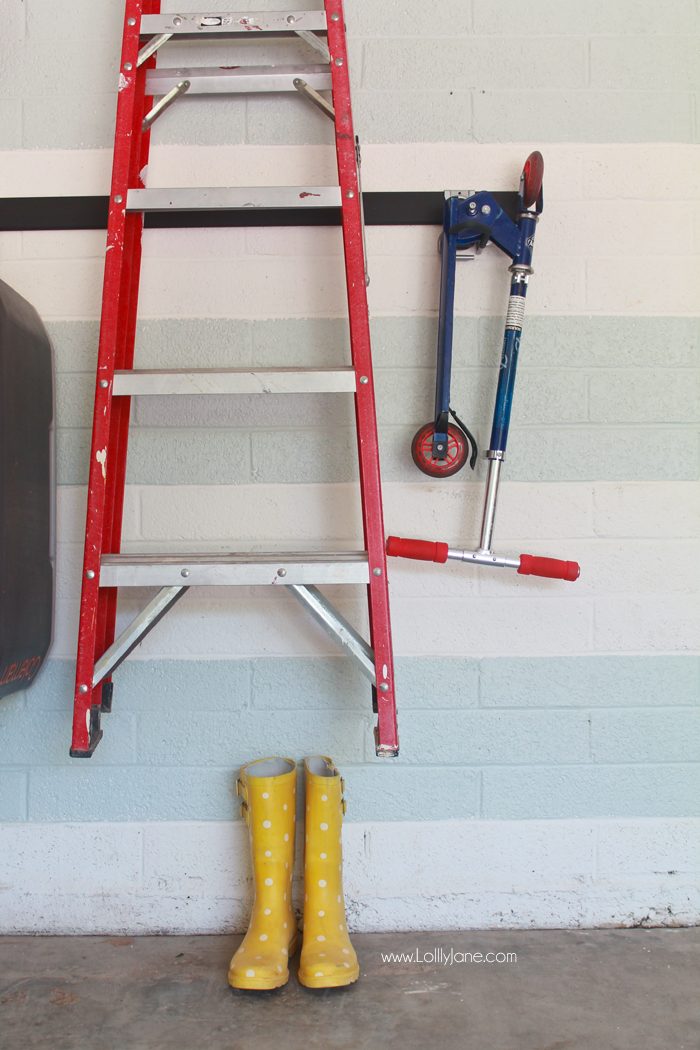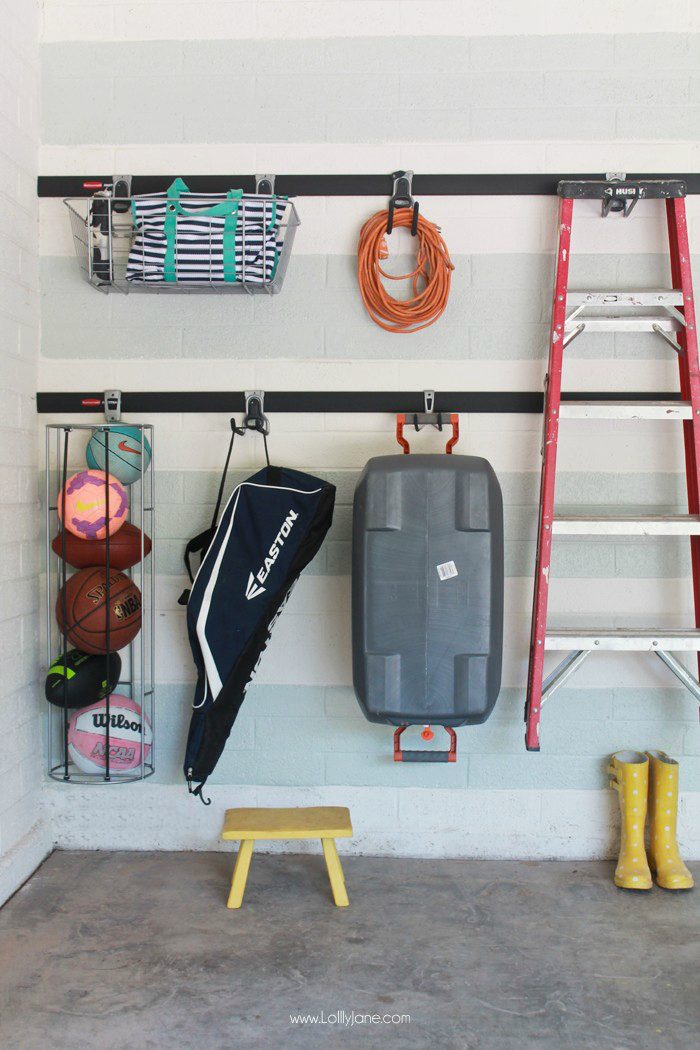 Big thanks to Rubbermaid for a fun makeover!  We love freshening up spaces, why can't a garage be attractive? It can!
Fast, easy, fun. The FastTrack Garage Organization System is easy to install and allows you to store more by making use of your entire wall…not just where the wall studs are located!  Visit your local Home Depot today!
This is a sponsored conversation written by me on behalf of RUBBERMAID®. The opinions and text are all mine.