Superhero birthday party ideas + party package giveaway
Okay we have something to admit: we are party printable rookies! Gasp! I know… we are creative bloggers and you would think with 6 kids between us, having celebrated 34 birthdays between them all, that we would have had a theme'd party with all the cutesy prints. I texted Kelli in the middle of prepping for my son's 3rd birthday party and said, "I am a believer!" because really, it was just as much fun for me to create as it was for him to enjoy it! (;
A big thanks to Carli, the talented lady behind cute cute cute DimplePrints, for inviting us to take part in her fun Summer Party Series, where we were able to try a deluxe party package out.

Since my little man is waaaaay into all things superhero right now (I just tucked him into bed wearing SuperMan socks and The Flash mask! Ha!) I immediately selected their SUPER fun superhero package. Sidenote: I was thrilled Dimple Prints has sample parties for each package theme because I didn't know where to start. LOL I got my inspiration from Carli's son's party but because mine was a lower key family get together, I took it down a notch and had fun with the minimum. (I cannot wait until we start "friend" parties and I can go ALL OUT!)
Let's take a peek at some of our Superhero party idea's: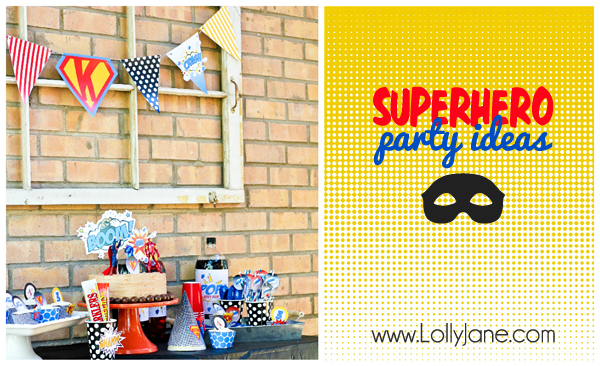 I was a bit overwhelmed (in a good way) with the selection of the package. It is a smokin' deal since I received over 100 pages of fun prints, pennants, cupcake wrappers, bottle labels, party hats, soda covers and everything in between… I had a blast picking and choosing what to use. I narrowed it down to red, black, blue and yellow colors with polka dots and stripes patterns. So cute!
The prep. I would HIGHLY recommend having your party package professionally printed on card stock. I only printed out 2 soda labels from my home printer and the quality was not nearly as good, plus I was running low on ink so it didn't look nearly as pretty. Darn it. Anyway, I sat down to a good chick flick and cut everything out with sharp scissors; by the time the movie was over, so was my cutting. Easy peasy!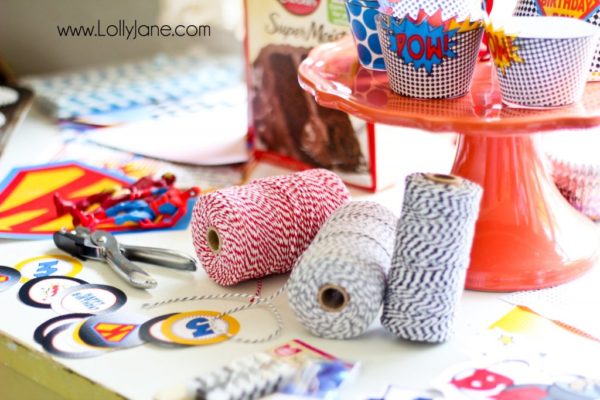 Let your little helper (birthday child) be a part of the prep. My son had fun as my sidekick- it is all about him anyway so he may as well help! (;
Most action figure superhero's have two little holes on each foot. I don't know why or what its purpose is but is sure was handy when placing them on the cake to stand up! I used skewers cut in half as a toothpick was too thin for the hole and it ended up being the perfect object to keep my heros upright. Yay!
The cake. Since my now 3-year old is still quite young, we kept the invite list to a handful of family members and served just dessert: cupcakes and cake. My toddler requested a chocolate cake with chocolate frosting and to spruce it up a bit, I let him put whoppers around the bottom. I topped it with a few cut outs from the superhero package on paper straws, a blue "3" candle I snagged in the party section at Walmart and his 2 favorite super heros.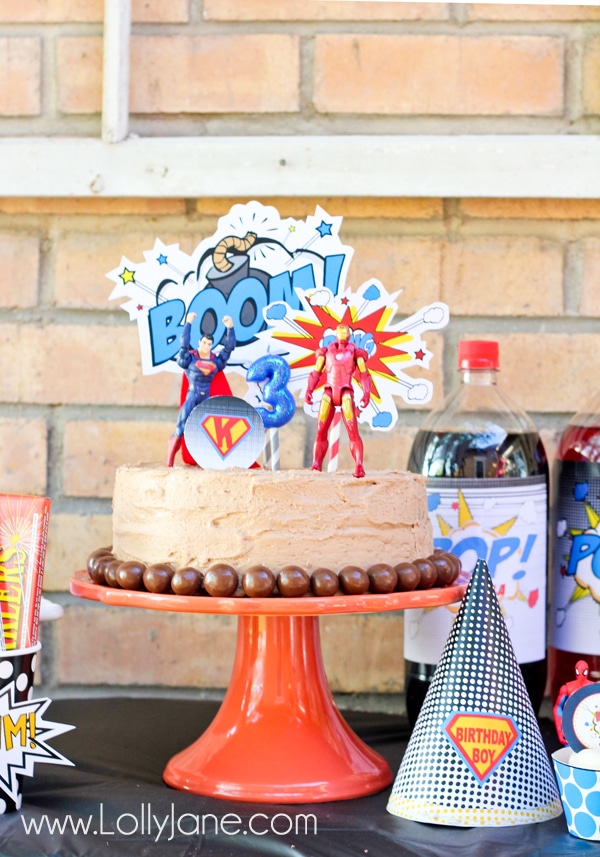 (Wouldn't ya know it? He only ate the whoppers when it was time to eat! LOL)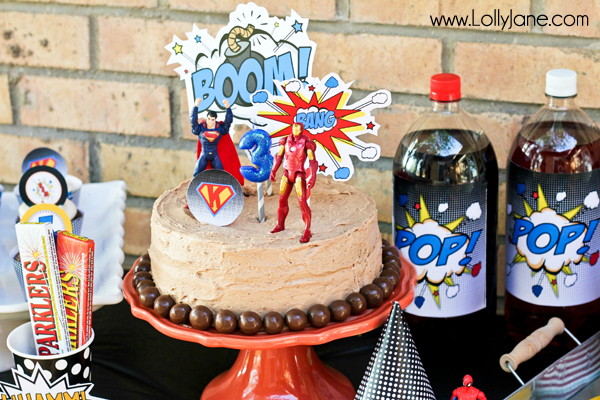 The party. I loved how simple everything ended up being. From cutting out the party hats to glueing superhero catch phrases onto the dollar store polka-dot cups (spray adhesive is bomb!) it was a cinch to put together and set up. Other than howling wind that day, it went really well! Here's a few shots of everything: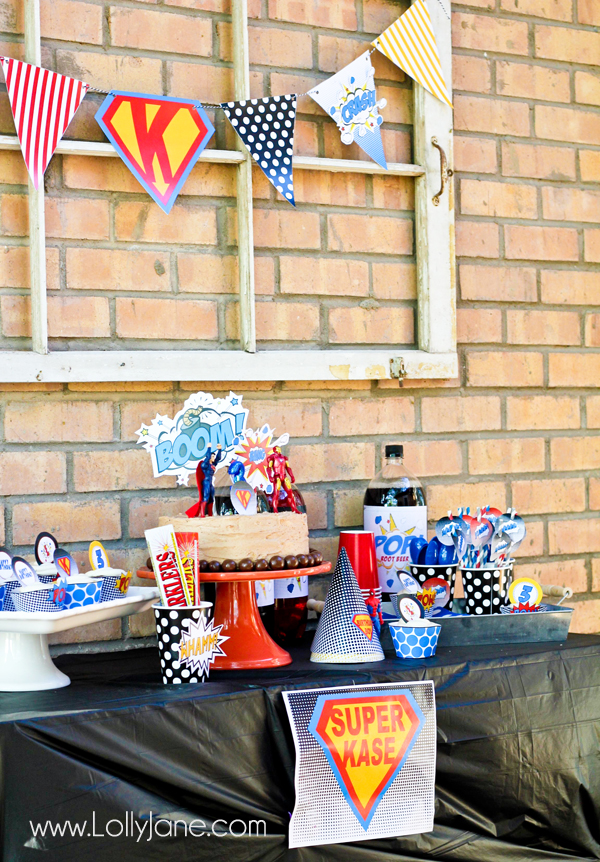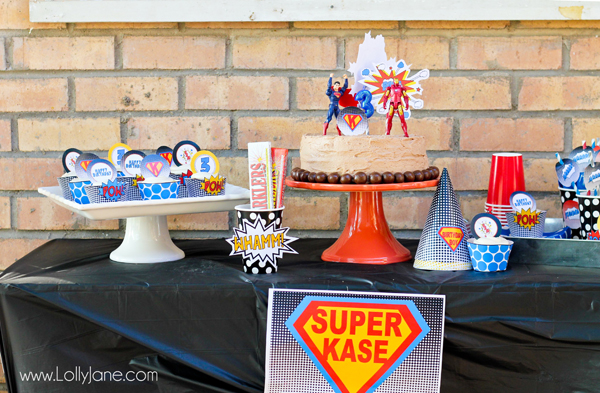 The pennant banner is hands down my favorite piece of decor from the party and it is still hanging happily in my son's room. (: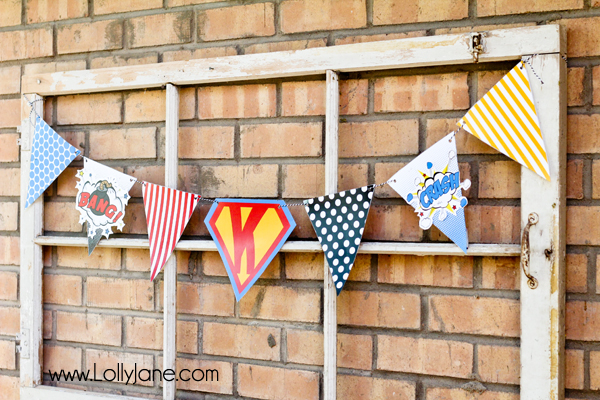 The cupcakes were so much fun to mix 'n match… which wrapper with what topper? Oh, the possibilities! I am really glad I used a tray to house all of the flatware, plates, napkins, paper straws and etc., it made it really easy to keep everything in one place. Plus, it kept everything from blowing out. Dang wind!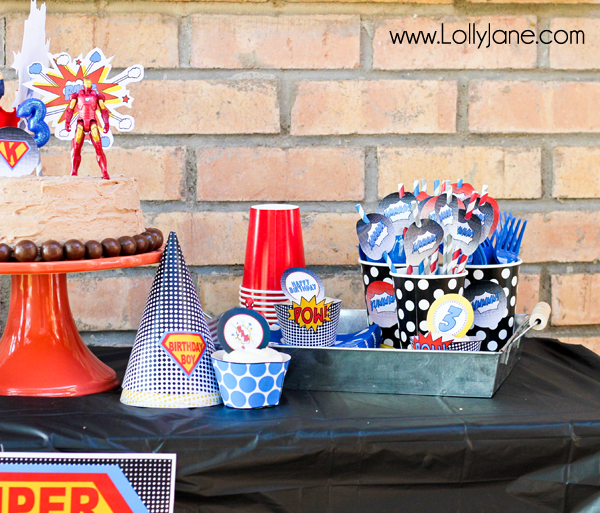 Speaking of paper straws…. don't they make everything look cuter?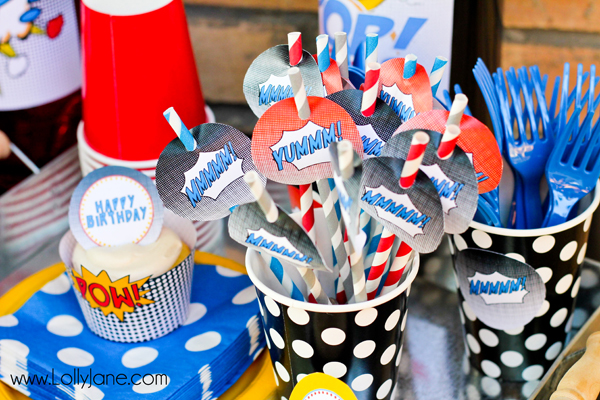 My little superhero blew out his candle and scooted off to play!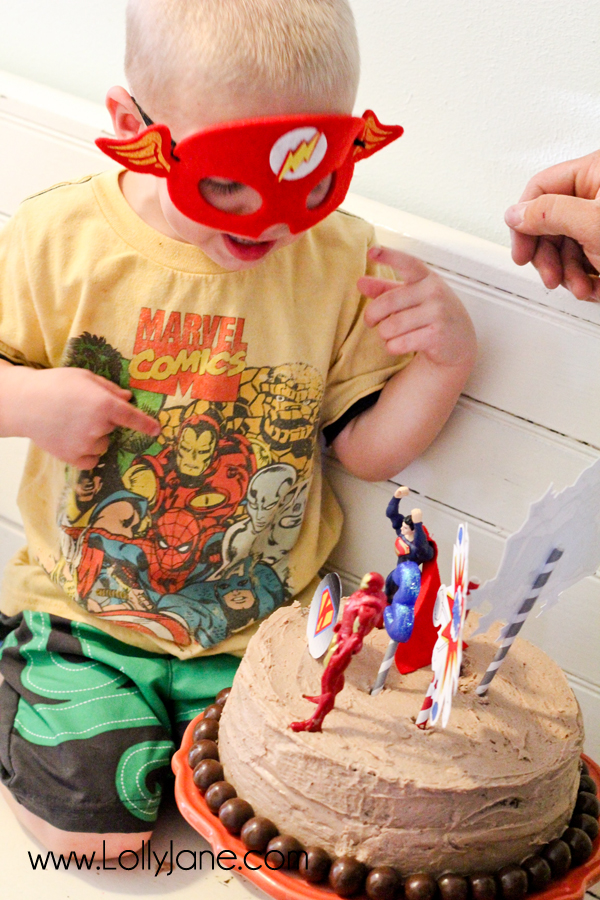 It was a relaxing evening swinging, sandbox building and enjoying time with cousins.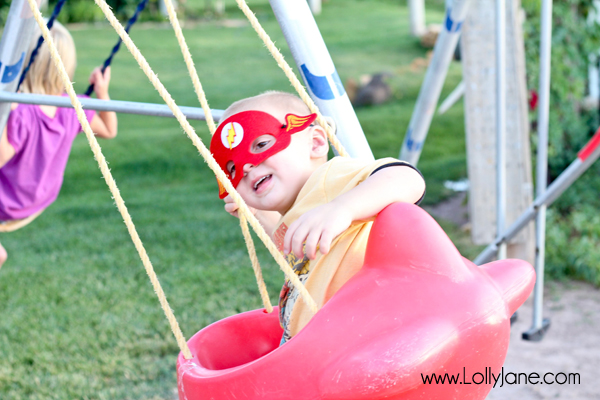 Happy birthday, Super Kase! We SUPER duper love you! (:
A HUGE thanks to Dimple Prints for the awesome party package and inspiration! BAM! Be sure to enter for your own party package, valued at $30, in the party theme of your choice! In the meantime, you can keep up with DimplePrints on their blog, shop, FB or Pinterest.
Contest ends Saturday, June 26th. Good luck!