Our favorite time of year! Isn't it yours? The lights, the peppermint desserts, the music, the cheesy Hallmark movies, the special feeling in the air! We love it all and are absolutely honored to be be participating in the #LIGHTtheWORLD campaign! It kicks off December 1st and we want to help get YOU pumped to spread the light of Christ, in 25 ways over 25 days. Don't worry, we'll make it easy for ya, much like our usual step-by-step tutorials (;

You know we're LDS, more commonly known as Mormons. We've sent out dozens of free Books of Mormon (let us know if you want one!) and we've had several great back-and-forth emails with many of you because of it! We love our Savior and agree with President Monson when he said:
"As we follow the example of the Savior and live as He lived and as He taught, that light will burn within us and will light the way for others"
in a general conference address in Oct2015. We dare you to watch this short video without getting all warm and fuzzy inside 😀
In true LJ fashion, we're going to break it down for you! Mormon.org has put together a #LIGHTtheWORLD calendar (grab your free copy). Starting on December 1st, each day you can focus on one of the ideas listed in the calendar or come up with your own ideas. Share His light by doing the things Jesus Christ himself did. Each day leading up to Christmas, we'll focus on a different Christ-like behavior and provide suggestions for ways we can emulate His example. Join us by planning your festivities around these videos and ideas.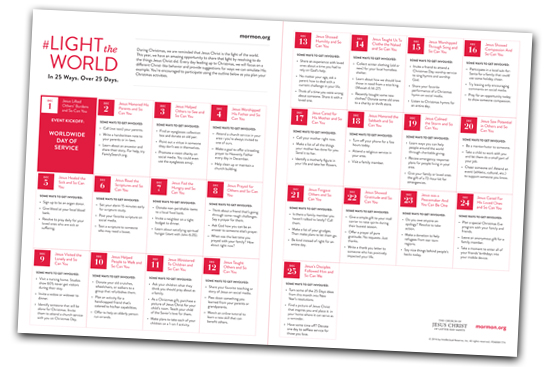 Need a kid-friendly version? A Year of FHE has #LightTheWorld for kids calendar, yay!
All week long, we're going to share some FREE printables with easy-to-implement ideas for you and your famlies to share and participate in! For example, we are absolutely LOVING these FREE daily posters from Red Headed Hostess, all the heart eyes!
Stay tuned for freebies from these cuties, live now! Together we will #LIGHTtheWORLD!
Merry Christmas!