We are so excited winter is over! Yes, Arizona does have winter (; As mild as it is compared to the east coast, we are excited for flowers, sunshine and spring cleaning. WHAT!? Who is excited for spring cleaning?? Well, we aren't excited to do the physical cleaning (that's what kids are for right!) but we're excited for that sparkly clean feeling afterward. And with our free printable cleaning checklist, you'll have an itch to get scrubbing too!
Luckily, a house that sparkles doesn't require tons of time or elbow grease. You know Mr. Clean Magic Eraser can clean scuffs off walls, but did you know that it can be your dirty little secret for cleaning so many more surprising, tough messes all around the house? It works in your bathroom, on kitchen appliances, counter tops, and even sneakers! Making a mess is easy, so cleaning it up should be too. Thanks to Mr. Clean, you can clean smart, not hard! We've partnered with Mr. Clean and HGTV host (of Love It Or List It Too), Jillian Harris, who is shared the many uses of one of our favorite secret weapons, Mr. Clean Magic Eraser.
She kindly answered some blogger questions so we could report them to you!
Q: What are the most disgusting things homeowners leave unclean during an open house for potential buyers… things they wouldn't normally think about?
A: A disgusting refrigerator is the worst. People are nosy and will investigate the fridge during the open house – don't forget to clear out any smelly food from the fridge.
Q: What is the weirdest thing you've ever used the magic eraser on?
A: My hair straightening iron! Magic Eraser can get rid of that caked, burnt-on, gunky hair product!
Q: What are you doing today with

Mr

.

Clean

?
A:
Today I'm in New York sharing tips and tricks on how to
clean
the house in no time, which is so important because we are adding another human being to our lives soon! I've been using
Mr
.
Clean
for awhile now – we use it in our business and at the house, but mostly we use it because its a no brainer. You can get so much done is such a short amount of time without having to put a ton of elbow grease into it! I've been sharing my dirty little secrets today around the house – things i use Magic Eraser for, like
cleaning
up the entire oven, patio furniture, sneakers, and bathrooms.
Q: Marry, shag, kill:

Mr

.

Clean

, The Rock and Howie Mandel
A:
I would marry
Mr
.
Clean
(so my house would always be
clean
) I would shag The Rock (he looks like he knows what he's doing in bed) and I would kill Howie Mandel.
Q: You have 10 minutes before company is coming over, what do you

clean

first?What's your priority?
A: I always focus on the kitchen because that's naturally where everyone hangs out. I shove a lot of stuff in the junk drawer and I use the Magic Eraser – it's so funny how much of a difference it makes just getting rid of those little scuffs and those little nicks around the base boards. I also like to spot wash the walls and make sure the island and counter tops are totally cleaned off. I'll grab some fresh flowers from outside if its that time of year, light a candle and sometimes open up the windows just to allow a little bit of fresh air in. And if you have wine out, nobody notices how messy your house is!
Q: What does everyday really look like at your house? We imagine a gorgeous, magazine ready at all times kind of home. Tell us your human?
A:
My house stays relatively
clean
but only because I like to be on top of it. But, when I come home from a trip to New York or a trip to Vancouver, I'm a disaster zone. I dump my bags and my bathroom floor is always covered with clothes, shoes and dog toys – and now there's going to be baby toys too! So while the house is relatively
clean
, its usually a giant mess disaster. I have lots of baskets around my house so that if I do need to
clean
in a hurry, there's a basket for all the dog toys, there's a basket for all the shoes. I grab the basket and put it in a corner and all of a sudden people think you are really
clean
!
Check out her cute video full of tips!
Our take away? Mr Clean has some great tips to cut cleaning time down! Here's a few of our faves using Mr. Clean Magic Eraser:
Wipe away winter wear on outdoor furniture + BBQ grill.
Scrub your sneakers to get the white back to its original color!
Remove scuff from hallways and trim.
Remove fingerprints from walls, counters + cabinets.
Remove caked on food, soap scum + water build up.
Get rid of stuck on food in the microwave easily.
Power through hard water build-up and soap scum in the bathroom.
Remove makeup and hairspray from your walls in the bathroom, genius.
And for a quick schedule to follow, we've created this free printable cleaning checklist for you too to make it absolutely foolproof!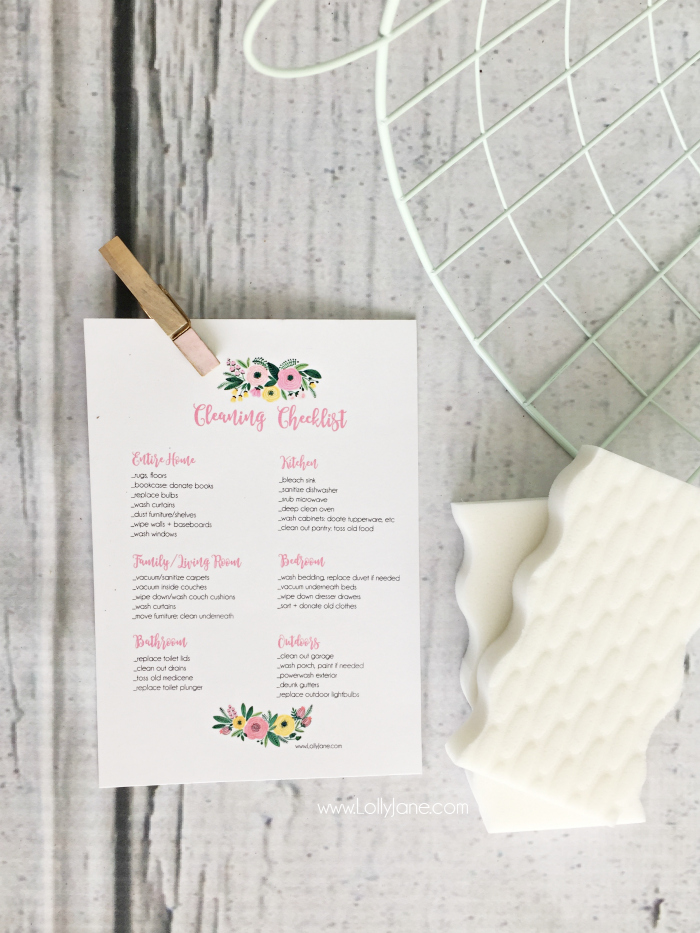 Just print + check things off your list!
PIN IT so your friends can get in the cleaning groove too!
We hope we've motivated you to dejunk + dig into cleaning! It's not fun but it feels so good afterward! For more cleaning tips, visit our 19 kitchen hacks,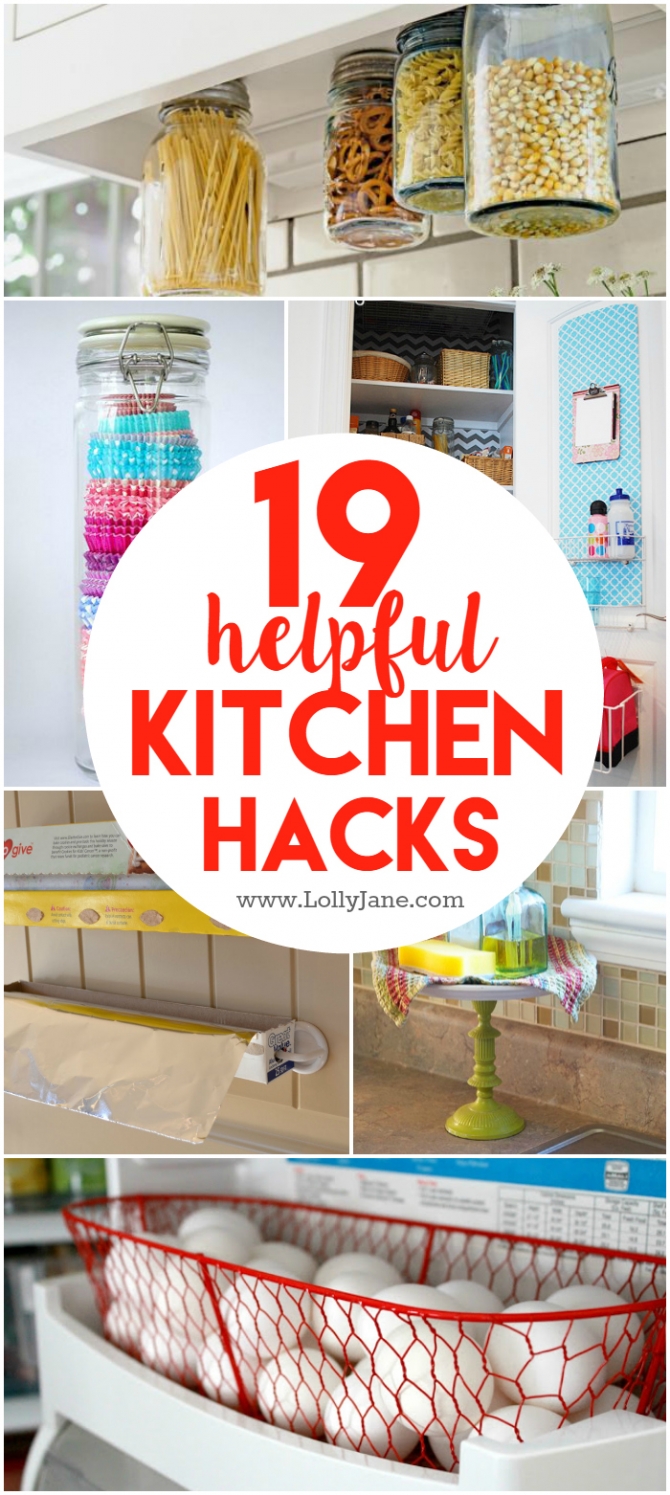 115 kitchen cleaning tips, WOW!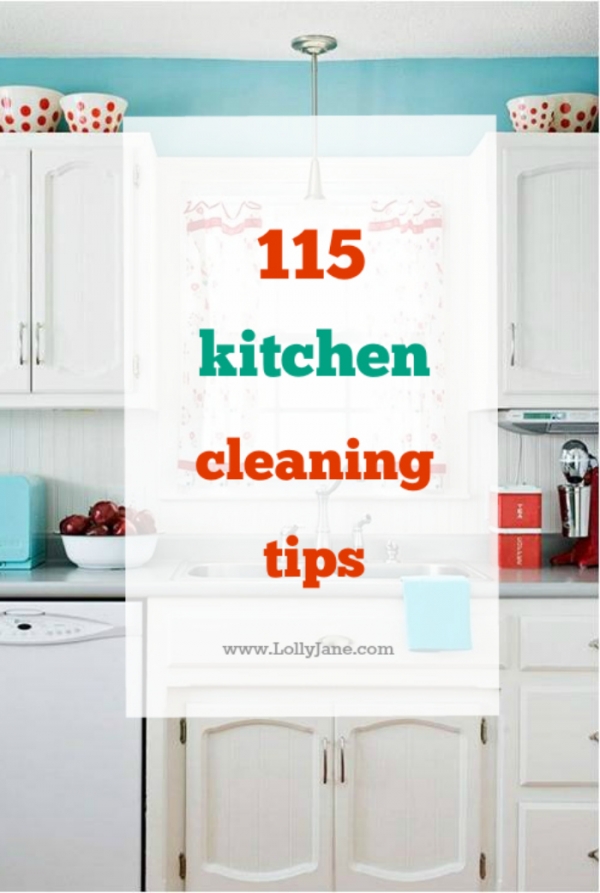 PLUS 45 top organizing products for your whole home!!