We are big fans of Cinco de Mayo! Our Nana was born and raised in Mexico and now that she's passed, we like to tell our kids her stories and our memories of visiting her hometown when we were kids. She made the BEST food and because of happy memories in front of her Mexican dishes I still prefer Mexican food anytime my husband gives me the choice!
This chili cream cheese dip has just the right kick and so much cheesy flavor, it's a crowd pleaser and perfect for your own Cinco de Mayo fiesta!
You can easily double it if your familia is the size of mine, huge! Dipping with Food Should Taste Good's Jalapeno with Cheddar Tortilla Chips is the perfect addition to this cheesy goodness. You may have most of the ingredients on hand to whip this right up!
Ingredients:
1 can chili beans
1 can refried beans
1 package (8 oz) cream cheese, softened
1 small can green chilies
2 green onions (optional)
1 medium jar of chunky salsa (hot or mild to taste)
4 ounces shredded mild cheddar cheese
4 ounces shredded pepper jack cheese
Directions:
Preheat oven to 350° F.
Mix the cream cheese and refried beans together, spread with a spatula in a 9 x 9 lightly greased baking dish.
Pour the chili beans over the bean mixture.
Layer with salsa.
Sprinkle with green onions..
Cover dish with cheeses.
Bake 30 minutes.
Why use Food Should Taste Good Tortilla Chips? Because they have better ingredients, better taste, better snacks. What else do you need? Great taste, simple ingredients, sophisticated flavor. The Jalapeno with Cheddar packs a punch that keeps you going back for more! And because they're non-GMO, certified Kosher and certified gluten-free, you'll be happy to pack them into your kids lunch or share them with friends at your next get together.
This dip + chip combo will have your friends asking for the recipe and because it's simple enough and beyond tasty, they'll make it again and thank you for it!
Big thanks to Food Should Taste Good for sponsoring this post! As always, all opinions are our own. Visit www.foodshouldtastegood.com for more information.

Please PIN IT so your friends can enjoy this recipe too!
Check out more of our recipes that we dipped Food Should Taste Good's chips in! Mmm!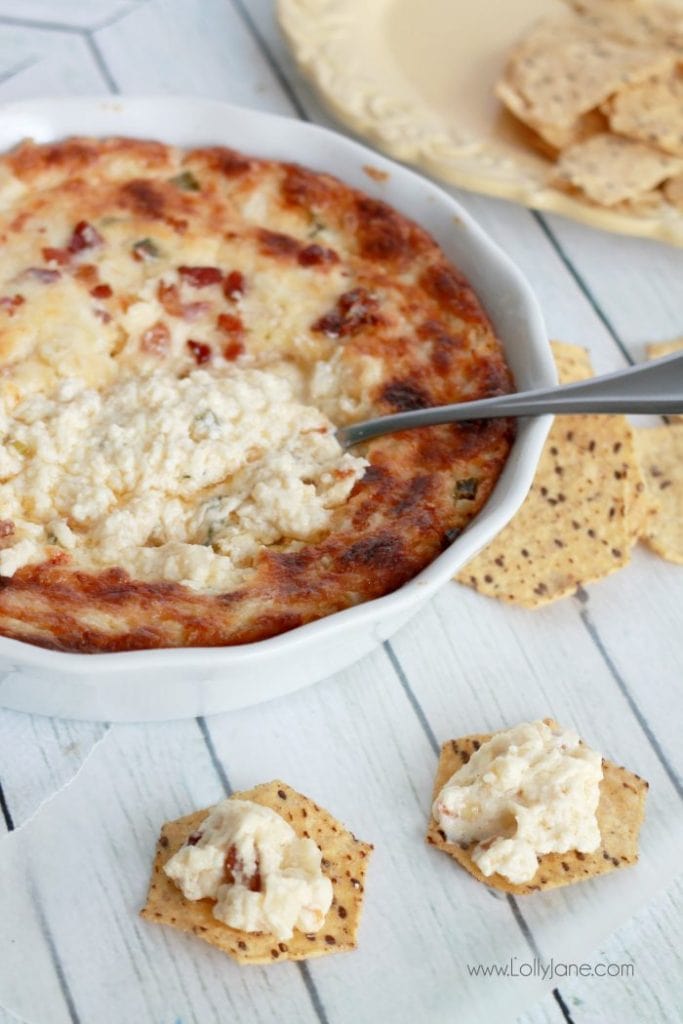 Bacon Jalapeno Popper Dip

Need even more dip recipes? We've got 21+ amazing ones!