Fall is on its way! It's in full blown swing in several parts of the country. Arizona is always late to get the memo but indoors? Oh yah, it's on! We are burning our pumpkin scented warmers, adding pumpkins to our front porch and shelves and busting out the down comforter at night. I dream of planting mums but they only last until Thanksgiving around here, that's why we're super excited when Grove Collaborative sent us their Mrs. Meyer's fall set! Here's why we are crushing on it — and how you can get it FREE.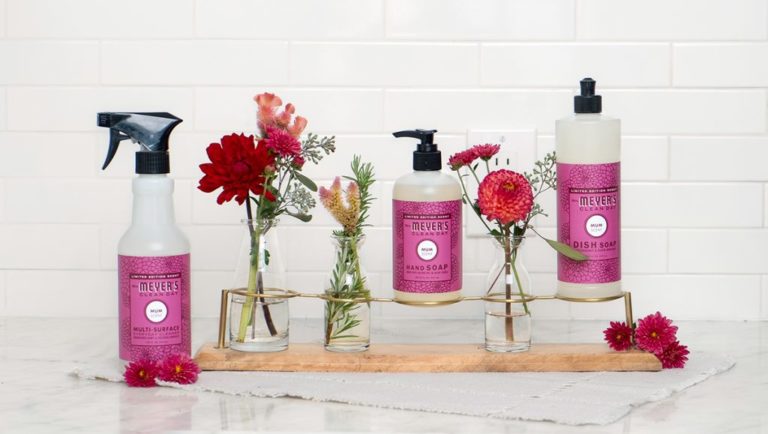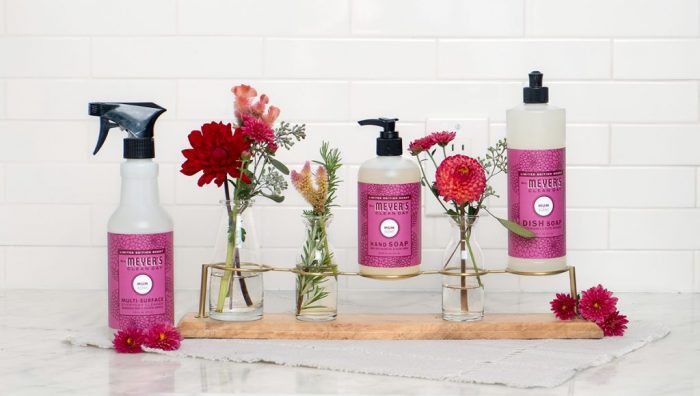 Mrs. Meyer's has a seasonal Mum scent! Say what!? My husband said, "Is tha new perfume?" I told him to smell the counter and he looked at me like I was on one but he did take my dare and laughed at himeslf for thinking it was a fancy lotion smell. He's right, it's cleaner and it does smell that good! It's floral and warm, but in a decidedly fall way — just perfect for bringing some of the outdoors in.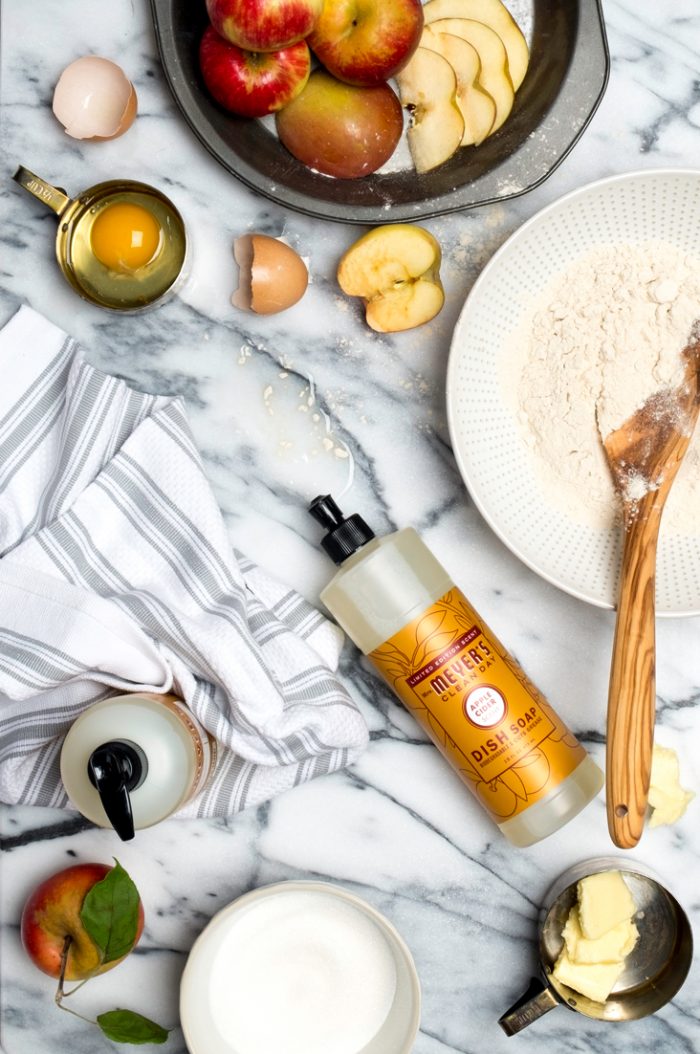 Guess what? The set also comes in an Apple Cider scent. Kelli's husband grew up behind an apple orchard and says it reminds him of fresh cider. Just one spritz of the multi-surface spray and we were hooked. It easily dissolves dirt and grease that gets tracked in from playing outside. Plus, the smell fills my kitchen and bathroom without being overpowering.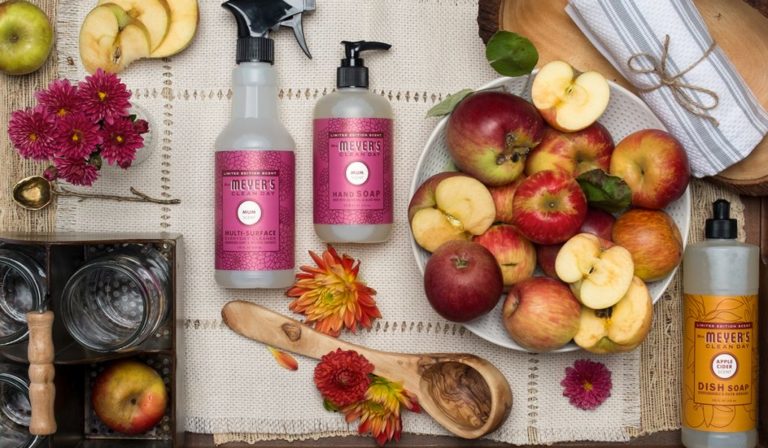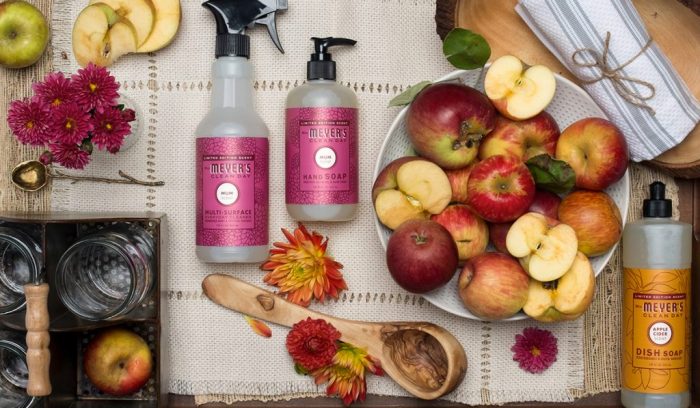 Mrs. Meyer's hand soap and dish soap come in matching scents, so we can coordinate our whole kitchens. We love that the soaps are thick and rich, since we inherited our mom's dry hands this time of year. All the products are earth-friendly and non-toxic, so we can feel good about using them for our families. The FREE set also includes a Grove Collaborative kitchen towel. I should warn you that I'm obsessed with these! I keep a stack of them in a drawer to dry piles of dishes and soak up messes, then toss them in the wash when I'm done. They hold up beautifully and don't shrink in the dryer.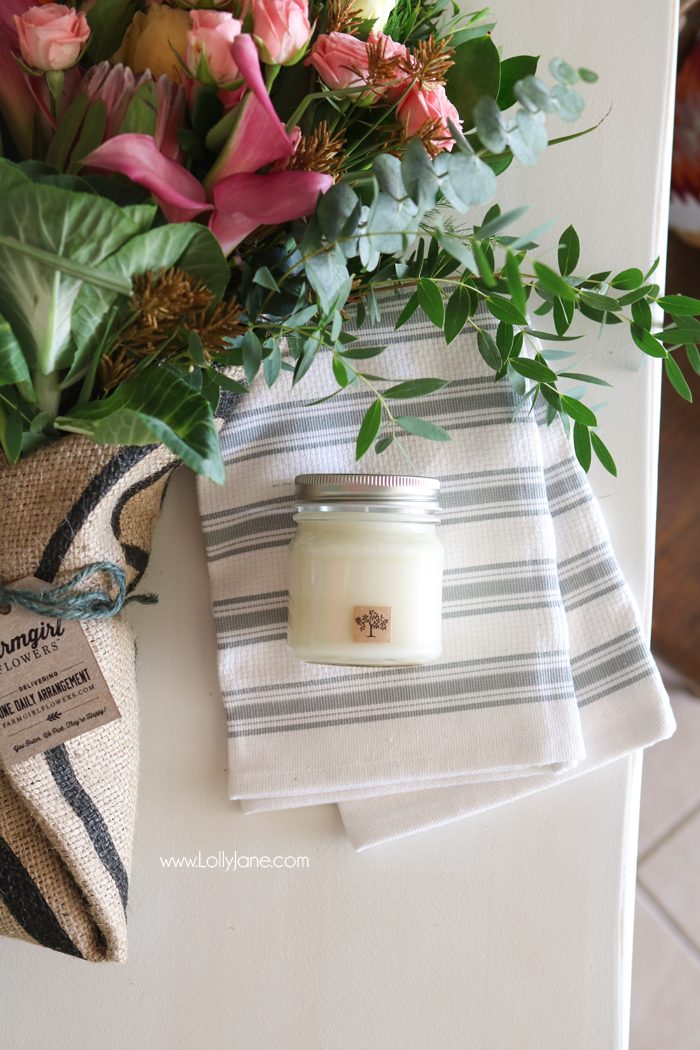 You've heard about Grove Collaborative before, right? It's a monthly subscription service that makes finding natural cleaning and personal care produccts to create a healthy & beautiful home effortless and affordable. When you sign up, they'll ask a few questions to find your favorite products (and recommend new ones you'll love). They've hand-selected the best natural products and they'll deliver them (carbon offset) right to your doorstep, on your schedule.
If you're a new subscriber, you can get the set for FREE + free shipping with your first order. You'll get:


Free Mrs. Meyer's fall seasonal hand soap
Free Mrs. Meyer's fall seasonal dish soap
Free Mrs. Meyer's fall seasonal multi-surface spray
Free Grove Collaborative kitchen towel
Free 60 Day VIP trial
To receive the offer, your order needs to total $20. You can choose any combination of products, but here are a few we recommend:
Grove Collaborative 70+ hour all natural soy candle $12.95
Grove Collaborative walnut scrubber sponges $3.95
Yes To Coconut protecting hand and cuticle cream $5.99
I'm also a VIP member, which means I get free shipping, free gifts, price matching, exclusive sales, and personal service. Don't forget to sign up for the free 60 day VIP trial when you check out!
There are only a limited number of sets available and the offer ends SOON, so hurry up and place your order! Here's how it works:
1. Sign up for Grove Collaborative here. You will receive the Mrs. Meyer's offer for free when you sign up!
2. Answer 4 quick questions about your home that Grove Collaborative will then use to customize your first basket — this takes under 30 seconds!
3. Once you've answered the questions, you can finalize your basket of products to suit your household needs by adding or removing items. (This is the hardest part — so many great choices!)
4. To receive this offer, your order needs to be a minimum of $20. Choose the combination of products and scents you love and receive in your first box.
5. You made it! Click Finish & Pay and place your order.


Tip to save: Once you've submitted your Grove order, be sure to sign up for the free 60 day VIP trial. You'll get free shipping, free gifts, price matching, exclusive sales, and personal service. AND wow! You guys, check out these gorgeous floral bouquet we received from FarmGirl Flowers as a gift from Grove. We die!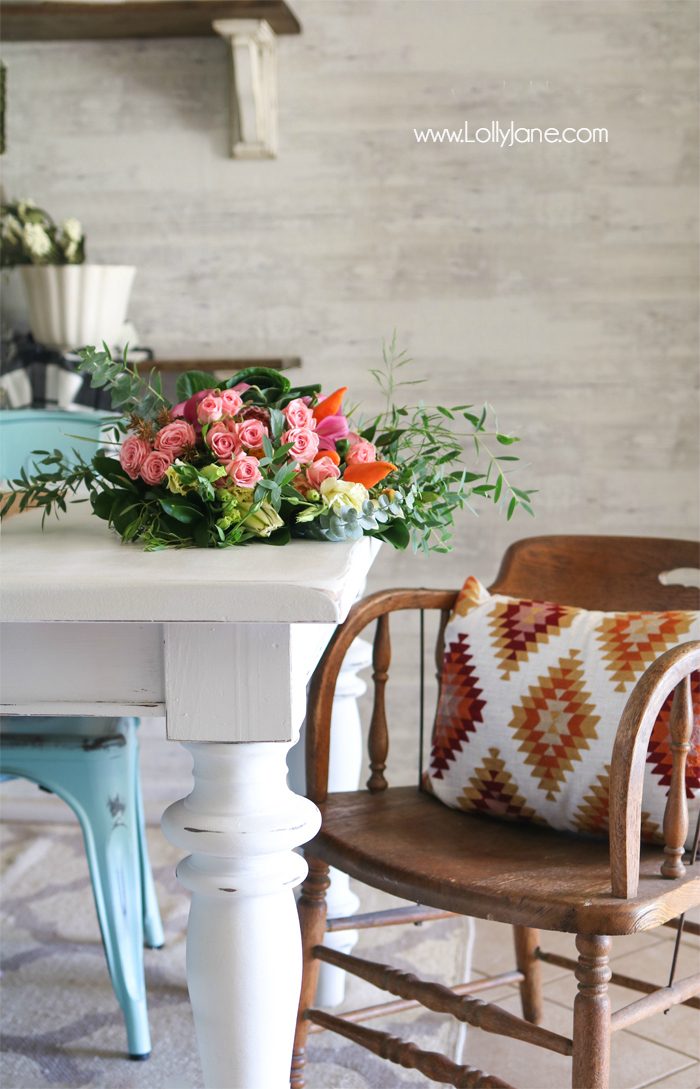 Disclaimer: This is a sponsored post by Grove Collaborative and includes affiliate links. All opinions are our own & we only recommend products/services we use personally and believe you'll truly enjoy.