Print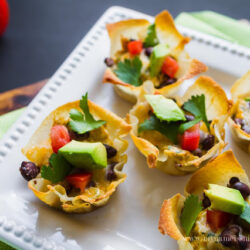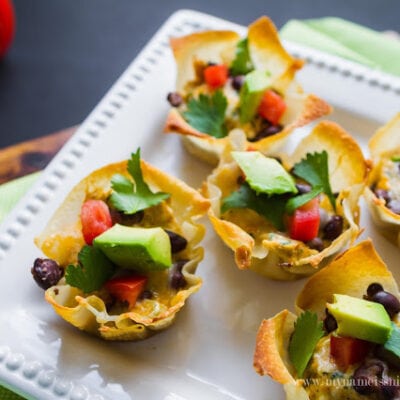 Green Chili Chicken Enchilada Cups
A delicious alternative to chicken enchilada casserole served individual style with the same great taste!
FOR THE CUPS
Preheat oven to 375 degrees

Lightly spray two regular muffin tins with cooking spray.

Place one wonton wrapper in each tin pressing down gently to form a bowl shape.

Spray each wonton lightly with cooking spray. This helps them brown up a little.

Bake for 5 minutes or until lightly golden.

Remove from the oven and fill with enchilada filling.
FOR THE FILLING
In a medium bowl mix together enchilada sauce, cream cheese, lime juice, cumin, chili powder, garlic powder, salt, cilantro and scallions until well blended.

Fold in chicken, 1 1/2 cups of cheese and beans until just incorporated.

Place about 2 Tbsp. of filling into each cup and sprinkle with remaining cheese.

Leaving them in the muffin tin, bake for another 5-7 minutes until mixture is bubbly and cheese is melted.

Remove from oven and let them cool for 5 minutes in the tins.

Garnish with avocado cilantro leaves and tomatoes.

Serve warm.