Print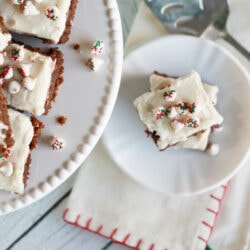 Frosted Peppermint Brownies
These frosted peppermint brownies are easy to whip up are perfect on a plate for holiday entertaining!
BROWNIES: Preheat the oven to 350°F.

Lightly grease a 9" x 13" pan.

Melt chocolate and butter and cool.

Add eggs, sugar, flour and salt.

Mix well.

Add peppermint flavoring and nuts.

Bake the brownies for 20-35 minutes, until a cake tester inserted into the center comes out clean. Remove them from the oven, and cool completely before frosting.
FROSTING
Beat butter, powdered sugar, milk and flavoring.

Cool in refrigerator for 30 minutes.

Once completed cooled, smother with frosting then sprinkle peppermint chips on top.

Enjoy!
GLAZE (optional)
Melt chocolate and butter; beat until smooth.

Frost cooled brownies with green frosting, drizzle glaze around top.
Note: Try halving the mint/peppermint oil suggestion and add more a bit at a time until it's the right amount of flavor for your palate. Also, nix the chips and add green food coloring to the frosting for a St. Patrick's Day treat! :)