Office Depot sponsored this post, but all thoughts and opinions are our own.
Having a good system in every aspect of your life increases productivity. Since this may not come naturally to you, check out these tips to organize your small business. Learn how to save time and money with a few handy tools!
We've had our small business for over a decade now but one of our biggest struggles has been to get organized. We've been focusing on what tools and programs are the most useful and have come up with a few tips to organize your small business that may make your small home office
run more smoothly and waste less paper (and time!) along the way.
INVEST IN A GOOD PRINTER
My old printer was so old school. Every time I needed to print something, I walked my laptop over to it, plugged it in then held my laptop while my printer printed, or worse, balanced it on a pile of paperwork. So embarrassing that I'm admitting that out loud.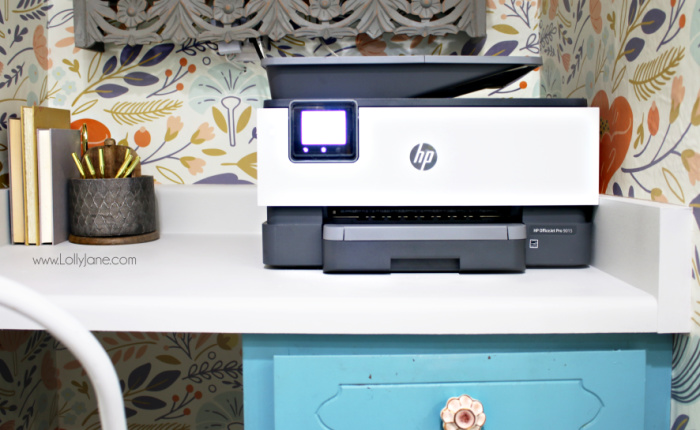 Kristi recently got a wireless printer and loves it so replacing mine has been on my to-do list. She's right, it was such a game changer! I absolutely love the HP OfficeJet Pro 9015 All-in-One Wireless Color Printer, which Office Depot sent me to try. Finding the right printer for your small business can save you so much time, Yes, a printer! Check out how the new HP OfficeJet Pro's smart app cuts your time spent scanning in half!
Digitize business documents
Implement paperless document storage.
You've heard of the cloud, its document storage allows you to securely store and backup important files and documents. Not only does it reduce paper use, the paperless document storage allows you to share files with employees and customers without added expenses of faxing or mailing.
Off-site file storage gives you added security and complete control over who can access documents. With the Smart App, you can send or copy to Google Drive or Dropbox in just seconds so you're not using your computer's storage, and of course you can easily print the things you need paper copies of as well.
Go mobile
Print and scan from anywhere with the HP Smart App.
You now have the freedom to work anywhere! You can remotely scan your receipts then automatically sync to business software. We use Quickbooks and adore that the tools complement each other.
We are in LOVE with the feature to print from your phone! It's the best mobile print we've seen! When I'm shipping signs from our shop, I can quickly print the shipping label from my phone now instead of balancing my laptop like a crazy person in my small space. And because printing from my phone is so convenient, I've been printing out prints from our shop as gifts to our sign buyers and am AMAZED at the quality of the printer with photo paper!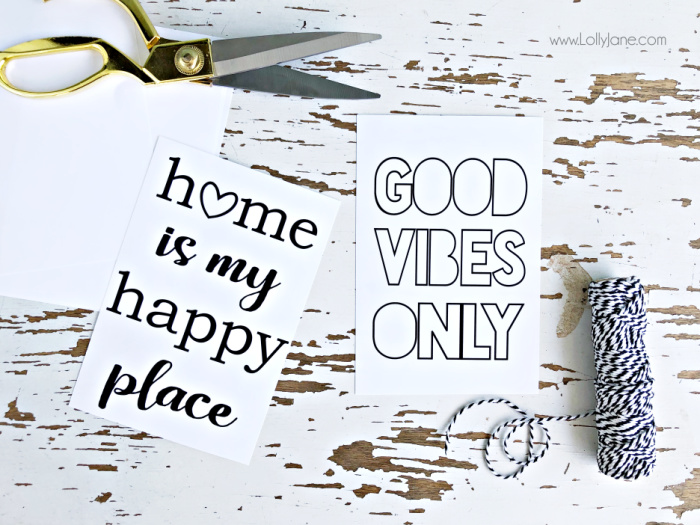 I even printed a family picture taken on my iPhone last month, when Kristi came over, she thought I had it printed at Office Depot! Isn't it gorgeous?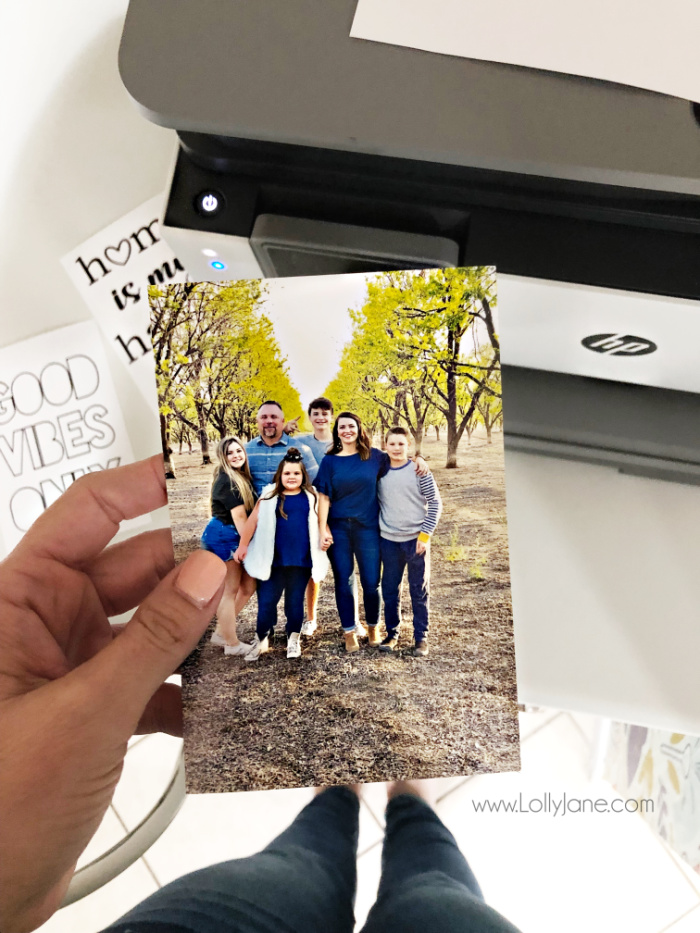 Increase productivity
Copy documents with the Smart App. Wondering what you should do with existing paper documents while you're organizing your office? Scan them into PDF format with the Smart App, then upload the copies to the cloud or Dropbox. You can also use the OfficeJet's printer to scan but going mobile is so much faster with the app!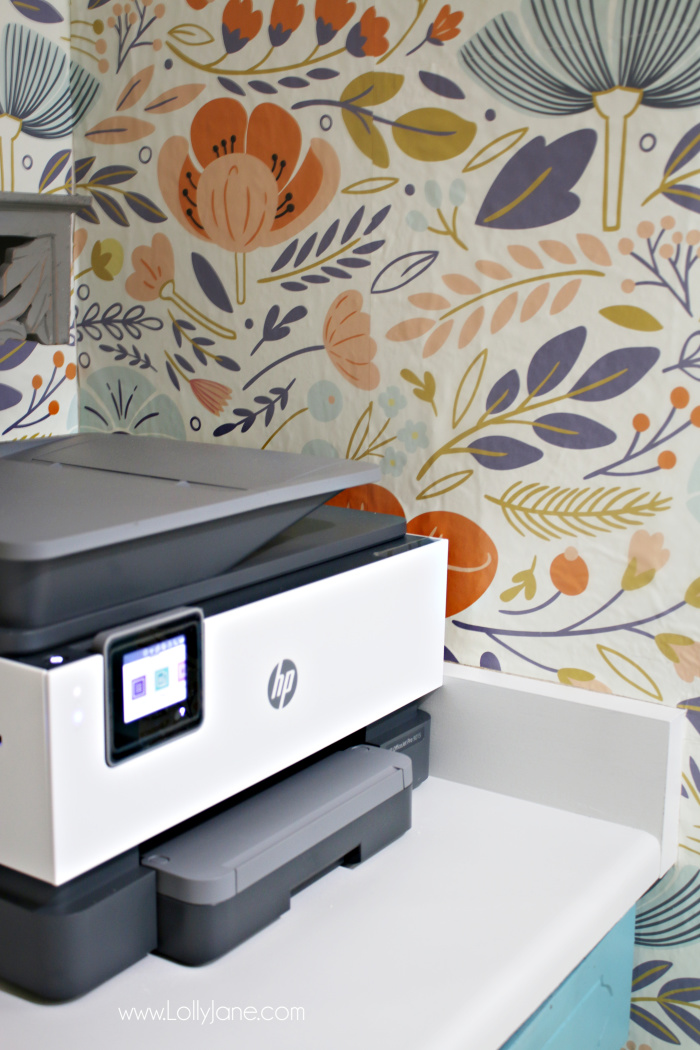 self healing wifi
With the HP Smart app, you can print using Wi-Fi and a smartphone plus scan from your smartphone camera! I was able to free up storage and delete an app I had just for scanning documents.
The printer uses a self-healing Wi-Fi which automatically detects and fixes connectivity issues. No need to worry about security issues since it features automatic firmware updates, encrypted customer data and a network firewall. Ahhh…so helpful!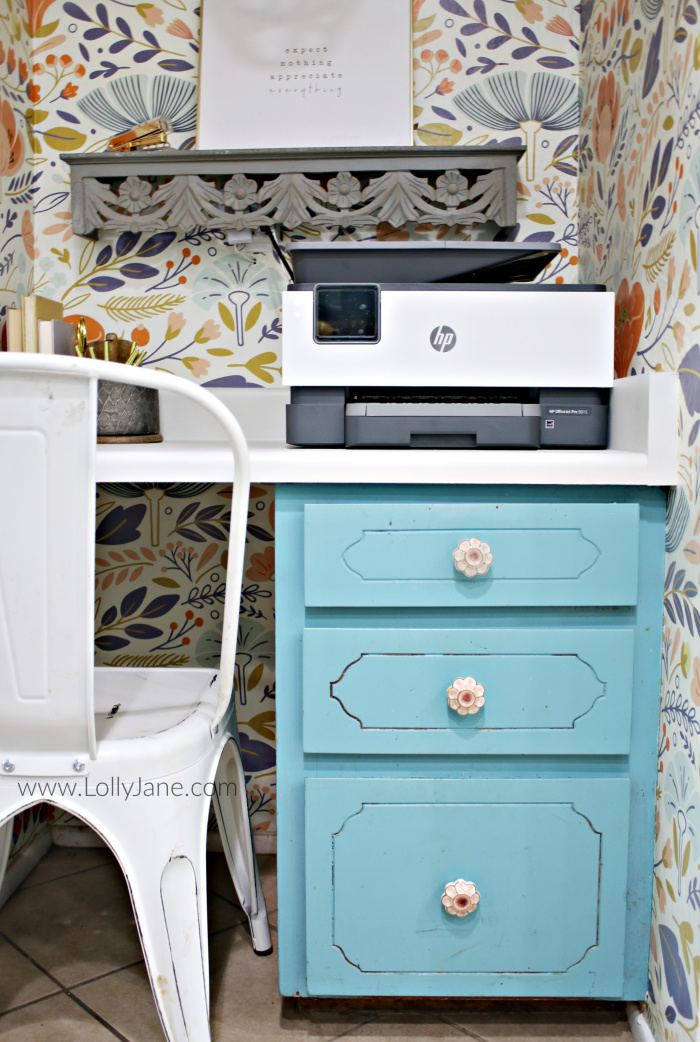 how do you organize your business?
We're excited to take you along our journey to freshen up this small office nook and finally get fully organized! Our end goal is to finally have a spot to get all our emails answered daily, rid ourselves once and for all of the never-ending mail pile and to check off goals to keep our small business running smoothly! Please share any tips you have to get your own small office efficient and organized in the comments below.
Office Depot sponsored this post, but all thoughts and opinions are our own.