So you all know that I LOVE color, especially this time of year. I have a cheery yellow stenciled dining room, a bright turquoise craft room and matching bright turquoise living room, which I recently revealed. If you follow us on instagram you will have seen my distressed pale blue coffee table took a turn for the worse (apparently it was not made for 200# husbands to stand on! Oops!) So anyway I noticed after I took the broken coffee table out that I had a lot of cheery hues in this space… between my Life Is Good sign, yellow chair, yellow ombre tree, turquoise lamps, mustard yellow buffet and the board & batten, I decided to tone it down a notch. My easy fix? A simple white rug + natural wood coffee table with a painted white top.
Take a peek at the quick transformation: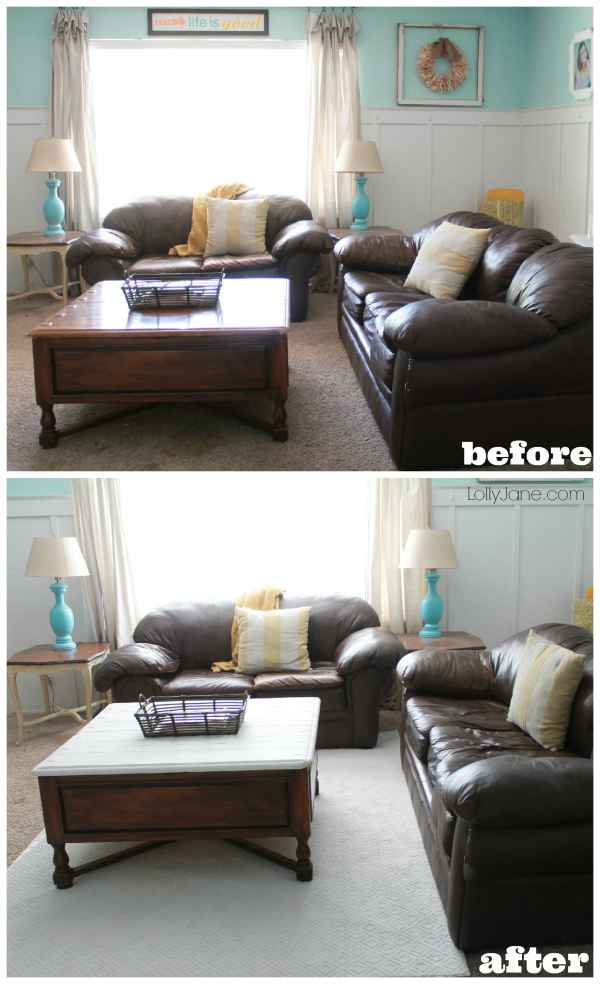 I love how much sturdier this table is! I wanted it to be creamy white to tone down all the colors but love the natural wood too so I just gave it a good coat of white paint on the top with a bit of glaze to bring in some more of the wood tones. I am loving the contrast again the white rug and lemme tell ya, I just love this rug!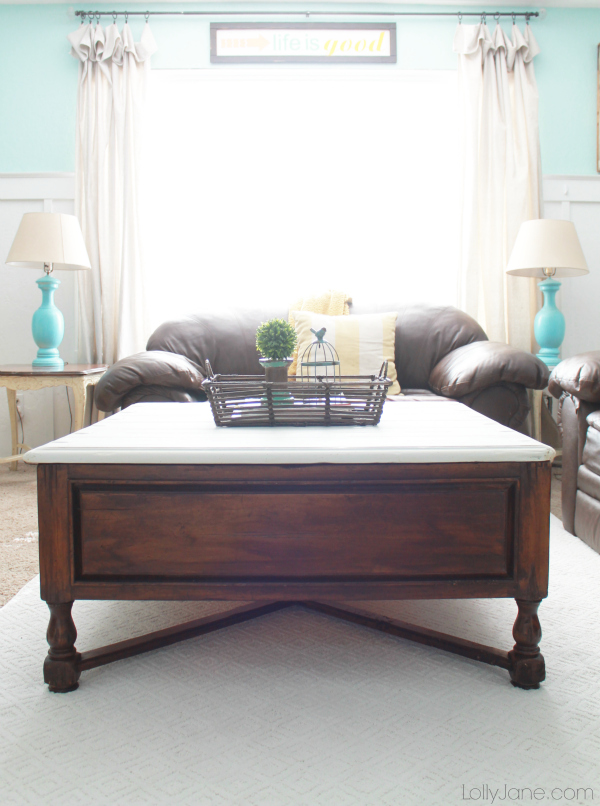 So you all know we love Mohawk Flooring, the world's largest flooring manufacturer. We love Mohawk so much that we contribute to their home blog, Creative Home, and really believe it is a stellar company that produces quality flooring, whether it be wood floors or carpet rugs like SmartStrand. This rug has not only toned my room down, but my nagging, too!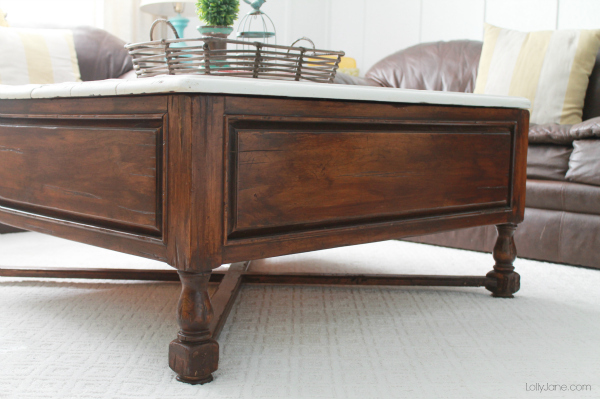 I don't worry about the simple spills anymore and can really just plop down on the couches or rug and enjoy lazy TV nights with the kids now. I'm not all stressed out with food they have over the new rug and can just chillax. Why? Because SmartStrand has permanent stain and soil resistance that will never wear off. You read that right: NEVER! Most carpets have stain and soil treatments that are applied topically to the fiber and over time (due to everyday wear and tear) the topically applied stain and soil treatment wears off, which can leave ordinary carpets looking worn out and dirty sooner than you might expect for such a large purchase. With SmartStrand, you don't have to worry about that. For as long as you have the carpet, it will have stain protection because it is built into the carpet fiber itself. Sweet!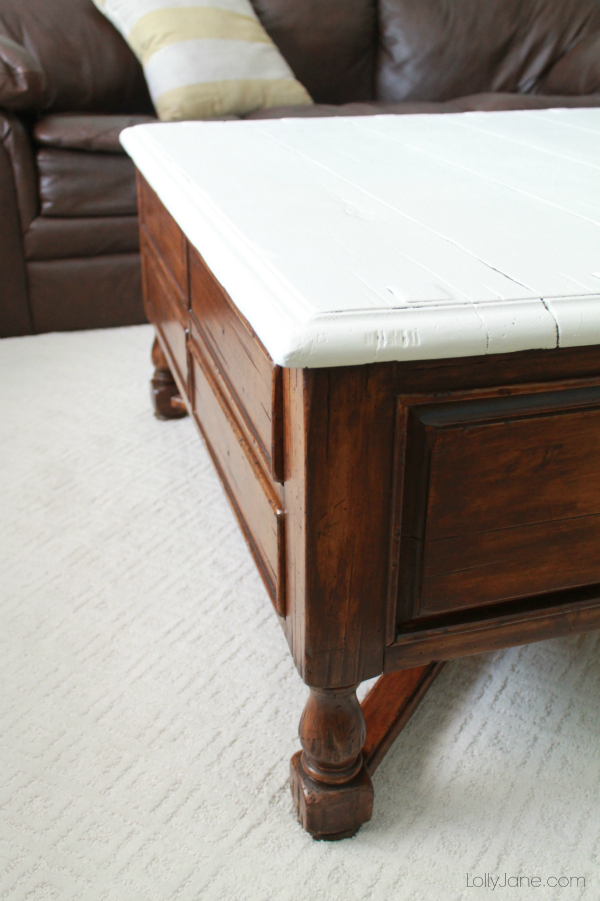 Lemme tell ya (which is why I'm a fan for life) SmartStrand is a snap to clean. Bye bye carpet cleaner! You don't have to use any harsh chemicals or special carpet cleaners to remove stains from SmartStrand carpet- just snag a dishrag, some warm water and mild detergent, (like dish soap.) Even tough stains, like ketchup, mustard and red Kool-Aid will clean easily out of SmartStrand carpet. Easy peasy!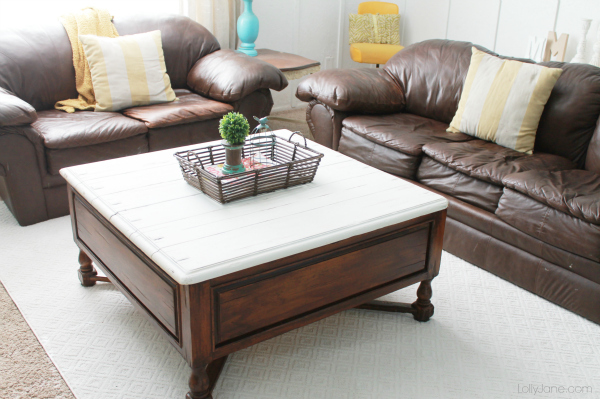 My honest opinion? This carpet is HEAVENLY! Love it! My 10-year old daughter walked in, stepped on it and said, "Nice rug!" Kid approved! LOL I laid on it while we watched a movie and it was so comfy. Seriously, I wish I could carpet my entire family room in it. I have to admit the color scared me a bit but it's been rhino tested and will withstand drips and spills. (Mohawk carpeted the rhino enclosure at a popular zoo in Birmingham, Alabama. Ricko the Rhino lived on this carpet for 2 weeks! When all was said and done, Mohawk removed the carpet from Ricko's home, had it professionally cleaned using only hot water extraction…and the carpet looked good as new!) If it can handle a rhino, it can handle my 4 kids, right?! (;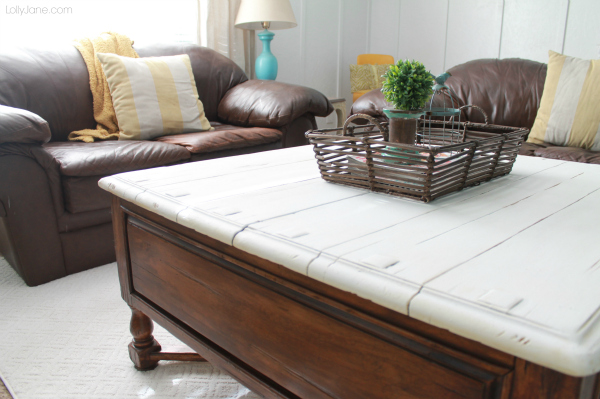 If you're not bold enough to try a white rug, SmartStrand comes in 40 different colors and textures. Take a peek at this dreamy cream, gold and green room with subtle olive rug. Swoon!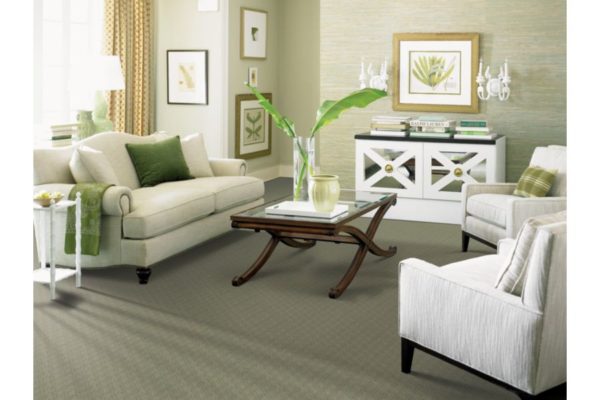 Want to win your very own SmartStrand rug? Up for grabs is a 6' X 9" SmartStrand bound carpet rug in the Simonton Beach style. And since this is all about color, Mohawk has agreed to let you pick the color of your choice- there are more than 40 colors to choose from! Go to the contest page to enter…and take a peek at all 40 colors options here. Contest ends July 4th. Good luck!

And a BIG thanks to Mohawk for sponsoring today's post! (: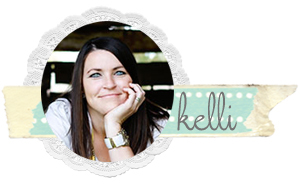 FREE EMAIL COURSE
5 Low Cost Tricks to Make Your House Look Like $1 Million
It's Lolly Jane's 5 FAVORITE Tricks to spruce up your space affordably.

Don't miss these!