My house is only a few years older than I am. I know… ancient, right? (; The mailbox is original to the house which means it's survived hot hot hot Arizona summers for 30+ years and let's be honest, is in pretty bad shape. (Like, really wobbly and on the rare occasion that it rains, my mail gets soaked.) When asked by ScotchBlue™ Painter's Tape and The Home Depot if I would like participate in the Ready, Set, Paint event (pairing up with a very talented group of bloggers) on the challenge of a DIY project using painters tape (in my case, a mailbox redo,) I quickly replied, "Heck yeah!"
Okay… so I didn't exactly say that because that's not very professional BUT, I was excited to finally check something off my to-do list! Best part? I spent very little money on this redo as my cute next door neighbor took pity on my shabby mailbox and simply gave me a new one… um, about a year ago. Yes, my adorable next door neighbor dad GAVE me a brand new mailbox, which sat in my garage for a year. What's wrong with me!? LOL! (Life of a blogger, much?) Well without further adieu, here is the new mailbox with its makeover complete. Do you dig it?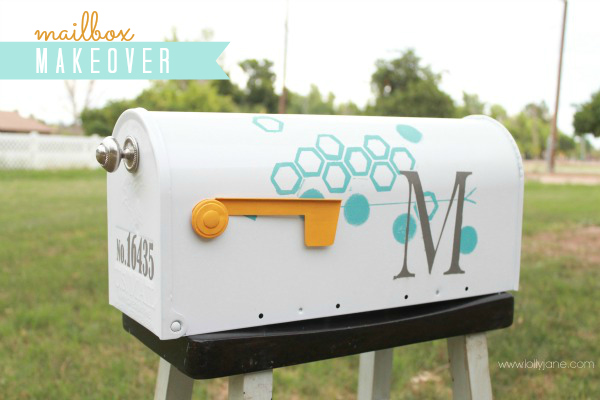 I started with a new-but-dusty-and-slightly-knocked-around-from-sitting-in-the-garage-too-long black mailbox, as seen here.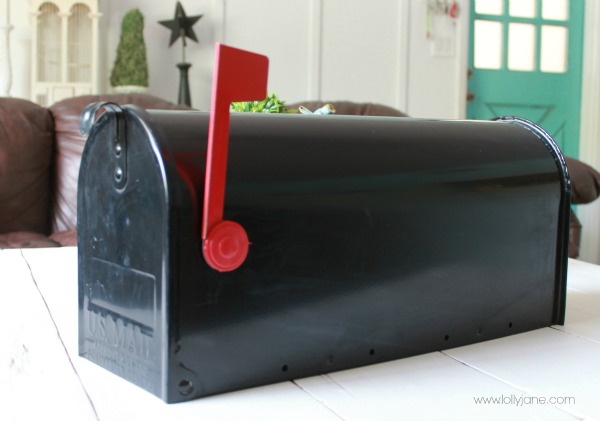 But this boring black box is already a step up from my current condition… want to sneak a peek? (Don't judge!)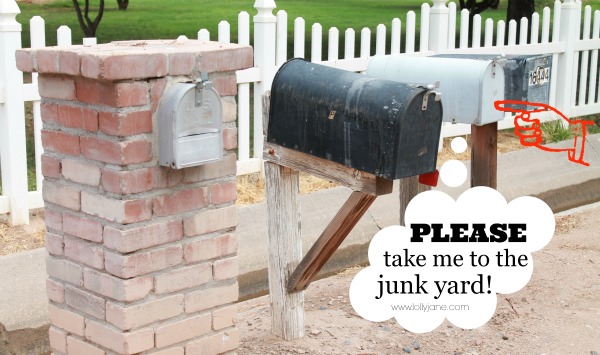 Okay wow, ALL my neighbors need a new mailbox. And new posts. Hmm, I think I'll surprise my brother (across-the-street neighbor) with a new mailbox as well, sheesh! We're all acreage homes so what do ya do? Anywho!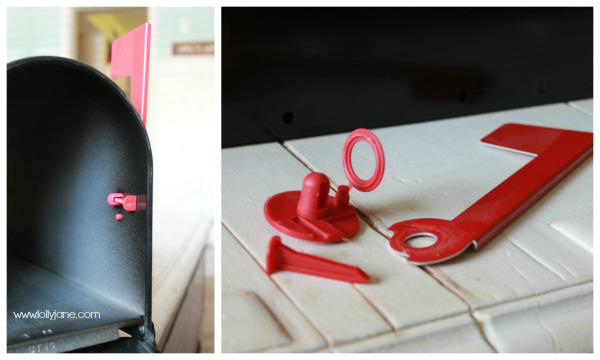 First up, remove the flag from the mailbox so you have a clean slate. A standard mailbox will have a plastic pin inside that you simply pull out. Save your arm strength for the next step…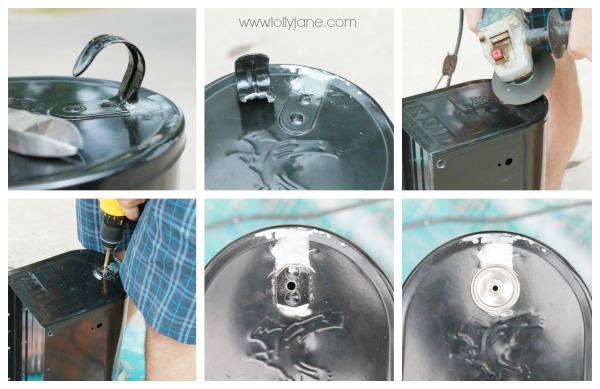 Here's where your biceps enter. See that handle that opens and closes your mailbox door? You don't want to remove it all the way because on the backside is the latch that keeps it securely shut. So use your pliers and muscles to snip snip snip the top away. UNLESS you're my husband who informed me after the fact that my handy dad next door owns a grinder. *Palm hits head, muscles mad at me* Grind off the little pieces sticking up so it's flat. Note: Wear your safety goggles as there will be sparks! Then use a diamond bit and drill a hole through the center of the old handle. See the right lower pic? That's the new pull in its place. I picked it up at The Home Depot
for less than $5 and I love the plate that comes with it that sits in front of it as it hides my mess perfectly! Muah hah hah! (;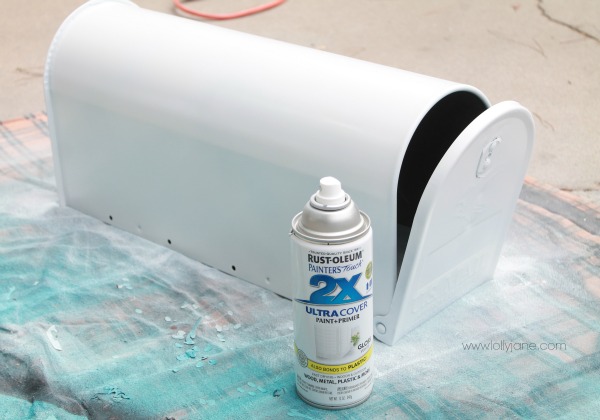 Give it a coat of your base color. I chose Rustoleum's 2x paint + primer… time saver! Just your standard white spray paint in a gloss finish.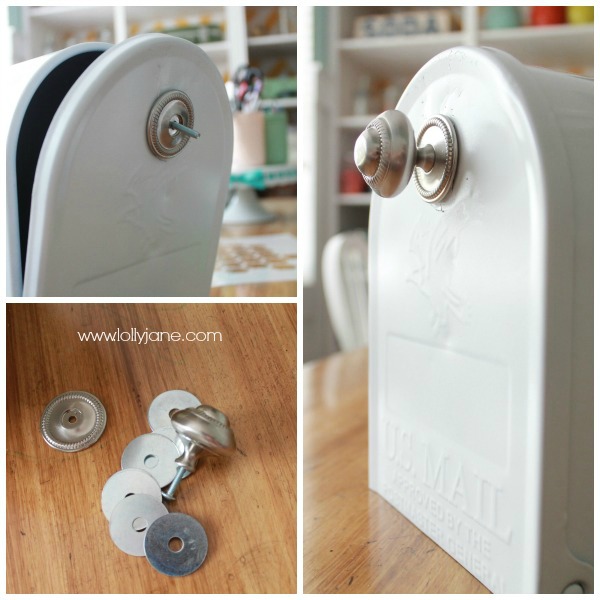 Because pulls come sized to fit a standard cabinet door, the screw is reallllllly long. And because I didn't account for this when I was at The Home Depot
(and didn't want to make another trip,) I simply shoved a bunch of washers behind the screw (inside the mailbox) to make up for the space. Problem solved! LOL Then I screwed it in, nice & tight. Gosh, don't you already just love the custom look? Only $5 and gives it a huge statement!
Okay so now to spruce up the flag….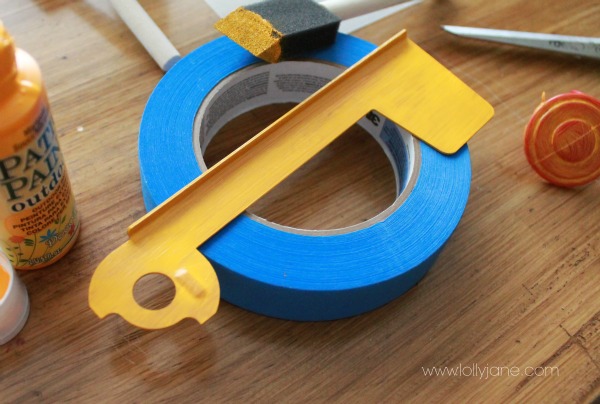 I wanted to give it a fun pop of color and since my fav hue is yellow, I already adore it! I used outdoor paint to withstand the weather and I'll also give it a coat of poly to seal the deal. (Pun intended, ha!)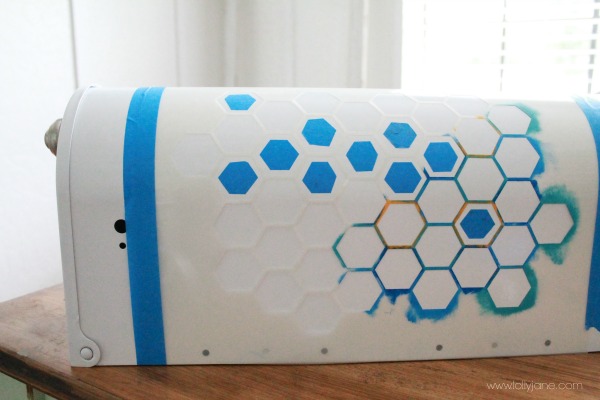 Here's where the fun begins! Start by taping down a stencil. This stencil is from Royal Design Studio and was a freebie from the 2012 SNAP blog conference. I wanted to copy the darling Rhonna Farrer's app design because it's so cute and is a timeless look. This mailbox has to last at least 30 years, right? (; We recommend ScotchBlue™ Painter's Tape
because it holds the stencil very tightly but won't peel off the fresh paint. I only allowed the paint to dry for a couple of hours in between errands and this tape didn't rip off a speck!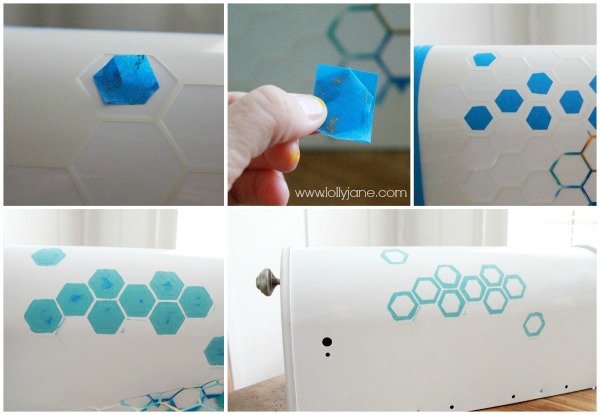 This step is slightly confusing but worth it. So, I wanted the octagons to be hollow so I used ScotchBlue Painters Tape to mimic the octagon. I made a sample octagon by cutting and laying a few different pieces of tape until I got the shape I wanted. Then I laid my sample back-to-back on a new piece of tape so they wouldn't stick (pic 2) and cut around the new shape. Then I placed it inside each octagon and painted around it. That's it!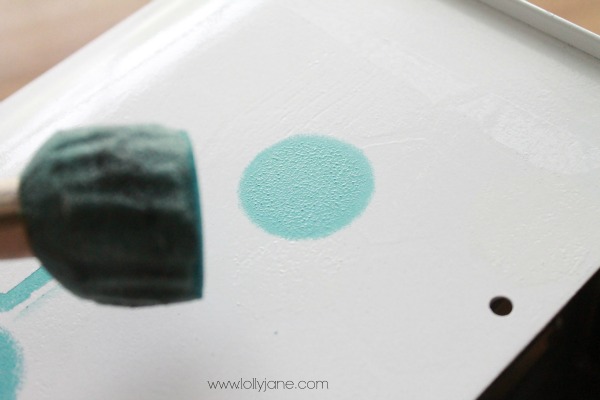 Using a circle foam sponge brush from my local craft store, I sponged on a few circles in random places.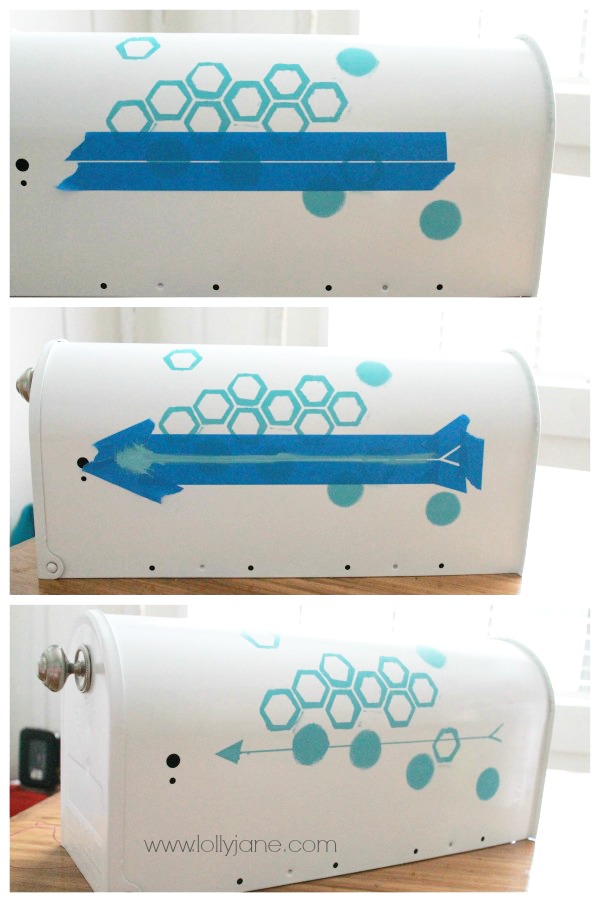 To create an arrow, I placed 2 pieces of tape where I liked it, made an arrow head and small tail and painted inside. So easy and no leaks!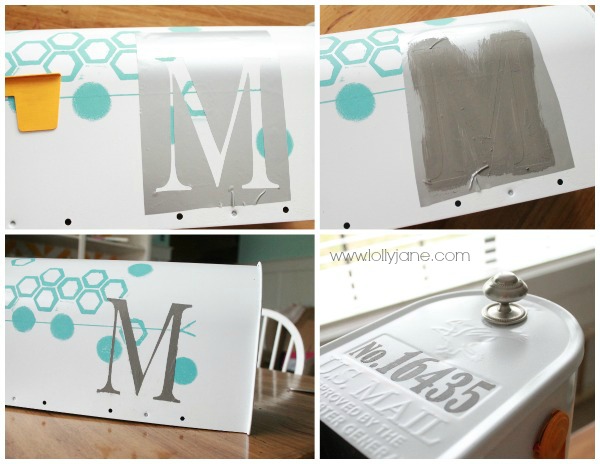 This is where owning a vinyl machine comes in handy. I used mine to create an "M" for my last name and house number, (Bell MT font.) I then painted the insides gray to match the custom pull and just lovely love love how it all came together.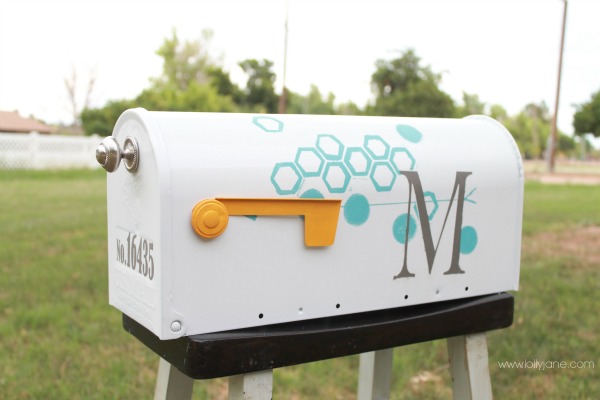 Do you like my bar stool stand?! JayKay! Next up is replacing the old wood mailbox post. I've already purchased my secret weapon from The Home Depot to make it stinkin' cute so stay tuned! Oh, and if you loved this project, you'll want to be sure to check out all the other creative talent at the Summer DIY Blog Hop taking place at Centsational Girl's blog!
This project was brought to you in partnership with The Home Depot and ScotchBlue Painter's Tape. Follow along!
ScotchBlue FB | ScotchBlue Pinterest | ScotchBlue Twitter