Luxury Vinyl Plank Flooring Pros and Cons
Luxury Vinyl Plank flooring pros and cons. Spoiler alert: the pros are MANY with this kid and pet friendly surface that looks like hardwood but is a fraction of the price!
Luxury Vinyl Plank flooring has never been more popular than it is today and it's easy to see why! They not only look like hardwood but are waterproof and kid/pet friendly, which automatically makes it a win for all households. If you're thinking about upgrading your floors, read why LVP flooring gets our stamp of approval and should be highly considered!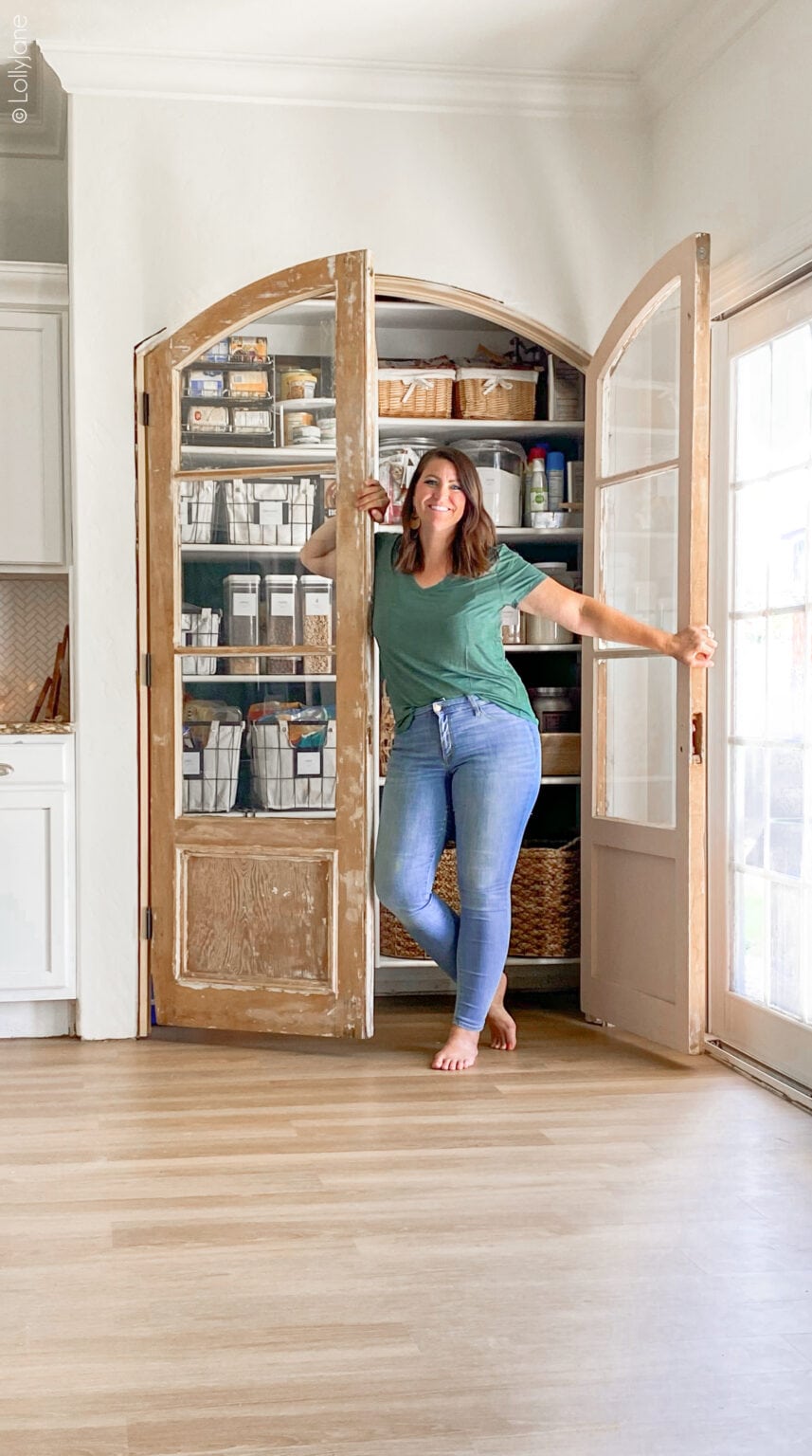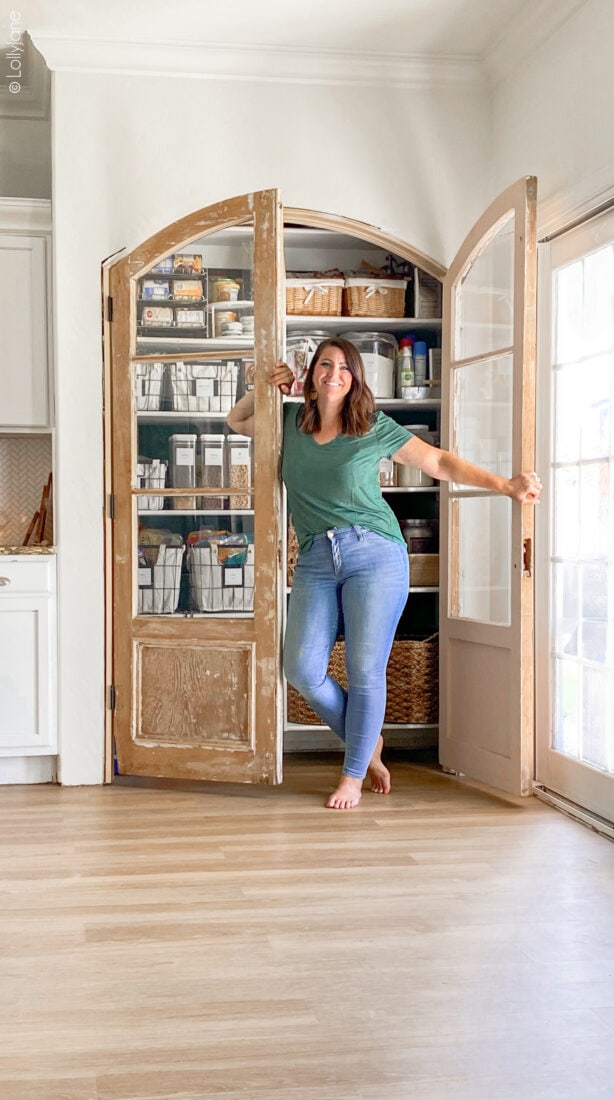 This isn't our first rodeo with Luxury Vinyl Plank flooring as we've installed it in 3 of our homes. (Kelli's newly finished family room is an absolute stunner and her space instantly went from blah to ta-da!) Today we're going to go through the pros and cons of this surface that is all the rage and when we're done, you'll see why!
What is Luxury Vinyl Plank Flooring?
Luxury Vinyl Plank flooring (or LVP) is made from compressed layers of vinyl and is designed to mimic real hardwood, this includes a factory-applied urethane top-coat that protects against abrasions, scratches, and scuffs (which makes it ideal for busy households) as well as chemicals, a protective vinyl layer that provides durability, a decorative PVC print film that provides the design and color, and a resilient vinyl backing.
One of the biggest advantages of vinyl flooring is that it is 100% water and moisture resistant so it can be used in bathrooms, kitchens or other areas that are exposed to water. Homeowners can choose to have one continuous floor throughout the house without worry of water damage. That, paired with the wide selection of wood and color finishes, makes LVP an attractive option as you can achieve a luxurious look at a cost that's easy on your budget.
You can choose to the glue-down or the fold-down interlocking system, depending on what type of surface it will cover. (Read more about that here under "installation.")
Glue down vinyl product is sealed to the floor vial adhesive tape or glue.
Floating vinyl, on the other hand, can be installed by either the click and lock method and is perfect for DIYers of any level as the planks do all the work; simply snap and lock the planks into position using the click and lock system that's part of the planks.
How to choose which LVP finish is best for your home
Flooring makes the biggest statement in your home so it's natural to do a LOT of research on what exact finish or color best suits your style. We are partial to Style Selections, (available at Lowes in-person or online,) and it wasn't until we had the samples in hand and in our own home that we were able to decide. You can order samples online or stop in your local Lowes Home Improvement store to look and feel the texture of the finish in person.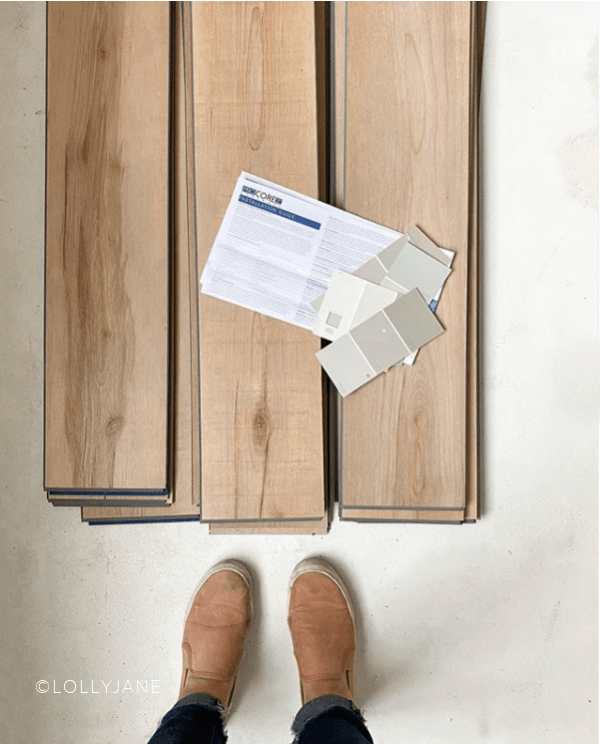 Style Selections offers an online visualizer that is SO helpful to see which of their 12 finishes would suit you best. Besides the color finish, you can preview the laying angle or pattern in your own home: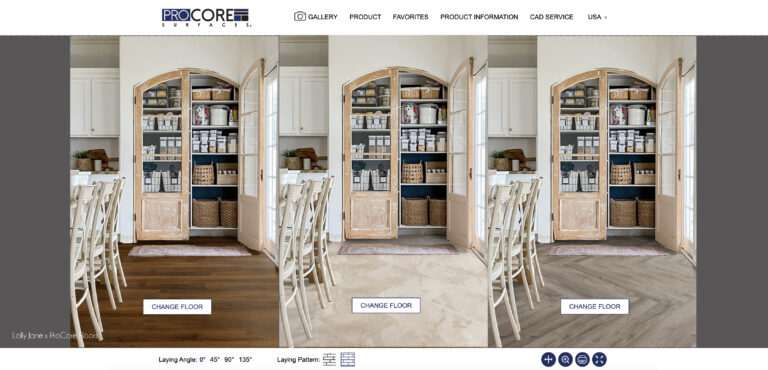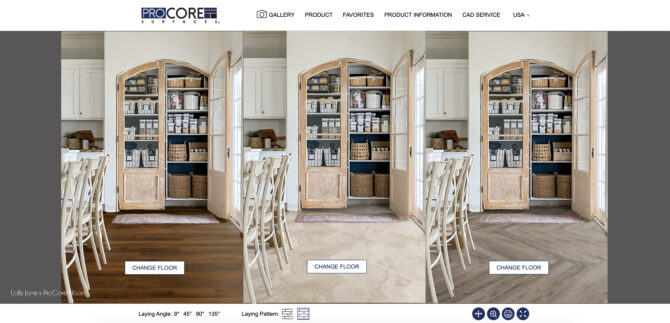 You can see I personally chose a warm oak color called Elizabeth Oak and it is stunning in person!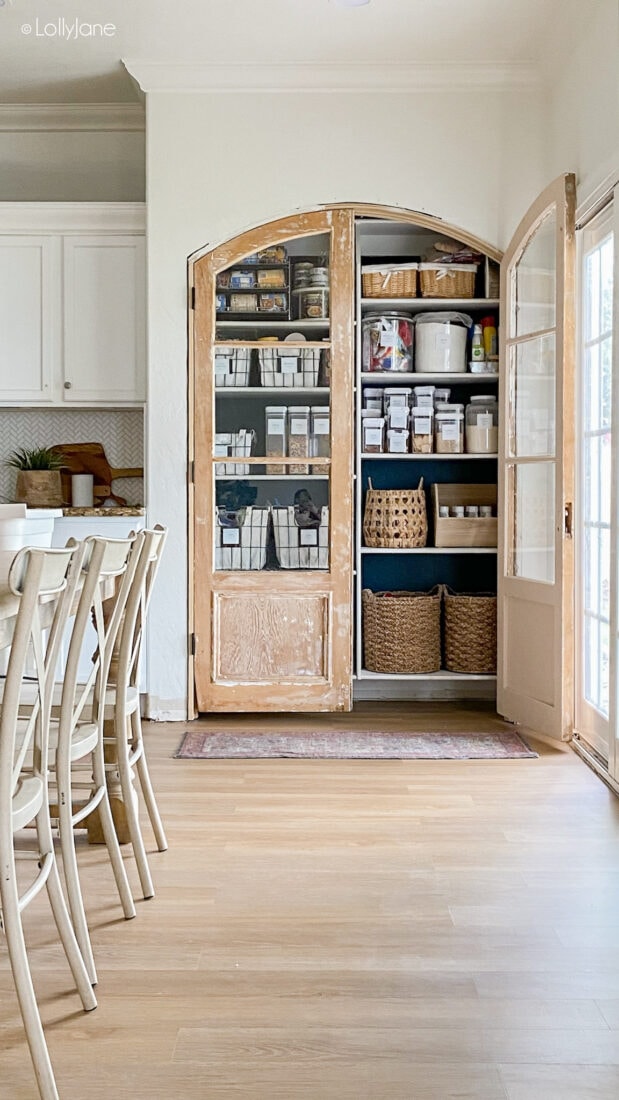 Preparation for Luxury Vinyl Plank Flooring
Preparing your home for luxury vinyl plank flooring doesn't require much but as with most things, preparation is key to making your experience to install these floors go as smoothly as possible:
As with real hardwood, it is recommended to acclimate the boxes of LVP flooring by storing them flat for at least 8 hours or overnight.
Ensure the surface where the LVP will be installed is completely flat and smooth, whether that's removing tile (we recommend hiring out) or filling in cracks or uneven areas.
Give your floors a good wash before you cover them up! After we had our tile removed, we were left with a dusty surface, yuck. It was nice to walk on clean concrete while installing to avoid the further spread of dust.
Sentimental tip: Use permanent marker or paint to leave a fun or inspirational message for the next homeowner or generation. Don't forget to date it!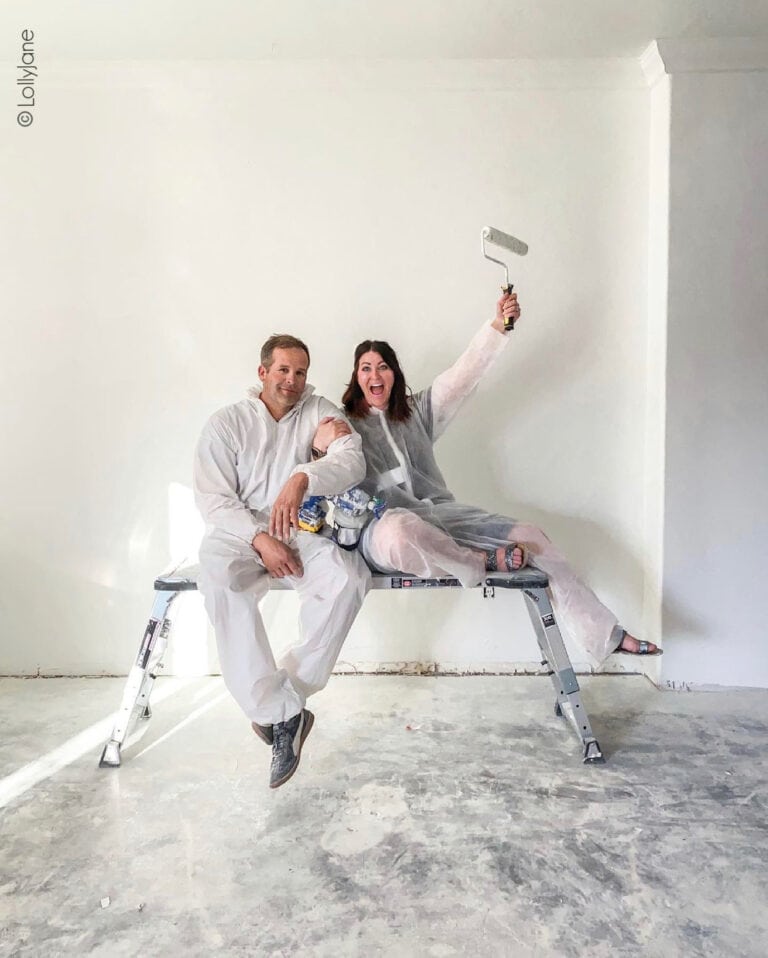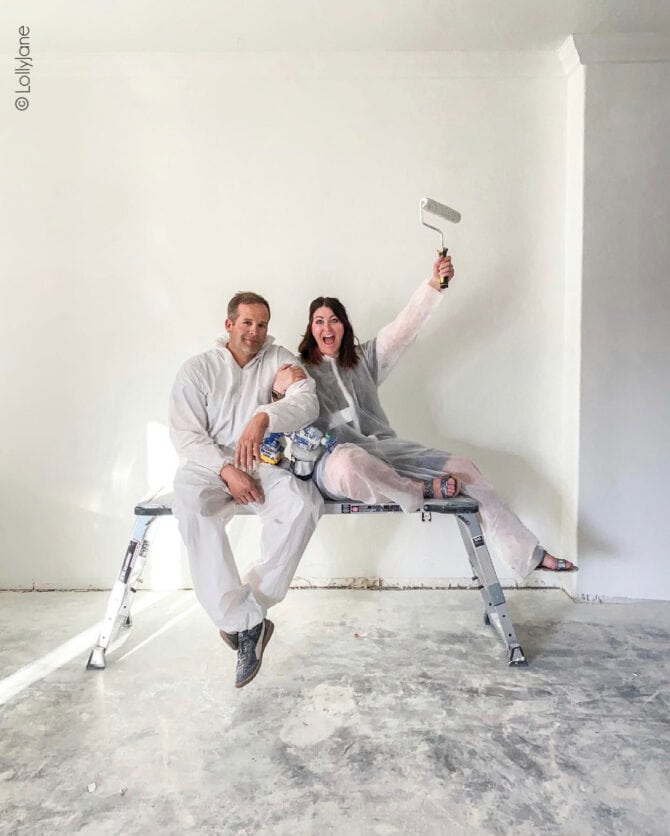 Tools needed to install LVP Flooring
We have a dedicated blog post to Kelli's home installing LVP flooring that includes the tools needed. Take a look! I also want to add that I used this floor cutting tool (pictured below) in addition to what Kelli used and it made it go MUCH quicker!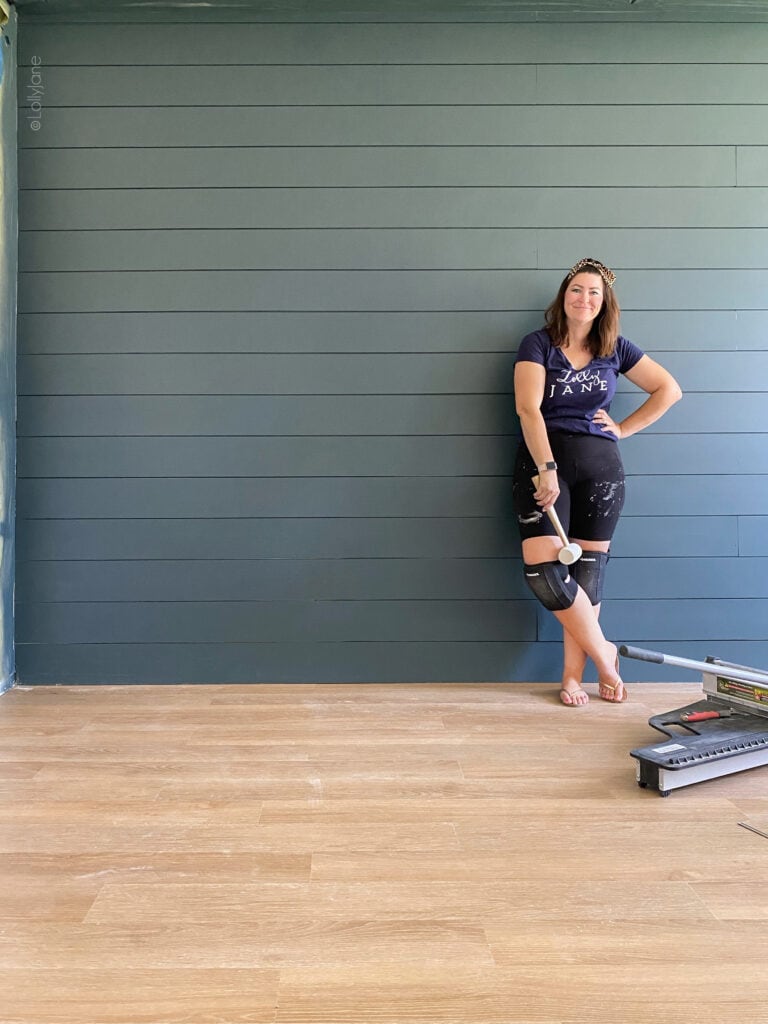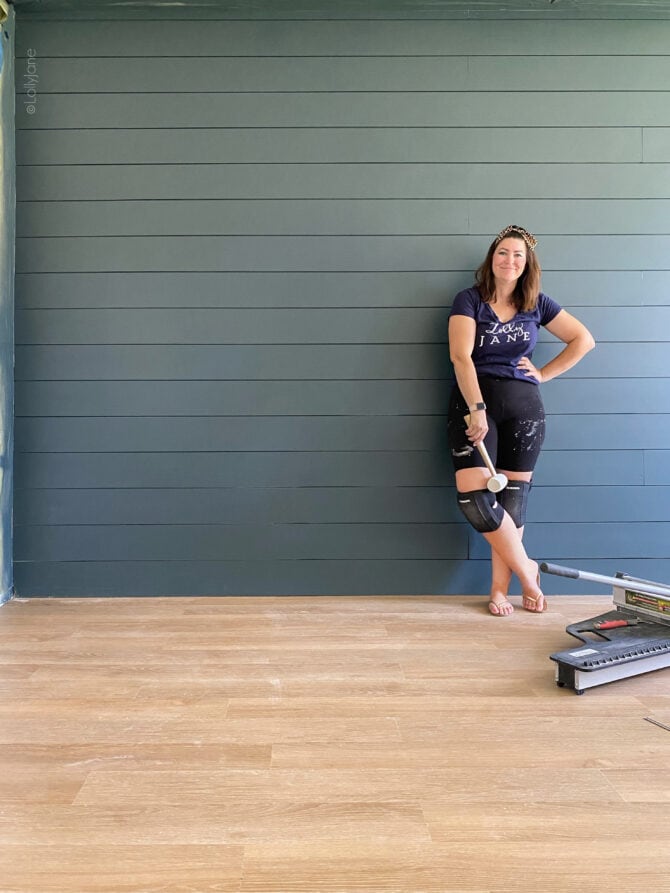 Installation of Luxury Vinyl Plank Flooring
Again, you can see the full install process on Kelli's blog post or clear, step-by-step videos on Style Selection's helpful site under "installation."
Here's a look at where we started:
And a closer look at what we laid down: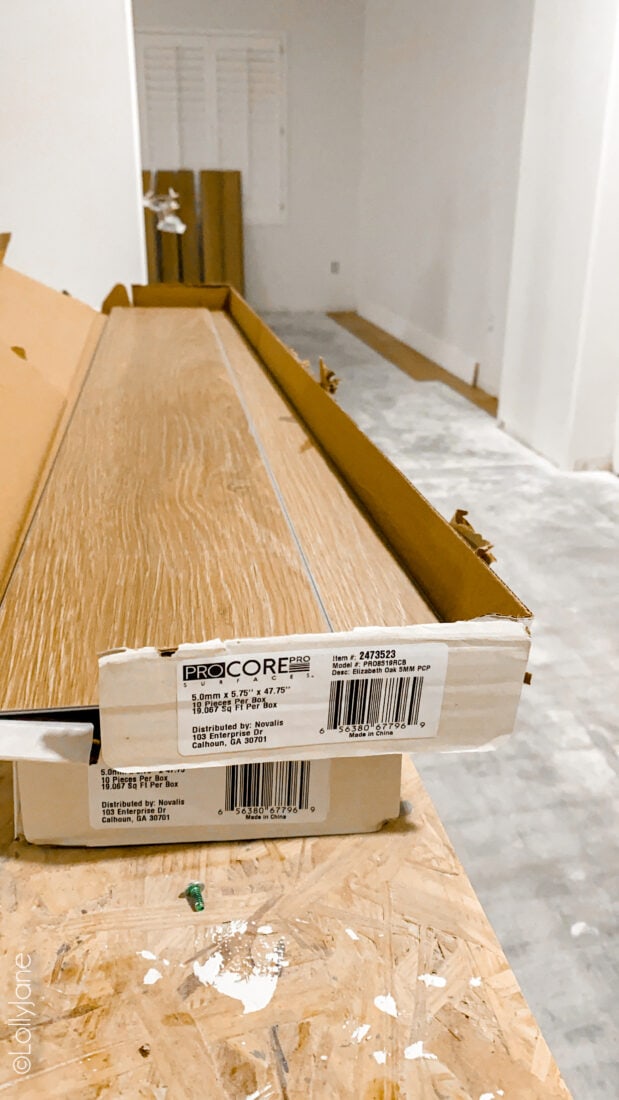 Eek! So gorgeous, right?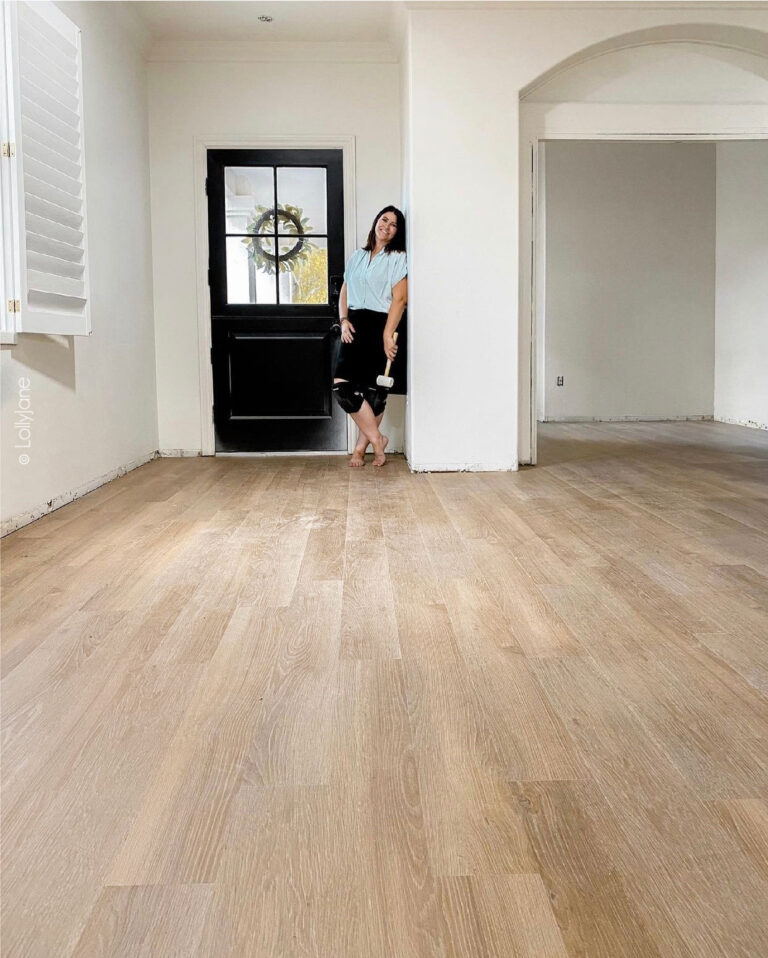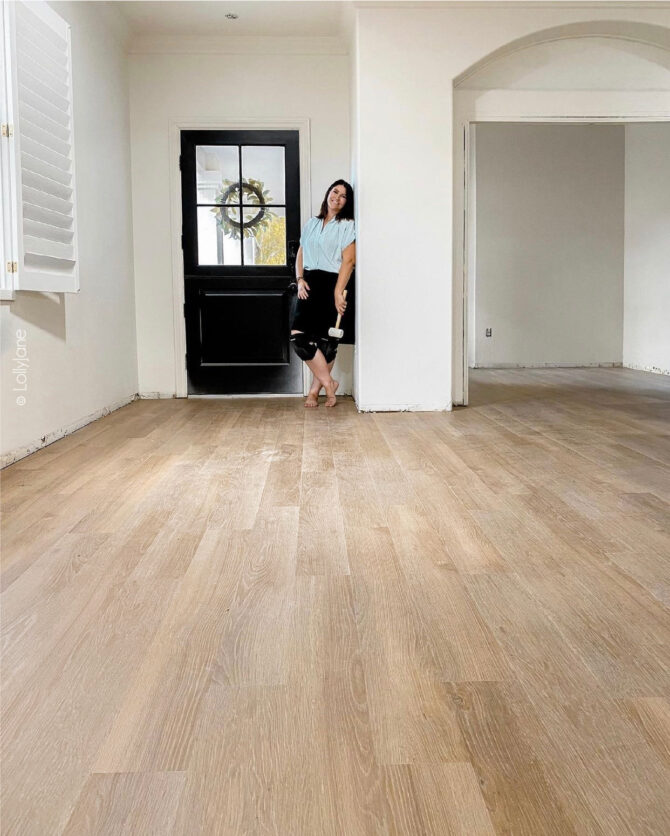 Advantages of Luxury Vinyl Plank Flooring
Now for advantages of installing luxury vinyl plank flooring. Spoiler alert: there are very few cons and of the 2, it's far from a deal breaker as the pro's far outweigh them!
Affordability. Prices for materials usually range from $2 to $5 per square foot. Professional installation can add $1 to $3 per square foot, but this one of the easier flooring materials to install yourself.
Easy to install. The installation does not require any messy adhesive application with trowels and rolling, making it a fantastic do-it-yourself product.
Do-it-yourself product. The simple (angle, drop & tap) installation method is simple, fast, and yet provides superior joints to floor covering that will last for many years.
Doesn't require a sealant or grout. LVP is a fully floating floor system, and the designed movement does not facilitate the application of grout.
Durability. The vinyl is therefore almost five times thicker than traditional sheet vinyl, allowing it to be semi-rigid.
Cleaning. Sweeping or vacuuming is all that's needed for daily maintenance. For deeper cleaning, a mop and warm water will work in most cases.
Pet Friendly. Pet messes wipe up easily and LVP is scratch resistant. Tip: Keep your pet's nails trimmed and filed helps prevent scratches by keeping them on the pads instead.
Waterproof. LVP is waterproof, so it is unaffected in water-prone indoor areas, such as bathrooms, kitchens, laundry rooms, and entryways.
Maintenance. Maintaining your LVP floors is as easy to clean as tile. Yes, seriously. I have one mop at my house and that's all I use since LVP floors are 100% waterproof. Mom win! LVP floors don't require any special cleaners unlike hardwood floors
Comfort. Vinyl planks are softer on the surface than regular wood planks, making them more comfortable to walk on. Plus, LVP is able to stay at room temperature so say goodbye to chilly floors!
Disadvantage of Luxury Vinyl Plank flooring
The only con to installing LVP floors is a repair but I would question how one would even need a repair as LVP flooring is as tough as nails.
You may be able to repair small areas of damage with a vinyl repair kit chosen to match the color of your flooring. Note that the patched area will usually not be a perfect match.
Replacing entire planks usually involves disassembling the floor from one wall up the damaged plank, installing a replacement plank, then reassembling the floor back to the wall.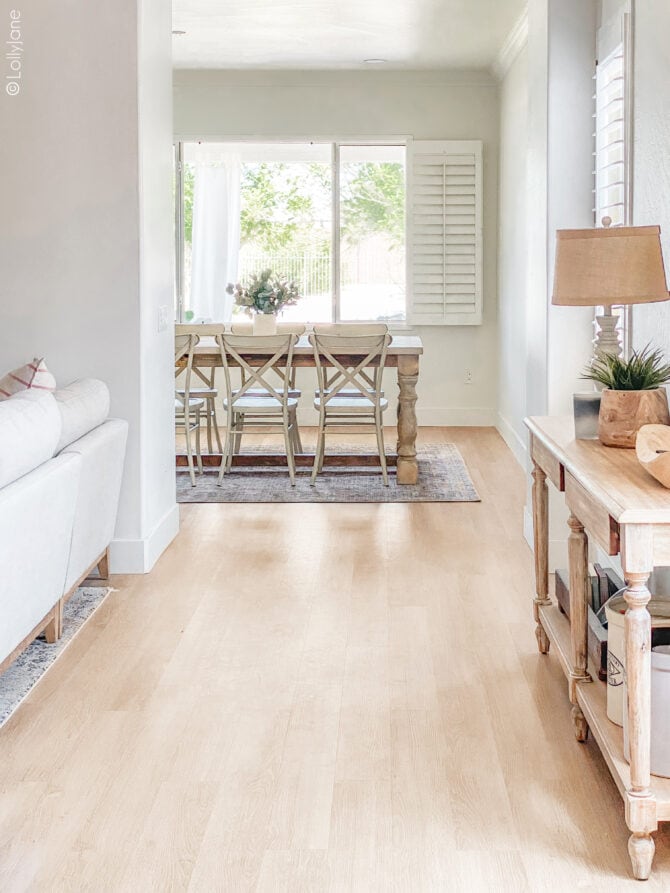 My favorite part of the day is the bright sunshine pooling into my home. Despite how light it is, the floors are still warm and inviting…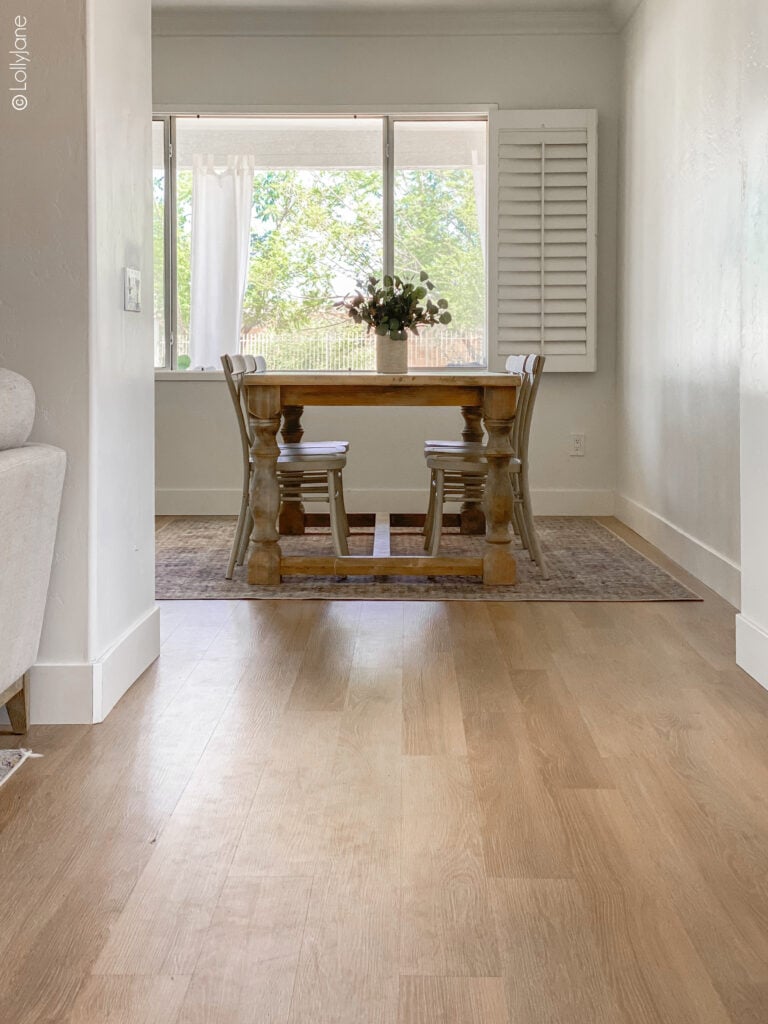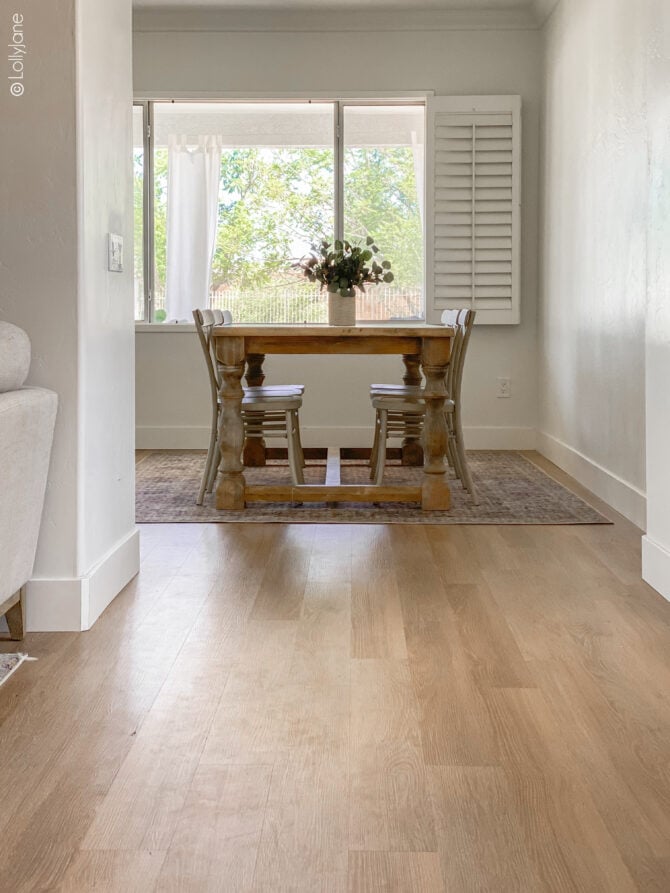 …and in the late afternoon the floors are a deeper brown and are just so cozy feeling! Which way do you like the table facing, by the way? I'm slowing putting my home back together and can't decide!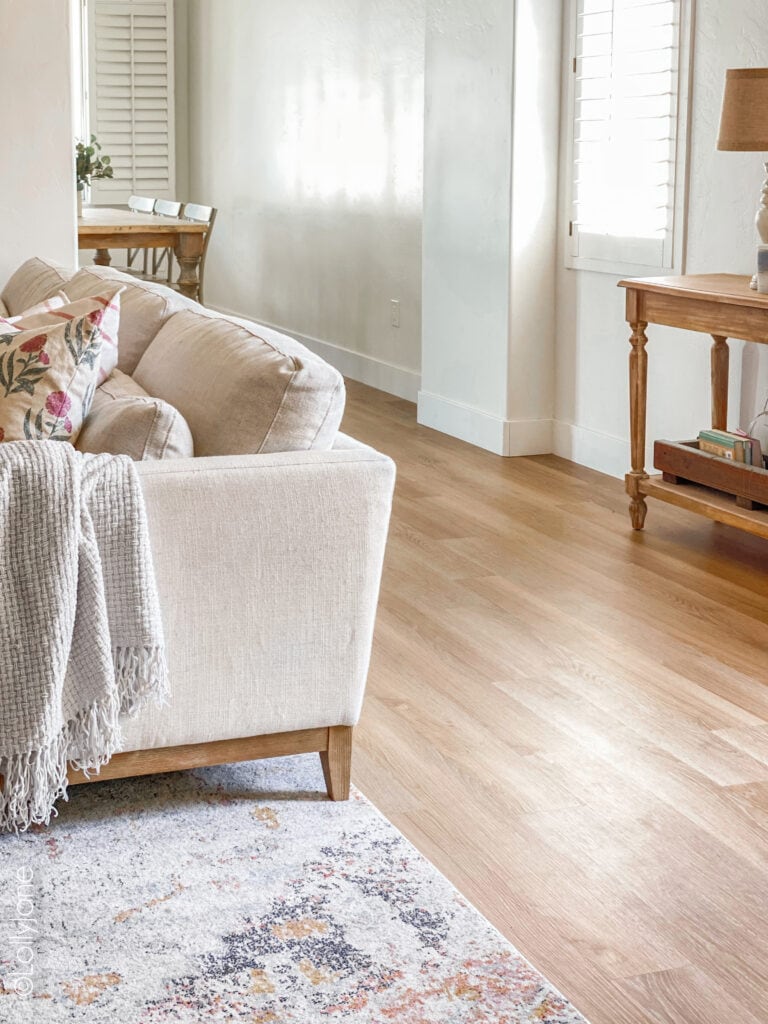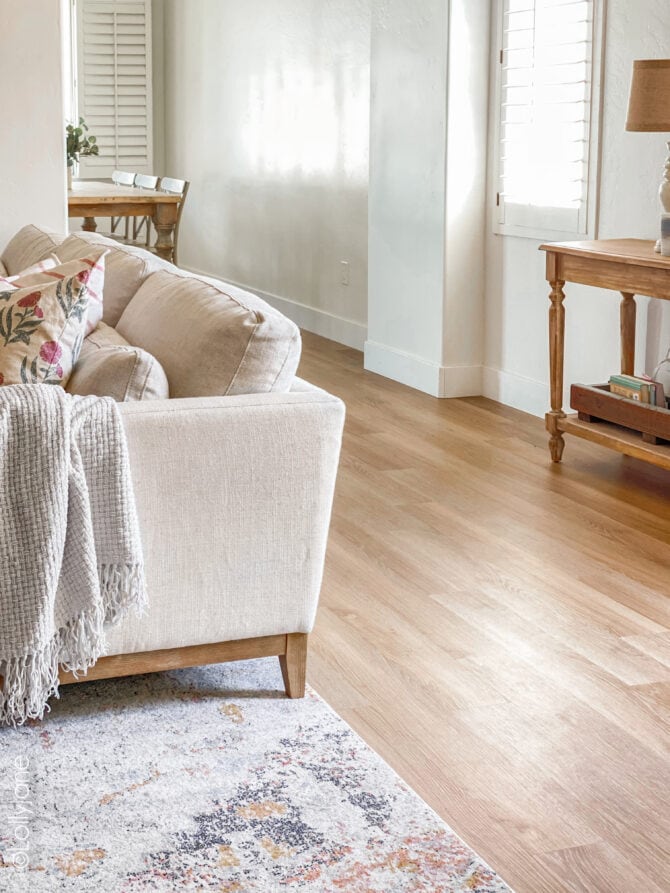 Style Selections offers color-coordinated doorway transition and moldings to keep the look consistent. However, we personally opted for tile meets LVP and love how the mosaic style tile in our laundry room pairs with the warm wood floor.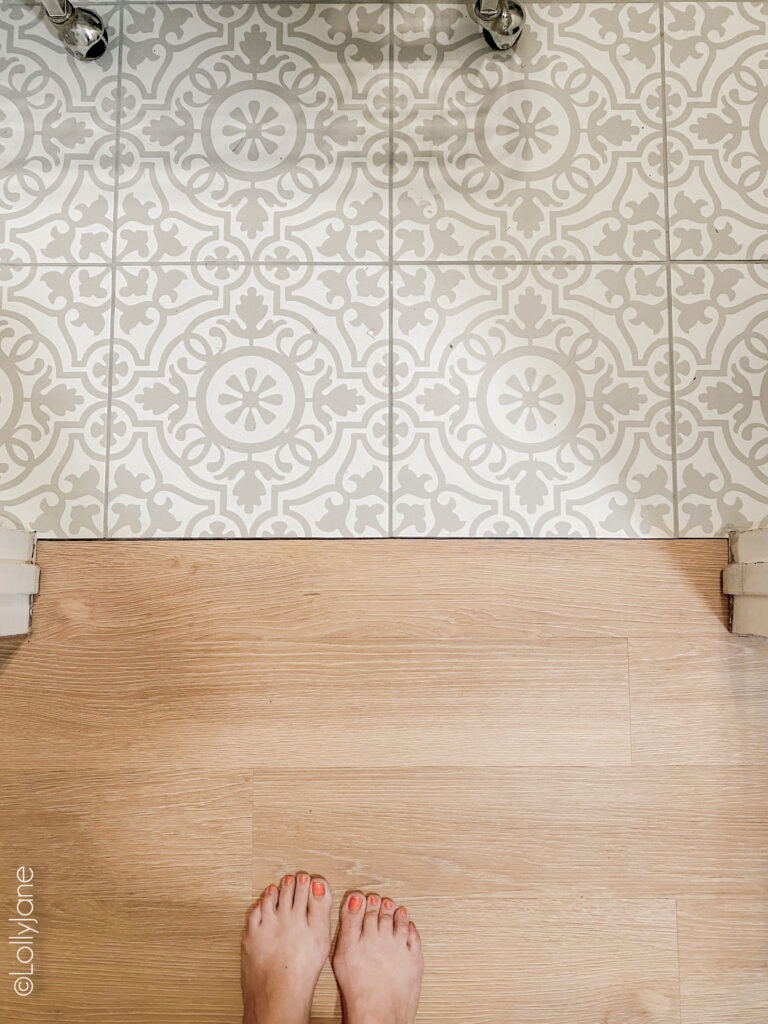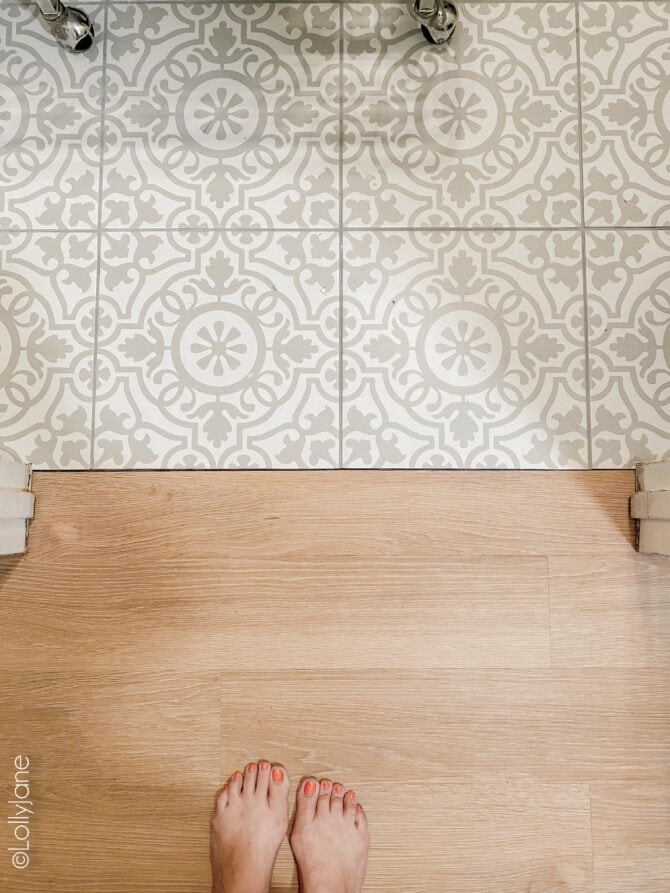 We own a second house in my husbands tiny hometown in northern Arizona. Over the last 7 years we've been slowly building it ourselves (okay, mostly Cory!) It didn't feel like a home until we installed the same flooring as in Kelli's house, pictured in English Grove Oak. Aaaah, look how welcoming the warm oak tones are! ?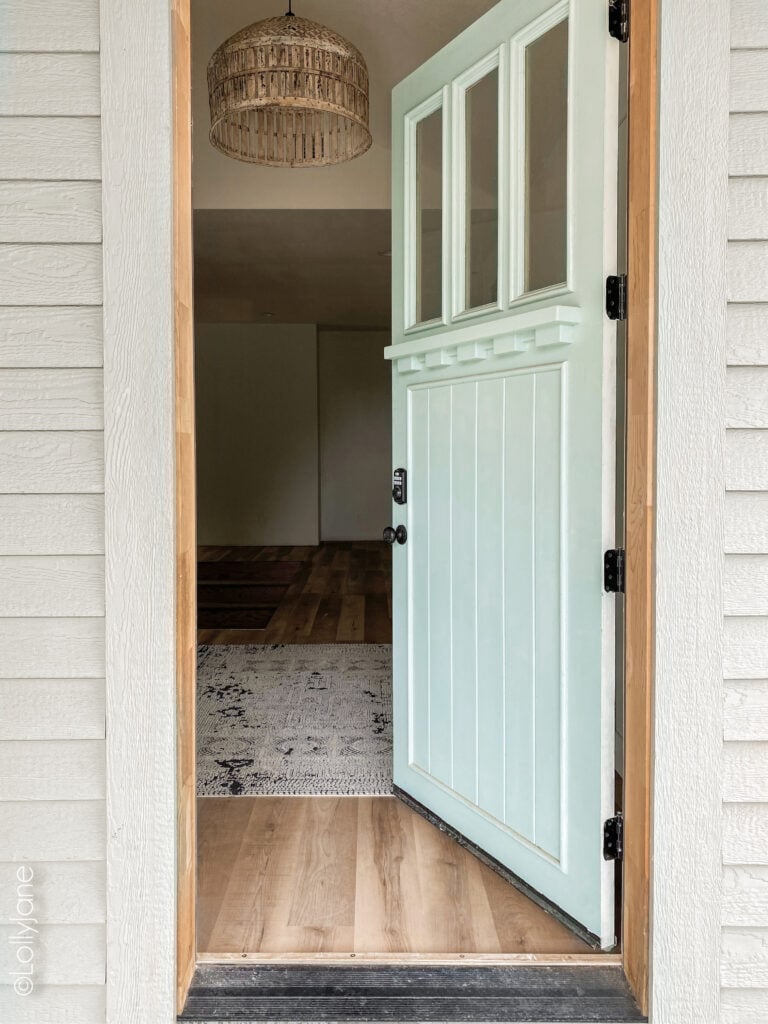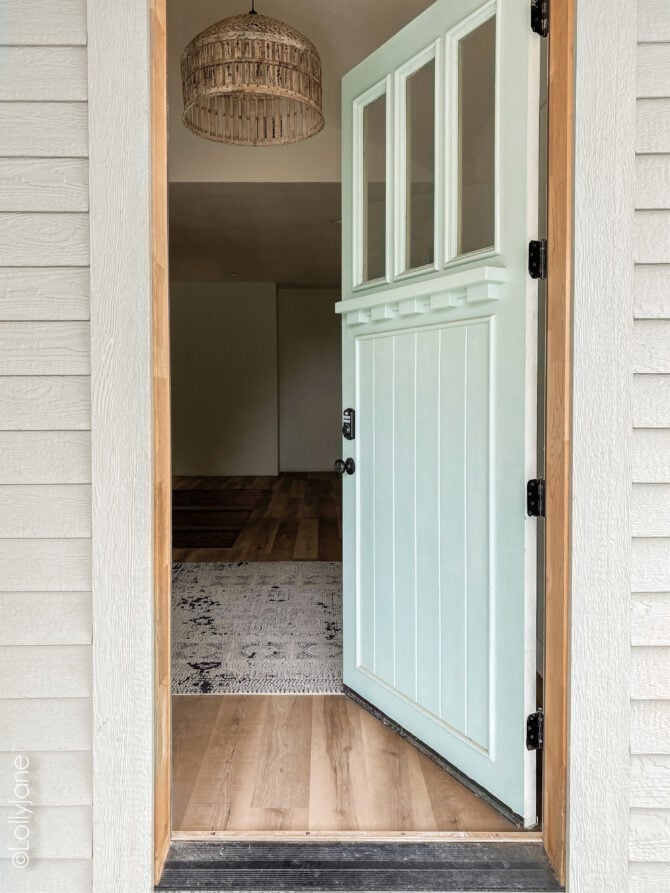 Our interior is slowly taking shape! Next up are baseboards.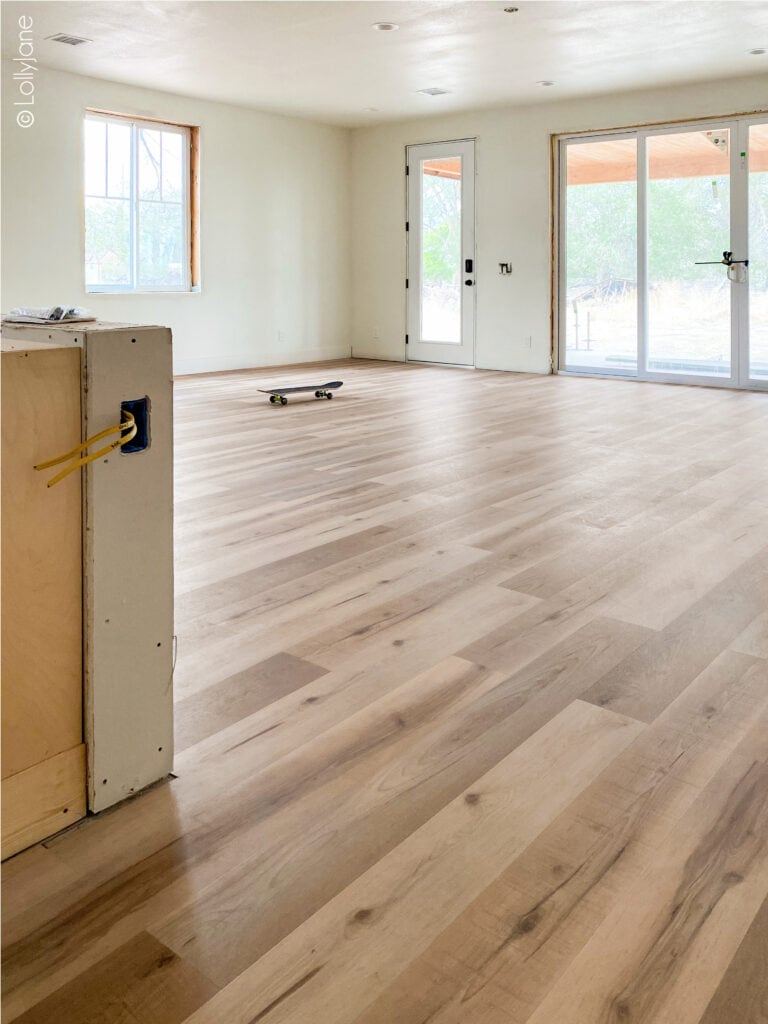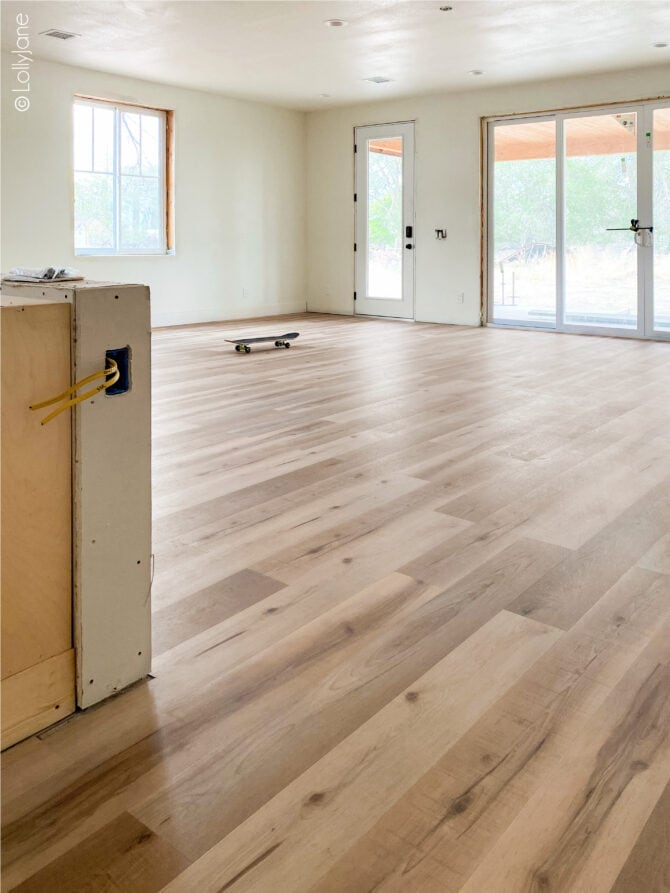 I love this flooring finish with crisp white 5″ craftsman style boards, it looks so sharp and sophisticated. I can't wait to see the windows trimmed out to match soon, too. Stay tuned for more!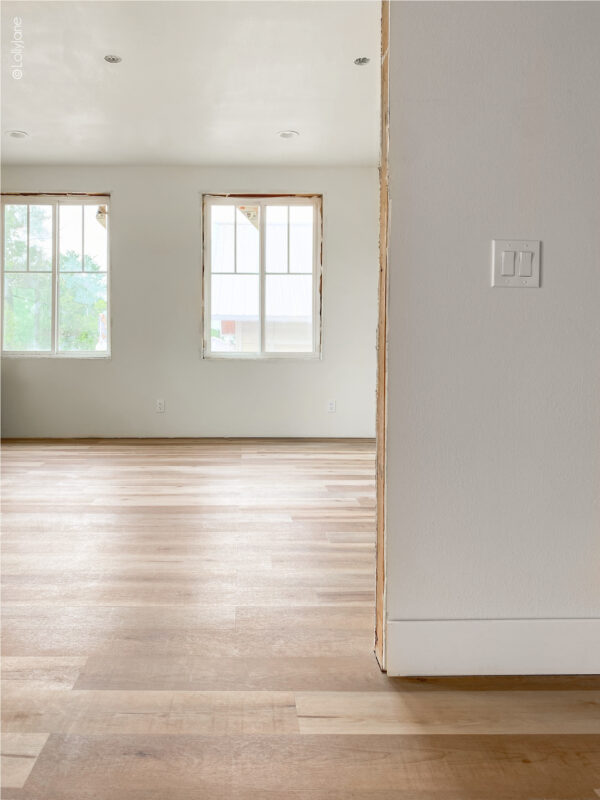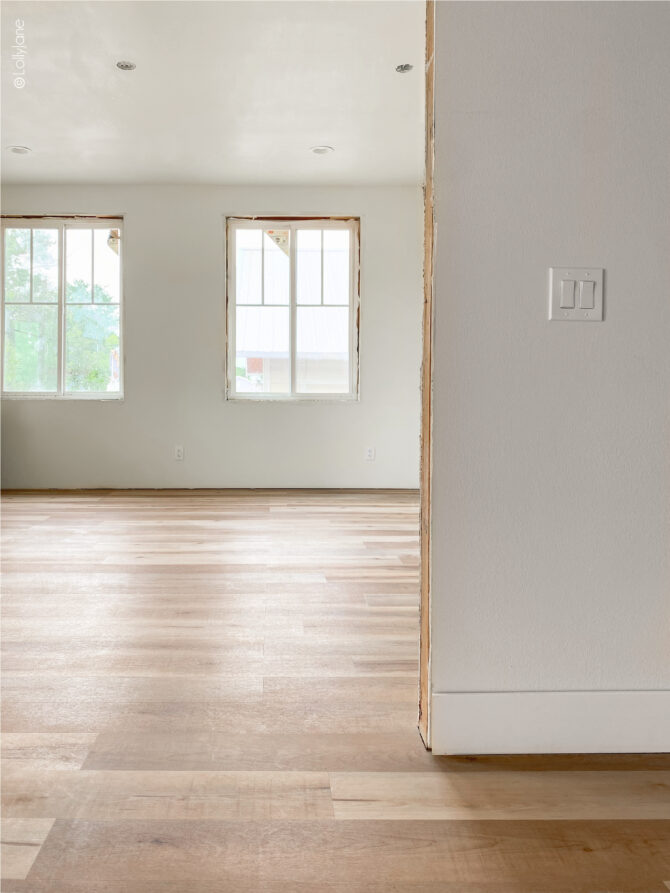 A BIG THANKS to Style Selections for sponsoring today's post. As always, all opinions are our own. See our full disclosure.