Transform any plastic playhouse into a stunning cottage with spray paint! Learn how to paint this Little Tikes Playhouse makeover like a pro!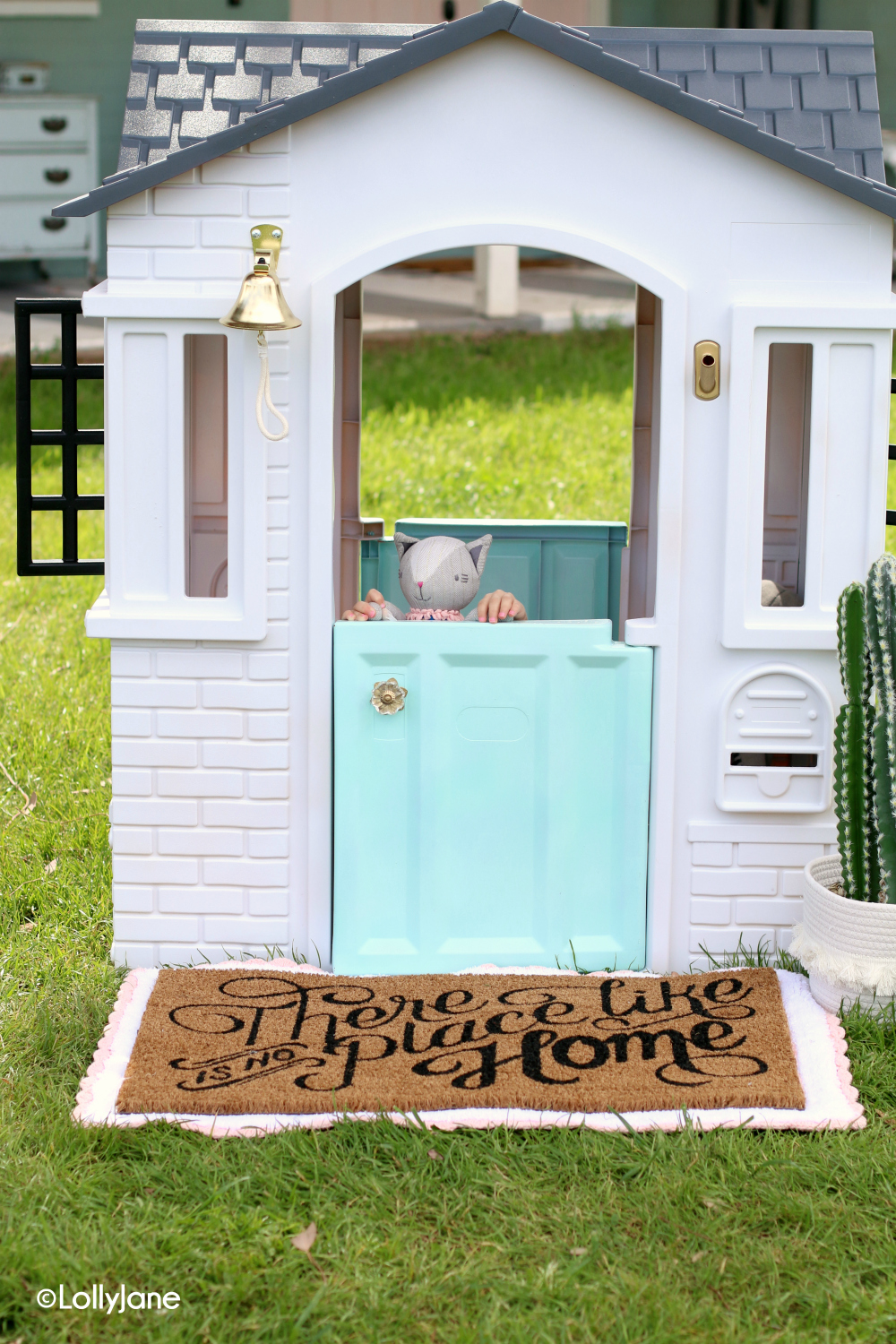 If you're coming from Instagram, welcome and thank you for being here! 🙂 When Homes.com challenged us to compete against two other creative bloggers for a charity event to create the "ultimate Little Tikes playhouse makeover," we were in! Our kids grew up on their products, just like we're sure yours have…. except my oldest baby just got her drivers license this week so long gone are the days of cute plastic toys to play on but I'm glad I have this for future grands! 😉
Check out the "before" playhouse…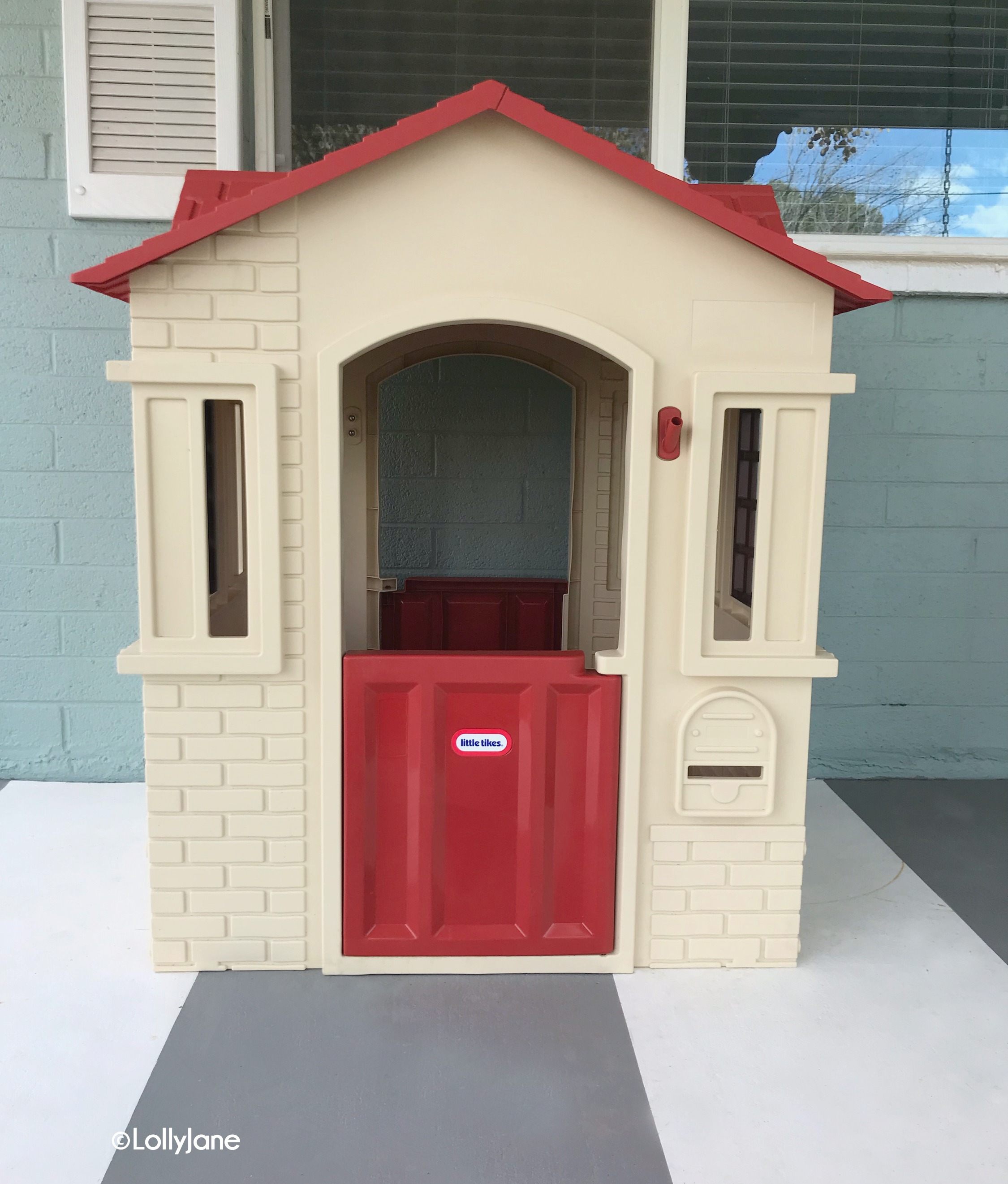 …and the "after!"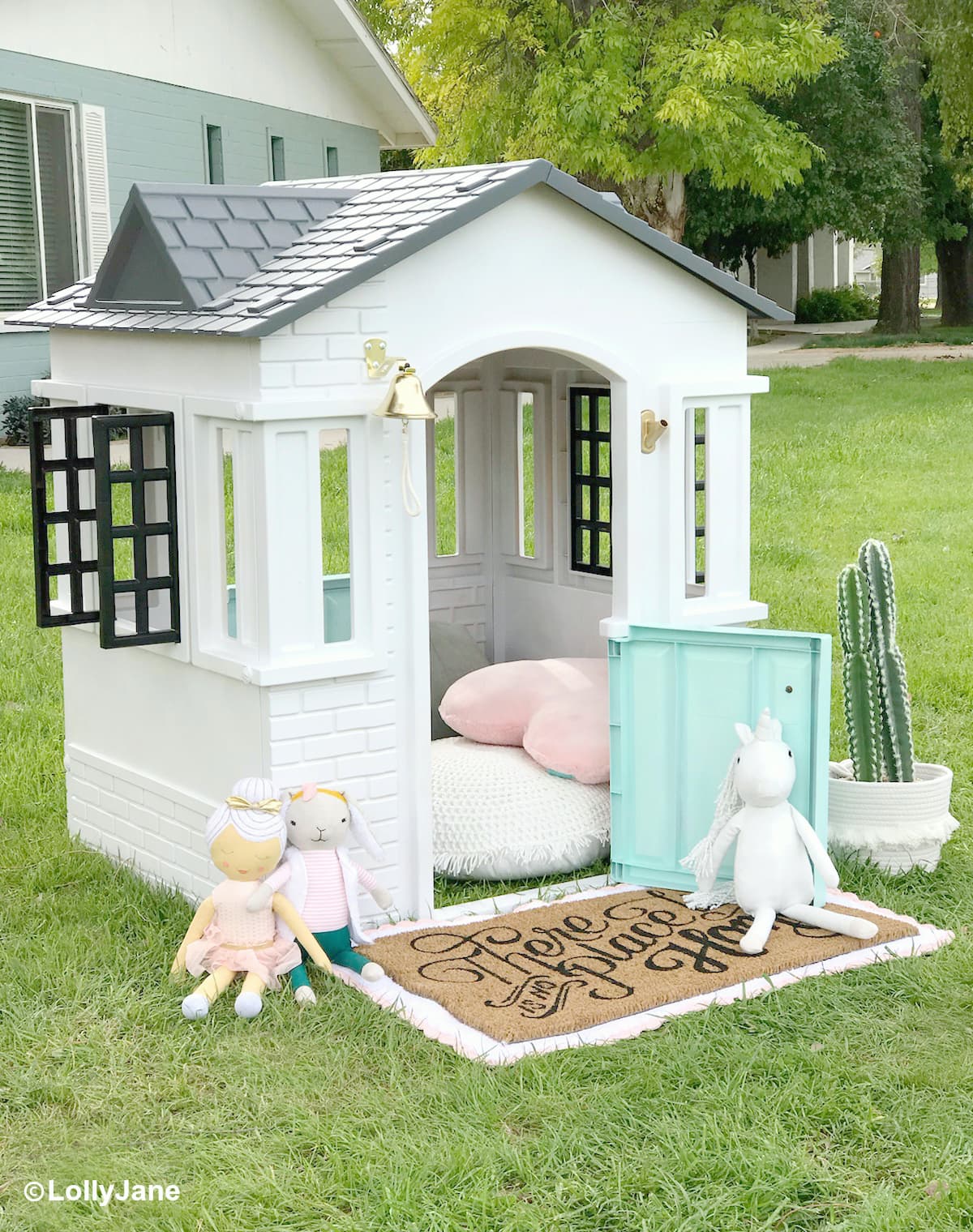 I'm gearing up for a new dark roof on our own home so it was fun to play with colors on this little cottage to see how we liked the color scheme. We're, of course, partial to pink front doors but thought this pretty beachy blue would be fun for either gender!
How to Paint a PLASTIC Playhouse
Read on for the full step-by-step on how to paint a plastic playhouse. Leave any further clarifications or questions you have in the comments– we'd love to hear from you! 🙂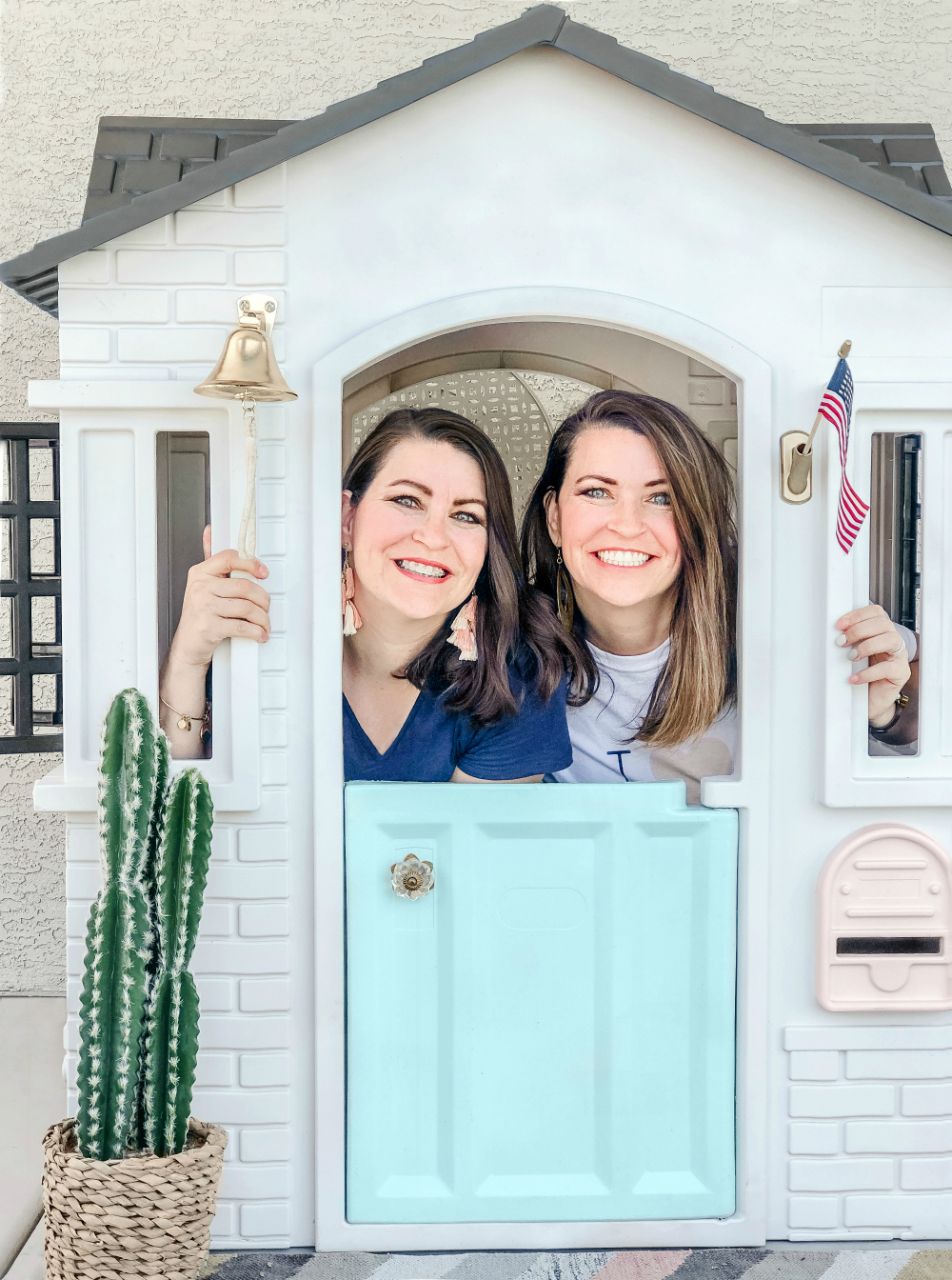 Supplies to PAint a plastic playhouse
Alrighty, let's get to the makeover! We first made a run to our local hardware store and grabbed spray primer, the five colors we wanted to use (black shutters, charcoal roof, white house, aqua door + gold finishes) and polished off shopping with an online purchase of a gold bell and a glass knob to put on the door. We've linked our supplies on both Amazon and Home Depot for you, depending on where you shop. We used Rustoleum's 2X line and had great luck with it. Be sure you use spray paint that says PLASTIC on it. Note: Some links may be affiliate links. That means we may make a commission if you use our links to purchase, this is at no extra added cost to you! Thanks for supporting Lolly Jane!
Spray Paint Colors Used to paint plastic PLAYHOUSE
Does it matter which sheen (finish) you use to paint the playhouse? Not really, it's more of a personal preference. We used a semi-gloss so it can be wiped down easier.
How to paint little tikes plastic PLAYHOUSE COTTAGE
TAKE PLAYHOUSE APART. Whether you're painting a new plastic playhouse in the box OR a used/put together plastic playhouse, your first step is to take it apart as it's MUCH easier to paint each piece individually versus taping off sections. (Note: we strongly advise against taping off over fresh paint on plastic as the tape WILL pull the paint off.)
CLEAN THE PLAYHOUSE. Prior to painting, make sure the plastic is clean; if it's been outdoors, remove all loose dust by spraying it down the towel drying or letting the sun dry it out.
LAY EACH PIECE ONTO A CANVAS DROP CLOTH. Once completely dry (paint will not stick to wet plastic) lay each piece of the playhouse in sections onto a canvas drop cloth. Note: a plastic drop cloth will peel off paint so we highly suggest using a canvas drop cloth … we may or may not have learned this from experience if you saw our Instagram stories! LOL
PRIME EACH PIECE PRIOR TO SPRAY PAINTING. Make 100% sure your primer and paint or paint/primer in one states it is for PLASTIC then prime each individual piece (we did one coat of primer for all pieces except the door, we sprayed 2 coats of primer as it gets the most use,) then let it dry for 24 hours before painting with spray paint.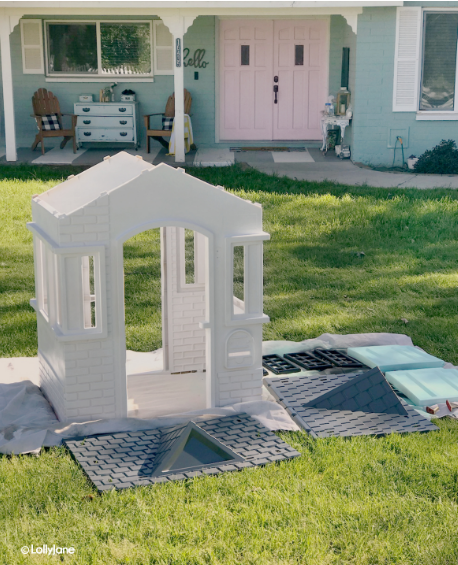 5. SPRAY PAINT. Once primer is dry, paint your pieces the color of your choosing. For this particular makeover, we spray painted the roof charcoal gray, the exterior (and interior) white, the door aqua blue, the shutters black then the flag pole and new knob gold, as pictured.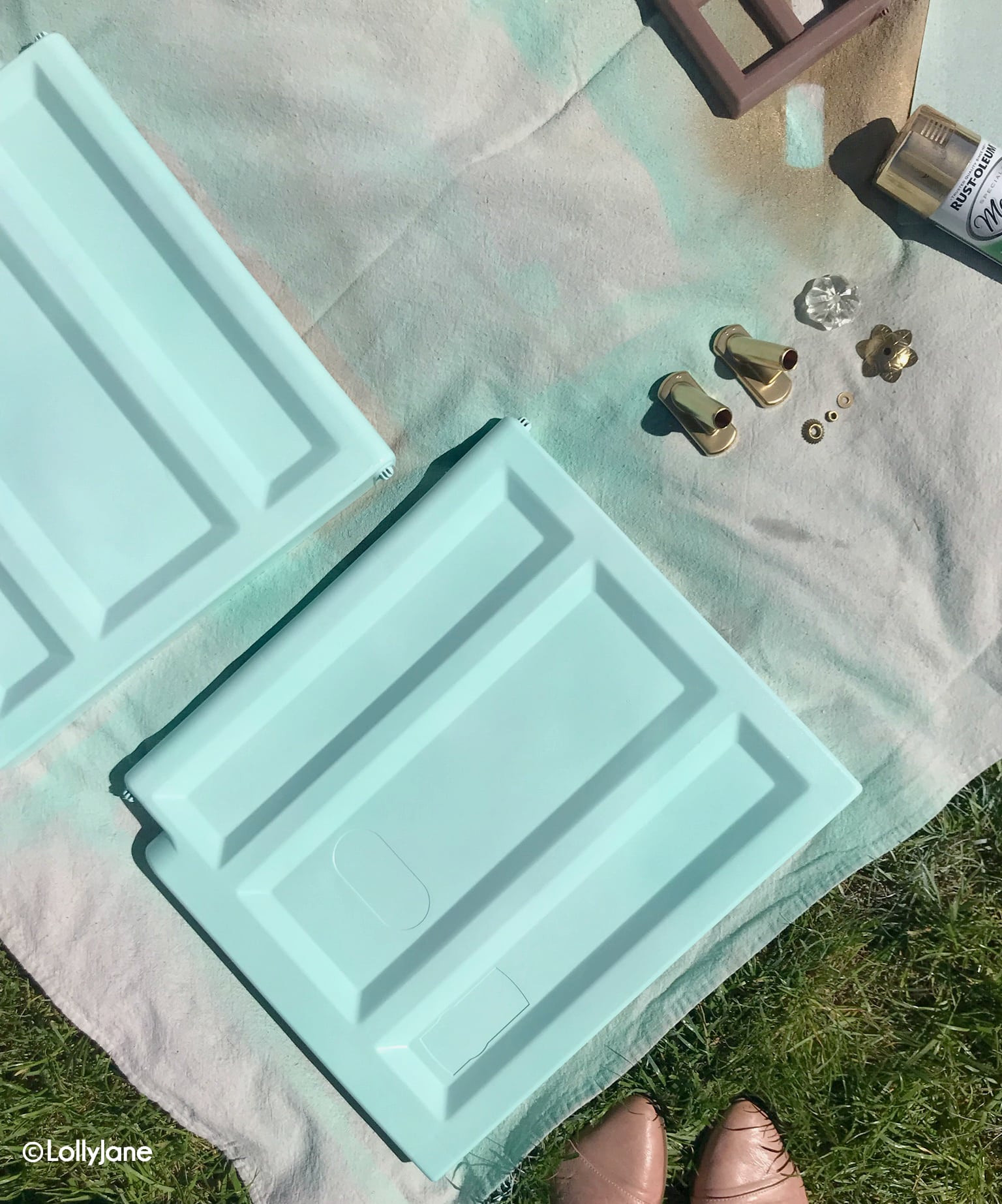 6. LET DRY FOR 24 HOURS BEFORE SEALING. After 24 hours of dry time, we spray sealed the whole house (2 coats) for added durability. We did 4 coats on the door as it gets the most use and for this particular make/model of a playhouse, the doors are a slicker feel than the rest of the house and paint chips more easily. Plan for a few touch up's after putting the door on as it will likely chip despite 2 coats of primer, 2 coats of paint, and 4 coats of sealant. Dang doors! LOL
7. ACCESSORIZE! Once all of the paint was sealed, we accessorized this cutie. We added a blingy cabinet pull to the doors vs. a traditional doorknob then drilled holes next to the doorway to hang a bell. Plop a flag in and you're done!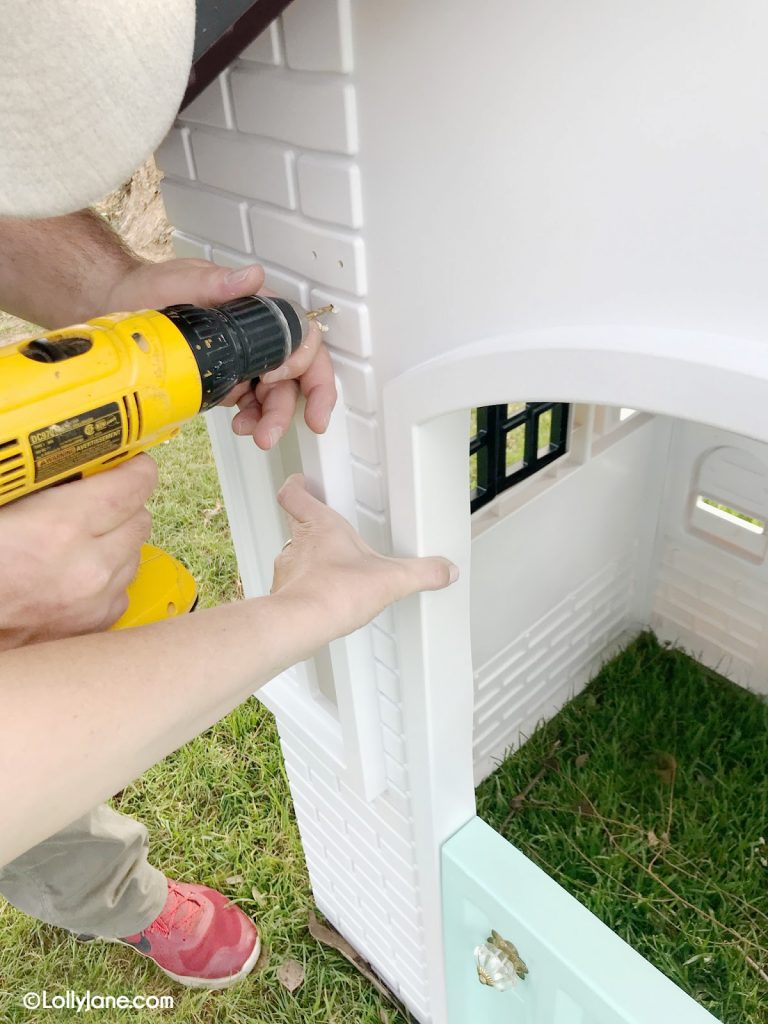 Accessories to Dress Up Little Tikes Painted Playhouse
We couldn't help ourselves when it came to accessories! We grabbed majority of these goodies at Target (throw pillows, toys, faux cactus, and layered doormats) but sources are below for the other fun accents: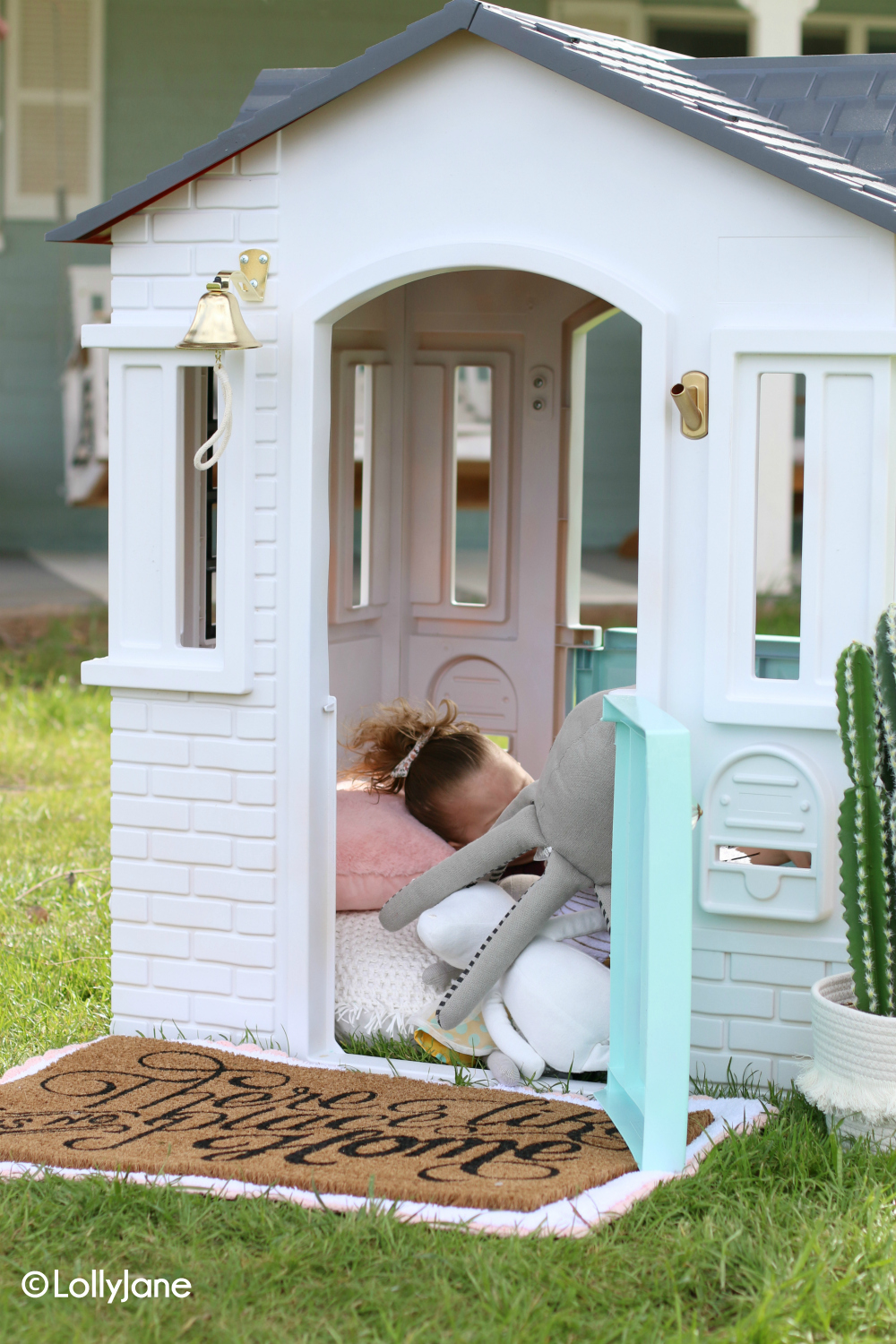 This little cottage is SO fun for kids of any age and a total must-have in your yard! Kristi's 3-year-old was in heaven simply playing with dollies but the possibilities are endless… using the cottage as a post office with the mail slot, a lemonade stand with the open door to serve drinks and treats out of, or as a schoolhouse, and etc. It is nice to fill the growing imagination of little ones with this now stylish painted playhouse!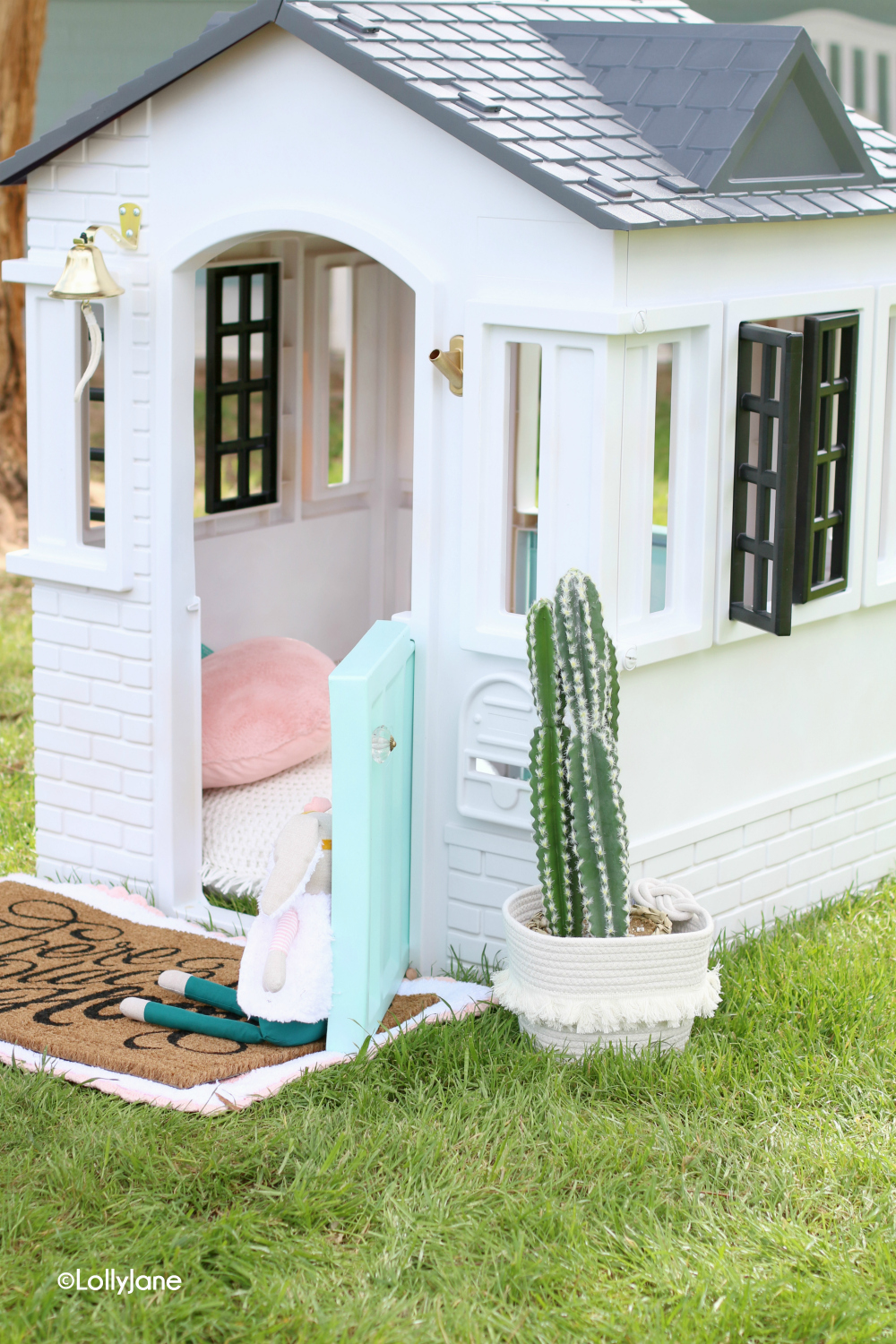 PLEASE PIN so your friend's can dress up a plastic playhouse, too!


We are so grateful for the attention this little makeover has gotten… featured twice on Country Living's Instagram was a total surprise and made our whole year! 🙂
We LOVE seeing your playhouse makeovers!
Be sure to leave a comment with a link so we can share! Whether it's on Instagram, FB, your own blog, or on Pinterest– share away!! Loving this adorable makeover from Renovating Ridgeview 🙂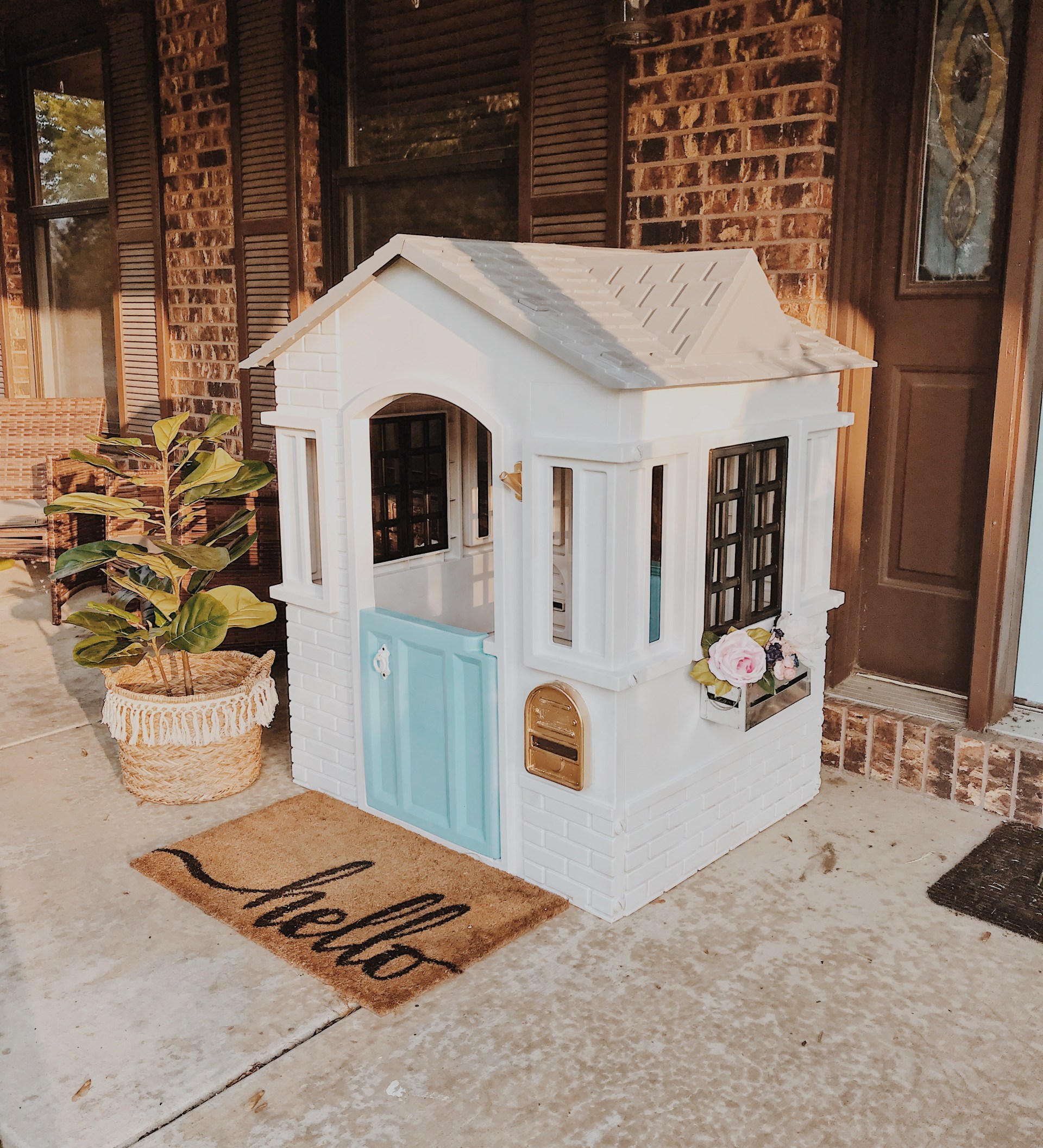 FREE EMAIL COURSE
5 Low Cost Tricks to Make Your House Look Like $1 Million
It's Lolly Jane's 5 FAVORITE Tricks to spruce up your space affordably.

Don't miss these!