This post brought to you by Moen, Incorporated. All opinions are 100% mine.
Remember my mason jar bathroom storage?  Even in those pics, you can see my grimey faucet!  We live in an old, old house and I'm pretty sure the bathroom hasn't been touched since the 80's…it's probably all original.  And it's been a rental for the past 20 years, gross.  So when Moen offered a review for their gorgeous Moen Boardwalk Centerset bathroom faucet in Chrome, I jumped at the chance.  It's a gorgeous art-deco vintage meets classic faucet, and the chrome finish matches my mason jar clamps perfectly.  All I had to do was put this beauty in and I was happy to learn how to install a bathroom faucet, because I'm slowly renovating one room at a time in this old house!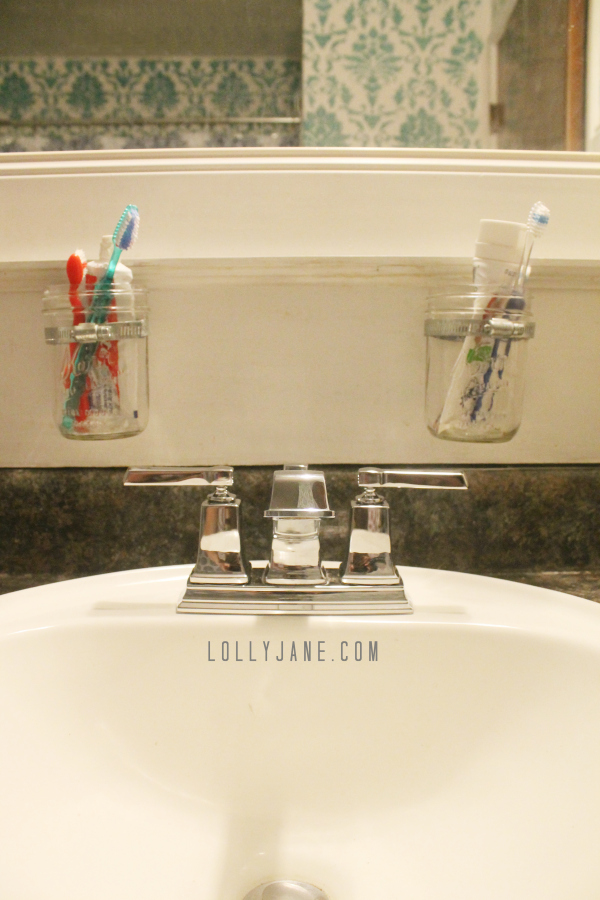 In my case, I was replacing a bathroom faucet so here's a quick list of what to do to remove the old faucet.
Turn off hot & cold water. There are two nozzles underneath your sink. Remember righty-tighty (on), lefty-loosey (off).
Using an adjustable wrench, disconnect the top of the supply line (the long skinny tubes, typically silver) from the shut off valves.
Unscrew the mounting nuts directly under your faucet (depending how old yours are, you may really need some muscles! One of mine came right off, the other was a beast!).
Pull out old faucet then clean the sink. Mine had old putty that was crusted and now soggy, gross.  It felt so good to clean it really well and see my pretty shiny ceramic sink again!
Now to put the new faucet in!
Set your new faucet in place.  This one is a 4″ centerset which makes for easy install!
Screw in your mounting nuts underneath the sink.
Reattach the supply line using the wrench, but don't turn the water back on yet.
Next you'll need to remove the old drain stop.  My old one was copper piping, no way were my mama muscles going to loosen it.  I will say, installing the faucet by myself was empowering.  However, I had to get Hubby's advice to assist me with this next part!  No shame, at least we didn't have to call a plumber.
Follow these directions to install a drain stop.
Clean and dry the sink to prep.

Shape your putty into a snake shape, yes a snake.  Set it at the base of the drain opening.

Insert the drain into the sink.

Underneath the sink, screw the drain gasket, washer then nut to the top of the drain opening…but don't fully tighten just yet.

Position the o-ring in the groove at the top of the tailpiece  and thread onto the waste seat . After you've attached it, rotate it so the opening points towards the wall where your shut off valves are.

Now you can tighten the drain nut.
To install the lift rod:
Place it in the hole provided in the middle of your new faucet.
Insert it into the lift rod strap, (provided, just line it up and guide it in).
Screw to tighten.
Now to finish installing a drain stop:
Hubby did this part for me so from what I witnessed, put the white plastic rod in place side facing out, insert into the hole in the plug
Push pivot rod down.
Sl

ide one side of clamp onto pivot rod. Insert pivot rod through closest hole on strap with pivot rod down. Squeeze clamp and slide other side of clamp onto

the pivot rod.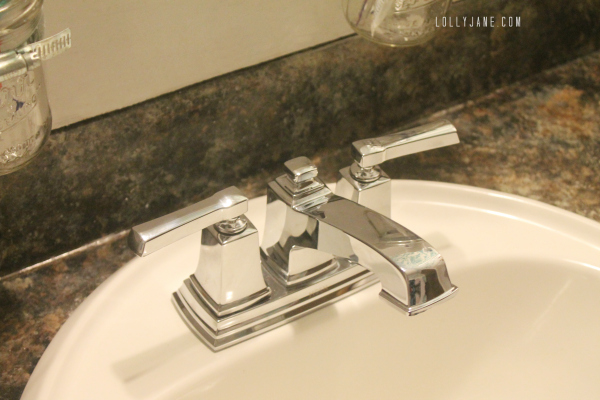 Tip: Run water through your faucet for 20 seconds before you use it normally.  For some reason, it could damage your plumbing if not.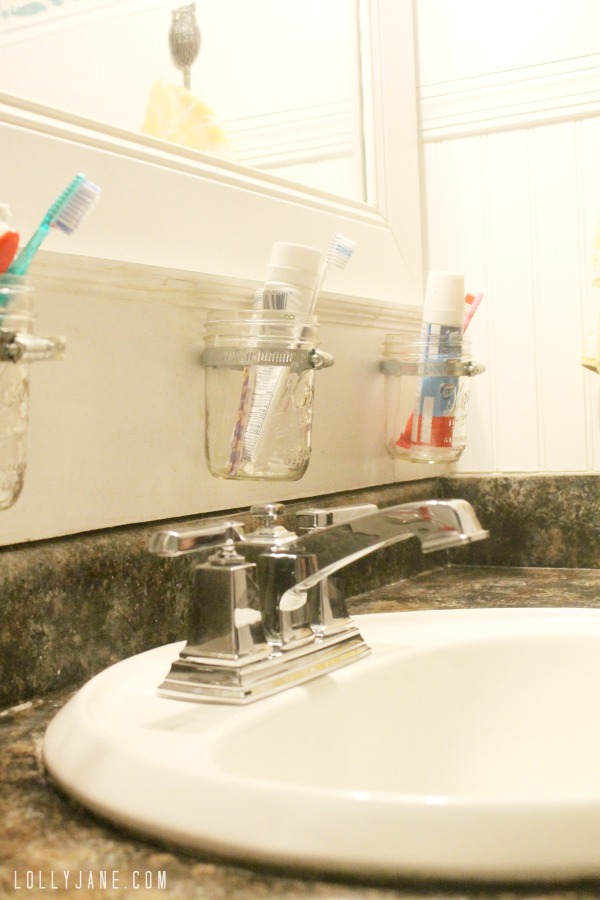 I promise it's not as hard as it sounds, the drain stop was a little confusing to me since it was my first time under the sink but the rest was a breeze!  And I'm pretty darn confident I could do it on my own  next time.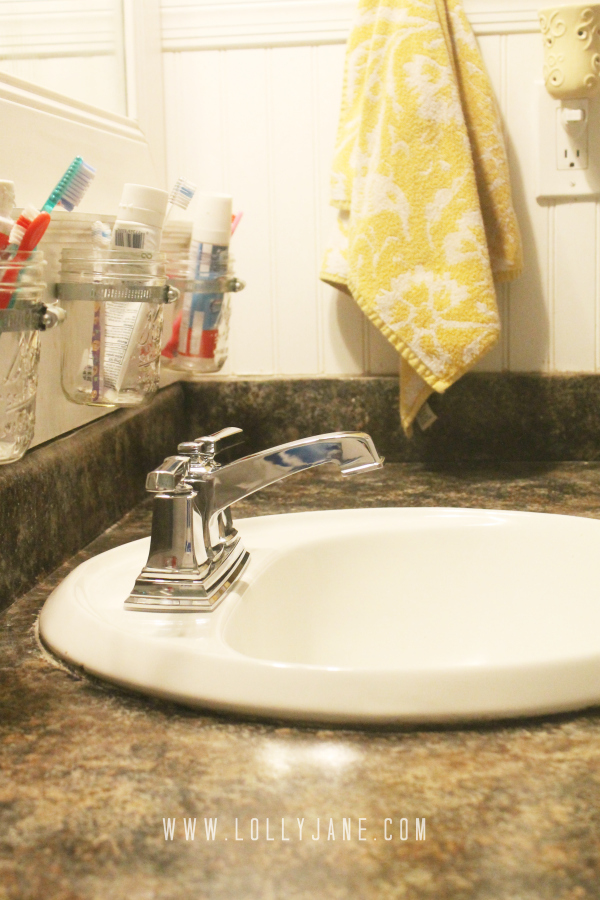 To keep up with Moen's latest, Like Moen on Facebook, they have the prettiest products.  And you find them at Lowe's, whoop!
FREE EMAIL COURSE
5 Low Cost Tricks to Make Your House Look Like $1 Million
It's Lolly Jane's 5 FAVORITE Tricks to spruce up your space affordably.

Don't miss these!