Can you believe it's almost the 4th of July?! If you're having people over and need some tablescape ideas or just want to spruce up your space with some patriotic decor, here are some easy ideas!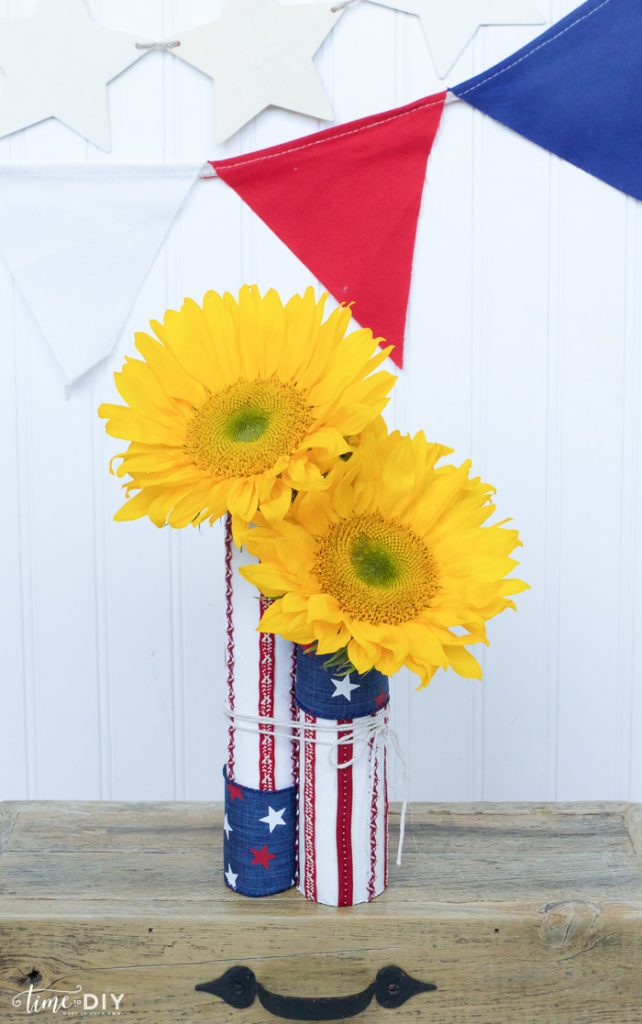 I'm always looking for centerpiece ideas, and it's even better when it can be DIY. I saw these at Michaels and it hit me: 1) DIY centerpiece and 2) finally a use for all the paper towel rolls! Can we talk about about many paper towel rolls we go through on the daily? Please tell me it's not just my family!
These are perfect centerpieces, but instead of the sparklers, I wanted to add sunflowers. All you need for the holders are three paper towel rolls, some paint and ribbon. I painted the rolls white, cut them and then measured out the star ribbon.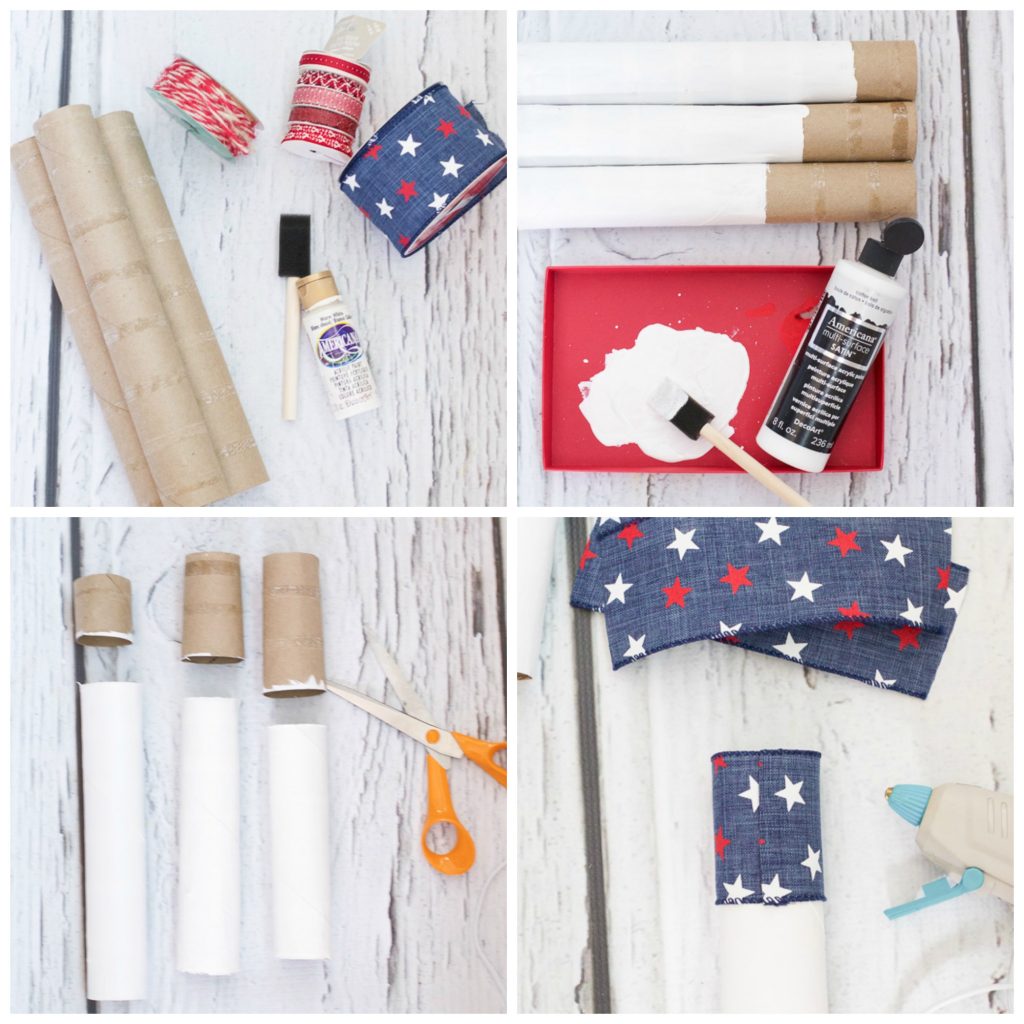 To make the stripes, I hot glued patterned ribbon, and then finished it off with the thicker star ribbon. The ribbon was 50 percent off at Michaels.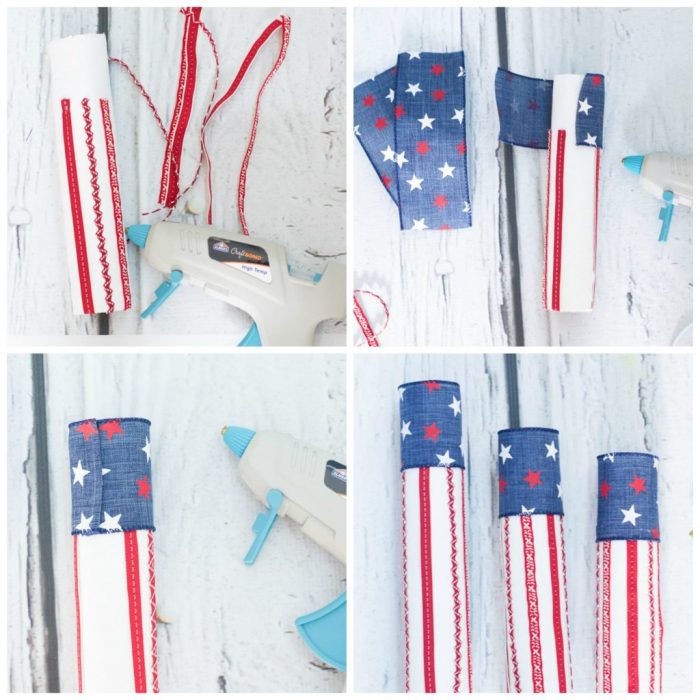 Then I tied them together with some baker's twine, alternating the star ribbon top and bottom.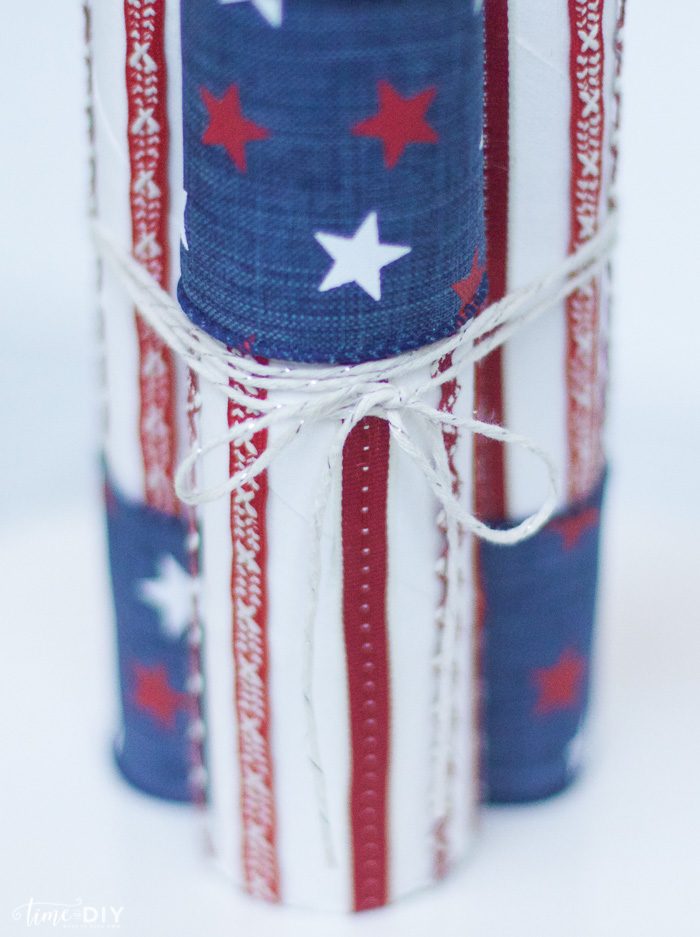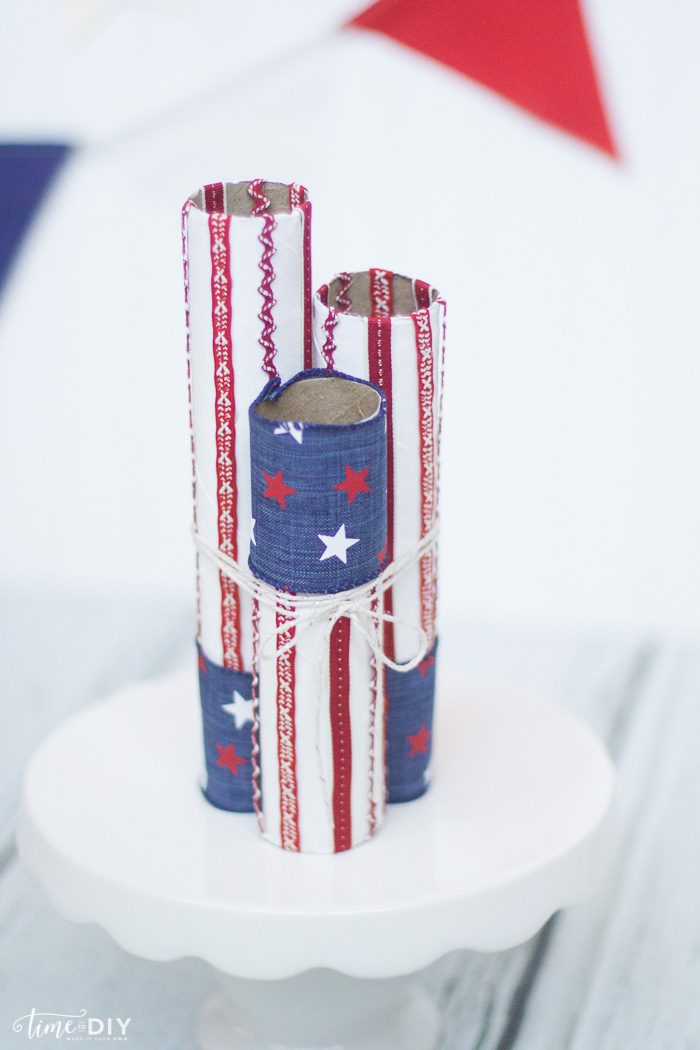 I cut the sunflowers to match the length of each roll and then filled plastic bags with a tiny bit of water (less is more!), about 1/8 of the bag.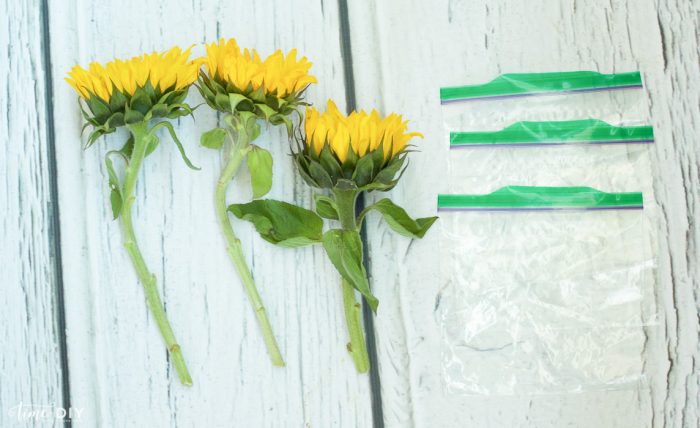 Then I used rubber bands to secure it.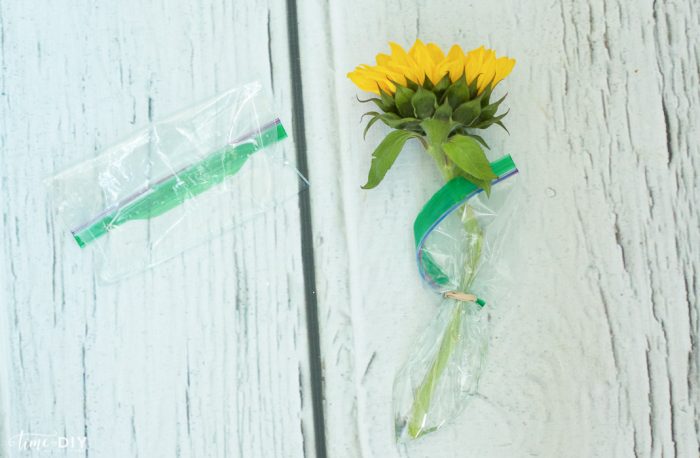 The water is obviously for the flowers, but it also serves as a weight so they don't tip over.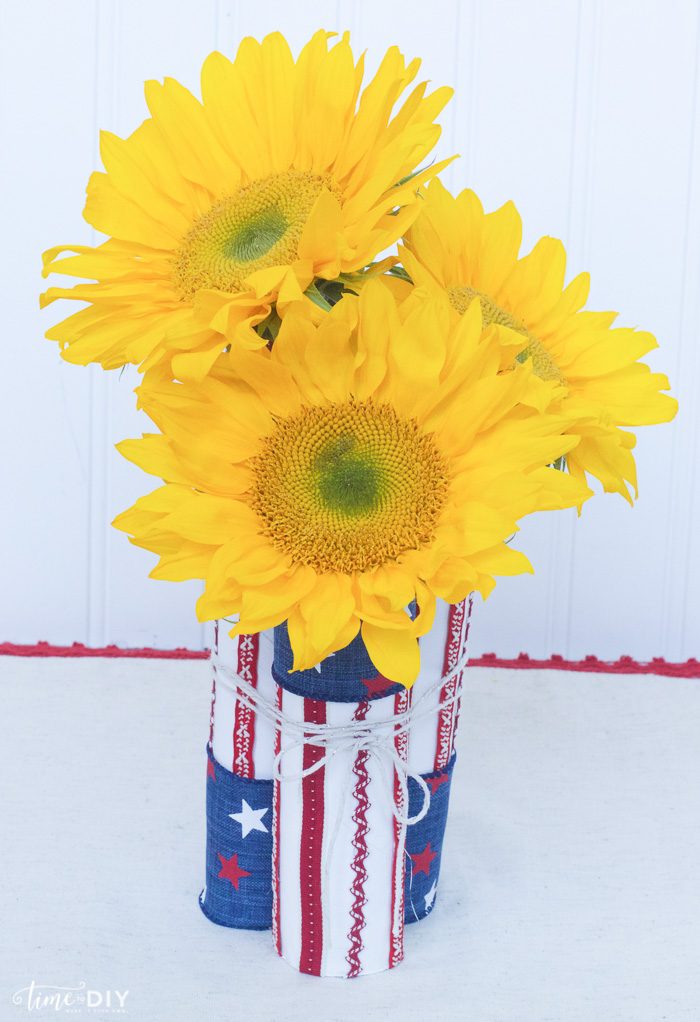 They look cute on a cake stand as well.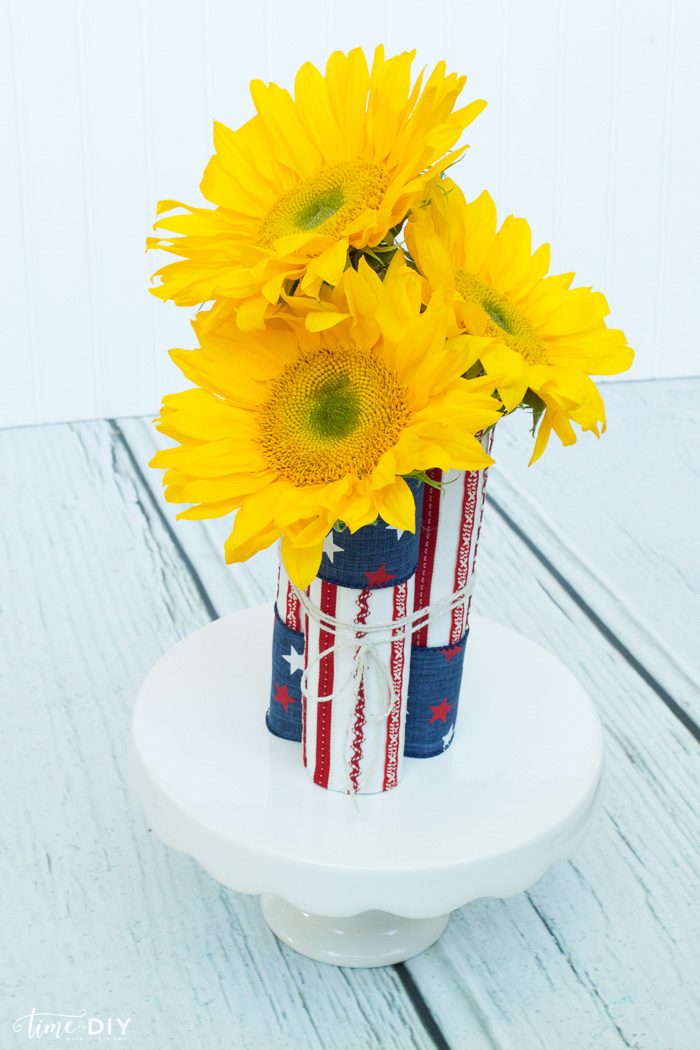 Wah-la! Centerpiece is done. Now it's time to talk tablescape, which can be done in 15 minutes or less, promise.
I'm a big fan of paper plates for entertaining, especially outdoors. There are so many cute paper designs and it makes clean up so much easier. I got these paper plates, napkins, and straws at Michaels (for 50 percent off), and the "USA" napkins at Home Goods. Hobby Lobby and Target are great places to find paper goods as well. For placemats, I pulled from my Christmas bin. Yes, 4th of July is the time to bust out that Christmas red! If you don't have placemats, consider scrapbook paper or wrapping paper (Michaels has both). And for glasses, mason jars are perfect for summer. I used Pioneer Woman's mason jars, sold at Walmart with the lids and plastic straws (not pictured), but any mason jars would do.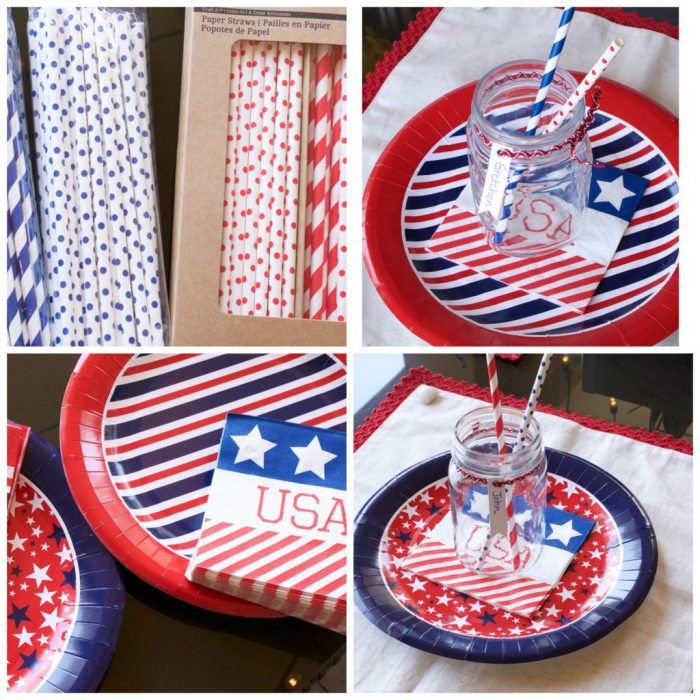 Recognize the ribbon on the mason jar from the centerpiece? It's always great to use extra supplies to tie things together. The tags with the names are from Hobby Lobby. I got the plastic cutlery at Party City (love that they are colorful and look real) and the napkins are from Michaels. I used the ribbon from the centerpieces and then put them in the center of the table = functional decor.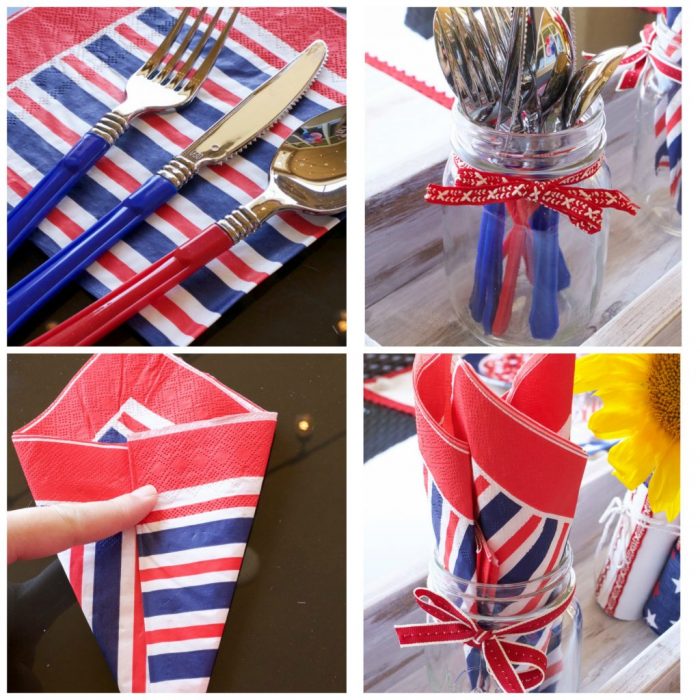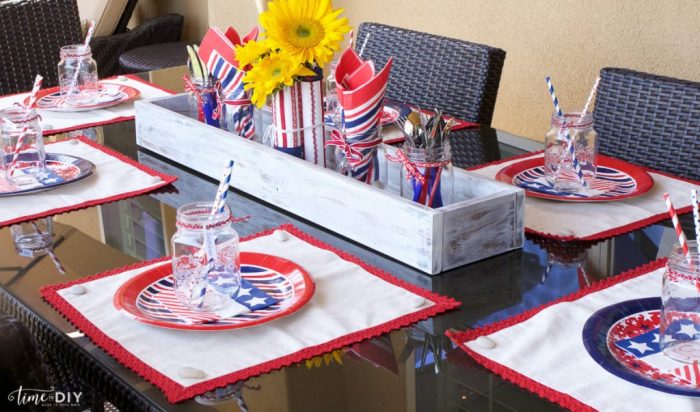 And if you don't have a box, you can use a runner. And if you don't have a runner, use wrapping paper, fabric or put placemats together. I also like to add in some wall or ceiling decor. I found these fans on Amazon to hang on the window, and the best way I've found to hang fans to the wall is to hot glue them to paper first so I used some brown wrapping paper underneath.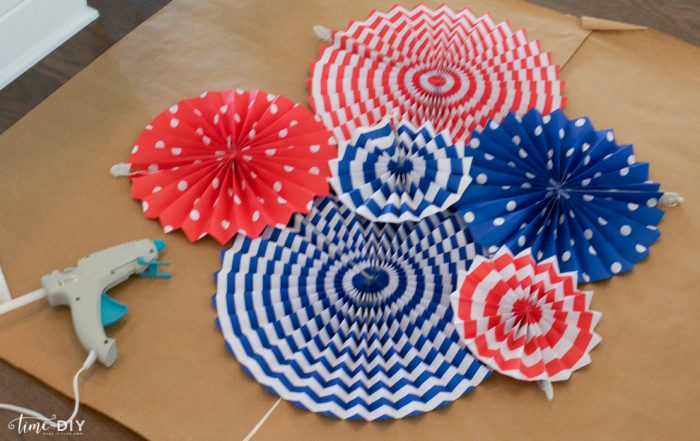 And if you want to layer them, use a paper clip.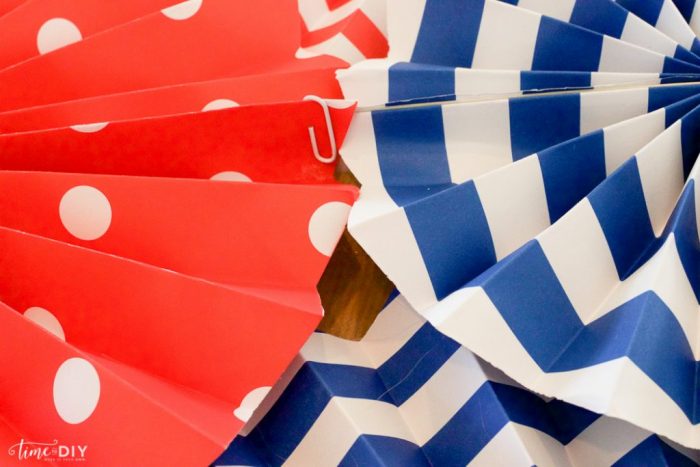 Then I cut around the brown paper and used duct tape to secure it on the window frame.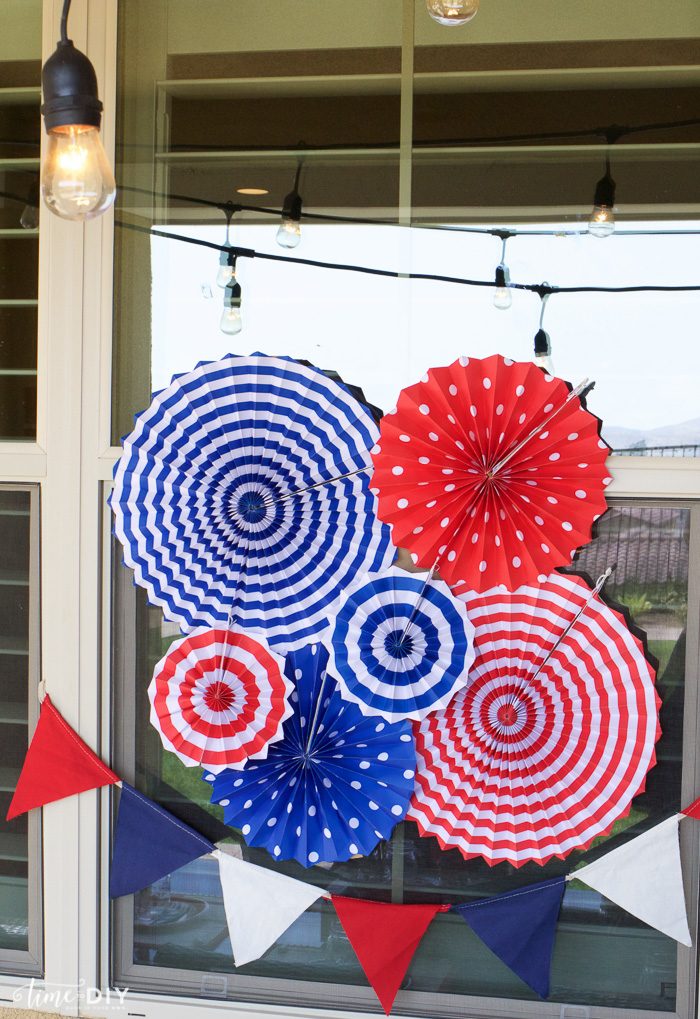 I got the bunting at Target Dollar Spot, but it's easy to DIY with some fabric, string and liquid stitch, if you don't sew. And now it's a 4th of July festive space!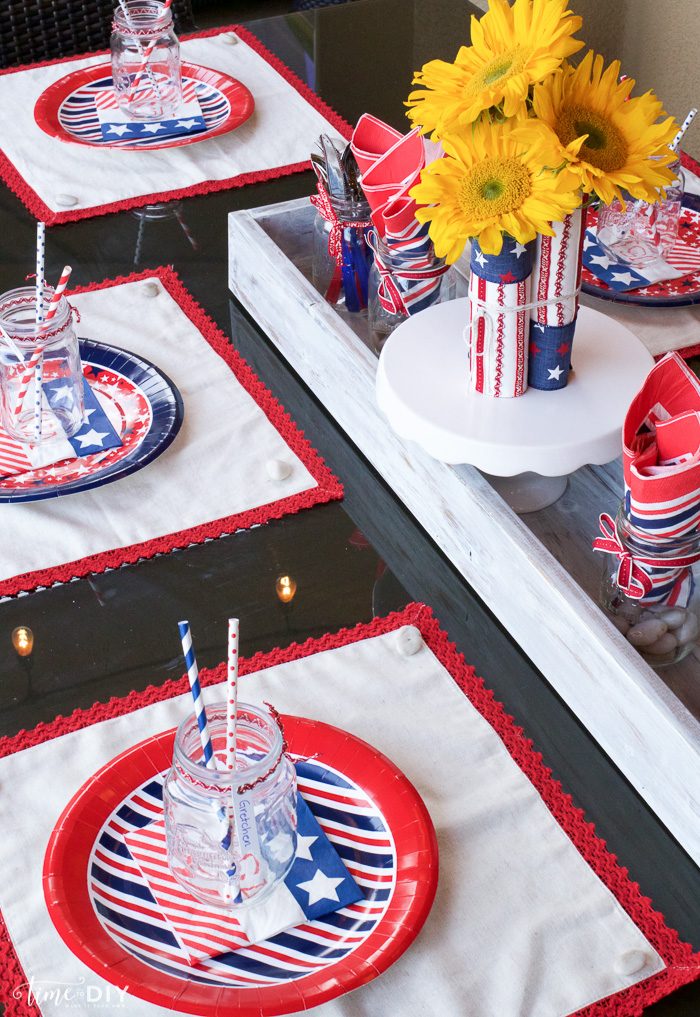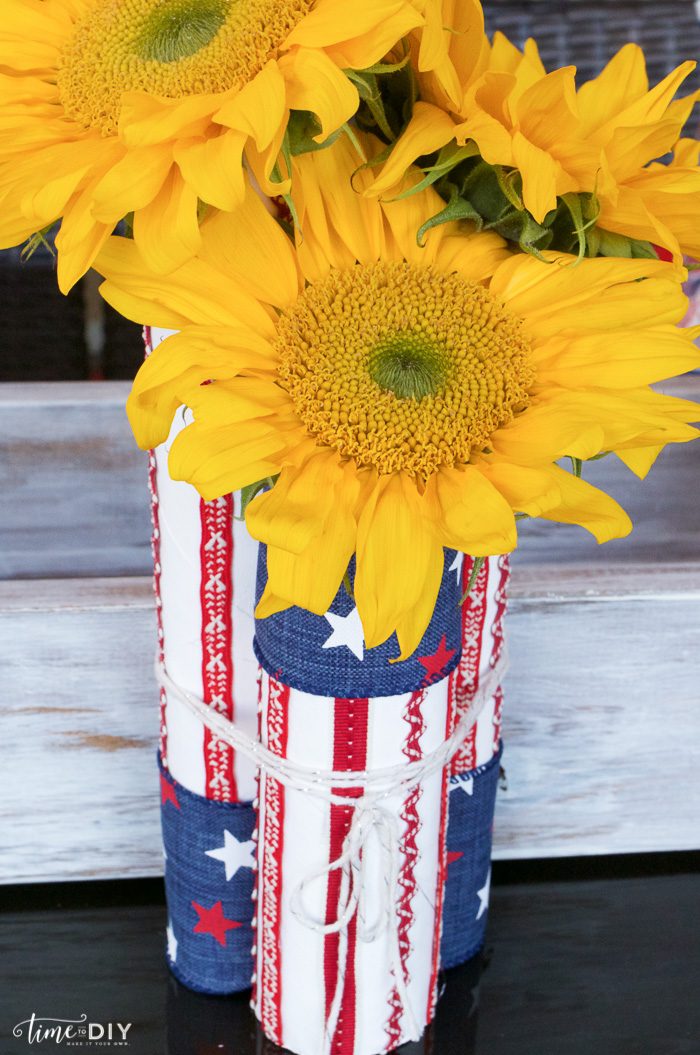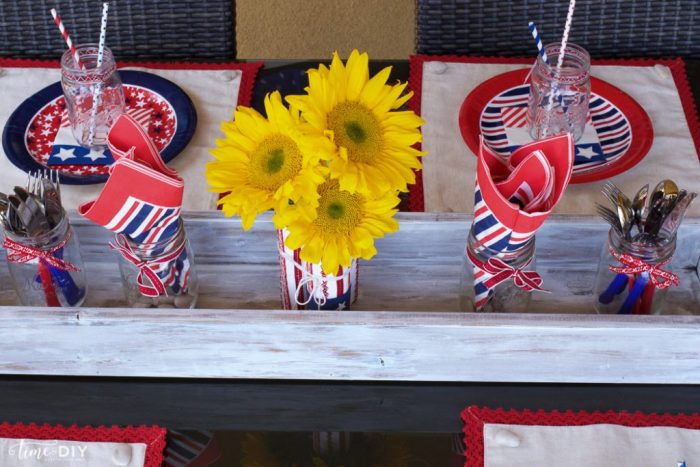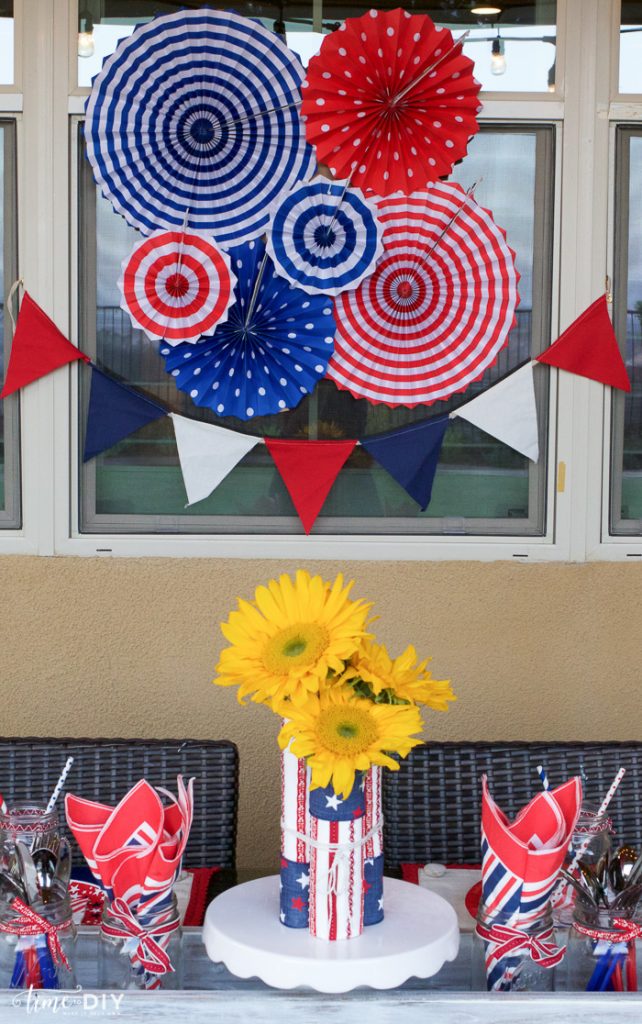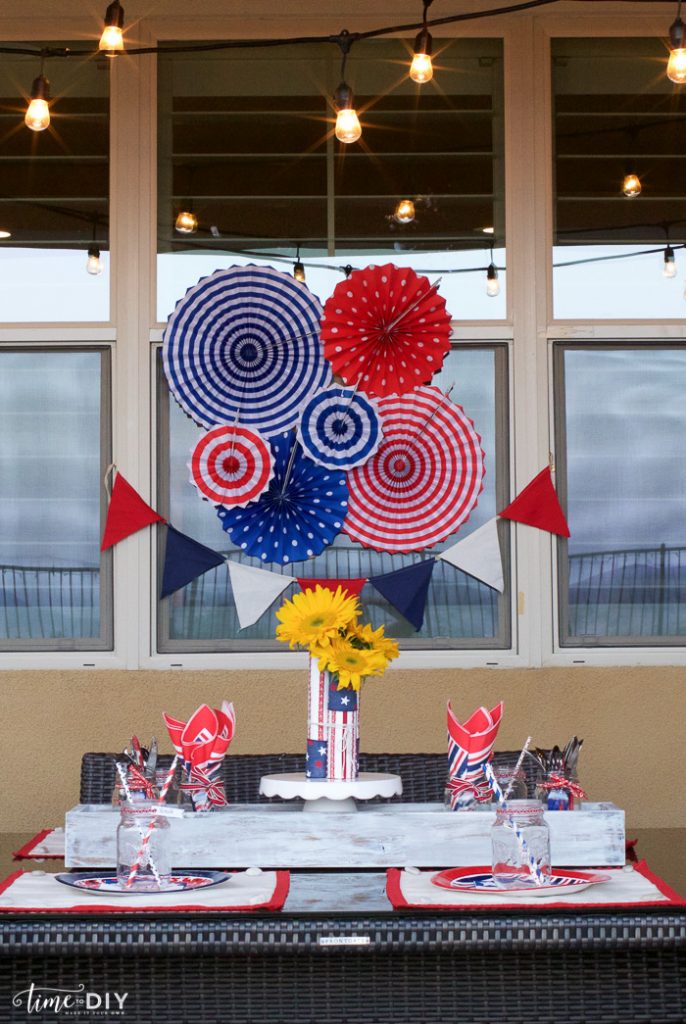 And it's especially great when the tablescape part can be done in 15 minutes or less, woot! For more 4th of July decor ideas, check out my patriotic ribbon flag.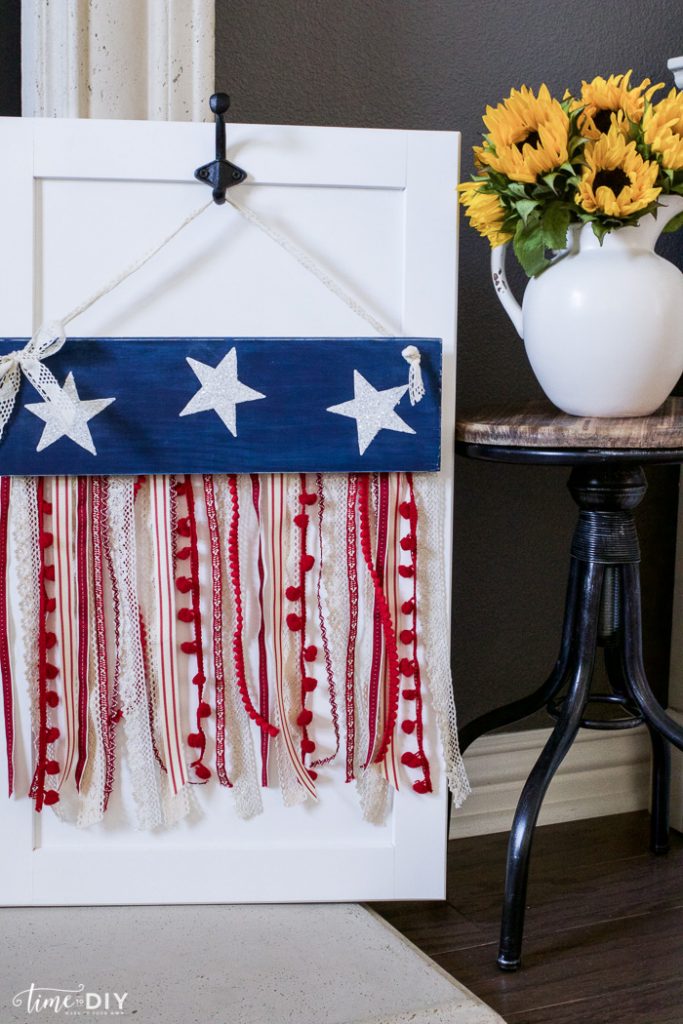 Or an easy summer wreath.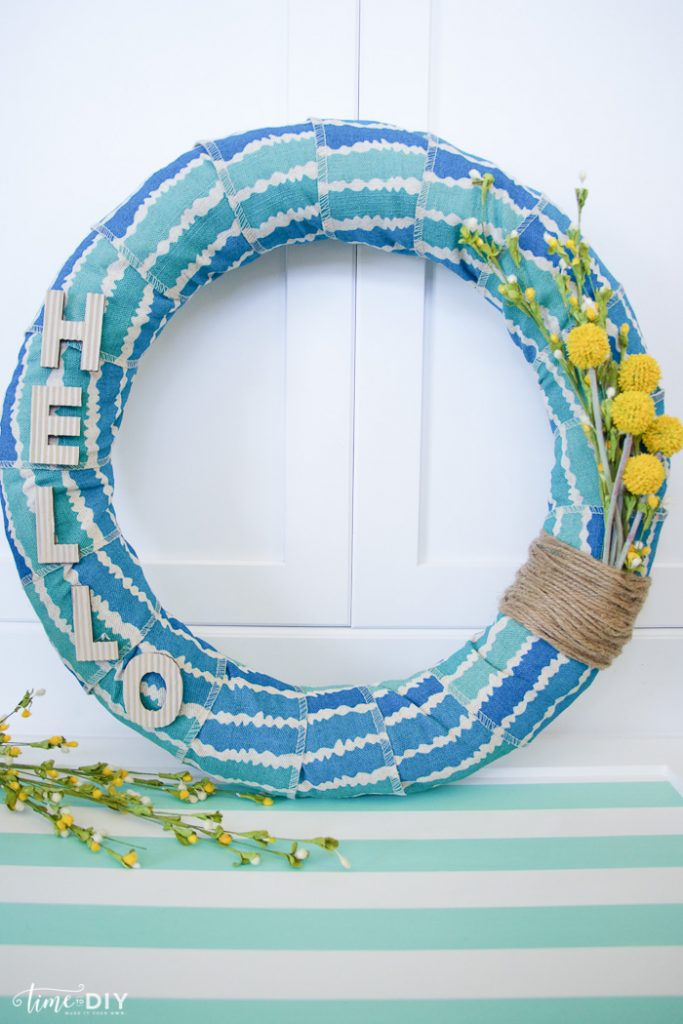 Or, if you want to add more functionality to your laundry room, a DIY hanging ladder.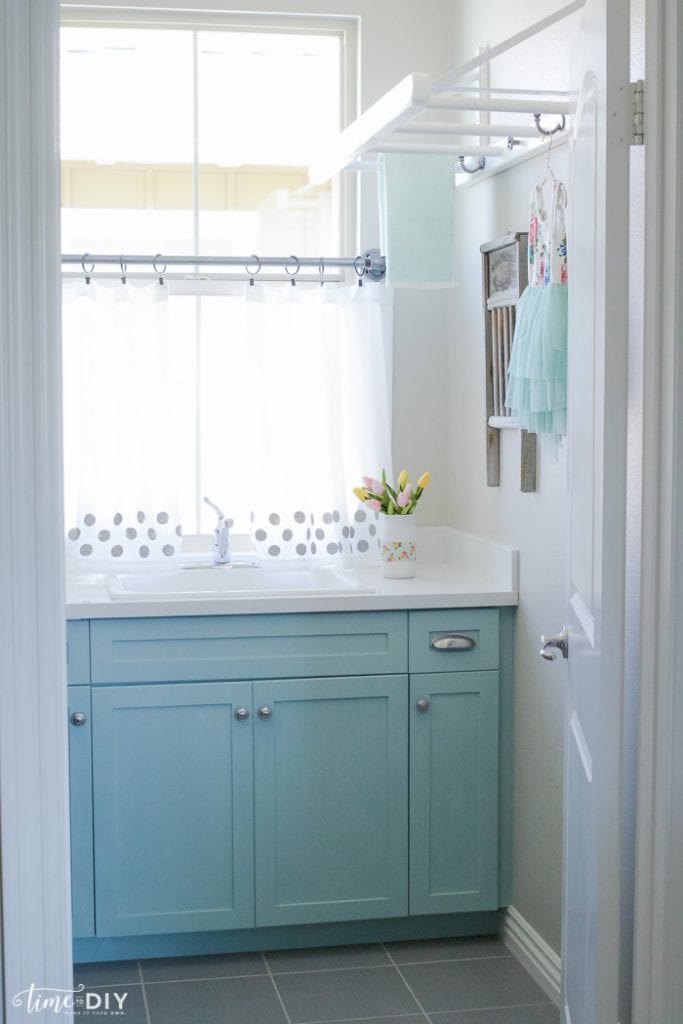 You can follow along on Facebook | Instagram | Twitter for more home decor ideas! Happy 4th of July!
FREE EMAIL COURSE
5 Low Cost Tricks to Make Your House Look Like $1 Million
It's Lolly Jane's 5 FAVORITE Tricks to spruce up your space affordably.

Don't miss these!