We were lucky recipients of reviewing Tori Spelling's new DIY jewelry line,
Styled by Tori
. It's gorgeous and easy to put together, just three easy steps and NO tools! We loved experimenting with it!  It looks so pretty on my jewelry organizer too!
We follow Tori on Instagram and by doing so, we've learned Tori is really into creating! Not only babies (number 4 is on the way!), but she loves fashion and home decor so it's not surprising she started her own DIY jewelry line, Styled by Tori.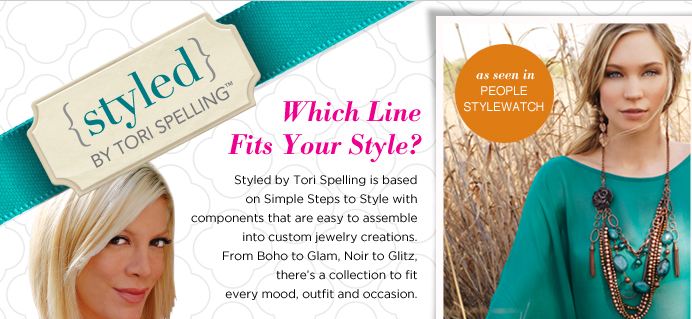 The top picture shown is just some of the cute earrings I made in minutes using 2 pieces of Tori's jewelry. Everything comes in separate packages as shown:
Best part? Styled By Tori jewelry is available at Michaels and Jo-Ann, [pieces may vary by store].
Here's how easy it is to put together Tori's jewelry:
There are 4 pieces shown, the coral flower is an optional accessory to add a little pop of color. So easy, my 9 year old put it together by herself, and she made matching earrings!
We wanted to see what else we could create with these easy to put together pieces, so we whipped up a belt in 3 quick steps!
We started off with a necklace, un-did the rings, added a bracelet to make it longer and topped it off with a cute necklace broach.
Pretty darn easy! Took about 5 minutes total, love it!
I also wanted to make a home decor craft for my daughter's room. Something turquoise and fun! We came up with this fun framed mannequin art.
It was simple to make. We framed white card stock, cut out a mannequin and taped it to card stock. Then we slipped some turquoise ribbon underneath and taped it close. We tied on
Styled by Tor
i's necklace piece with blue bakers twine and have some inexpensive art! Chevron board tut here.
Are you loving all this jewelry goodness?? We have so much of it, we'd love to share some with YOU!
We're offering three sets to three lucky girls! We'll send you a random set, it'll be a fun surprise for you 😉
To win, visit Tori on FB and tell her HELLO from Lolly Jane! That's it!
Extra entries below:
a Rafflecopter giveaway
If you don't enter to win, be sure to follow Tori Spelling on Facebook, Twitter and Pinterest to keep up with her latest creativity!
I wrote this post as part of a paid campaign with Darice and Blueprint Social.
The opinions in this post are my own.