Hate your tile floors? Paint them!
Check out how easy it is to chalk paint your tile Floors! Transform your tile floors from blah to ooh la lah using a couple pints of paint and some sealer! What a transformation!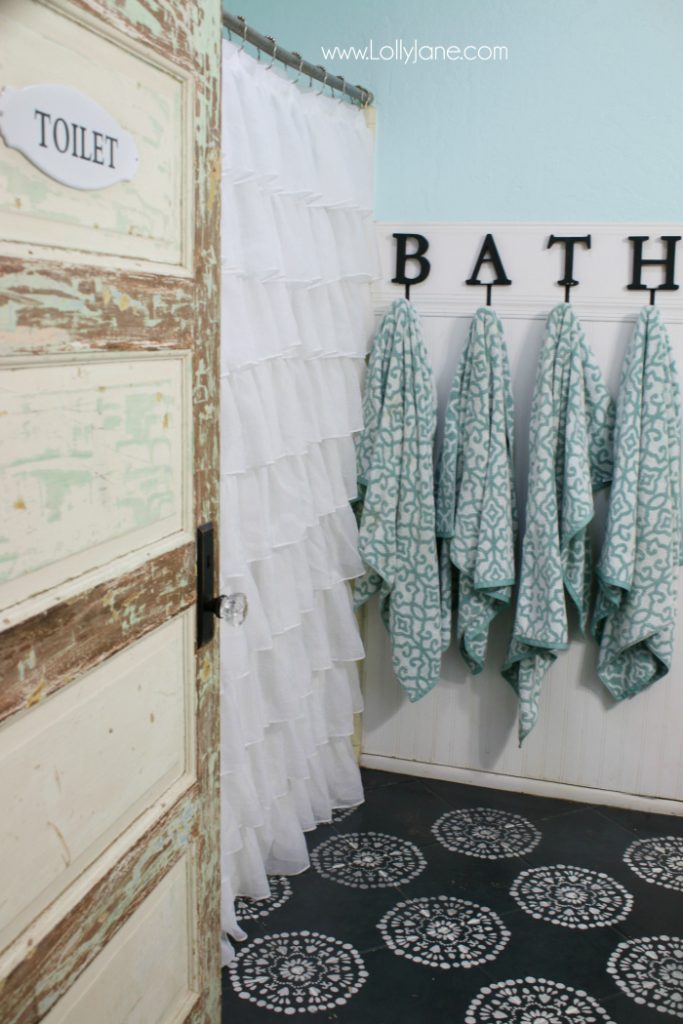 UPDATE AUGUST 2019: As of now there is a product specifically made to paint your flooring and we HIGHLY recommend using that vs. chalk paint for long term use. See full product details and the step-by-step process on our updated post "How to paint any type of floors."   Here is what mine looks like in that space: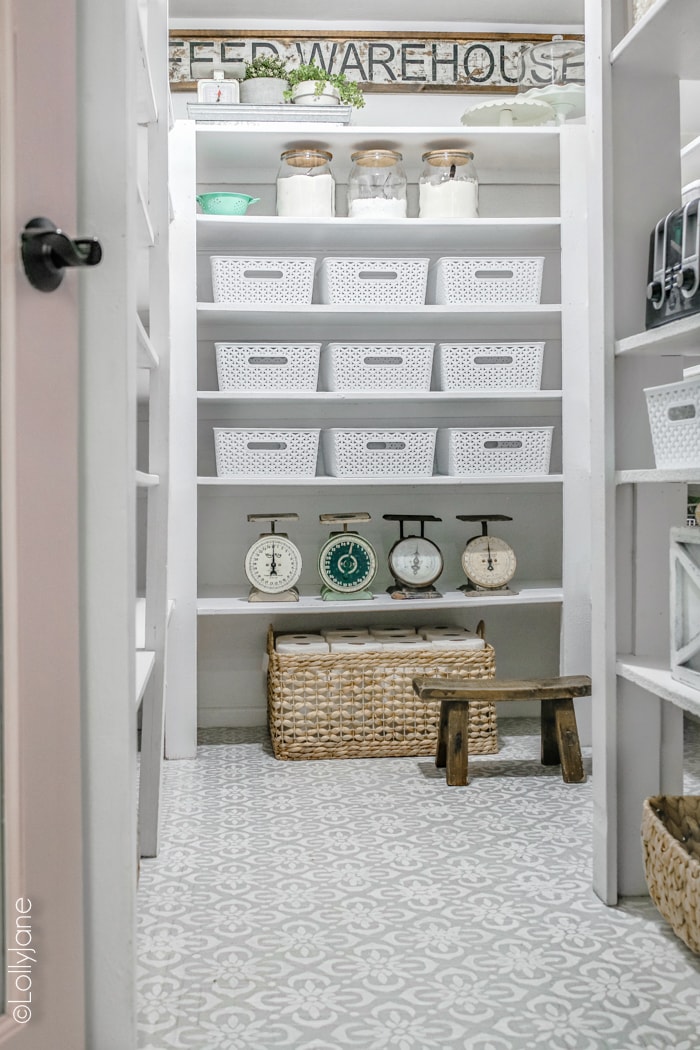 Now back to the original post with outdated information! LOL I did it. I chalk painted my tile floors. I'm a pretty brave DIY'er but I was (secretly) a little nervous how it would turn out. ESPECIALLY since we were live documenting the whole process via 160 thousand of you via Instagram 🙂
I'm not a black decor lover typically so going for black paint was a little out of my league BUT I do love classic basics and think it's the perfect base in there. I can't believe how big of a difference it makes and I can believe it cost me less than $50!
Why didn't I paint my bathroom tile floors FIVE years ago when we moved in!?
Don't be a wussy like me—go for it.
Here's the before tile, basic and pretty dull.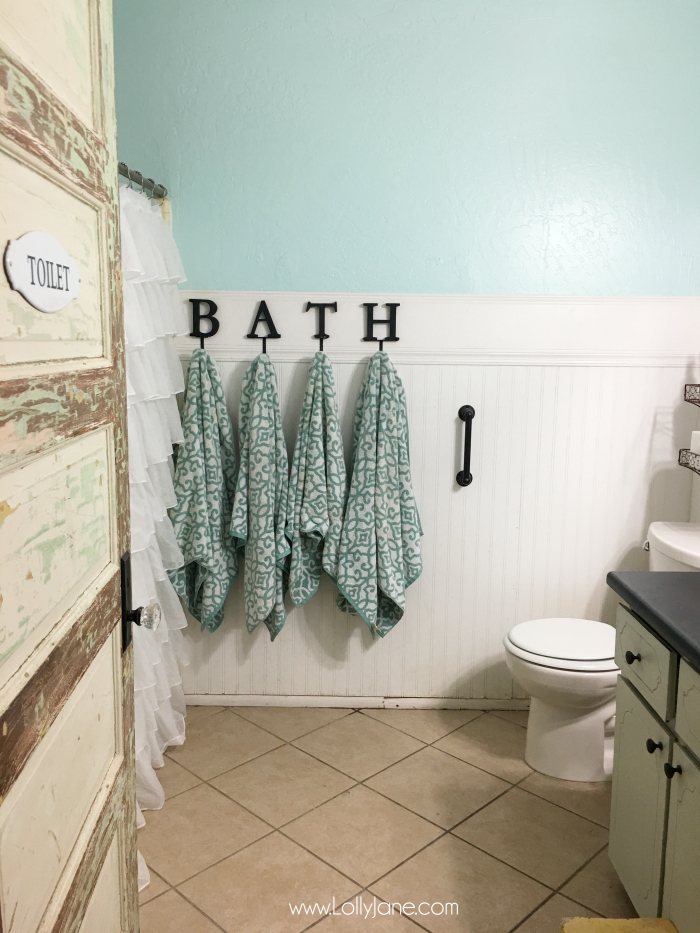 how to paint tile flooring
Our little farmhouse has been a rental property for 30 years so it's had basic grade everything.
We've been trying to add some charm and custom touches over the past 4 years, being renters ourselves.
We purchased the home from my parents last year and are so excited to tackle some big renovations as almost everything is original from the 1970's.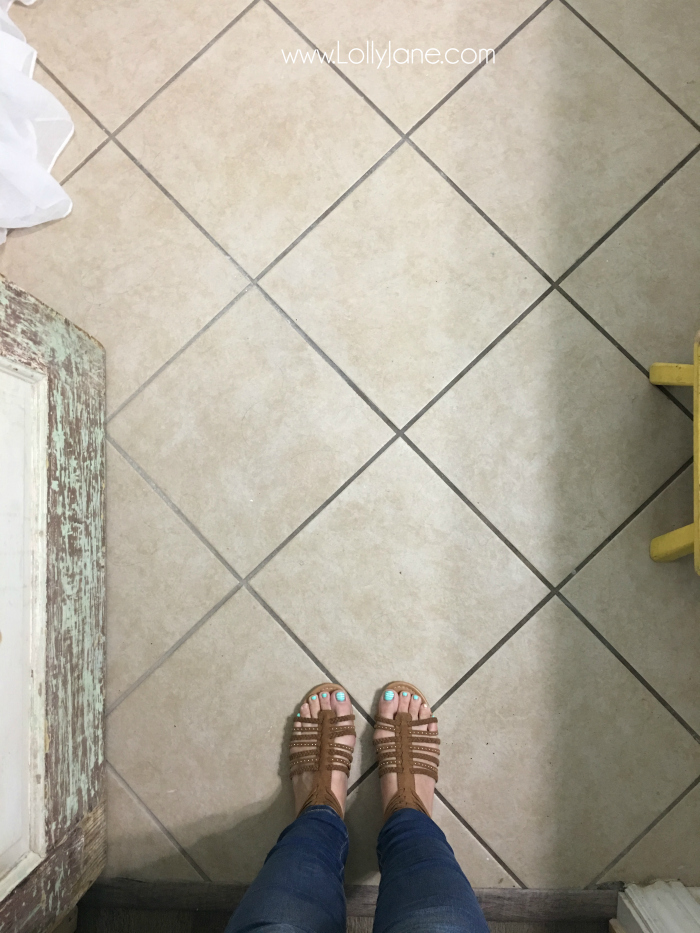 You can follow this bathroom's decor journey, although everything we've done has been cosmetic so far.
I haven't wanted to dump too much money into it since we're going to gut it when we save enough cash to do so.
The cabinet is falling apart, the bathtub leaks, the molding is cracked and falling apart, the pipes need to be replaced, oy!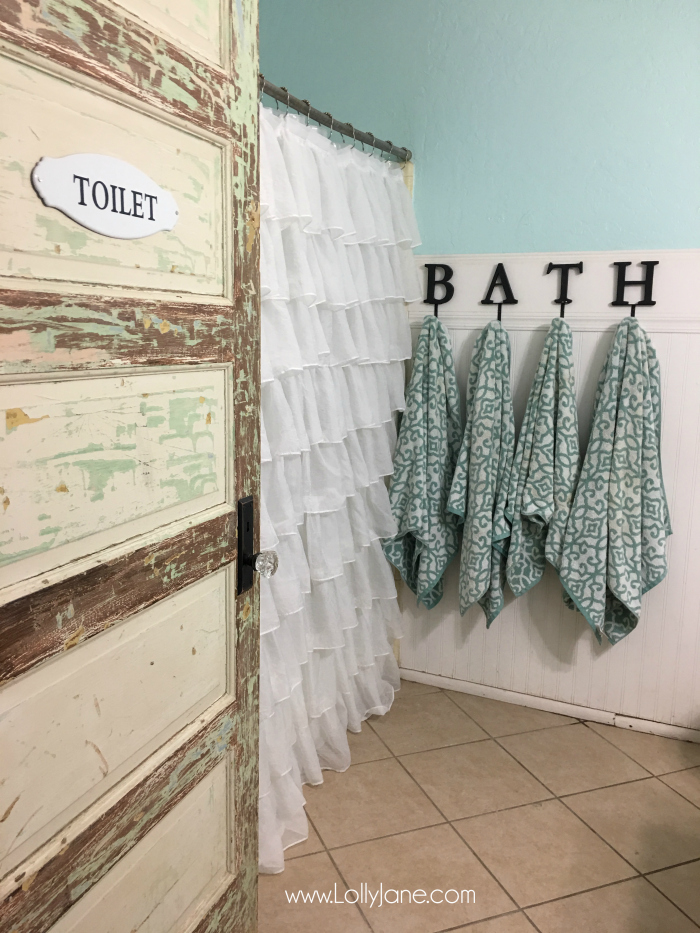 Past bathroom fix-ups:
Supplies to paint your tile floors
When I got the itch to paint, I ran to Home Depot and grabbed three things: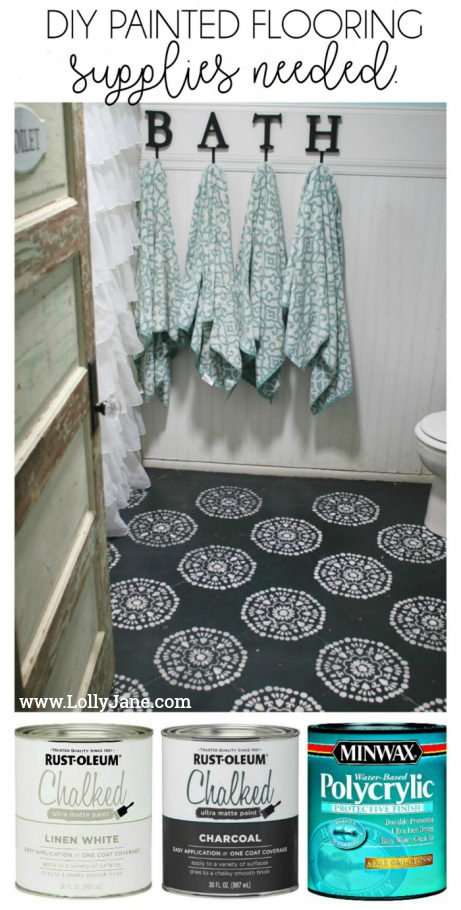 I used an angle brush for the corners and a basic roller for the rest of the tile.
I washed and used the same brush but threw away the rollers after each use. You'll be surprised how little paint and poly you actually use!
Which is why we love us some chalk paint! It goes on thicker which allows for less coats and it dries faster to save you time. Pin this image to refer back to when you're ready to start!
We grabbed our stencil at Walmart, it's a doily style from Waverly.
How to stencil your tile floors
Begin by washing your floors as normal and let them dry well.
Roll on a light coat of your base paint. In this case, we started with black paint.
Do you need to sand your tile before you paint it?
No. You can if you prefer but chalk paint is specifically made for the convenience of the user to skip that step.
If you're worried about it, go ahead and give it a light sanding so the paint has something to grip to.
We didn't sand beforehand, personally.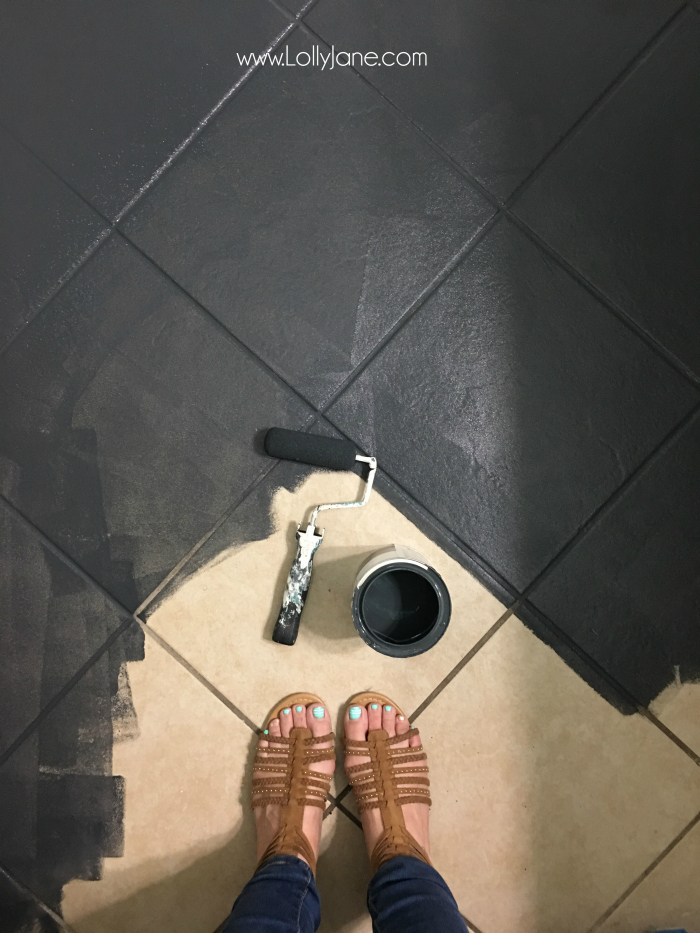 No turning back now…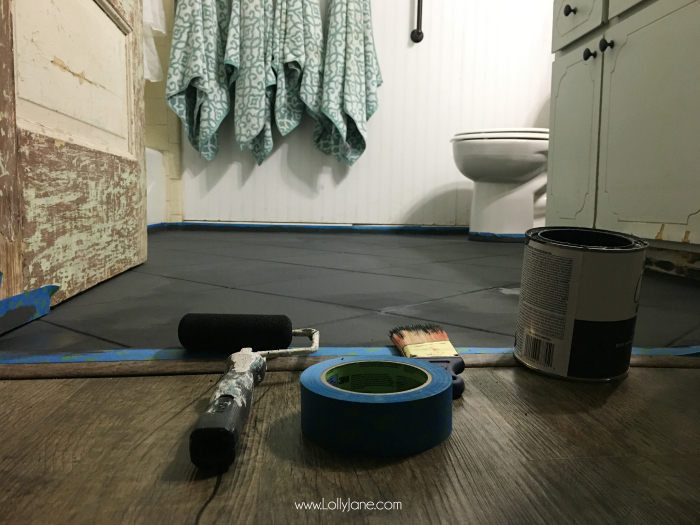 Here's the flooring after one coat, keep going!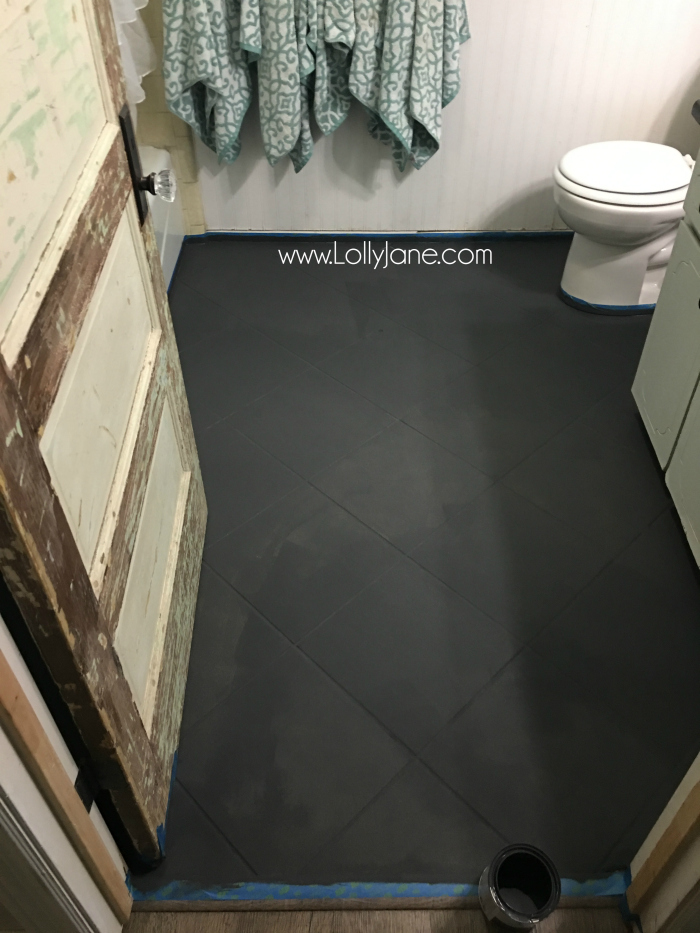 When I finished the second coat, I let it dry for a couple of hours, in between running errands and housework.
After the kids went to bed and I turned Netflix on, I tackled the stencil.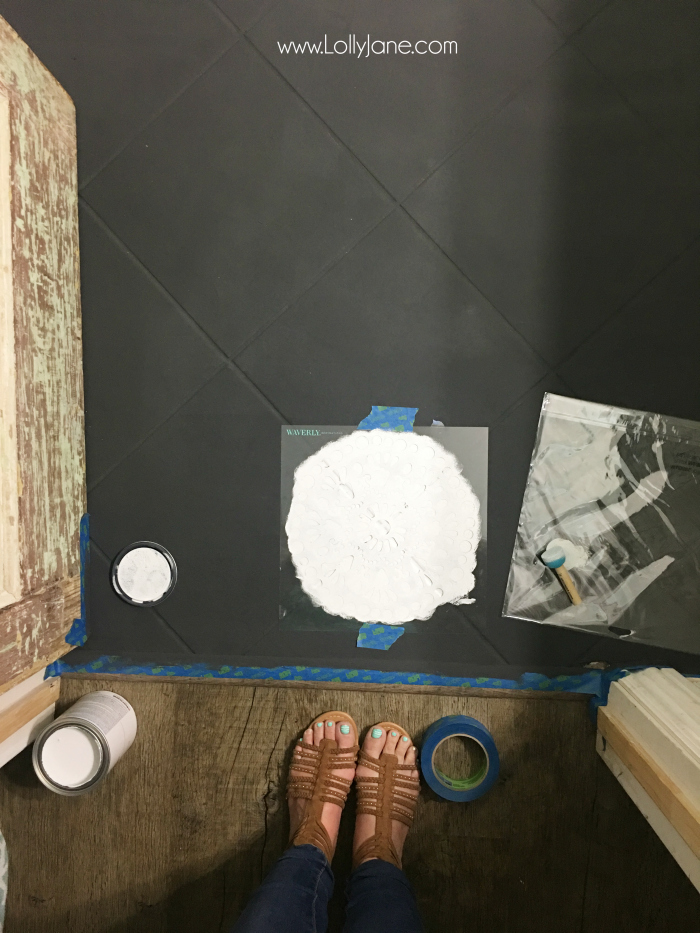 how to paint tile floors with a stencil
I decided to stencil in the grout lines, starting at the center of each.
I placed the stencil in the middle then dabbed the white on with a foam stencil brush. It took me about 2 hours total to stencil the bathroom tiles.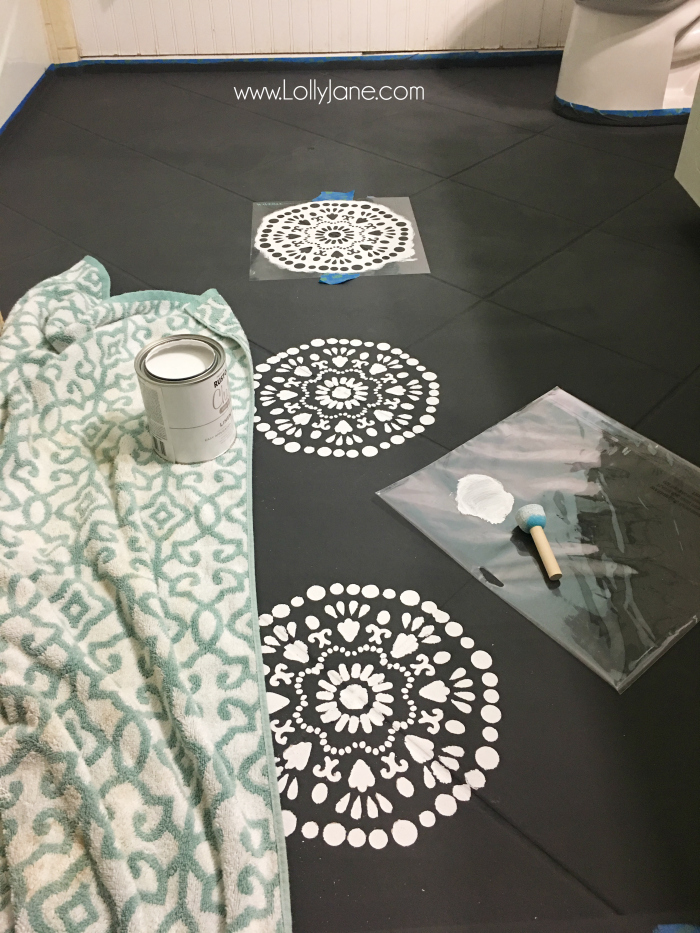 Tips when painting tile floors
A couple of tips: stencil in one even coat. As soon as it was fully coated, I removed the stencil and moved on. I didn't want to try to line it up a second time and have it smudge.
Kneel on a towel to prevent the first coat from pulling up, plus it'll be softer on your legs.
We've worked with stencils a lot, they're pretty forgiving. I'm definitely not a perfectionist but they came out pretty clean and crisp without wiping off the back of the stencil in between.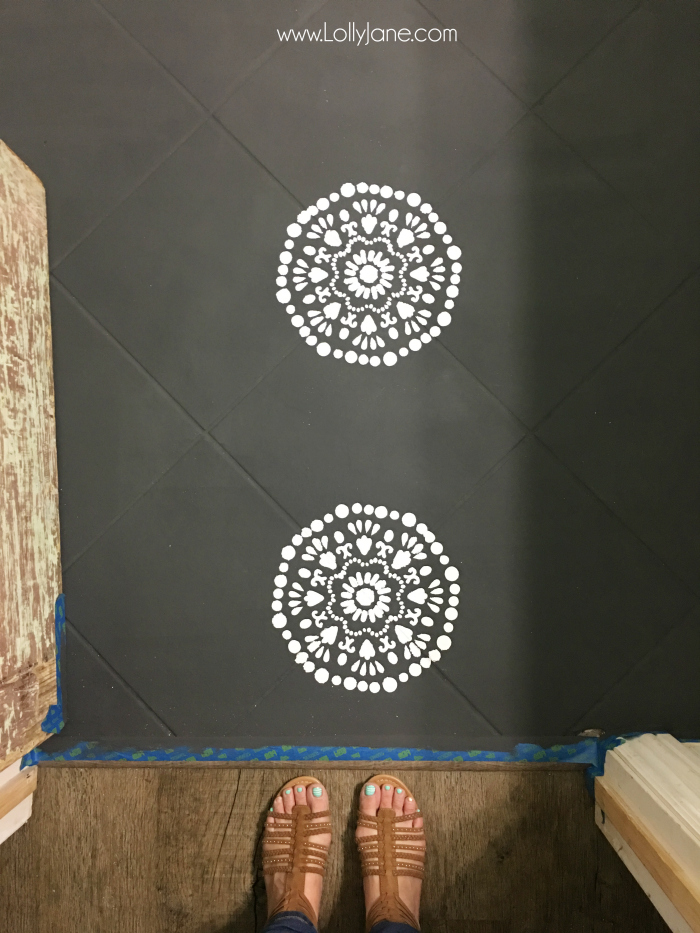 The stencil dries really fast since it's a small amount of paint.
how to sand tile floors
I used my hand sander and lightly went over the middle of each stencil and in between them to "grunge" it up a little.
This is optional but I didn't like how stark the contrast was so it toned it down a little bit.
It's also a good way to camouflage potential future scratches or nicks 😉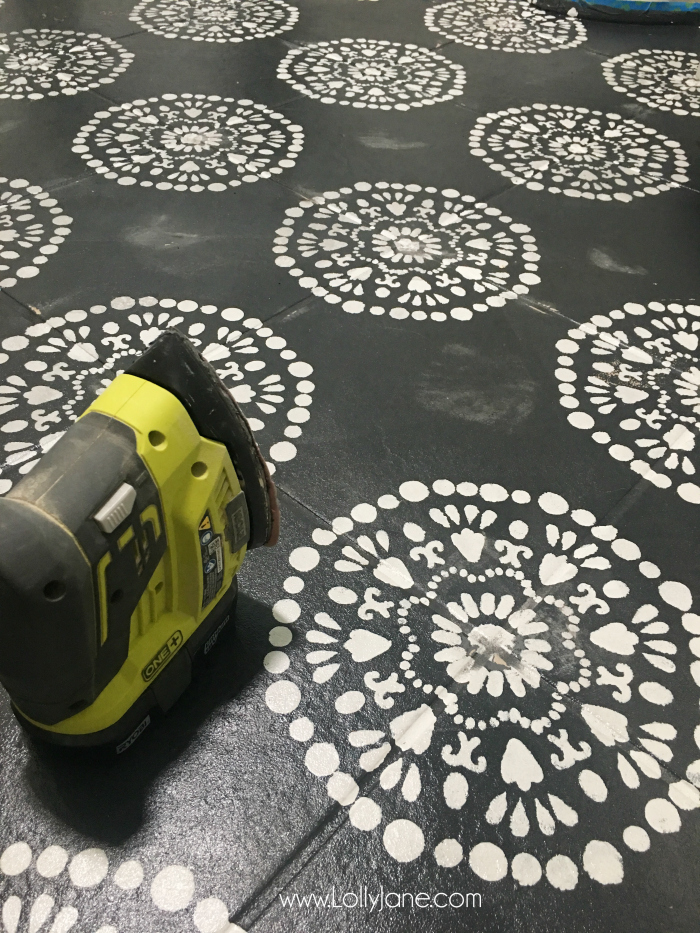 how to seal painted tile floors
I rolled on 3 coats of Minwax Polyacrylic to seal it.
It requires 2 hours of dry time in between so I applied the first two and just to be safe, the last coat I applied pretty heavily then let dry overnight.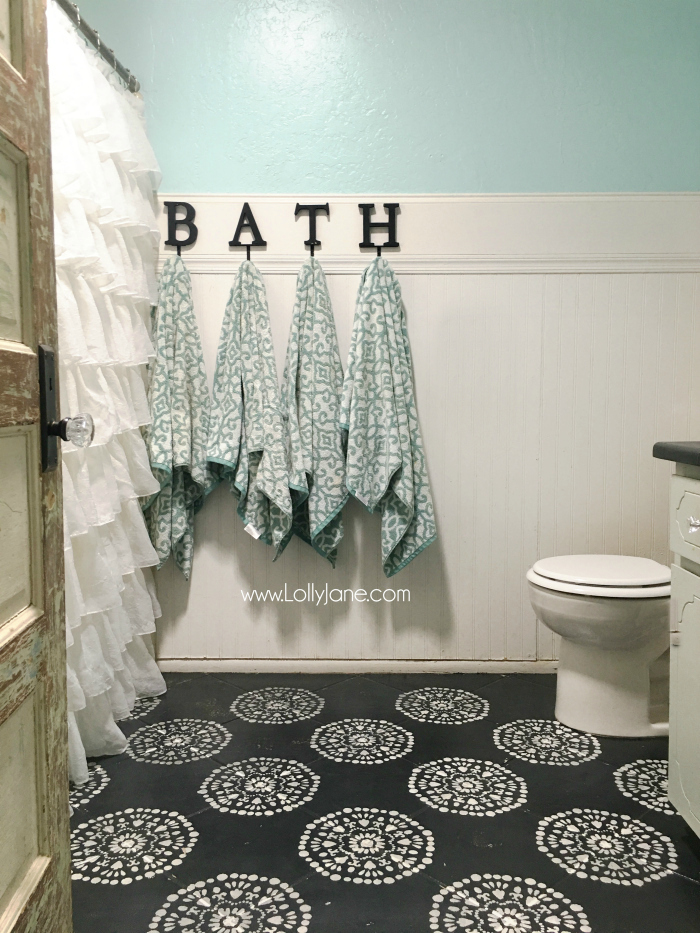 This bathroom gets used DAILY by SIX PEOPLE with no problems!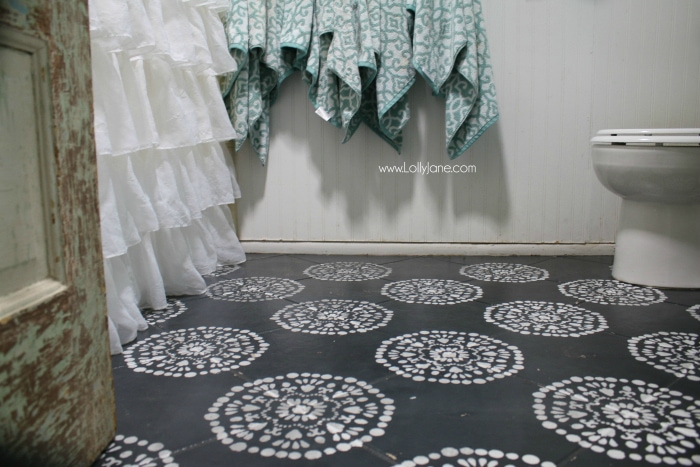 It looks great! DEFINITELY better than the before!
A super affordable way to update your flooring without spending thousands of dollars.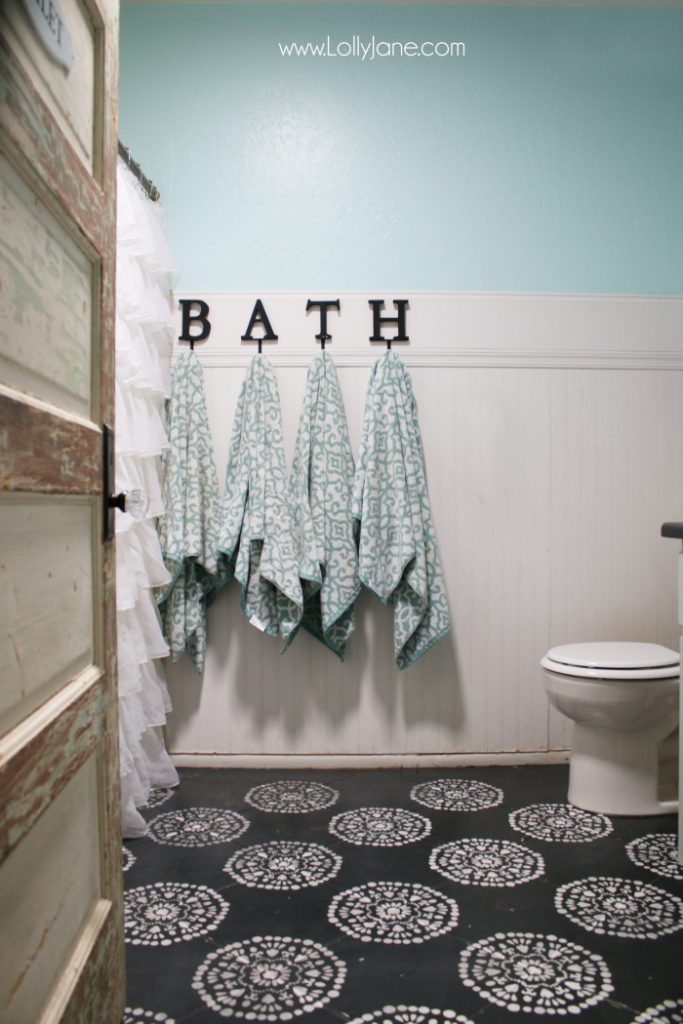 Just look at that before/after, wow!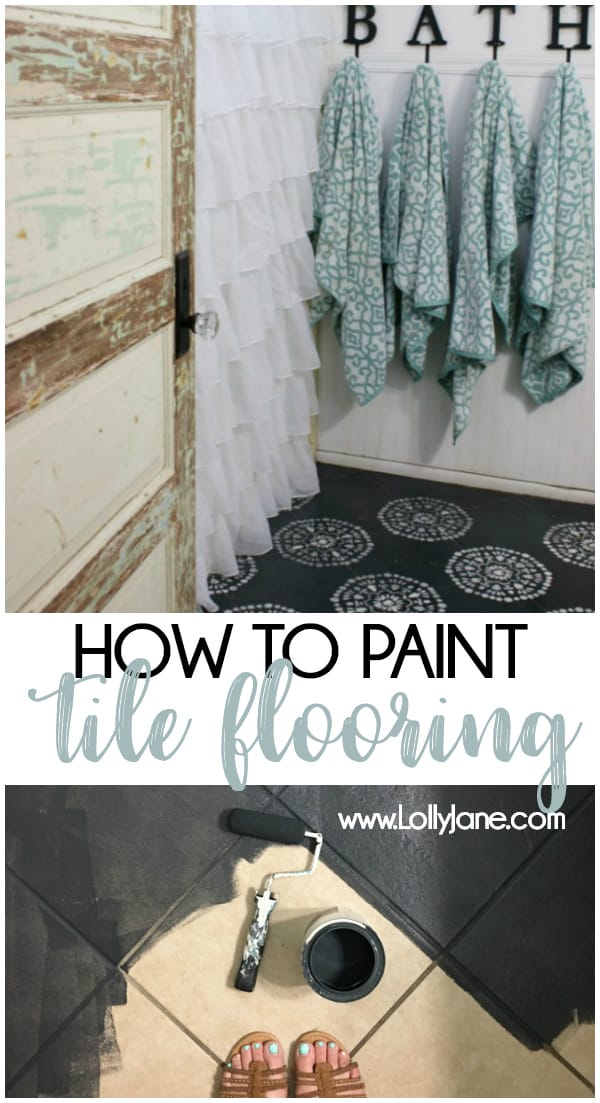 I love this stencil pattern in a small space like a bathroom so my new bathroom flooring will be a pretty ceramic tile, too…one day!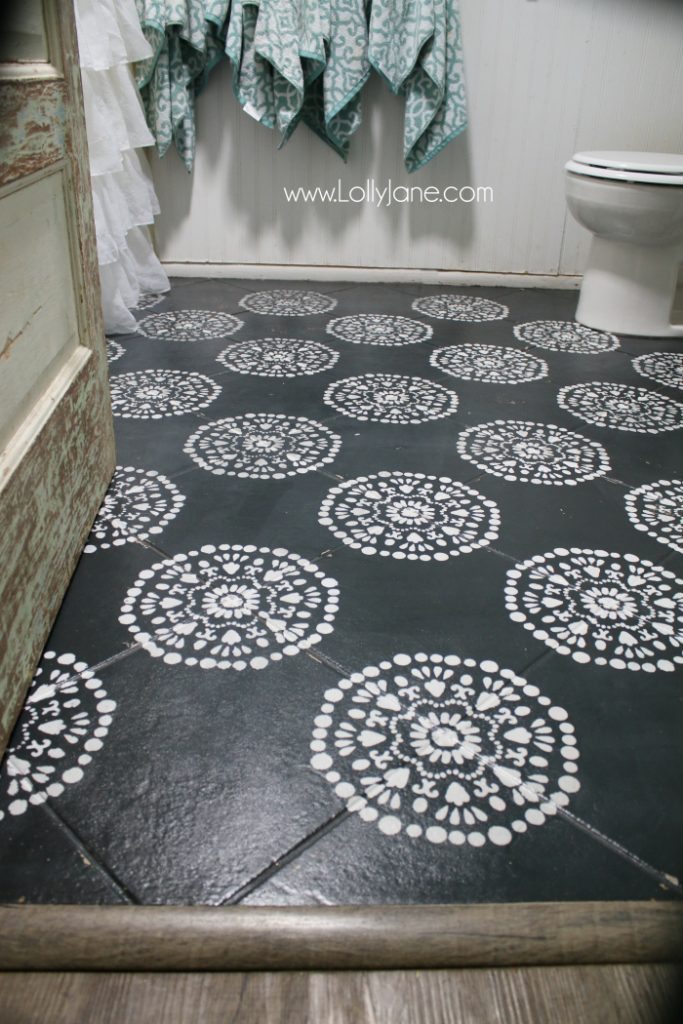 how do painted floors hold up?
We had the painted stencil tile flooring for a year before we were able to remodel. Our most asked question is:
How well will painted tile floors hold up?
Is it a permanent solution?
We have 6 people in our family and this is our most used bathroom as we only have 2 bathrooms. Multiples showers daily. Constant foot traffic.
It's held up like a champ!
I wash the floors weekly with Swiffer and haven't had any problems with peeling.
There have been the occasional chips but no major peeling and no major concerns.
Because I lightly sanded it, I could care less about small chips.
If you don't like chips, touch up your oopsies with the paint and re-seal over that spot. Easy fix!!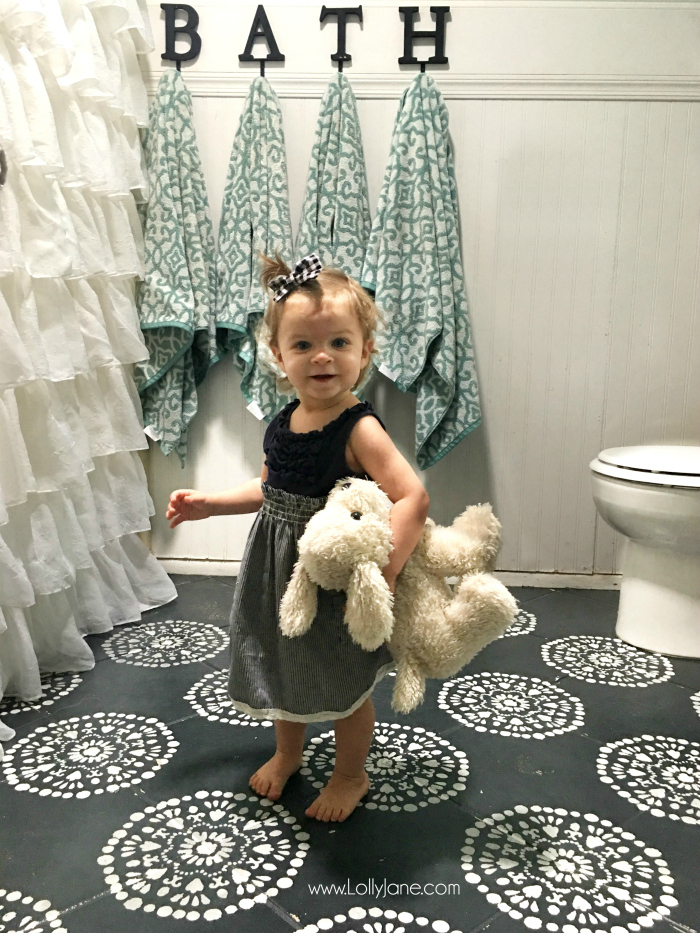 PS: This cute little lady's daddy installed a solar tube for me! I love the natural light it offers all day!
LIFE C H A N G I N G.
another update: we renovated this bathroom!
Check out the full renovation, so thrilled with how it turned out!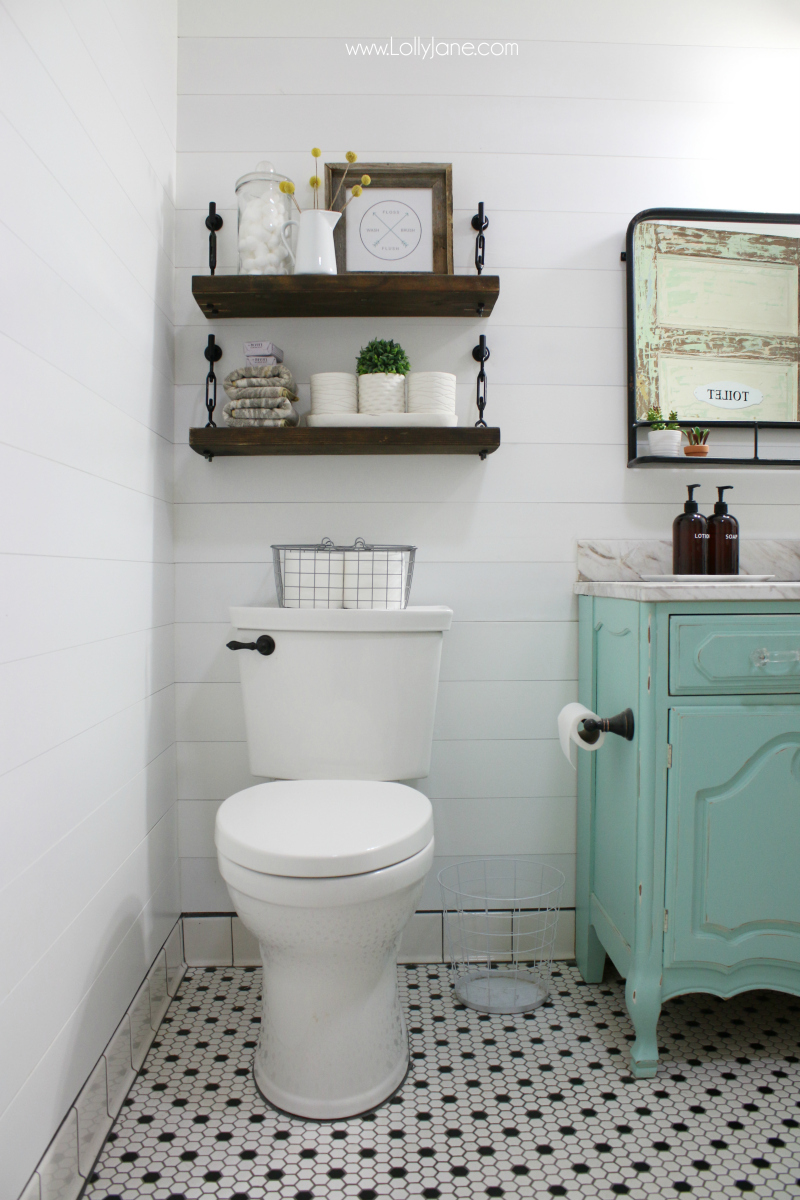 Please pin our painted floors so your friends can paint old tile, too!

LEAVE ANY MORE QUESTIONS BELOW!
read through the comments, lots of answer in there, too.
This post may contain affiliate links. When you make a purchase after clicking an affiliate link, I will earn a small commission at no additional cost to you. I am disclosing this in accordance with the Federal Trade Commission's 16 CFR, Part 255: "Guides Concerning the Use of Endorsements and Testimonials in Advertising." I only recommend products that I personally use and genuinely recommend.  Thank you for your support!