Hello! Welcome to Part 2 of my home remodel flooring series. In Part 1, I chatted about ordering and receiving my flooring samples. I want to go over the in-between process of ordering and receiving those samples. And I'll end with a little sneak peek of the process because it's pretty darn spectacular!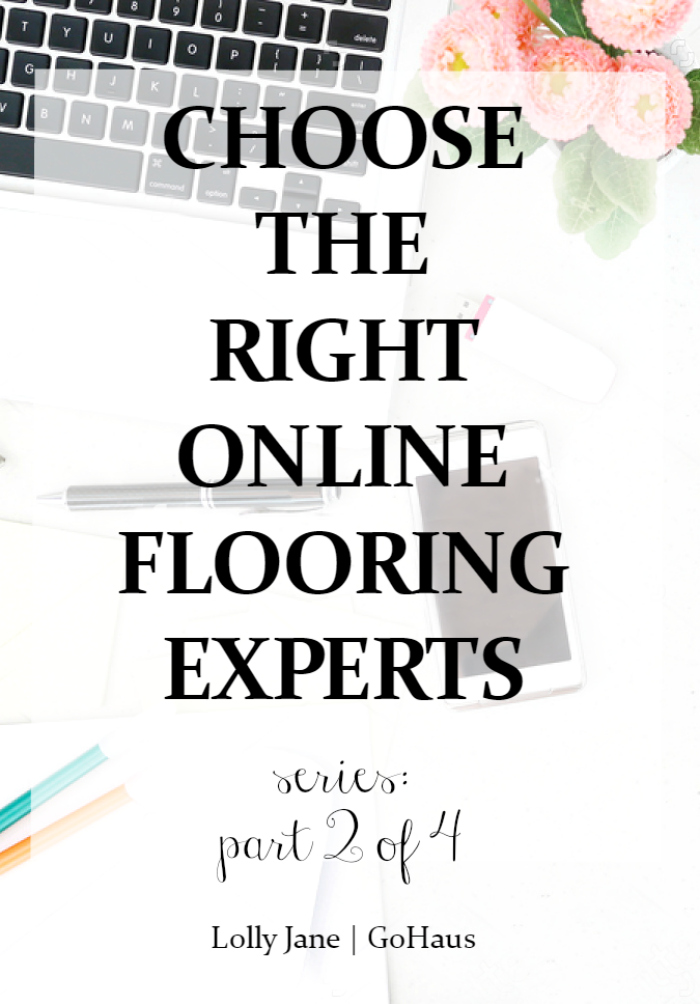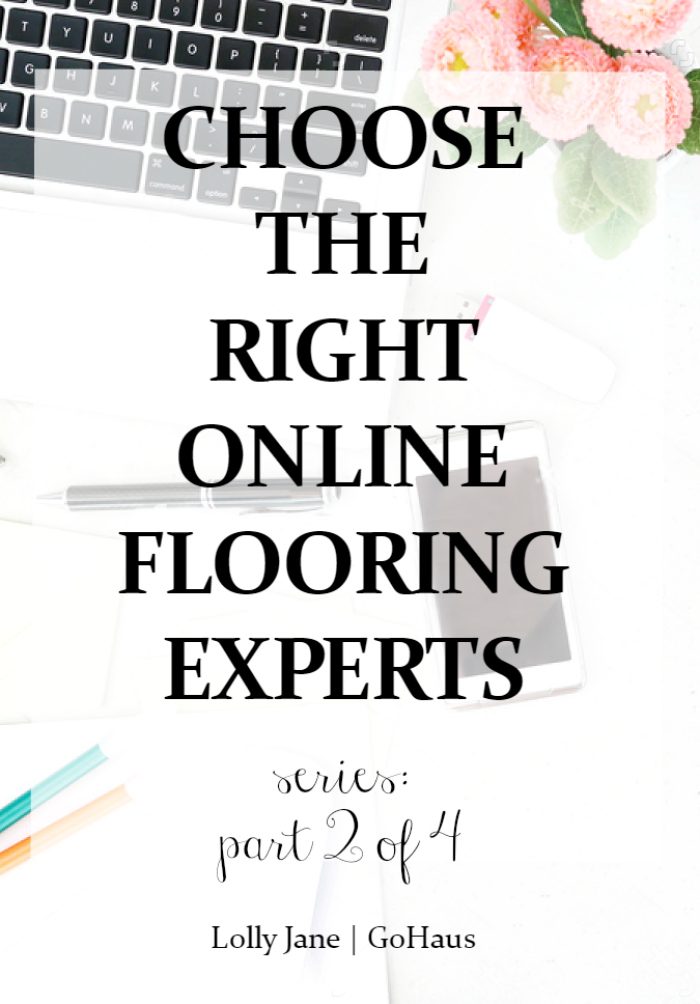 Shortly after my sample order was completed, I received a phone call from GoHaus. Yes, a phone call. From a real person. How awesome is that!? Talk about great customer service! Phil went over EVERY question I had, which was a lot. We're slowing renovating on a budget. We're doing our flooring in stages (as much as it kills me asthetically!) and we want the look of gorgeous hardwood floors but I know how crazy our lifestyle is and was sold on vinyl. My husband, however, was not. He felt like it was a cheap alternative. So poor Phil got to listen to me talk about my marital differences and helped guide me to the correct product for my household. He explained the Difference Between Vinyl and Laminate. By the end of the conversation, I was feeling confident with my choice and was able to make my spouse feel good about it too. It's not like it's a quick paint color, this is a big decision! Take a peek at the pros and cons of vinyl flooring if you're debating as well.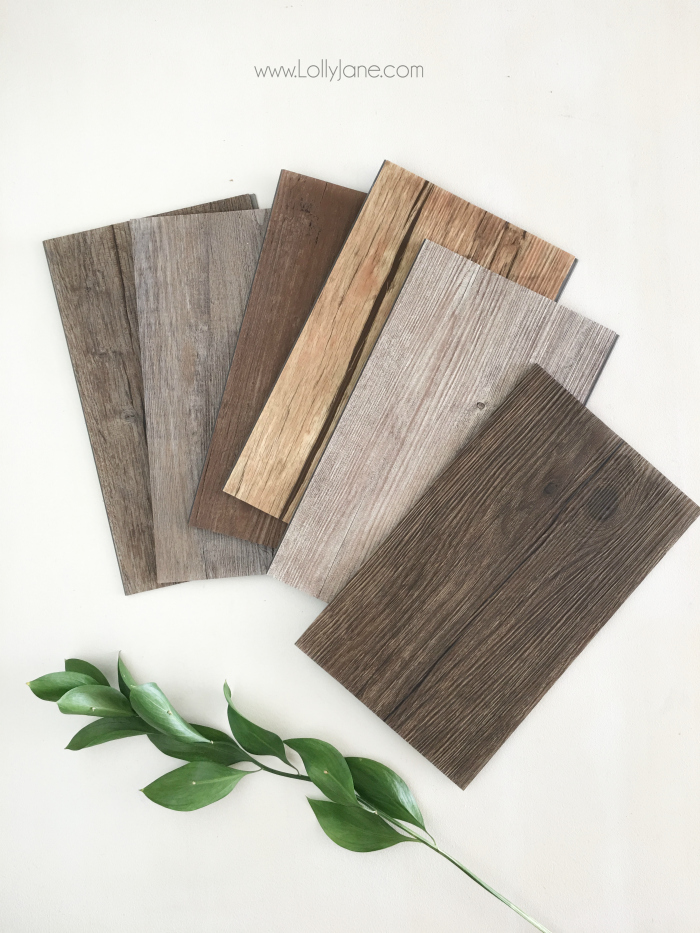 (Vinyl Smoked Sage on the left-my final color choice.)
What to expect when ordering floor samples from GoHaus:
Anyone who orders a sample gets an introduction email plus a phone call from a veteran specialist to answer any questions. They'll also send a periodical phone call to follow up to offer any advice. I learned that their calls taper off after 90 days, but they'll follow up for up to 3 years or as the homeowner dictates based on their timeline and needs. It's taken us 4 years to get the nudge from our flood to finally install so I personally appreciate their thoroughness from a homeowner point of view. Their phone call consists of details of product, install questions, etc. You can call the 800 number anytime for support of products choices, support of the install process and you can even call anytime during the install process. GoHaus can recommend vetted contractors to lay your new flooring. Contractors who can complete the full project, give you a quote on labor, etc and you'll pay them directly. You can also use your own installer if you prefer but it's nice to know they've done the leg work for you in finding a comeptant installer in your area.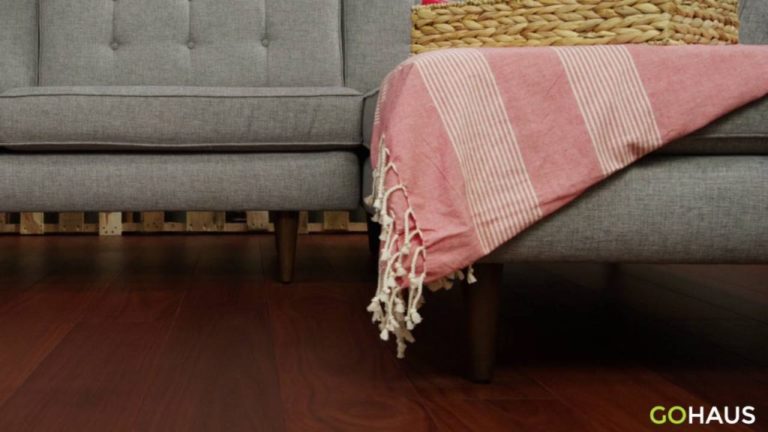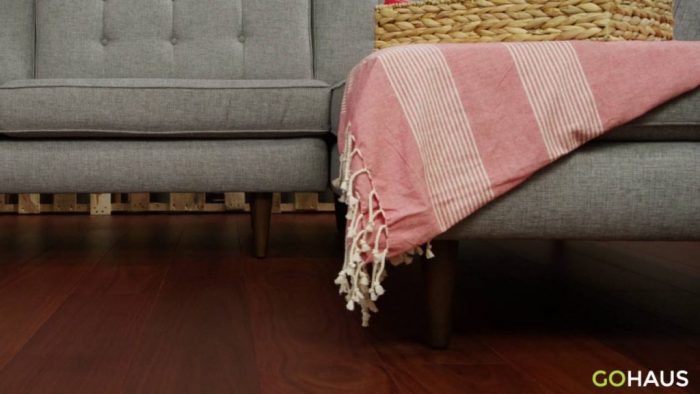 (source)
When I talked to Phil, my flooring specialist, he told me about GoHaus' Recommended Installer Program. Because GoHaus is a manufacturer-direct business, they vet companies from around the country and only recommend trustworthy and reliable installers. And sure enough, my GoHaus recommended company owner, Bruce from Gainey Flooring Solutions, was calling me within 24 hours! When Bruce called, I chatted with the him for a lengthy amount of time and basically, reiterated my concerns and pestered him with questions. He assured me the vinyl click product is becoming the product of choice in residential homes and was a good choice for my busy family. He explained difference between click vinyl and glue down vinyl, the click product doesn't have as much floor prep which is an easier process to install it time-wise. All of their Preferred Installers go over finishing options and Bruce was no exception, he set an appointment to come see our little farmhouse the very next day. We discussed pattern variations when he arrived, something I hadn't fully thought through. Definitely worth a quick read.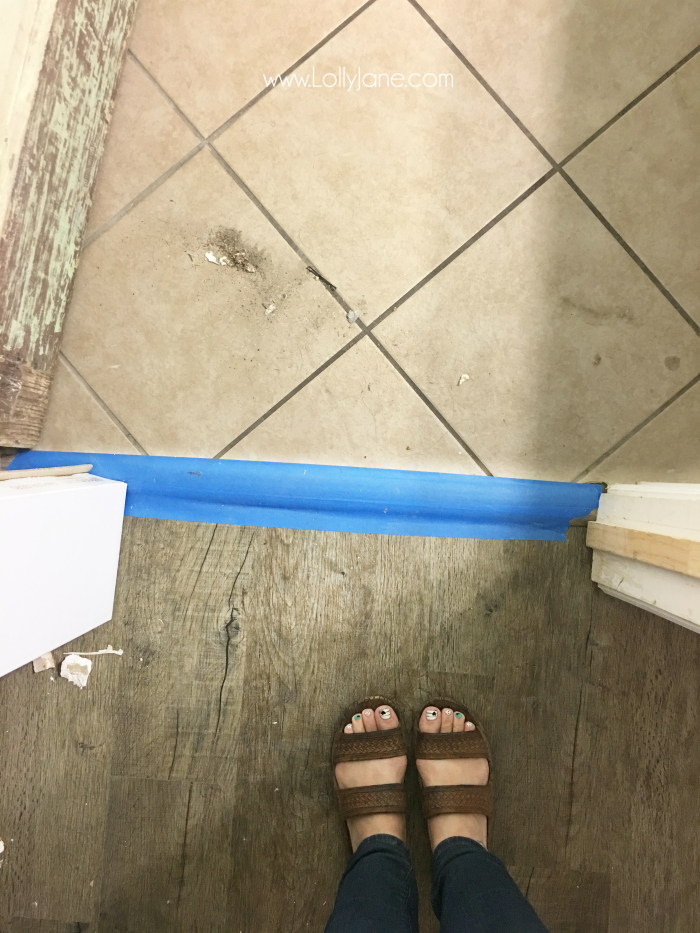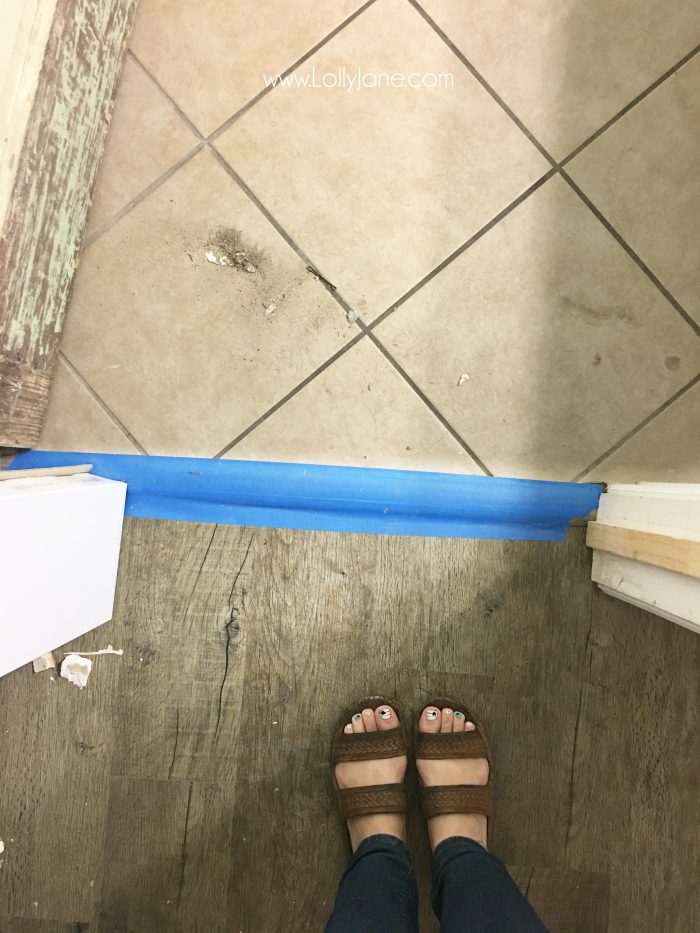 We also took into concern our furry friends so we needed to be sure we were getting the best flooring for dogs. We love the vinyl because it's easy to keep clean, stain resistant, scratch resistant, low in allergens and quiet to walk on. So far, we are loving it! Are you dying at the before and after shots of the existing tile and new vinyl planks!? The transformation is kind of amazing.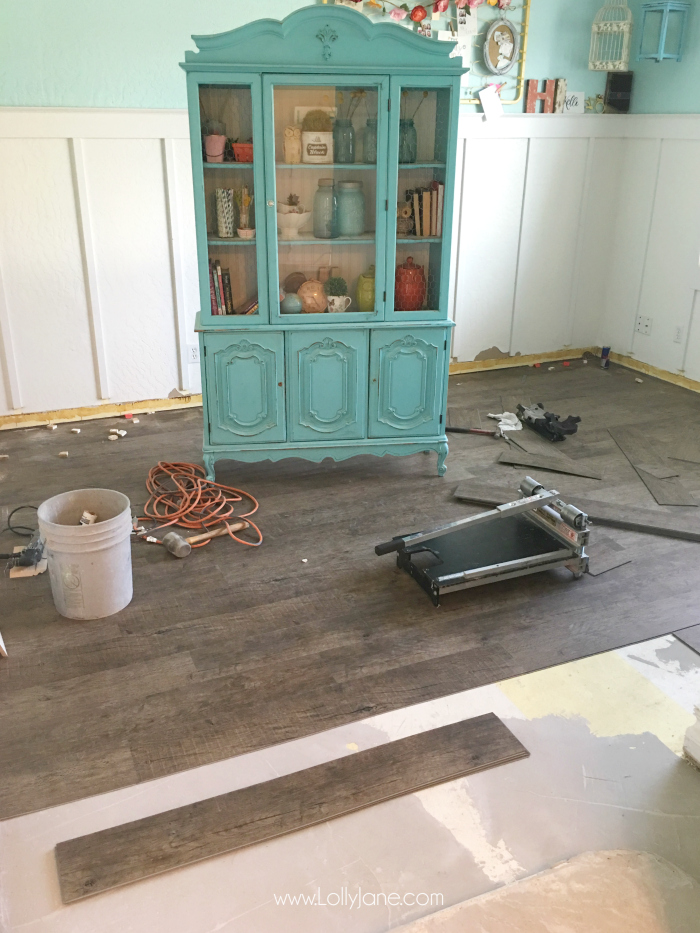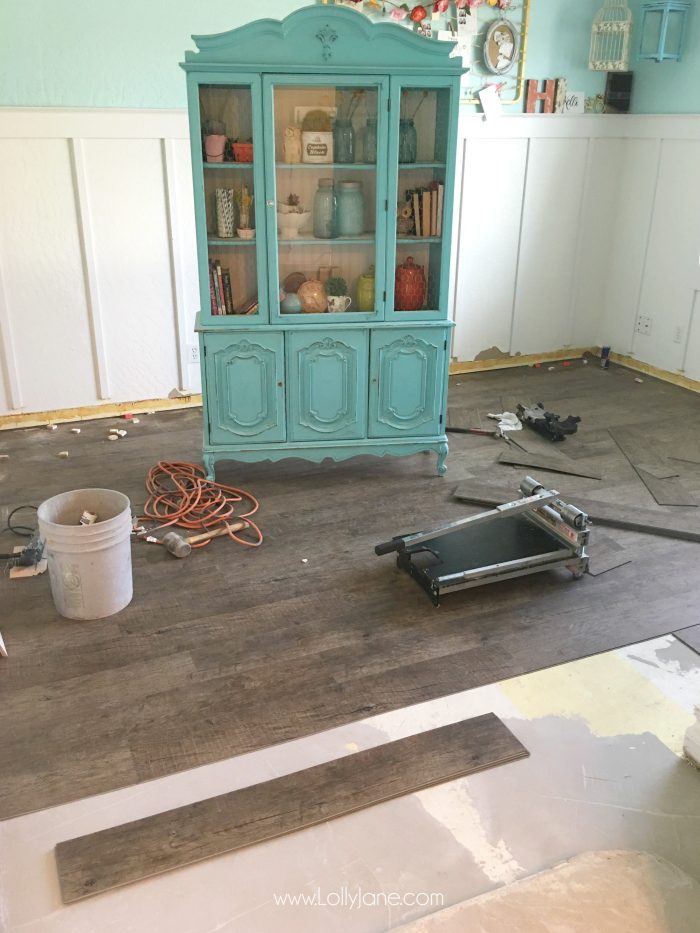 That's all you get for now (; I can't wait to share more with you soon!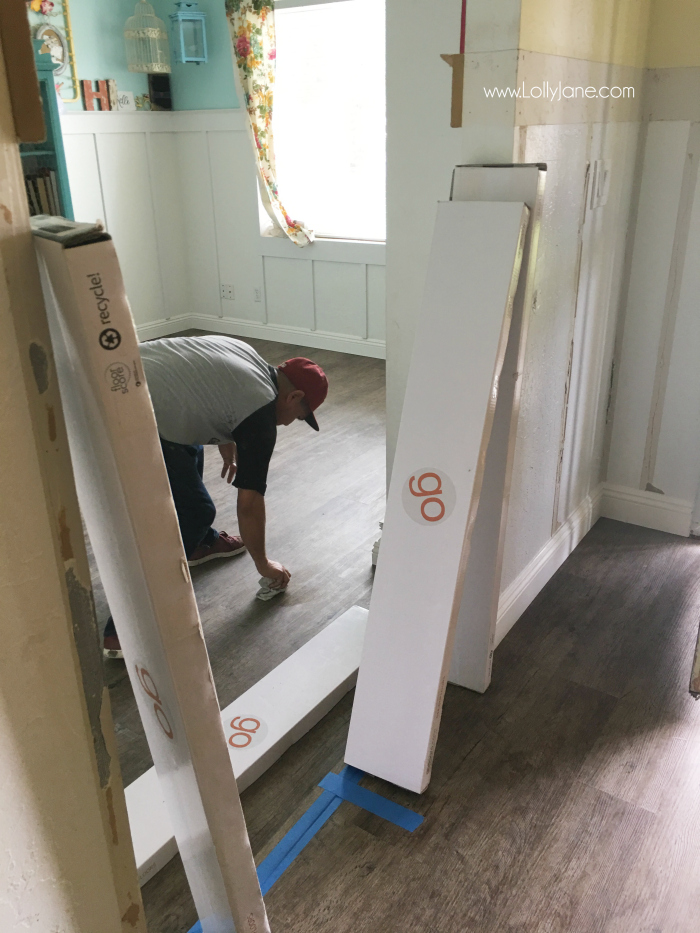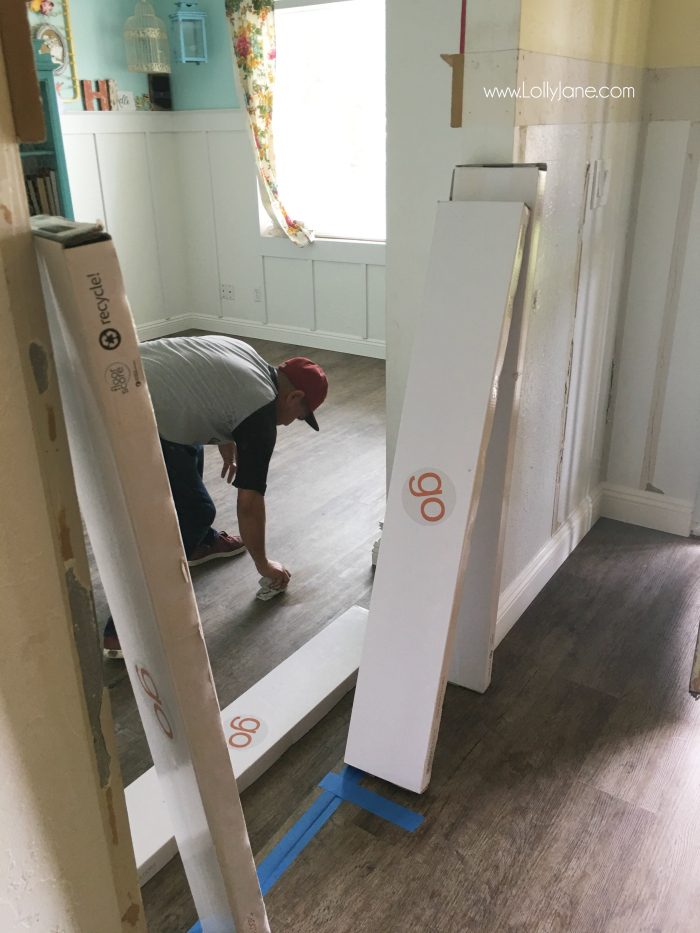 Follow along my home remodel to see the rest of the series posts. Would you hire an installer or DIY?
FREE EMAIL COURSE
5 Low Cost Tricks to Make Your House Look Like $1 Million
It's Lolly Jane's 5 FAVORITE Tricks to spruce up your space affordably.

Don't miss these!