I've been working on this affordable turquoise stencil bathroom re-do for months and am thrilled to be D-O-N-E!!  I love that it's checked off my list and I've since completed my next room: my daughter's coral polka dot tween room, whoot!  Hey!!-if you're not keeping up with us on Instagram or Facebook, you're missing out on random sneak peeks of our running list of projects and the occassional desperate cries for advice (;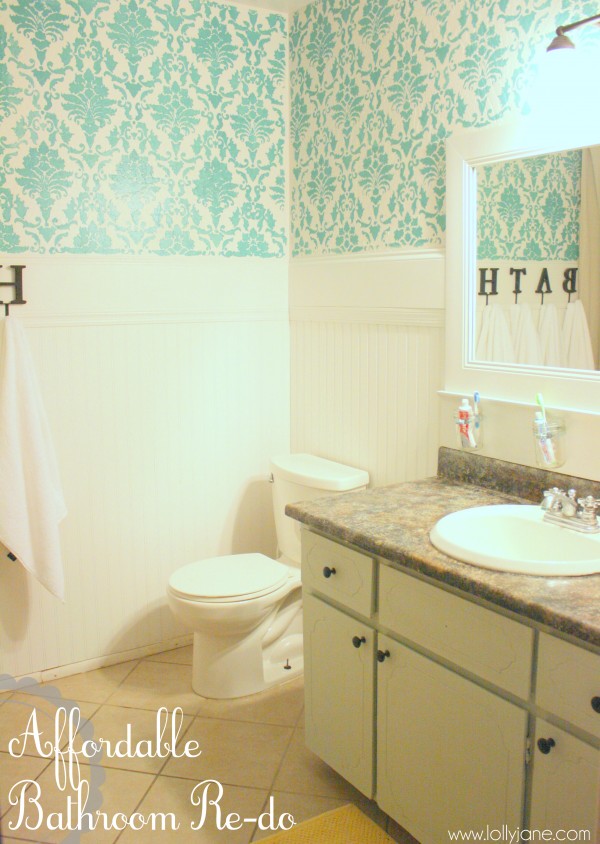 This bathroom remodel was slow and steady to do a cop's salary.  And because I wasn't able to gut it and start over, I wasn't super excited about it so I let other projects cut in line.  But you know what?- I think even if I were a rich gal, I know me and I'm such a sucker for a good challenge that I'd still do it as cheap as possible.  Note: Ideally I'd love to gut it and start over BUUUUT…remember that cop pay we're dealing with? Mmmmhmm!  Here's the rundown of the process for this updated bathroom.
Instead of a new counter top, I painted it to look like real granite.
Instead of replacing the vanity, I painted it SW Sea Salt.
Instead of ripping the beadboard down and starting over, we added to it and finished it.
We stenciled all 4 walls. This actually didn't allow me to accessorize since the trim is so tall but the stencil is just enough so it's all good.
Instead of replacing the mirror, we framed it with inexpensive foam trim.
We also ripped out the ugly medicine cabinet and created mason jar storage in its place.
We replaced the 70's light fixture too!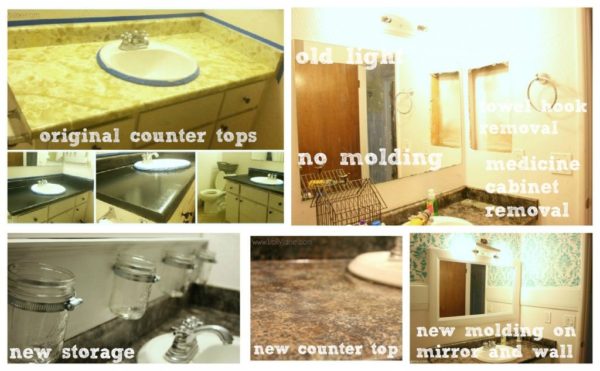 The only new accessories purchased were: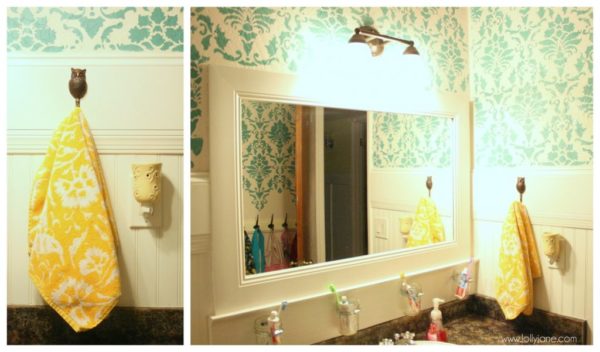 1 sheet bead board, trim + drop cloth from Home Depot. [$50]
Light fixture from Home Depot. [$25]
Rug, owl hook + 2 hand towels from World Market. [$24]

 
Here's a look at the drop cloth curtain turned shower curtain.  I hate hate hate that ugly 30 year old shower bath combo behind it.  BUT it's not in the budget to replace for now so I chose to hide it until I can have a pretty subway tile dream.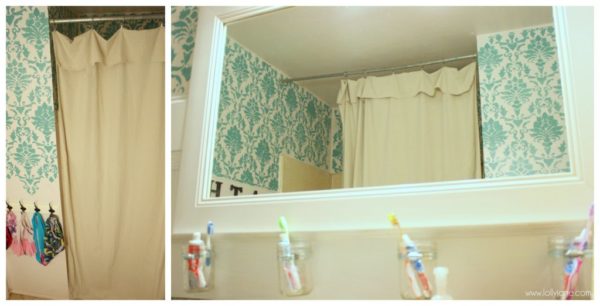 Total cost to re-do this small bathroom? Less than $100! Whoop!!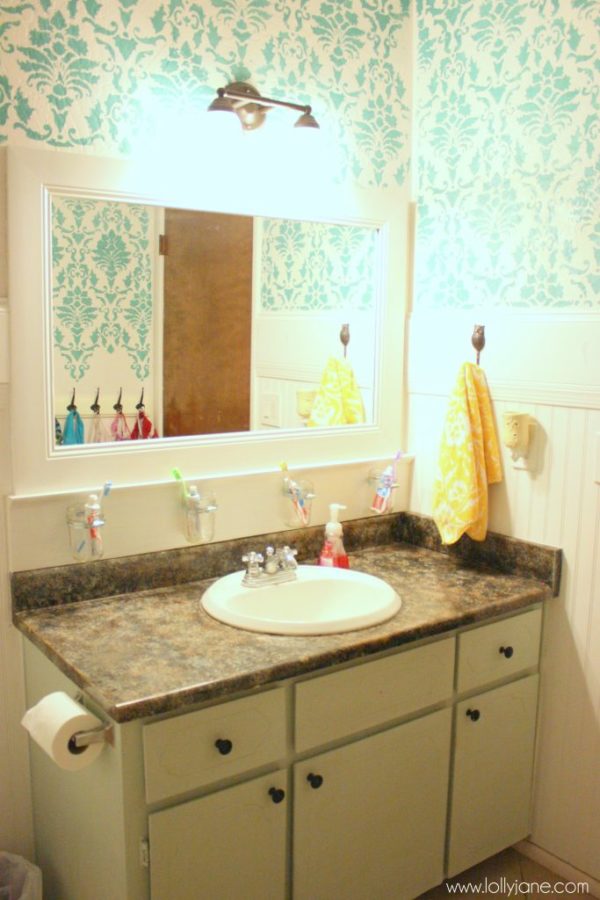 We have to give credit where credit is due.  We are so in love with Cutting Edge Stencils.  For real, they have made a HUGE difference in our homes!  Kelli's dining room wall has not only gotten a lot of attention BUT it makes her happy walking in there every morning.  Kristi's stenciled curtains made it possible to match her house exactly and saved her quite a bit of money on custom drapery.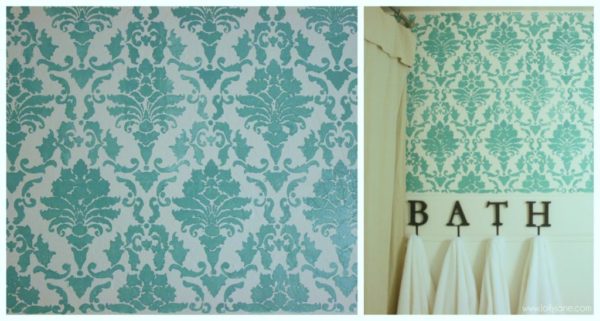 CES was kind enough to sponsor our trip to our most recent blog conference trip as well, EVO.  After spending all weekend with like bloggers, we made a big decision regarding our blog which was life changing for us and our families.  So Cutting Edge Stencils, thanks for being more than a cute home decor accessory company, we can't say enough good things about you!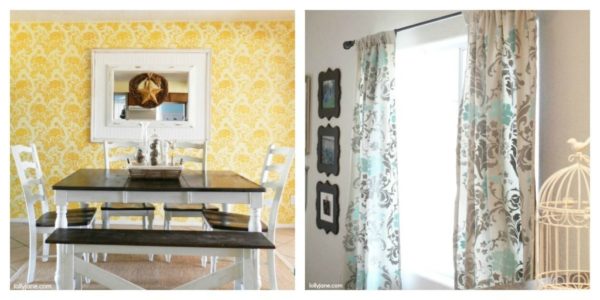 Their customer service is amazing and their product ROCKS.  We counted 8 friends who have bought a stencil through them after our dining room review and all 8 are happy to report they love the end product just as much.  Wahoo!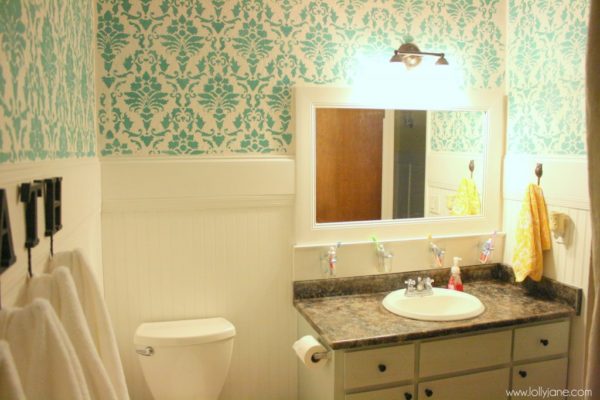 Hope you like this fun turquoise bathroom redo!  We love fun, bright colors that make our home feel cozy.  We hope you'll subscribe to our RSS feed so you don't miss any projects from us in the future (:
XOXO,