It's that gift giving time of year again!!! If you stress over your list of loved ones, and struggle to find the perfect gift for birthdays or the holidays, fret no more. 25 creative bloggers have gathered together to share THEIR favorite things in a gift giving guide, and nearly all of the items are under $25! This list can offer a long lasting gift guide to refer back to when you need that special gift, along with links to where you can get them. Sometimes, giving a practical household item is just as exciting as the extravagant gift you are stress-fully looking for, but we also have super cutesy and impractical, too!
We're so excited to share our favorite things, along with these other creative bloggers. Even more fun, is that you have the opportunity to win a gift basket mailed right to your door!
Here's what to do:
Take a quick glance at the gift collage below
Scroll to the bottom to see a close up of ours with details and links to buy our favorite items
Enter to win my gift basket at the giveaway below ($200 value- we went a little cray cray and added more than $25!)
HOP to all of the other sites to enter to win their gifts!
Look around and enjoy the sites of the 25 creative bloggers–they will not disappoint!
So much fun, right?!? To view closer shopping details and links on where to purchase each basket item, simply
HOP
on over to the links below, where you can also enter to win the giveaway on their sites.
Here are OUR favorite things in the gift giving guide: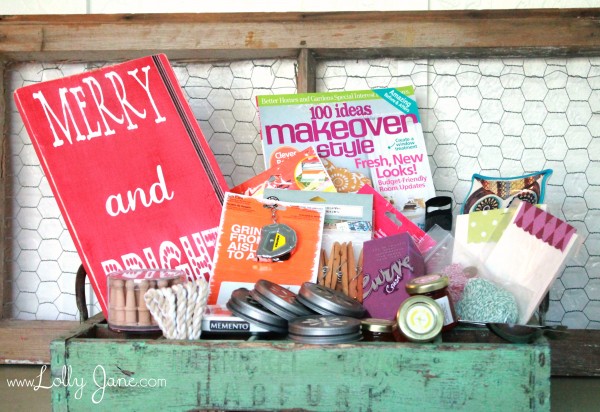 A little home decor, home improvement, craft supplies, kitchen decor and goodies…. take a peek at what's in store: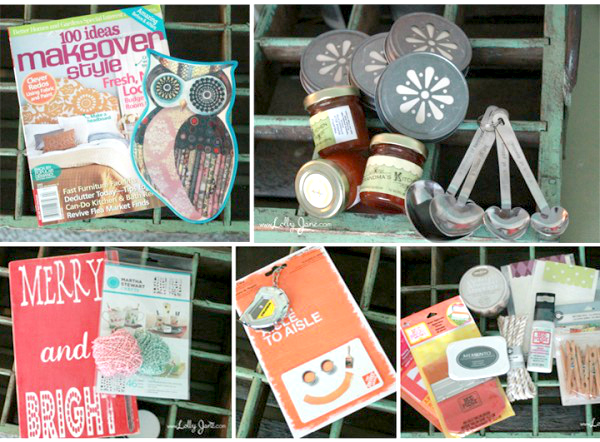 And after the decriptions of our favs, enter for a chance to WIN it all!!!
HOME DECOR
HOME IMPROVEMENT
CRAFT
KITCHEN
CHRISTMAS
Merry and Bright sign. Made by yours truly. $25
Bakers Twine: [2: green & red] $7.50/ea
Giveaway closed.